The ramifications of the COVID-19 pandemic run deep in the nursing profession. As one respondent to the 2021 OR Manager Salary/Career Survey noted: "[The pandemic has] caused healthcare workers to rethink the reason they went into this profession. Also the fact that we could die doing our jobs."
Part of that rethinking by nurses is whether to stay in their jobs or even the profession, for both professional and personal reasons. "Some nurses who have been away from family for over a year [because of social distancing requirements] are deciding they don't want to do that anymore, so they are moving closer to their grandkids," says Michelle Sanchez-Bickley, MS, SPHR, SHRM-SCP, chief human resource officer of Renown Health in Reno, Nevada.
In an early 2021 survey of more than 22,000 US nurses by the American Nurses Foundation (ANF), 18% of respondents planned to leave their positions in the next 6 months, and 4% planned to leave the profession. With OR leaders already struggling to find qualified perioperative nurses, retention is more important than ever.
"Leadership is key to any retention strategy," says Ila Minnick, MS, BSN, RN, president of Interim Leadership Associates in Rockford, Illinois. "We have nurses who are totally worn out [as a result of the pandemic], so we need to focus on nurse well-being and helping nurses through burnout." In addition, some nurses who have had COVID-19 may be suffering from its long-term effects.
Part 1 of this two-part series focuses on the importance of retention, generational considerations, and job embeddedness as a retention tool. Part 2, which will be published in October, provides additional strategies from experts interviewed, including how to address the loss of trust that many staff members are feeling.
By the numbers
In the ANF survey, 21% of nurses were undecided about whether they would leave their positions, and 11% were undecided about whether they would leave nursing. The 2020 National Nursing Workforce study, which spanned February to June, found that more than one-fifth of nurses plan to retire over the next 5 years. That adds to the potential number of nurses who could leave, creating not only a patient safety issue, but a financial one as well. According to the 2021 National Health Care Retention and RN Staffing Report, the average cost of turnover for a hospital-based RN was $44,400 in 2020; that's likely higher for a perioperative nurse.
The same report found that the average staff RN turnover rate was 18.7%, up by 2.8% from 2019, and vacancy rates were about 9.9%, compared to 8.9% the previous year.
Whether or not the pandemic prompts more nurses to leave, turnover will remain a concern for OR leaders. A pre-pandemic study of more than 207,000 nurses by Koehler and Olds found that 21% of nurses intended to leave their positions in the next year, in line with previous research.
The generation factor
The pandemic has hit younger nurses harder than their older counterparts. The ANF survey found that 81% of nurses aged 34 years and younger reported feeling exhausted in the past 14 days, compared to 59% of those 35 years and older.
Part of the stress likely comes from the unique situation faced by new graduates—who are usually from younger generations—as a result of the pandemic. These nurses are coming to the workplace less prepared because of reduced clinical time. Leaders need to realize that although simulation helped mitigate some of that loss, new graduates will still require extra time for orientation, especially given that most will arrive with little OR experience.
"We are expanding the orientation time for new graduates, giving them more time in the classroom and in the OR," says Michelle Hopson, MSN, RN, NPD-BC, director of clinical professional development at Ascension Saint Agnes Hospital in Baltimore. "We want them to feel supported and not overwhelmed, so that they're more likely to stay."
Even before the pandemic, however, generational differences played a role in retention. In the Koehler and Olds study, intention to leave varied by generation, with Millennials more likely to respond that they intended to leave than Generation Xers and Baby Boomers. Those in the Silent Generation were most likely to intend to leave, probably because of retirement. Millennial and Generation X nurses more commonly cited family obligations as a reason for leaving, but Generation Z nurses ranked pursuing a different nursing specialty higher than these obligations.
"Leaders should be aware that the needs of different generations might vary," says study coauthor Thomas Koehler, BSN, RN, CNOR, a perioperative nurse at John Muir Health-Walnut Creek Medical Center in Walnut Creek, California. "If OR managers can recognize those generational differences and can work with them to retain nurses, it will keep their unit, their team, and their employees closer together."
One difference is that younger generations are more mobile than older nurses. "You spend a lot of time orienting people for perioperative nursing, and then they leave in 1 to 2 years," Minnick says. Nurse residency programs can help lessen turnover, but leaders still must meet the unique needs of younger nurses. For example, younger nurses will not sacrifice work-life balance, so mandatory overtime will simply push nurses away.
Sanchez-Bickley agrees: "For the first time, there are five generations in the workplace, and they want and need different things. We try to offer different benefits at different points in someone's career life cycle." For instance, help with student loans may be more important to younger nurses than 401K contributions. Older nurses will appreciate knowing how they can make "catch up" contributions to their 401K plans. Renown Health also offers child care benefits and onsite childcare from infancy up to 5 years, which appeals to younger nurses, and it has reduced the amount of time needed for younger nurses to reach higher levels of pay ranges.
Because younger generations want to advance quickly, Renown Health opened its clinical ladder program to new graduates instead of making them wait a year or two. "We've found that new grads who participate are more likely to be retained and continue on the ladder," Sanchez-Bickley says. "It has been a popular program."
Koehler says research is lacking on which retention strategies work for each generation, but criteria such as pay, staffing, and workload are important to all generations. In fact, workload and staffing were among the most common reasons for intending to leave cited by all generations.
JE as a retention tool
Job embeddedness (JE), a concept developed in the organizational psychology field, can be a helpful way to frame retention. "Job embeddedness is a model that looks more at why people stay in their positions rather than focusing on why they leave. It [creates] a positive perspective when looking at retention," says Hopson. She was the principal investigator for a mixed-methods study of JE, which has been linked to retention and higher job satisfaction.
"Job embeddedness can be conceptualized as a three by two matrix," says O. Erin Reitz, PhD, MBA, NEA-BC, associate professor at the Mennonite College of Nursing at Illinois State University in Normal. "It looks at fit, connections, and sacrifice, not only between a person and their organization, but also between a person and their community" (sidebar, "Job embeddedness 101"). A study by Reitz and colleagues found that JE is a good predictor for a nurse's intent to stay, and Hopson's study found that being older, having ties to the community, and having peer relationships were most indicative of JE.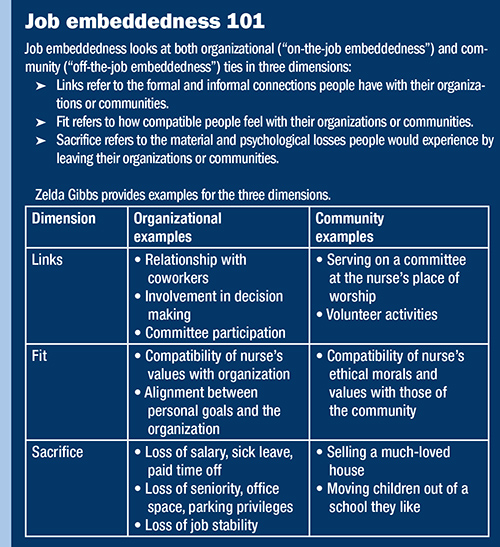 Leaders can use the six aspects of JE to create a retention plan (sidebar, "Applying job embeddedness to retention"). "Strategies for job embeddedness have to be based on the unique aspects and characteristics of the organization and the community," Reitz says. For instance, some nurses may prefer to work for a religious-based organization, whereas others prefer a secular one. And some might prefer a smaller town rather than a big city.
Leaders also should consider the strengths and weaknesses of the organization and community. For example, Reitz lives in an area with three schools of nursing, so the links created by students doing clinical rotations in the organization and the fact that most students live in the community are strengths.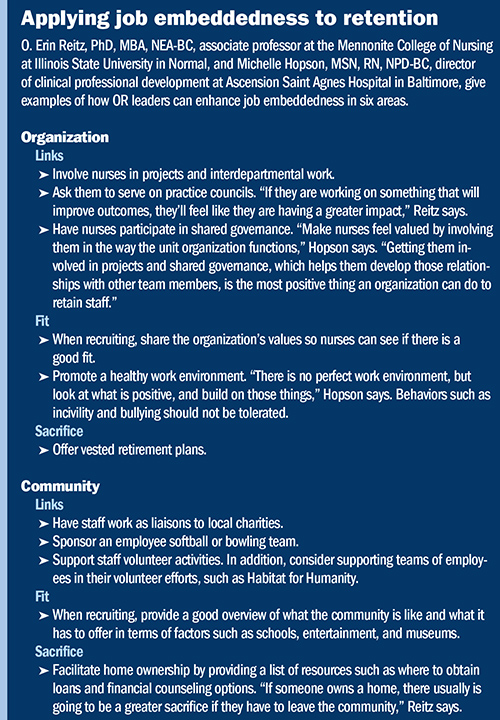 As part of her study, Hopson used focus groups and an online survey to collect information about the degree of JE among nurses. OR leaders could use the questions in staff interviews or as a survey. Leaders also could use the survey to assess individual factors such as the work environment.
Links are particularly key when developing a JE-based retention plan. "The more links people have to both the organization and community, the more embedded they are," Hopson says. She notes that many participants in her study said they would not want to leave the organization because it would mean leaving people they enjoy working with, which reinforces the importance of teams. "Build in opportunities for staff to connect with each other both at work and outside of work," she says.
"Pay and benefits are important, but as I talk with staff, that isn't what they bring up first," Minnick says. "They want a good team to work with. When you work with a good team, there is a lot of satisfaction." She adds that having a leader (including a charge nurse) who knows how to coordinate care and show appreciation for everyone will help retain staff, which means leadership development is integral for retention.
A common recruitment strategy to avoid is a relocation bonus, which does not promote retention, Reitz says. A relocation bonus may draw a nurse from an urban to a rural area, for example, but in too many cases, nurses return to the original area once their 1- to 2-year commitment ends.
"What's more effective is to grow your own, focusing on those already embedded in the community," Reitz says, adding that an educational incentive for a nurse to obtain a BSN or higher education at a local college builds community connection, making it more likely a nurse will stay in the area.
JE requires what Sanchez-Bickley refers to as a "wrap-around" approach that includes a positive job environment and community connections. For example, Renown Health gives staff time off to volunteer in the community and offers classes on how to buy a home. "It's important for nurses to feel supported," she says.
Limitations of JE
Of course, JE is not a panacea for turnover. A study by Marsai and colleagues of more than 300 nurses found that those with low organizational trust but high JE engaged in more workplace deviance than those with low organizational trust and low job JE.
Hopson notes that JE could unintentionally result in nurses staying when they should not, for instance, in the case of lateral violence. In addition, nurses may feel stuck, rather than embedded, because they do not have enough options for growth. To address this, Marsai and colleagues suggest letting employees know about other job opportunities and providing more generalizable skills training.
"There's no one recipe or template, no magic bullet for nurse retention," Reitz says. Strategies must be tailored to each organization. "What might work for one might not work for another, depending on the community and the culture of the workforce."
More strategies for retention will be discussed in Part 2 of this series. ✥
Cynthia Saver, MS, RN, is president of CLS Development, Inc, Columbia, Maryland, which provides editorial services to healthcare publications.
References
American Nurses Foundation. Pulse on the Nation's Nurses COVID-19 Survey Series: Year one COVID-19 impact assessment. 2021. https://www.nursingworld.org/practice-policy/work-environment/health-safety/disaster-preparedness/coronavirus/what-you-need-to-know/year-one-covid-19-impact-assessment-survey/.
Clinton M, Knight T, Guest D E. Job embeddedness: A new attitudinal measure. Int J Selection and Assessment. 2012;20(1):111-117.
Gibbs Z. Support nurses with job embeddedness. Am Nurs J. 2021;16(7):40-43.
Hopson M, Petri L, Kufera J. A new perspective on nursing retention: Job embeddedness in acute care nurses. J Nurses Prof Dev. 2018;34(1):31-37.
Koehler T, Olds D. Generational differences in nurses' intention to leave. West J Nurs Res. Published online March 20, 2021.
Lee T W, Burch T C, Mitchell T R. The story of why we stay: A review of job embeddedness. Ann Rev Org Psychol Organ Behav. 2014;1:199-216. https://www.annualreviews.org/doi/full/10.1146/annurev-orgpsych-031413-091244.
Marsai S, Cox S S, Bennett R J. Job embeddedness: Is it always a good thing? J Managerial Psych. 2016;31(1):141-153.
NSI Nursing Solutions, Inc. 2021 National health care retention and RN staffing report. https://www.nsinursingsolutions.com/Documents/Library/NSI_National_Health_Care_Retention_Report.pdf.
Paul M. Umbrella summary: Job embeddedness. Quality Improvement Center for Workforce Development. April 22, 2020. https://www.qic-wd.org/umbrella/job-embeddedness.
Reitz O, Anderson M, Hill P D. Job embeddedness and nurse retention. Nurs Admin Q. 2010;34(3):190-200.
Smiley R A, Ruttinger C, Oliveira C M, et al. The 2020 national nursing workforce survey. J Nurs Reg. 2021;12(1S):S1-S96.