Consistency is the word that comes to mind when reviewing results from the 2021 OR Manager Salary/Career Survey. Despite the COVID-19 pandemic, leaders in ambulatory surgery centers (ASCs) reported that salary, satisfaction, and the number of employees supervised were comparable to metrics reported in 2020. The good news is that most respondents (84%) say the COVID-19 pandemic has not changed their career plans.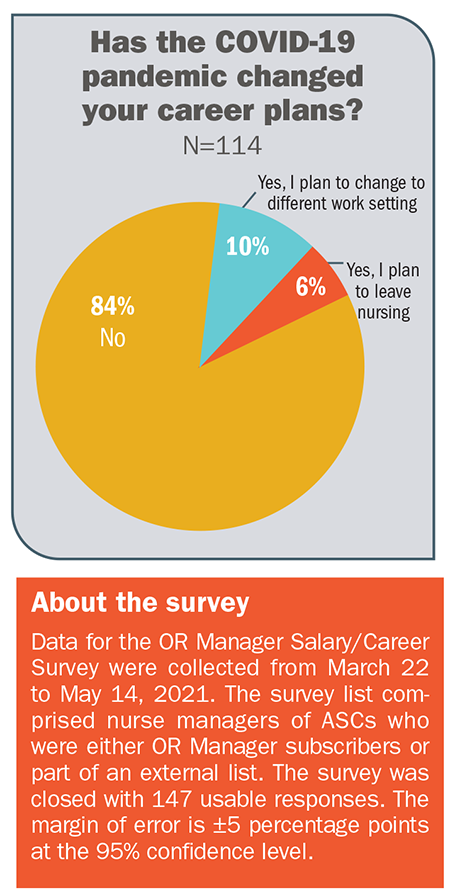 Slight movement did occur in a few areas. Total annual compensation fell slightly: 40% of respondents earn $120,000 or more, down from 53% in 2020, but consistent with a pre-pandemic level of 42% in 2019. In addition, the percentage of those responsible for an annual operating budget of $5 million or more increased from 19% in 2020 to 25% this year; that compares to 16% in 2019.
Other results from the survey include:
• Only 6% of respondents plan to leave the profession as a result of the pandemic, but an additional 10% plan to change to a different work setting. That is similar to the 10% of nurse leaders who indicated they were considering leaving or planned to leave nursing, as reported in a February 2021 survey by the American Organization for Nursing Leadership. Any migration, however, could add up to a significant number of managers exiting at a time when finding successors is likely to be particularly difficult.
• In all, 59% of ASC leaders plan to retire in 2030 or later, although nearly 1 in 5 (19%) plan to exit the workplace by 2025.
• The average raise was 3.5% (vs 3% in 2020 and 3.2% in 2019); the consumer price index for 2020 was 1.4%.
• Most respondents (31%) have 1 to 5 years of experience as a perioperative manager.
Here are some additional findings. (Percentages may not add up to 100% due to rounding.) For results related to staffing and care delivery, see "Survey: ASC leaders continue to feel pandemic pain," OR Manager, September 2021, pp 23-27.
A matter of money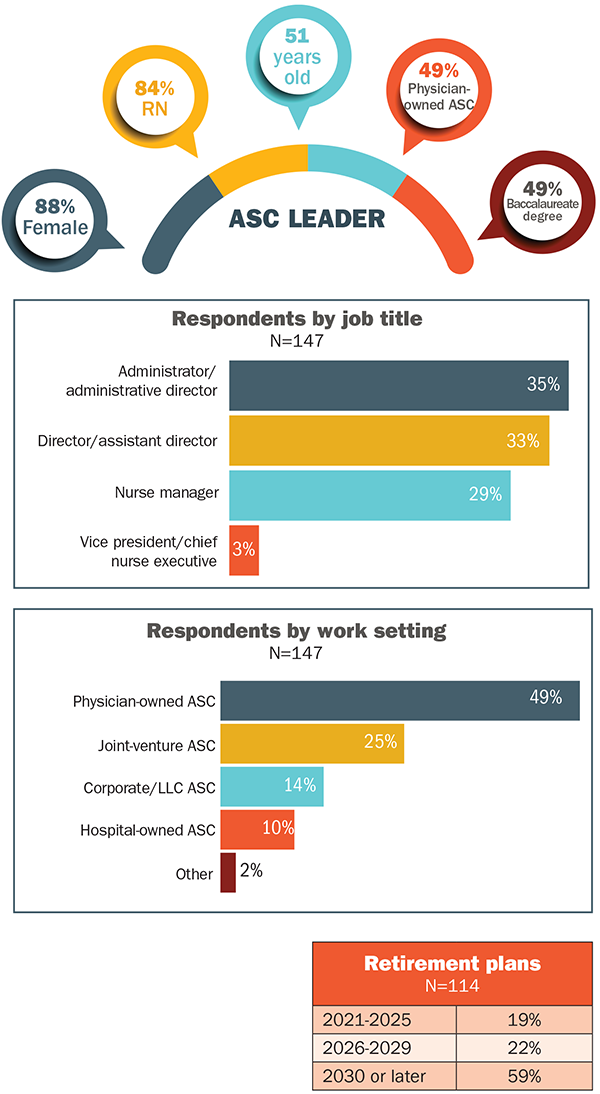 More than half (51%) of respondents earn an average annual salary of $100,000 or more, similar to last year's 59%. The most common salary range was $100,000 to $119,999 (27%). Only 6% earn $150,000 or more (vs 11% in 2020), and only 3% earn less than $60,000 (vs 2% in 2020).
Not surprisingly, earnings vary by title. For example, the most common salary range for leaders with the titles of administrator/administrative director or director/assistant director was $100,000 to $119,999, but for nurse managers, it was $90,000 to $99,999. Interestingly, the most common range for three geographic regions—Northeast, Midwest, and West—was $100,000 to $119,999; for the South it was $120,000 to $149,999.
The two most common ranges for total annual compensation were $100,000 to $119,999 (25%) and $120,000 to $149,999 (24%). Only 3% of ASC administrators earn $200,000 or more (vs 7% in 2020), and only 12% earn less than $80,000 (vs 11% in 2020).
The most common total compensation range for those who serve as directors/assistant directors was $120,000 to $149,999, and for administrators/administrative directors and nurse managers, it was $100,000 to $119,999. Respondents in the Northeast, South, and West most commonly reported total compensation in the range of $120,000 to $149,999, with $100,000 to $119,999 the most common range for those in the Midwest.
Scope of responsibility
ASC leaders supervise an average of 32 full-time equivalent (FTE) employees, 26 of whom have clinical roles and 6 of whom have nonclinical roles. The average is lower than the 35 FTEs noted in 2020, but the same as what was reported in 2019.
More than half (52%) of respondents said they did not know their ASC's annual operating budget, up from 37% in 2020 and 2019. One-fourth (vs 19% in 2020) oversee a budget of $5 million or more. Only 2% manage a budget of $15 million or more. In the past 12 months, 28% saw their operating budget increase, whereas it decreased for 19% and stayed the same for 53%.
Most respondents (79%) oversee one to five ORs (vs 81% in 2020 and 77% in 2019), with most responsible for two (29%), three (20%), or four (18%). Only 6% have 10 or more ORs under their management, the same as last year.
On-the-job perspectives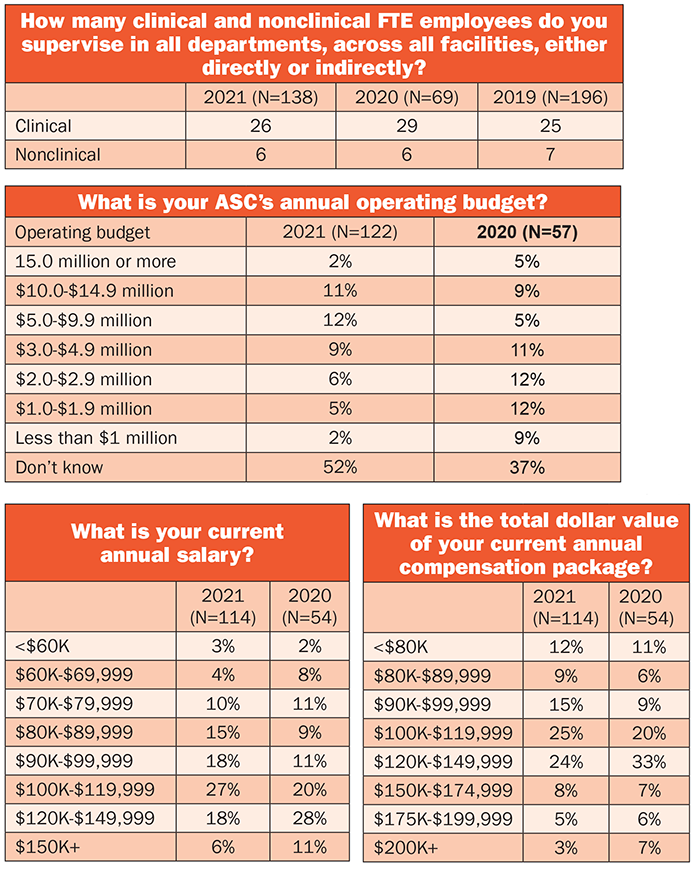 Overall, ASC leaders' satisfaction ratings are comparable to those from last year. The exception is physician engagement level, which received a favorable rating from 73% of respondents, up from 59% in 2020. It will be interesting to see if the improvement is sustained next year.
As in previous surveys, respondents gave patient satisfaction with OR services their highest favorable rating (96%), far above the next highest—78% said they were satisfied with their own job or position (vs 76% in 2020). The only other item receiving more than 70% was staff engagement (76% vs 79% in 2020).
More than two-thirds (69%) of respondents plan to stay with their employers—at least for the next year. For those planning to leave, the top three reasons were burnout (14%), dissatisfaction with compensation and/or benefits (12%), and too much work (also 12%).
Benefits can motivate managers to stay on the job, so we asked respondents to select from a list of benefits they would like to have if they didn't already have them. The top four responses were: bonus (35%), profit sharing (29%), tuition/education reimbursement (27%), and pension plan (23%). However, nearly one-fourth (24%) did not choose any on the list.
About ASC leaders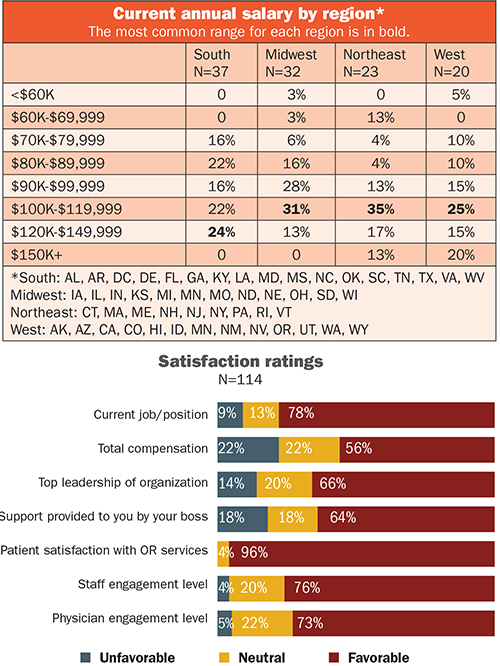 Overall demographics are listed in the infographic (p 31). The average age of the respondents was 51 years, higher than the 44 years cited in The Future of Nursing 2020-2030 Report, released in May 2020.
ASC leaders spend an average of 47 hours on the job each week, with the number of hours ranging from 30 to 80. One-third of respondents have 5 years or less of experience (vs 20% in 2020), and 21% have more than 20 years of experience (down from 34% in 2020).
ASC leaders appear to be a less diverse group than the general nursing profession. Most respondents (88%) chose white as their race or ethnicity, followed by Hispanic/Latinx (4%), and Asian (2%); 5% preferred not to answer. None chose African American/Black, American Indian/Alaska Native, or Native Hawaiian/Other Pacific Islander. The categories used in the Future of Nursing Report differ slightly, but it is interesting to note the percentages: 69% for white, 12% for African American/Black, 9% for Asian, and 7% for Hispanic.
Most ASC leaders (42%) report a baccalaureate degree in nursing as their highest level of education, and 20% (vs 29% in 2020) hold a master's degree, although only half of those are in nursing. Of the title options provided in the survey, the top three chosen were administrator/administrative director (35%), followed by director/assistant director (33%) and nurse manager (29%).
A total of 33% respondents live in the South, 29% live in the Midwest, 21% in the Northeast, and 18% in the West.
Where are the nurses?
In all, 106 respondents answered the question: "What is your biggest concern about the future of perioperative nursing?" Almost every comment related fully or partly to staffing. Concerns included finding and retaining qualified staff in an era when, as one ASC leader noted, "Nurses are continually asked to do more." Burnout, generational differences, not being able to pay staff sufficient wages, replacing aging nurses, and schools not preparing perioperative nurses were cited more than once.
Sample comments include:
• "[There is] a lack of experienced RNs, techs, managers, supervisors, and administrators. No one seems to want to move up into the leadership roles."
• "[There is] reduced passion on the part of the current generation for dedicating themselves to perioperative nursing."
• "Young nurses in my experience are not committed to places or coworkers. They hop from job to job, and it will be hard to maintain integrity of staffing when current RNs retire."
• "Surgical techs are very difficult to find; sterilization staff is difficult to find and keep."
• "There are not a large number of nursing programs that include perioperative nursing in the curriculum."
• "[There is] brain drain as experienced teammates retire before new teammates have gained experience."
• "The challenge is finding truly experienced outpatient perioperative nurses. It requires a high level of autonomy to thrive in ASCs and is challenging for many who are reliant on the support from the larger healthcare settings."
Some mentioned that they are trying to address staffing issues. "We are working to grow our own perioperative staff in our center, hiring new grads and somewhat inexperienced RNs. We are crafting our education to meet our needs and the staffs' needs," says one respondent.
Other concerns include decreased reimbursement, surgeon issues, and supply chain issues, as reflected in these sample comments:
• "I see fast-tracking being the wave of the future, with surgeries taking less time and patients being rushed through the process."
• "A secondary challenge is around the decreasing reimbursement to ASCs, as it is almost half of what the hospital receives for the same procedure. The disparity in the reimbursement structure is something that truly needs to be addressed as many ASCs are having to become fully contracted centers and the out-of-network cushion has all but disappeared."
• "I feel that the general public is not educated enough about their healthcare plans to understand how outpatient surgery at a surgery center can save them a significant amount of money. If we can attempt to educate the general population on the financial implications and savings, we may see a greater migration to outpatient venues."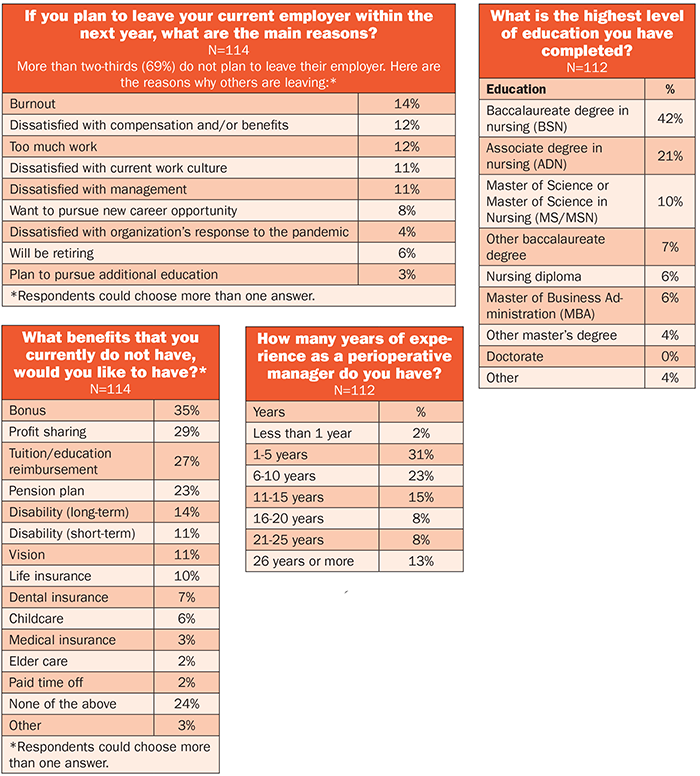 The road ahead
The post-pandemic road may be a bumpy one, but ASC leaders stand ready to lead. As one respondent notes: "I am excited for the future of perioperative nursing as cases transition from hospitals to ASCs." Another adds: "We who have been in ASC leadership for many years have worked hard to share our victories in delivering safe patient care. I want to be sure as I leave my career, in about 2 to 3 years, that our ASC perioperative quality and outcomes remain excellent." ✥
Cynthia Saver, MS, RN, is president of CLS Development, Inc, Columbia, Maryland, which provides editorial
services to healthcare publications.