Surgical smoke is a complex issue that has not gained a lot of traction over the years. Legislation to mandate smoke evacuation was introduced more than 20 years ago, but the first law wasn't passed until 2018, and only three US states thus far have enacted legislation. Release of The Joint Commission's "Quick Safety Issue 56: Alleviating the dangers of surgical smoke" in December 2020, along with ongoing advocacy efforts and new studies by leading nurse researchers, may help raise awareness of the need to mitigate the hazards of surgical smoke.
Decades-long efforts
A bill was brought before Congress to have the Occupational Safety and Health Administration (OSHA) mandate smoke evacuation in 2000. The bill, which was part of an appropriations bill, only made it to budget reconciliation.
AORN has long been concerned about this. In early 2006, AORN formed a Surgical Smoke Task Force that developed the AORN Position Statement on Surgical Smoke and Bio-Aerosols.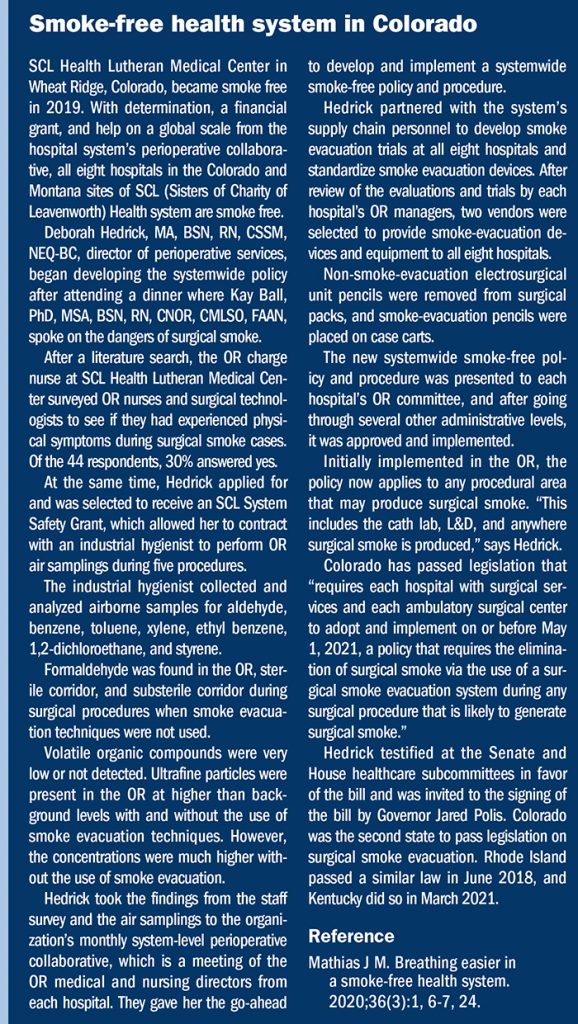 Also in the early 2000s, a relationship developed between OSHA, AORN, and The Joint Commission. The Joint Commission included smoke evacuation in the Environment of Care (EC) chapter of its accreditation manuals for hospitals, critical access hospitals, ambulatory care, and office-based procedures.
The standard, EC 02.02.01 element of performance (EP) 9, requires that organizations "minimize risks associated with selecting, handling, storing, transporting, using, and disposing, of hazardous gases and vapors." It also includes the following note from National Fire Protection Association standard 99-2012: 9.3.8;9.3.9: "Hazardous gases and vapors include, but are not limited to, ethylene oxide and nitrous oxide gases; vapors generated by glutaraldehyde; cauterizing equipment, such as lasers; waste anesthetic gas disposal (WAGD); and laboratory rooftop exhaust."
In June 2018, Rhode Island became the first state to enact legislation, and Colorado was the second in 2019 to ensure prevention of exposure to surgical smoke in hospitals and freestanding ambulatory surgery centers (sidebar, "Smoke-free health system in Colorado").
AORN announced on March 23, 2021, that Kentucky Governor Andy Beshear had signed into law new legislation that will require licensed hospitals and ambulatory surgery centers to adopt and implement policies to prevent human exposure to surgical smoke. The new law becomes effective January 1, 2022.
Quick Safety Issue 56
On December 15, 2020, The Joint Commission released "Quick Safety Issue 56: Alleviating the dangers of surgical smoke"—its strongest statement yet for surgical smoke evacuation.
In the Quick Safety, The Joint Commission highlights the dangers of surgical smoke and reviews current regulations, recommendations, and standards from several governmental and professional organizations, including OSHA, National Institute of Occupational Safety and Health (NIOSH), American National Standards Institute (ANSI), AORN, and ECRI.
The advisory notes that surgical smoke is a by-product created by the thermal destruction of tissue with lasers, electrosurgical systems, radiofrequency devices, hyfrecators, ultrasonic scalpels, power tools, and other devices.
Research shows that surgical smoke can contain toxic gases and vapors such as benzene, hydrogen cyanide, formaldehyde, bioaerosols, dead and live cellular material (including blood fragments), and viruses. Research also shows that nanoparticles comprise 80% of surgical smoke, and they are the real dangers of inhaled smoke. At a size of less than 100 nanometers (0.1 micron), inhaled nanoparticles can enter an individual's alveoli, which then move to the blood and lymphatic circulatory systems, and travel to distant organs.
The Quick Safety supports individual healthcare workers and organizations alike by providing recommendations for protective strategies and ways to build individual and institutional resilience during a crisis. It also includes several safety actions for healthcare organizations that perform surgery and other procedures using lasers and other devices that produce surgical smoke.
Recommended safety actions to protect patients and healthcare workers include:
• implementing standard procedures for the removal of surgical smoke through the use of engineering controls, such as smoke evacuators and high filtration masks
• using standard precautions during laser procedures to prevent exposure to the aerosolized blood, blood by-products, and pathogens contained in surgical smoke
• establishing and periodically reviewing policies and procedures for surgical smoke safety and control, and making these policies and procedures available to staff in all areas where surgical smoke is generated
• providing surgical team members with initial and ongoing education and competency verification on surgical smoke safety, including the organization's policies and procedures
• conducting periodic training exercises to assess surgical smoke precautions and consistent evacuation for the surgical suite and procedural area.
The Quick Safety was originally set to publish in April 2020. However, because of COVID-19, its publication was delayed so The Joint Commission could make sure accredited organizations were receiving current and relevant publications and resources primarily focused on the pandemic.
In December 2020, The Joint Commission decided to move forward with the release of the Quick Safety, with an emphasis on communicable diseases.
Laura Gayton, BSN, RN, MHCA, CNOR, CSSM, author of the Quick Safety and associate director, standards interpretation group, division of healthcare improvement at The Joint Commission, tells OR Manager that before the pandemic, accredited organizations had been seeking The Joint Commission's viewpoint on the dangers of surgical smoke, which is detailed in standard EC.02.02.01 EP9.
Although it was common for state legislators and professional organizations to inquire about the subject, she says, the COVID-19 pandemic prompted The Joint Commission to become more aware of the dangers of surgical smoke, based on the potential dangers of aerosolization and plume.
"Professional organizations and state representatives have joined us in communicating the hazards of surgical smoke, and some states have initiated laws or already passed laws requiring implementation of engineering controls to ensure smoke evacuation," says Gayton.
"The Quick Safety also emphasizes that the monetary cost of remedying a hazard should never be an issue when healthcare staff safety is in jeopardy," Gayton says. "It helps healthcare organizations understand that it is necessary to pay to implement practice changes that promote safety in the OR and protect the overall well-being of healthcare professionals caring for patients."
The Joint Commission has continued to partner with healthcare organizations during the pandemic on ways to keep patients and staff safe, she says. Issuing the Quick Safety is an example of how surveyors work to identify these types of risks and bring them to an organization's attention to ensure a safe environment.
"By providing the Quick Safety tool to surveyors and hospitals," Gayton says, "The Joint Commission hopes to see adoption of practices to address the hazards of surgical smoke."
Efforts to mandate smoke evacuation
Mandating surgical smoke evacuation has been a passion of Brenda Ulmer's, MN, RN, CNOR, for nearly 25 years. She became involved with smoke evacuation when she wrote a paper on the subject for her Master's degree program in 1995.
Ulmer and Kay Ball, PhD, MSA, BSN, RN, CNOR, CMLSO, FAAN, lobbied Congress in July 1996 to gain support for a mandate to evacuate and filter smoke. Ulmer worked with the head of OSHA, Ralph Yodaiken, MD, and Congressman Carlos Romero Barcelo from Puerto Rico to introduce the bill. The bill was assigned a number and attached to the omnibus reconciliation bill. The bill made it all the way to budget reconciliation, and then it was dropped.
After the bill failed, there was a change in administration, and a new head of OSHA was appointed. "Anytime there is an administration change, you have to start over at square one," says Ulmer. "All of our efforts went by the wayside."
Ulmer worked to convene and obtain funding for two roundtable meetings in 1996 and 1997. NIOSH, OSHA, ECRI, researchers, surgeons, RNs, and manufacturers attended both meetings and were joined in 1997 by representatives from the American Society of Anesthesiologists, American College of Surgeons, American Nurses Association, and The Joint Commission.
In 2006, Ulmer served on the AORN Surgical Smoke Task Force that put together the AORN Position Statement on Surgical Smoke and Bio-Aerosols.
Currently, she serves on the board of directors of the International Council on Surgical Plume and is a member of the Society of American Gastrointestinal and Endoscopic Surgeons Fundamental Use of Surgical Energy (FUSE) Committee. This committee developed the FUSE educational program study materials to certify that an individual has the fundamental knowledge for the safe use of surgical energy-based devices (https://www.fuseprogram.org/testing-information/).
"Surgical smoke is as dangerous as smoking cigarettes," says Ulmer, "but the efforts to control it are minute compared with the efforts to control cigarette smoke."
Ulmer believes there are three reasons more hasn't been done to control surgical smoke:
• The number of people it affects is small compared to cigarette smokers.
• Some opponents of smoke evacuation claim there is no proof that smoke causes illness.
• There is the perception among hospitals that smoke evacuation will be too expensive.
Ulmer gives the following tips for moving mandatory smoke evacuation forward:
• make the decision to evacuate smoke
• identify champions
• use a team approach, including surgeons, perioperative staff, anesthesia personnel, risk managers, occupational health, infection control, and administration
• investigate smoke systems
• develop smoke policies
• educate to evacuate
• evaluate compliance.
Ulmer says she continues to work with groups because she would like to see regulations mandating surgical smoke evacuation to protect today's young OR staff from the consequences of long-term exposure to surgical smoke.
As the legislative committee chair of the Georgia Council of Perioperative Registered Nurses, she has been seeking surgical smoke legislation since 2019.
The legislative committee got a bill in the Georgia Senate in 2020 (SB347) and a resolution to establish a Senate Smoke Study Committee in late 2020 (SR981). There are currently two bills in the Georgia Legislature—SB19 and HB371.
The legislative committee has worked hard to establish a network of nurses and technicians across Georgia to help the state join the ranks of other states with surgical smoke legislation to protect patients and healthcare workers, says Ulmer.
She says she believes The Joint Commission's Quick Safety is important because throughout her perioperative nursing career, The Joint Commission standards were one of the driving forces for policy development and enforcement.
As Ulmer's career progressed into education, she continued to advocate for the use of standards and guidelines from The Joint Commission, AORN, and other organizations to maintain high levels of patient care.
The importance of The Joint Commission's work was recently reinforced during Georgia Senate Smoke Study Committee meetings in the fall of 2020. In one of the three sessions, Ulmer says, a senator specifically asked: "What does The Joint Commission say?" She says she responded with the language of EC 02.02.01.
After the Quick Safety was published, Ulmer immediately sent it to the Senate members of the Smoke Study Committee. She believes it was, at least in part, responsible for a unanimous recommendation from the Georgia Senate Smoke Study Committee to introduce a smoke bill (SB19) into the 2021 legislative session.
The Quick Safety expands the current standard language by including what surgical smoke is, standards and guidelines from other organizations, and safety actions to consider, says Ulmer. The document is important because it gives more specific guidance to healthcare organizations about what is important for protecting patients and personnel.
"The Quick Safety 'puts teeth' into the smoke standard, and it helps to educate surveyors on what to look for during a survey," she says. "This document has the power to help change smoke evacuation practices in healthcare facilities across the United States and around the world."
Noncompliance in smoke evacuation
Surgical smoke evacuation continues to be a major challenge in many ORs. Though research supports the fact that smoke poses hazards to the surgical team, the debate continues on the need for smoke evacuation, says Ball, who is an adjunct professor of nursing at Otterbein University, Westerville, Ohio; a perioperative consultant; and former chairman of AORN's Surgical Smoke Task Force.
"We evacuate laser plume because, from the beginning, we were taught not to use a laser without a smoke evacuator in the room," says Ball. "It's electrosurgical smoke that we have been breathing for years that people don't see the need to evacuate."
Another example, says Ball, is how quickly ORs got rid of waste anesthesia gasses, once the technology was incorporated into the anesthesia machines.
The technology to get rid of surgical smoke is there, she says, but acceptance hasn't been overnight, and many ORs remain noncompliant.
In addition to partnering with Ulmer to lobby congressmen and convene the two round tables in the mid-1990s, Ball has written and spoken extensively about the need for surgical smoke evacuation.
In 2010, she surveyed OR staff nurses for a study she conducted on surgical smoke evacuation. Her study revealed four main reasons why OR staff weren't using smoke evacuators:
• They didn't have the equipment in all of the rooms.
• The surgeon told them they didn't have to evacuate smoke.
• The equipment was too noisy.
• The staff was complacent.
"They had the equipment. They had the policy. But they didn't want to bother with it," says Ball. Many of these reasons still exist today, along with the obstacle of not wanting to change surgical practices, she says.
Ball conducted another study in 2020, with similar survey questions about perioperative nurses' experiences with surgical smoke exposure. The study, which has been submitted for publication, included 1,304 completed responses to a survey of AORN members.
"The results of the 2010 study repeated in 2020," says Ball, "which demonstrates a profile for perioperative nurses because the responses were very similar. Even after 10 years, not much has been done to incorporate smoke evacuation for every smoke-producing procedure," she says.
Ball also found some surprises in the answers to both of her survey studies.
When asked if they had respiratory disorders or diseases, nurses reported twice the incidence of respiratory problems compared to the general population.
In the 2020 study:
• 22.9% reported sinus infections and sinus problems vs 11% in the general population
• 10.9% reported asthma vs 7.6% in the general population
• 9% reported bronchitis vs 3.4% in the general population
• 24.2% reported allergies vs 15% in the general population.
To get beyond the pushback from staff and surgeons, Ball suggests finding a champion or champions—an OR nurse, OR manager, and/or surgeon—and educate them. "If you educate them on the negative consequences of surgical smoke, they are more apt to evacuate it," she says.
Ball says she explains to surgeons that, because they aren't in the rooms every day, their exposure level is much less than that of OR nurses, surgical technologists, and anesthesia providers, who do have daily exposure. This repeated exposure is a real safety issue for them.
It is also important for an OR to have a policy on smoke evacuation, says Ball, noting that in her 2020 study, 68% reported that they did not have one.
"When there is a policy, the staff and surgeons are more apt to follow it," she says. "Having a policy is crucial for a smoke-free surgical environment."
Additionally, Ball advises: "When an organization, such as The Joint Commission, addresses the hazards of surgical smoke along with practices to evacuate it safely, as they have in the new Quick Safety, healthcare professionals should pay attention.
"Research confirms the hazards of surgical smoke exposure, and recommended practices make it easy to remove smoke, which should help encourage the many diverse perioperative environments to become smoke-free," says Ball.
The Quick Safety addresses surgical smoke not only from The Joint Commission's perspective but also from the perspectives of five other nationally recognized organizations, which also base their statements on research-based evidence, she says.
In the Quick Safety, The Joint Commission explicitly and clearly describes what is needed for a smoke-free environment, including:
• using smoke evacuation devices and high filtration masks
• writing and communicating policies
• providing initial and ongoing education on surgical smoke safety and control
• monitoring smoke evacuation compliance for consistency.
"These easy-to-follow recommendations are only suggestions, but they should be followed as if they were the accepted and required surgical practices expected in every perioperative setting," says Ball.
Implementing a smoke evacuation policy
A 100% surgical smoke-free environment is achievable, says Vangie Dennis, MSN, RN, CNOR, CMLSO, assistant vice president of perioperative services at AnMed Health, Anderson, South Carolina.
Dennis implemented standard precautions and policies to evacuate all surgical smoke at five facilities over the past 35 years. Using the same process for all five, she went smoke free at:
• Gwinnett Hospital System, Lawrenceville, Georgia
• Southern Regional Medical Center, Atlanta
• Spivey Station Surgery Center, Jonesboro, Georgia
• Emory Ambulatory Centers, metropolitan Atlanta
• WellStar Medical Center, Downtown and South Campus, Atlanta.
Shortly after NIOSH published studies on workplace practices for controlling smoke from lasers and electrosurgical procedures in the mid-1990s, Dennis says she began building a process and cultural change for the ORs she managed.
Her formula for implementing smoke evacuation was to make it as intuitive and transparent as possible for the surgical team.
She knew that research would be key to validate the hazards of surgical smoke and the need for its evacuation to her staff and the surgeons.
She gathered data and took it to the surgeons' Grand Rounds and staff in-services. In addition, she surveyed the staff and surgeons on what they saw as obstacles to using smoke evacuation devices.
Her survey of surgeons gleaned the following answers:
• It's too noisy.
• I don't want anything that's going to interfere with my case.
• The staff is chasing around smoke evacuation and not paying attention to the case.
• The equipment is not readily available and slows turnover of the room.
She notes that she had to consider the surgeons' views because she wanted to protect the surgeons and the staff, but she didn't want them to worry about smoke evacuation to the detriment of the case.
Dennis' survey of the staff revealed the following:
• They are noisy.
• We don't have enough of them.
• We are too busy turning over, and we don't have time to mess with them.
• The design of the hookup (eg, staff members would hook the evacuation tube to the electrosurgical pencil, and the surgeon didn't like it and complained).
To find the best hookup for the evacuation tube—one that didn't interfere with the surgeon performing the procedure while optimizing removal of the plume—the staff broke up into teams along service lines, and "they got really creative," says Dennis.
Neurosurgery staff, for example, punched holes in corrugated tubing, clamped the end of it, and turned the smoke evacuator to about 20%. They put it opposite the surgical site and let it slowly remove the smoke like a soaker hose.
In addition, table top demonstrations were set up so the surgeons and staff could assess and decide which device worked best for them.
"Surgeons and staff were never asked if they wanted to evacuate smoke," says Dennis, "but instead, they were asked how to best evacuate smoke."
After surgeon and staff education, product selection, and development of service protocols, Dennis set a "go-live" day for mandatory smoke evacuation. "Surgeons and staff were told smoke evacuation is not your choice; it is protection for everyone in the room."
Three months after policy implementation, "secret shoppers" were used to monitor compliance, and monitoring continues. "Like any new change in practice, you monitor your practice because you can't expect what you don't inspect," says Dennis.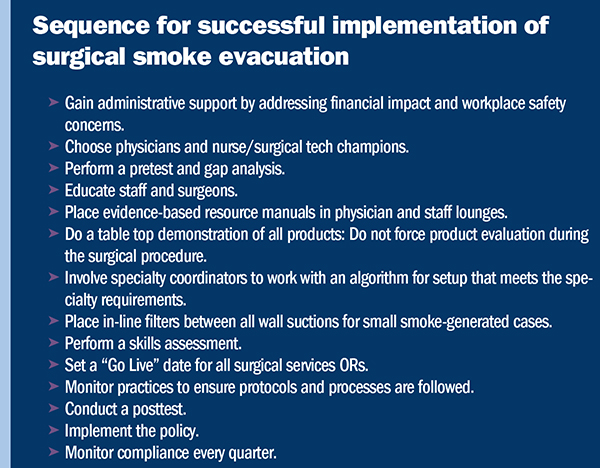 Since her first implementation, Dennis says she has learned a sequence for implementation that ensures success (sidebar, "Sequence for successful implementation of surgical smoke evacuation"). Dennis chairs the National Certification Committee for Medical Lasers and was a member of the AORN Surgical Smoke Task Force. Her policy was a template for AORN's Management of Surgical Smoke Tool Kit.
The journey to a practiced and cultural change for the implementation of surgical smoke removal has not been easy, she says. Standards and guidelines have been written, and there are states that have moved to law, but there is still no tipping point across the US.
"Accreditation organizations like The Joint Commission help influence change of practice," says Dennis, "and The Joint Commission's new Quick Safety will help educate organizations and surveyors on the issues and dangers surrounding surgical smoke."
Focusing on noncompliance with smoke evacuation during a survey will give surgical smoke more visualization in hospitals and ASCs, which will increase compliance, she says.
"The most common questions I receive are ones that ask about The Joint Commission's position on surgical smoke," says Dennis. "The Quick Safety will bring the issue to the forefront so the right questions can be asked and the right answers given." ✥
Editor's Note: Ball and Dennis will be presenting at the annual OR Manager Conference, October 20-22. To learn more or to register, visit www.ormanager.com.
References
AORN. Guideline for surgical smoke safety. Guidelines for Perioperative Practice. Denver, CO: AORN. 2020, pp 1007-1038. Originally published December 2016 in Guidelines for Perioperative Practice online.
Ball K. Surgical smoke evacuation guidelines: Compliance among perioperative nurses. AORN J. 2010;92(2):1-23.
Ball K, Dennis V. Workplace safety. Presented at AORN Congress. 2007.
Dennis V. Sample smoke evacuation policy. AORN Management of Surgical Smoke Toolkit.
ECRI. Surgical smoke evacuation systems. Healthcare Risk Control. May 16, 2018.
Mathias J M. Breathing easier in a smoke-free health system. 2020;36(3):1, 6-7, 24.
Mathias J M. Hiding in plain sight: Surgical smoke threatens health of OR staff. 2015;31(9):15-17.
OSHA. Occupational Safety and Health Standards on Respiratory Protection, 29 CFR 1910.134.
NIOSH/CDC. Control of smoke from laser/electric surgical procedures. 1996.
The Joint Commission. Environment of Care Standard EC.02.02.01—Element of Performance (EP) 9.
The Joint Commission. Quick Safety Issue 56: Alleviating the dangers of surgical smoke. December 2020.
Ulmer B. The hazards of surgical smoke. AORN J. 2008;87(4):721-738.