A global pandemic did not stop the proliferation of joint ventures between ambulatory surgery centers (ASCs) and hospitals in 2020. The trend continues in 2021, as federal regulators expand on the types of procedures that can be performed in the ambulatory setting.
Hospitals are recognizing the need for a surgery center strategy because they see private payers and Medicare pushing cases to the lowest cost provider, says Donna St. Louis, vice president for business development at BayCare Health System, Clearwater, Florida. "Hospitals don't want to be left out of the revenue of those cases," which can be done less expensively in an ASC, she says.
From a regulatory perspective, joint ventures pose advantages in states with Certificate of Need laws for establishing or expanding healthcare facilities, says St. Louis. If a group of surgeons want to build a surgery center, for example, they may lock arms with the community hospital. Working together may eliminate challenges to the development of the ASC. "A team of two can be far more formidable in establishing the ASC," St. Louis says.
Others see joint ventures as part of the normal life cycle of many physician-owned surgery centers. "Ultimately, that's how the physician owners of an ASC reap a significant financial return on their original investment, along with developing other potential opportunities for growth in case volume and operational efficiencies," says Larry Parrish, MBA, administrator of Illinois Sports Medicine & Orthopedic Surgery Center in Morton Grove, Illinois.
ASCs deliberating such a move should consider the impact on their culture and the bottom line.
Merger trends nationwide
Joint ventures between hospitals and ASCs are on the rise. "The number of hospitals and health systems planning to increase their investments in ASCs rose from 44% to 67% from 2019 to 2020," Becker's ASC Review reported in April, citing various sources.
Approximately 72% of ASCs remain independent, but this leaves possibilities open for mergers, according to VMG Health's report, ASCs in 2020: A Year in Review. Ongoing trends include the "shift of higher acuity procedures from the inpatient setting to the outpatient setting, increased Medicare reimbursement rates, consolidation, and increased activity by hospitals seeking to grow their ambulatory footprint with a particular focus on ASCs," say VMG Health's Jack Hawkins, senior analyst, and Colin Park, CPA/ABV, ASA, director.
Dallas-based Tenet Healthcare Corporation paid $1.1 billion in cash to acquire 45 ASCs from SurgCenter Development, Towson, Maryland, in 2020. The centers became part of United Surgical Partners International (USPI), Tenet's ambulatory business, say Hawkins and Park. "USPI will have up to 60% ownership in the acquired centers, acquiring SurgCenter Developments' ownership interest and additional interest from physicians in the deal," they add.
Tenet had its eye on expanding its ambulatory platform, Executive Chairman and CEO Ron Rittenmeyer said in a December 2020 statement, when the merger was announced: "It will enhance our overall business mix and further diversify our earnings profile by accelerating our shift toward lower cost of care, as well as consumer-friendly, faster-growing assets for Tenet, USPI, and our physician and health system partners."
Orthopedics, pain management, and spine make up 80% of the case mix of these 45 ASCs. Through this collaboration, Tenet hopes to create the largest musculoskeletal surgery platform in the country.
As ASCs face new volume, technology, and transparency, more hospitals will be looking to buy these facilities, says Tom Blasco, MD, senior physician managing director of Surgical Directions, a healthcare consultancy in Chicago. "Hospitals want to pursue the ambulatory surgery environment because of its reduced cost, higher productivity, efficiency, and better patient care," says Dr Blasco.
COVID-19 has driven this in part, mainly because hospitals faced significant financial straits when their elective surgery cases halted during lockdowns, says Dr Blasco. "I don't think hospital administrators really knew how important their elective outpatient surgery was, until COVID-19 effectively shut it down. Once that happened, they had a clear understanding that their hospital depended on outpatient elective ambulatory surgical patients based on commercial payers as opposed to inpatient procedures based upon government payers such as Medicare and Medicaid."
Hospitals recognize that the freestanding ASC market will be necessary for future survival. "They're going to have to embrace the ASC to maintain market presence," Dr Blasco says.
Perhaps an even greater motivator is pressure from payers, especially now, as the Centers for Medicare & Medicaid Services (CMS) continues to dramatically reduce its inpatient-only list and plans to eventually eliminate it, says Parrish. "If CMS is saying: 'This procedure can be done in an ambulatory setting,' other payers will certainly follow suit because they don't want to pay hospital rates."
Hospitals are often the pursuer in these relationships, notes Dr Blasco. For ASCs, one key motivator stems from the aging of the partners, which typically limits their lifespan. When this happens, the practice starts diminishing and begins looking for a buyout with a hospital.
Joint venture opportunities are on Parrish's radar screen for this very reason. "At this point, we're in our 14th year, and we're considered a more mature facility. Some of the original physician partners are getting older—and we're beginning to explore potential relationships with a hospital, health system, or other entity," he says.
When a surgeon buys into an ASC, there's usually an initial number of shares. As soon as the ASC starts making money, those shares skyrocket. This offers a return on investment, but prices the shares out of the market for future physicians to buy in.
"Let's say a share was $25,000. Within a year, that share is now $200,000. The share price has gotten so high, no other surgeon can get in. This is why an ASC often has limited life expectancies," explains Dr Blasco.
Hospitals don't always like these kinds of affiliations, either, because they have to share revenue with the physicians. Despite the resistance on both sides, some hospitals will continue to own ASCs because the market demands it, he adds.
Weighing the pros and cons of a partnership
From a financial perspective, there's a lot a hospital can offer an ASC, including capital, health information technology (IT) expertise, and staff support, says Dr Blasco.
Because of new CPT codes that have been approved for procedures performed in outpatient settings, a lot of new technologies and specialties will be moving to ASCs, he says. Various specialties will require expensive new technologies such as robots, radiology suites, and technicians, as well as specialty staff.
"And that's good, because hospitals typically have deep pockets, and they also have the technical staff they can lend to ASCs to help them get started," says Dr Blasco.
By partnering with ASCs, hospitals can also help expedite the implementation of a paperless record and IT system. "Because they have captured healthcare populations from Accountable Care Organizations and clinical integrated networks, hospitals can provide instant patient referral to the ASC populations," he says.
ASCs that partner with hospitals should also see a dramatic increase in reimbursement, especially if the hospital has majority ownership, says St. Louis. "Why do you think USPI wanted to partner with Tenet? That's a big hospital system, and I have heard that their rates are so much better. It was totally in the ASC's interest to partner with them."
Hospitals can also provide support if equipment fails. Purchasing rates with a hospital can be much more lucrative in terms of the savings on supplies, says St. Louis. "Piggybacking off of the resources of a hospital can be a tremendous help to an ASC. So I think there are a lot of advantages [to partnership]," she adds.
A joint venture with a hospital may provide financial security, but ASC leaders should be cognizant of the hospital culture they merge with, advises Dr Blasco.
"Hospitals by nature are incredibly bureaucratic," he says. The typical ASC is much more tightly structured, with a lot of cross-training and collaboration. The pace is faster in an ASC than in a hospital.
"The patients are all elective, and they all expect great care," he says. When hospitals dabble in managing frontline ASC operations, this could affect the uniqueness and culture of the ASC. "A hospital that tries to manage its ASC like a hospital will by its very nature create an environment that's not very good for the ASC," he adds.
What makes a "good marriage"?
Many of these ventures don't end up working out, notes St. Louis. Her advice to ASCs: Do your homework. "You want to make sure the hospital culture is close to your culture, and your values are the same as the ASC values."
Managing a surgery center is completely different from managing a hospital, St. Louis says. "It's a different mindset. Hospitals need to either rely on a management company to help them run things or go to school and learn how to develop and run an efficient surgery center. If you think of the cost model and how different it is from an ASC—it's very different, so you have to run it as efficiently as possible."
Many factors are at play for the hospital in a joint venture. "Should they develop this themselves, or hire someone who knows how to do this and set up a model that works? Or, should they get a partner who does this every day? There are so many different avenues to look at," says St. Louis.
ASCs interested in such a collaboration should decide whether they want to enter into a joint venture with a hospital alone or with a management company like USPI, says Park of VMG Health. "The advantage of joint venturing with a partner consisting of a hospital and management company is that with a management company, their focus is solely on operating and running surgery centers. They're professionals at this, so you get the benefit of that, plus the potential reimbursement lift that the hospital brings," he adds.
The message ASCs should convey to hospitals is: Help us with money and technology, but let us keep our individuality, says Dr Blasco.
Hospitals shouldn't strive for 100% ownership, he notes. Instead, the leadership model should allow the hospital a seat or two on the board of directors. Hospitals should provide support wherever needed, but if the ASC is running well, the hospital should let it continue to run well, says Dr Blasco.
"Most successful ASCs have joint ventures with their surgeons, but also provide incentives to the staff that promote efficiency and productivity."
By acknowledging and embracing their differences, and setting healthy parameters on ownership, hospitals and ASCs can develop a profitable relationship. "But it's got to be a good marriage," says St. Louis.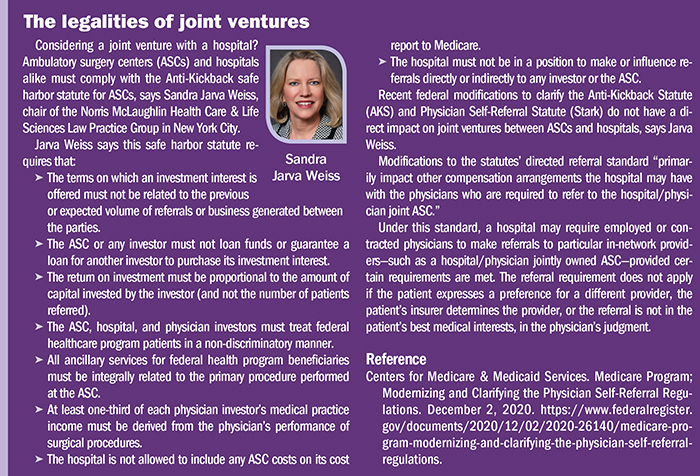 An ASC "on every corner"
Geography and specialty may also influence the success and ubiquity of joint ventures. "It depends on the specialty and a lot of specific market circumstances," says Dr Blasco.
Orthopedics and cardiology are two specialties that benefit immensely from the ASC environment. Approximately 18% of orthopedic procedures are done in an ASC—with some studies suggesting this will rise to more than 60% by 2025, says Dr Blasco.
Most orthopedic surgeons are independent. However, the increase in spine procedures being performed in ASCs, along with advanced techniques, such as new multimodal pain management options that allow patients to go home soon after surgery, mean that joint ventures between hospitals and ASCs will likely continue to ramp up, he predicts.
Most cardiology practices are owned by hospitals rather than ASCs. "There appears to very little interest in the cardiology community at present to move out of the hospital and into the ASC—even though there are a lot of cardiology CPT codes that could do very well and produce a significant return on investment in an ASC," says Dr Blasco.
Hawkins of VMG Health has noticed a trend of bigger multispecialty centers with different service lines opting for joint venture agreements with hospitals. "Then again, you'll always see those orthopedic centers as an attractive target in terms of what fits and where you can create a value setting," he says.
St. Louis says she was hired at BayCare to help start their ambulatory division, mostly with ASCs. When she first came on board, the health system had two ASCs. "Now we have four multi-specialty ASCs," she says. "But we are a very large healthcare system, spanning four counties. When you're a large system, you need quite a few surgery centers. We partner with physicians in our surgery centers, and typically we own the majority of our surgery centers. The physician partners are minority owners."
In her area, physicians are very loyal to the community hospital. "When physicians are looking to develop surgery centers, they often approach us and ask if we'd like to work with them on this. We have to do the analysis to see if it makes sense because in Florida, we really do have an ASC on every corner."
Overall, BayCare's centers have done well with their physician partnerships in the market. It's a model that all ASCs should consider, she adds. "It may not work for everyone, but it can definitely work in your market if you give it an opportunity." ✥
–Jennifer Lubell is a healthcare writer based in Rockville, Maryland.
References
Hawkins J, Park C. ASCs in 2020: A Year in Review. VMG Health. Published online March 3, 2021.
Newitt P. Becker's ASC Review. 12 things to know about ASCs, key insights. https://www.beckersasc.com/asc-news/12-things-to-know-about-ascs-key-insights.html?origin=ASCE&utm_source=ASCE&utm_medium=email&utm_content=newsletter&oly_enc_id=9452A8901623D4T.
Tenet Health. Tenet to Acquire Portfolio of Surgery Centers from SurgCenter Development. December 10, 2020. https://investor.tenethealth.com/press-releases/press-release-details/2020/Tenet-to-Acquire-Portfolio-of-Surgery-Centers-from-SurgCenter-Development/default.aspx.