Non-physician surgical first assistants (FAs) perform a variety of tasks—everything from closing an incision and inserting drains to harvesting veins for bypass procedures and preparing anterior cruciate ligament grafts.
A significant benefit of FAs is shorter case times, which may help reduce patient morbidity and mortality and increase case volumes. "In many states, in the case of a bilateral breast reduction, a measurable amount of time can be saved if you have a skilled assistant working at the same time as the surgeon when suturing," says Jerry Kekos, president of National Institute of First Assisting, Inc (NIFA) in Denver, which offers an education program for preparing RNFAs. A study by Ranzenbach and colleagues found that when a physician assistant (PA) served as an FA for cardiac surgery cases, skin-to-skin incision time was significantly shorter than when a surgeon served in the role, without any increase in mortality.
---
Sponsored Message
---
FAs work in hospitals, ambulatory surgery centers (ASCs), clinics, and, increasingly, in surgeons' offices. Given the range of practice settings and scope of practice of FAs, just how they fit into perioperative practice is not always clear. "There is an incredible amount of diversity," says James Stobinski, PhD, RN, CNOR, CSSM(E), chief executive officer of the Competency & Credentialing Institute (CCI) in Denver. Those who work as FAs include RNs, nurse practitioners (NPs), PAs, and surgical technologists (STs), although others sometimes fill the role.
OR managers considering hiring FAs need to understand education, qualifications, reimbursement, regulatory requirements, and risk management issues. Even when surgeon groups are doing the hiring, OR managers must know how the FA will fit into the surgical team. Part 1 of this two-part series focuses on the history of this role and the education and qualifications FAs need. Part 2 will focus on risk management, what to consider when hiring and working with FAs, and the future of the role.
A brief history of FAs
Before the advent of non-physician FAs, surgeons or physicians provided the necessary support for the attending surgeon. "We required another surgeon because the theory was that if the primary surgeon suddenly wasn't able to complete the surgery, the assistant was competent to safely close so the patient wouldn't experience harm," says Brandon G. Bennett, DNP, RN, CNS, CNOR, CNS-CP, CSSM, CNAMB, CEN, NE-BC, chief nursing executive at Facilitated Healthcare Transitions, LLC, a healthcare consulting firm in Denver.
Surgeons in practice groups often served as each other's first assistant, says Randy Heiser, MA, president of Sullivan Healthcare Consulting in Orlando, Florida. Patricia Seifert, MSN, RN, CNOR, CRNFA(E), FAORN, FAAN, an independent consultant in Falls Church, Virginia, notes, however, that in some cases, the assistant was a general practitioner, not a surgeon, or was a surgeon in another specialty.
Declining reimbursement for surgical procedures forced a change in FAs. "We couldn't afford to have surgeons first assisting," Heiser says. "They needed to be busy doing cases and seeing patients in their offices. That's when nurses as FAs started."
AORN officially recognized the RNFA role in 1983. Seifert introduced the role at Fairfax Hospital (now Inova Fairfax Medical Campus) in Falls Church, Virginia, at a time when only Virginia and Idaho state practice acts included first assisting. "Now first assisting is considered within the nursing scope of practice in all 50 states," Seifert says, although specific functions can vary by state.
The FA role was well on its way to becoming an integral part of the operative landscape when that landscape shifted once again as a result of reimbursement changes that occurred 5 or 6 years ago. The biggest impact came from Medicare, which now provides payment only if the FA is an advanced practice registered nurse (APRN), or a PA, but not if the FA is an RN or ST.
"Hospitals used to get some reimbursement for RNFAs," says Heiser. "It wasn't much, but it helped to offset some of the cost of the RNFA." Many hospitals contracted with companies that provided FAs and handled billing, so the hospitals did not need to manage employees, but still reaped some financial benefit. "When reimbursement stopped, hospitals stopped hiring first assistants," Heiser says. "They weren't bringing the same value to the table as before."
Although this has left RNs and STs who serve as FAs in a difficult position, NPs and PAs have an edge because of their wider scope of practice. Some hospitals are employing NPs and PAs who function as FAs or, more commonly, surgeon groups are hiring them so that surgeons can increase their productivity.
Who serves as FAs?
RNs, PAs, STs, and APRNs all serve as FAs, but education and scope of practice can vary.
RNFAs
AORN's position statement on RNFAs notes that they may engage in pre-, intra-, and postoperative activities, including nursing assessment, providing surgical site exposure, handling or cutting tissue, providing hemostasis, suturing, wound management, participating in postoperative rounds, and helping with discharge planning.
RNFAs work collaboratively to achieve optimal patient outcomes. "My job is to make it easier for the surgeon to do [his or her] job," says Denise Weller, RN, CNOR, CRNFA, an expanded RNFA at the Inova Heart and Vascular Institute in Fairfax, Virginia. Weller, who has been an FA since 1989, works with seven cardiac surgeons in a suite of seven ORs. She confirms the role's benefits: "The cases go faster, and patients benefit because they aren't on bypass or under anesthesia as long."
Seifert says an RNFA's knowledge of surgeon preferences, potential complications, and how to react in an emergency contributes to a quality surgical procedure. She adds that nurses with OR experience bring additional expertise to the RNFA role that's not always recognized—expertise in working with other departments.
"No group interacts better with others than RNs," she says. This expertise, along with RNFAs' other abilities, results in a strong bond between the RNFA and the surgeon. "The trust that develops is great," says Seifert, who cautions that not every OR nurse has the desire or technical skills to become an RNFA.
AORN's position statement says the minimum qualifications to practice as an RNFA include:
• certification in perioperative nursing (CNOR)
• successful completion of an RNFA program that meets the AORN standards for RNFA education programs
• compliance with all applicable statutes, regulations, and institutional policies relevant to RNFAs
• a baccalaureate degree (baccalaureate degree does not apply to RNFAs practicing before January 1, 2020).
NPFAs
Any APRN (certified registered nurse anesthetist [CRNA], certified nurse midwife [CNM], NP, and clinical nurse specialist [CNS]) can serve as an FA, but CRNAs are far more likely to be found administering anesthesia. A position statement from the American College of Nurse-Midwives notes that "acting as the first assistant during obstetric or gynecologic surgery is within the scope of advanced practice" of a CNM.
CNSs serve in the role, but by far, NPs comprise the highest percentage of APRNs who first assist, so they are the focus in this article. In fact, NPs serving as FAs is a growing trend. "Fifteen years ago, we might have one NP in a group of 20 students, and now it's 65% to 70%," says Kekos at NIFA, who adds that the change is driven by the fact that PAs and NPs can bill Medicare and provide other types of services.
PAFAs
According to the American Academy of PAs (AAPA), about 25% of PAs specialize in surgery. Most of these PAs work in orthopedics, with general surgery and neurosurgery tying for second, followed by cardiovascular and cardiothoracic surgery. The association doesn't provide data on how many of those provide FA services.
Both PAFAs and NPs can provide preoperative care (such as completing histories and physicals), serve as an FA during surgery, and follow patients postoperatively, including writing treatment, medication, and discharge orders.
Bennett notes that NPFAs and PAFAs each have pros and cons. "A nurse practitioner has a broader foundation for clinical decision making, diagnostics, and approaches to a patient's care," says Bennett. But NPs aren't trained in techniques such as suturing and likely have no OR experience, so they need to complete a focused education program to gain necessary skills.
PA education is more focused on technical skills. "They truly are the physician's assistant," Bennett says. In many states, NPs don't need to have physician oversight for non-first assisting duties such as prescribing, but PAs always do. "In addition, patient advocacy is a fundamental characteristic of nursing professional practice," Bennett notes. Kekos at NIFA thinks NPs' training in quality care is another benefit.
"Not every surgeon has a great bedside manner and may not be good about answering questions after surgery," Stobinski adds. "NPs are good for that and can also do preassessments and postsurgical rounds; they provide added value."
STFAs
STFAs have the most limited scope of practice, which is why fewer exist. "If we see them at all, it's in ASCs, where they are employed more to keep cases moving," says Heiser at Sullivan Healthcare Consulting. For example, an STFA can close a case so the surgeon can start on the next patient more quickly. Kekos says STs in the FA role only have title protection in a handful of states, which hampers their ability to practice, even though they have valuable skills. Bennett notes that STFAs in states without title protection aren't permitted to suture or cut tissue like other FAs, which limits their usefulness.
The American College of Surgeons (ACS) statement on ST training and certification simply states: "With additional education and training, some surgical technologists function in the role of surgical first assistant." However, the ACS's statement on principles notes that ideally the FA should be a qualified surgeon or resident, but PAs and RNs with additional training may function in that role provided they meet "national standards" and are credentialed by the "appropriate local authority."
Other FAs
Not all FAs are RNs, APRNs, PAs, or STs. One unique program is Eastern Virginia Medical School's master of surgical assisting, a 22-month program open to anyone with a baccalaureate degree. Students complete eight surgical clinical rotations, each 6 weeks long, for a total of 1,920 hours of clinical experience. The school also offers a "bridge program" for surgical assistants who want to obtain a master's degree.
The Bureau of Labor Statistics' job classification for surgical assistant, which does not apply to RNs or STs, states that they assist in operations under the supervision of a physician. Although the description doesn't specify first assisting, the duties associated with the role seem to be covered by this statement: "may, in accordance with state laws, help surgeons to make incisions and close surgical sites, manipulate or remove tissues, implant surgical devices or drains, suction the surgical site, place catheters, clamp or cauterize vessels or tissue, and apply dressings to the surgical site."
How are FAs educated?
Education programs for RNFAs and NPFAs, which usually provide a certificate of completion, are based on AORN standards. The standards state that the program should provide six semester credit hours, be based on AORN's Core Curriculum for the RN First Assistant, and include didactic and clinical components.
Most programs offered by colleges or commercial companies such as NIFA are designed to be completed in 1 to 2 years. For example, Jacqueline Bak, MSN, RN, CNOR, RNFA, CST, director of perioperative programs at Delaware County Community College (DCCC) in Media, Pennsylvania, says the college offers a six-credit, two-semester program for RNFAs. The program was established in 1985 by Jane C. Rothrock, PhD, RN, CNOR, FAAN.
Eligibility requirements vary slightly by school, but most require 2 years of OR experience. However, schools usually have strategies for accommodating NPs without surgical experience. For instance, requirements for the RNFA program at UCLA Extension in Los Angeles include a baccalaureate degree and 2 years of OR experience, but NPs who are board certified but lack OR experience can complete a 1-day course before starting the program, according to Robert Salsameda, MSN, NP-C, RN, MPA, CNOR, CRNFA, CNRN, course chair of the program and a neurosurgical NP. The course covers basic skills such as scrubbing, gowning, draping, and surgical safety.
In the NIFA RNFA program, NPs without experience have to take an in-person class that covers OR fundamentals and successfully complete video-based testing on what they have learned. NPs attending the DCCC program learn the fundamentals of perioperative practice, including scrubbing, gowning, gloving, and instrument review, during onsite training. DCCC runs four sessions each year, with two for CNORs and two for NPs.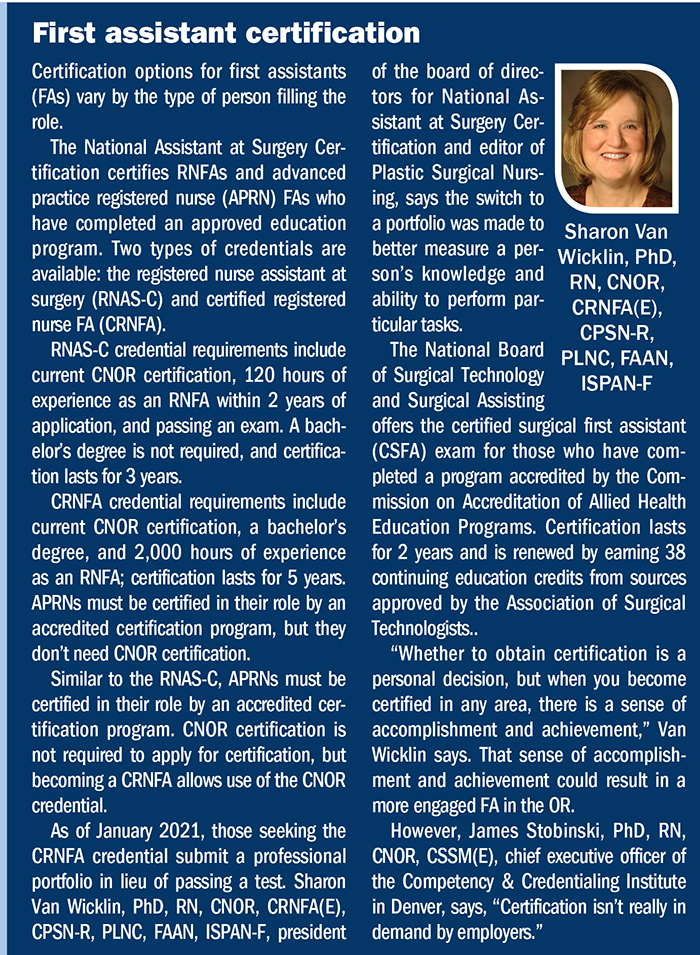 Programs usually begin with remote learning supplemented by onsite training, which typically includes simulation and other hands-on activities. For instance, after completing their precampus work, DCCC students spend 5 days onsite where they practice skills such as suturing under the guidance of surgeons and RNFAs.
Simulation experiences include use of a high-fidelity mannequin that, for example, can present the student with the situation of a lacerated kidney. Students have to identify the problem, stop the bleeding with sponges and sutures, clamp vessels, and use proper retraction to remedy the problem. "The simulation focuses on general skills, for example, suturing a vein, that apply to every specialty," Bak says. A suture lab provides the opportunity for students to practice skills on pigs' feet; pigs have skin similar to that of humans.
NIFA provides a 5-day suture workshop and offers specialty labs that focus on procedures strong in first assisting techniques, such as open reduction and internal fixation of the femur, abdominal aortic aneurysm repair, endoscopic vessel harvesting, and transverse colon resection. "All RNFA curriculums are multispecialty, so for our hands-on training, we chose procedures rich in FA crossover skills that apply to most all service lines," Kekos says.
After the didactic part of the program, students complete an independent internship (AORN standards require at least 120 hours) with a preceptor at the facility where they currently work. The preceptor is usually a board-certified or board-qualified surgeon in the student's area of specialty.
At UCLA, preceptors sign a contract with students and with the school stating they will adhere to the goals of the internship. The student keeps a log of procedures that includes type of case, case time, support provided, and any other relevant notes. The surgeon grades the student and writes an evaluative summary. Students have 1 year to complete the internship.
Some programs have closed because of COVID-19, whereas others have adapted by implementing social distancing.
Masters programs for PAs usually include more than 2,000 hours of clinical practice, and students can choose rotations in surgical specialties. PAs who serve as FAs can complete a postgraduate program related to surgery, although this is not required.
A diverse role
The FA role is a diverse one, with several types of providers filling the role. In addition, the specifics of an FA's practice may vary by state. FAs can provide benefit to an organization, but only if OR managers understand risk management and factors to consider when integrating them into the perioperative world. Those are topics for part 2 of this series. ✥
Cynthia Saver, MS, RN, is president of CLS Development, Inc, Columbia, Maryland, which provides editorial services to healthcare publications.
Editor's Note: Stobinski will be presenting at the annual OR Manager Conference, October 20-22. To learn more or to register, visit www.ormanager.com.
References
AAPA. Third-party reimbursement for PAs. 2020. https://www.aapa.org/advocacy-central/reimbursement/.
American Association of Nurse-Midwives. The certified nurse-midwife/certified midwife as first assistant during surgery. Position statement. 2017.
American College of Surgeons. Physicians as assistants at surgery: 2020 update.
American College of Surgeons. Revised statement on surgical technology training and certification. 2016. https://www.facs.org/about-acs/statements/95-tech-training-cert.
American College of Surgeons. Statement on principles. 2016. https://www.facs.org/about-acs/statements/stonprin.
AORN. AORN position statement on advanced practice registered nurses in the perioperative environment. 2020.
AORN. AORN position statement on RN first assistants. 2018.
AORN. Response to: Request for feedback on scope of practice. 2020.
AORN. Standards for RN first assistant education programs. 2014.
Bureau of Labor Statistics. Surgical assistants 29-9093. https://www.bls.gov/soc/2018/major_groups.htm.
CMS. Advanced practice registered nurses, anesthesiologist assistants, and physician assistants. 2020. https://www.cms.gov/Outreach-and-Education/Medicare-Learning-Network-MLN/MLNProducts/Downloads/Medicare-Information-for-APRNs-AAs-PAs-Booklet-ICN-901623.pdf.
CMS. Appendix A—survey protocol, regulations and interpretive guidelines for hospitals. State Operations Manual. 2020. https://www.cms.gov/Regulations-and-Guidance/Guidance/Manuals/Downloads/som107ap_a_hospitals.pdf.
MedPAC Staff. Improving Medicare's payment policies for advanced practice registered nurse and physician assistants. The MedPAC Blog. 2019. http://www.medpac.gov/-blog-/the-commission-recommends-aprns-and-pas-bill-medicare-directly-/2019/02/15/improving-medicare's-payment-policies-for-aprns-and-pas.
Ranzenbach E A, Poa L, Puig-Palomar M, et al. The safety and efficacy of physician assistants as first assistant surgeons in cardiac surgery. JAAPA. 2012;25(8):52-55.
Seifert P C. The power of risk-taking: Shaping excellent nursing practice. AORN J. 2021;113(1):5-7.