Leaders of ambulatory surgery centers (ASCs) are less satisfied than they were a year ago, according to the OR Manager 2018 Salary/Career Survey. In 2017, 83% were satisfied with their current job or position, compared with 77% this year. Other areas where satisfaction dipped by five percentage points or more were benefits provided (69% in 2017 vs 63% in 2018), top leadership of the organization (64% vs 58%), and physician engagement (72% vs 63%).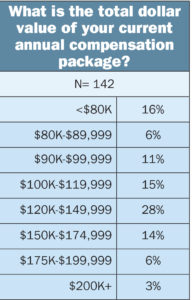 Lower satisfaction comes at a time when salaries are trending slightly upward. This year, 60% of respondents earned $100,000 or more annually, compared with 54% in 2017 and 53% in 2016.
When asked about the most important resource that is needed to be more successful as a leader, respondents put more staff members (25%) and education related to finance (23%) at the top of the list.
---
Sponsored Message
---
Here are some other survey highlights:
• The average raise was 3.63% (higher than the 2.1% increase in the consumer price index for 2017), compared with 3.94% in 2017 and 3.6% in 2014.
• Retirement plans will reduce the number of experienced leaders, with 21% planning to retire between 2018 and 2022, and another 30% planning to leave between 2023 and 2026. This means that more than half (51%) of respondents expect to be retired before 2027.
• Nearly half (44%) of respondents said they didn't know the ASC's annual operating budget. This may be a case where respondents preferred not to disclose the information, even though the survey was confidential.
Money trends
The most frequently reported total annual compensation range was $120,000 to $149,999 (28%). More than half (51%) of respondents earn $120,000 or more, and only 16% earn less than $80,000.
The salary disparity between ASC and hospital leaders narrowed this year, with 43% of hospital respondents earning $120,000 or more, compared to 37% of ASC leaders. In 2017, those percentages were 40% and 29%, respectively. And in the case of total annual compensation, more than half (56%) of hospital leaders earn $120,000 or more, compared with 51% of ASC leaders.
ASC leaders on the job
ASC leaders supervise an average of 37.34 full-time equivalent (FTE) employees (30.38 clinical employees and 6.96 nonclinical employees), compared with 39.83 in 2017, 36.84 in 2016, and 38.6 in 2015. In all, 73% manage one to five ORs, comparable to the 70% reported in 2017. Only 3% manage more than 10 ORs, with an average of 17 for those in that category. Position titles were nearly evenly divided among administrator or administrative director (33%), director (30%), and nurse manager (29%).
A total of 14% of respondents reported an annual operating budget of $5.0 million to $9.9 million; 10% chose the $1.0 million to $1.9 million option. Only 3% reported a budget of $15 million or more, with a range of $17 million to $88 million for those who chose that option. In all, 70% reported no change in the annual operating budget in the past 12 months (vs 59% in 2017), and 23% saw an increase (vs 34% in 2017).
Profile of ASC leaders
Here are more insights about you and your colleagues.
Ingredients for success
In addition to more staff members and education related to finances, ASC leaders identified other resources important for their success as a leader. The same percentage of respondents (16%) chose education related to human resources and better support from their immediate supervisor (interestingly, 11% of respondents have an unfavorable view of support provided by their immediate supervisor). Only 7% chose more assistant managers.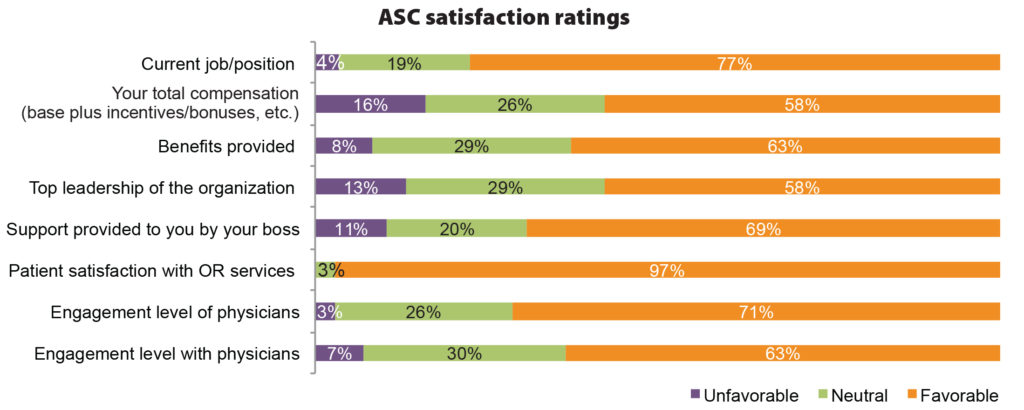 Satisfaction
This year, we compared some of the satisfaction results with data, provided by Burke, Inc, Annual Workforce Perspectives®2018, from a pool of healthcare workers. Workers are from all different settings and levels, so exact comparisons aren't possible. Overall, however, ASC leaders' satisfaction is remarkably similar to that of healthcare workers in many areas: current job satisfaction (77% for respondents vs 73% for healthcare workers), total compensation (58% for both), benefits (63% vs 62%), and top leadership (58% vs 57%).
ASC leaders view patient satisfaction with OR services most highly (97% vs 95% in 2017). The only other area that ticked up was support provided by the respondent's immediate supervisor (from 67% in 2017 to 69% this year; that is lower than the 62% reported for healthcare workers in general). Areas of satisfaction that declined slightly were total compensation (60% in 2017 vs 58% in 2018) and engagement level of staff (75% vs 71%).
Demographics
Overall demographics are listed in the infographic above. The average age of the respondents was 51.7 years, compared with 53.2 years in 2017. That's still higher than the 48.8 years for nurses reported in the 2015 National Nursing Workforce Survey.
Slightly more ASC leaders hold a master's degree as their highest level of education (34% this year vs 33% in 2017), a change from the past few years, when more respondents reported a baccalaureate as their highest degree. An associate degree in nursing was the highest earned degree for 20% of respondents, unchanged from 2017.
A trend?
Although satisfaction declined slightly and salary increased slightly, it's too early to tell if these are trends or a blip on the radar. However, the number of ASC leaders planning to retire before 2026 and the ongoing challenges of meeting the needs of various stakeholders mean that ASC administrators will need to continue their efforts to recruit and retain top leaders. ✥