Most high-performing ORs share something in common—an anesthesia group that is actively engaged in perioperative leadership, takes responsibility for organizational performance, and is fully invested in the success of the OR.
Unfortunately, in many ORs, anesthesia providers focus narrowly on services and procedures, not the total performance of the surgery department. This leads to problems in efficiency, clinical outcomes, and financial performance.
How can OR leaders gain more commitment from anesthesia providers? First, remember that engagement is a two-way street. In better performing hospitals, OR leaders and anesthesia groups are committed to one another's success. Establishing this kind of strong reciprocal support takes commitment and work. The best starting point is to understand how OR leaders and anesthesia providers can collaborate to achieve shared goals.
Support for OR leaders
Schedule optimization is an effective starting point because it delivers strong benefits for both OR management and anesthesia providers.
For OR leaders, a well managed schedule is key to optimizing utilization, maximizing case revenue, and providing high-quality service to surgeons. For anesthesia groups, an optimized schedule is critical to strong practice financials. Less downtime means anesthesia providers can cover more cases per block, resulting in higher billing and increased income. Schedule efficiency also increases anesthesia provider satisfaction because a more vertical schedule means fewer extended days in the OR.
Start with two goals—securing anesthesia leadership on clinical issues and establishing a role for anesthesia in daily operations.
In better performing ORs, anesthesia takes responsibility for several aspects of patient care:
Medical supervision of preadmission testing (PAT). Without active supervision, even the strongest PAT team will tend to "drift"—testing guidelines become outdated, decision processes become rigid, and complex cases may not receive the extra attention they need. Anesthesia providers can boost PAT performance by appointing a group member to serve as medical director. This physician will take the lead on:
• establishing up-to-date guidelines for presurgical testing by procedure and patient comorbidities
• creating evidence-based protocols for preoperative medication management and fasting guidelines
• consulting on high-risk patients who require special evaluation and management, and ensuring the timely evaluation of inpatients.
In addition, the PAT medical director should take an active role in the daily oversight of the unit. For example, he or she can be the voice for clinical staff who are having difficulty getting information from a surgeon's office. The PAT medical director can also discourage surgeons from ordering unnecessary tests so as to reduce inappropriate utilization.
Leadership of OR protocol design. Standardized protocols improve OR efficiency because they create a shared "playbook" for the most common issues that staff encounter. As professionals who practice almost entirely in the OR environment, anesthesia providers are ideally positioned to lead protocol design and standardization.
Start by engaging anesthesia providers to develop care protocols for high-risk cohorts such as patients with congestive heart failure or obesity. Anesthesia groups can also lead the design of enhanced recovery after surgery (ERAS) protocols for high-volume procedures like coronary artery bypass graft, knee arthroplasty, and Caesarian section. In general, standardized protocols not only improve patient care, they can also reduce the last-minute complications that lead to case cancellations and delays.
Ownership of daily huddle. An effective daily operational huddle brings together all the stakeholders who impact schedule efficiency. A PAT team member verifies that all consults and labs are complete; sterile processing staff confirm the availability of equipment and supplies; a representative from patient financial services confirms preauthorizations and co-pays. Who ties it all together? Anesthesia providers. An anesthesia representative can energize a daily huddle by providing (a) the clinical insight to identify glitches in the upcoming schedule and (b) the authority to rearrange clinical resources as needed to ensure efficiency.
Say the daily huddle identifies a likely shortfall in anesthesia coverage 5 days out, when seven anesthesia providers will be on either post-call or vacation, and only four providers will be in the OR. An effective anesthesia leader can immediately start making calls to line up providers and offer incentives as needed to ensure coverage.
This leader could also consider options for rearranging the room schedule and realigning blocks. For example, if there are gaps in the schedule around joint arthroplasty procedures, it may be possible to consolidate those cases into a single fully booked joint replacement room.
Helping staff "win the morning." Anesthesia providers can be present in the OR early and help to get first cases started on time. Key activities include managing patient consents and resolving last-minute medical clearance issues. As the day progresses, hands-on management from anesthesia providers can help speed room turnover and keep the schedule moving forward.
Support for anesthesia providers
As anesthesia providers step up to support OR efficiency, surgery department leaders should also be working to support anesthesia performance goals. Ultimately, achieving these goals is the responsibility of group leaders. However, OR managers and directors can do a lot to help their anesthesia partners build a high-performance culture.
Support anesthesia leadership development. To be successful today, anesthesia groups need results-oriented leaders who understand the business of surgery. Effective anesthesia leaders are able to focus their partners on delivering value, not just services. OR managers and directors can support this goal by encouraging anesthesia providers to take on leadership roles.
As noted above, appointing an anesthesia medical director for PAT is an important first step. Anesthesia providers can also be strong participants in hospital quality committees and value-based care initiatives. For instance, say a hospital takes on a bundled payment contract for bariatric weight loss surgery. Anesthesia representatives can help develop pre- and postoperative care pathways that optimize clinical outcomes and help to control costs.
Support provider recruitment. Recruiting is an ongoing challenge for most anesthesia groups. In the long run, any assistance that OR leaders can provide in this area will benefit the surgery department.
First, keep anesthesia providers in the loop with regard to OR strategy. What service lines does the hospital plan to develop? How will this affect room openings and coverage needs? Providing accurate volume forecasts and clear strategic plans will allow anesthesia leaders to build more time into the recruiting cycle. It will also help with leadership succession planning.
Second, support anesthesia providers in building an excellent practice environment. Up-to-date facilities and equipment are important, but a positive nursing culture is equally critical. Any effort to encourage positive working relationships will support recruitment of anesthesia providers and will benefit the surgical nursing organization.
Support high performance. OR leaders can also help their anesthesia partners by providing performance feedback and accountability.
Begin by helping anesthesia providers conduct a 360-degree review of stakeholders. Survey surgeons, perioperative nurses, and hospital administration to find out what anesthesia leaders are doing well and what can be improved. This process will help identify top improvement priorities and bring to light any service, quality, staffing, or behavioral issues that need to be resolved.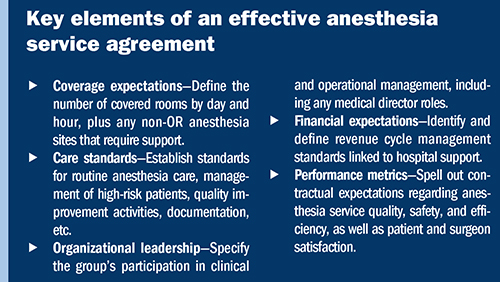 Work with anesthesia providers to develop a set of anesthesia performance measures, such as anesthesia complication rates, first case on-time start rates and turnover times, and anesthesia staffing issues. Agreeing on performance metrics can be a challenge, but the process will assure anesthesia providers that they are being assessed based on data.
In addition, build performance expectations into anesthesia service agreements (sidebar, "Key elements of an effective anesthesia service agreement"). High-performing surgical services organizations hold quarterly meetings to review anesthesia performance against contractual expectations.
These strategies depend on anesthesia providers taking the initiative to assume leadership roles, accept accountability, and engage in performance improvement. However, OR managers and directors can energize the process by focusing on shared goals and using open, transparent communication.
Build shared value
A partnership based on reciprocal support builds value for OR and anesthesia leaders alike by reducing OR inefficiency and improving clinical outcomes.
These efforts can also improve an anesthesia group's standing with hospital administration, which is especially important for groups that receive a financial stipend. In poor performing ORs, hospital executives often see anesthesia providers as part of the problem. In better performing ORs, anesthesia providers are seen as strong partners in optimizing surgical services. ✥