Ambulatory surgery centers (ASCs) tend to operate in lean environments, a factor that can impact training and education, whether it's a refresher for current employees or part of the onboarding process for new hires. Maintaining robust education programs during a global pandemic that has reduced in-person training and imposed restrictions for safety reasons is particularly hard for ASC leaders.
The pace in ASCs is generally faster than in hospitals, making it a challenge to streamline competencies between the two types of health systems. ASCs are not mini hospitals, says Ann Geier, MS, RN, CNOR(E), CASC, chief nursing officer at Surgical Information Systems in Alpharetta, Georgia. "Nurses need to stand on their own two feet without a lot of support staff," Geier says. They may be responsible for everything from troubleshooting equipment to handling risk management, adverse incident reports, and infection prevention competencies, notes Geier.
Finding enough educators to train staff is a struggle. "I was once the educator in an OR of a hospital, and I had lots of resources. You just don't have that in an ASC, where staff is lean and there's no educator," says Geier.
Cindy Hess, MSN, RN, FNP-C, CNAMB, is familiar with the challenges of training employees. As director of nursing and the education nurse at Northeast Missouri Ambulatory Surgery Center, LLC, Hannibal, Missouri, she wears two hats, tending to her own duties and trying to find time to get everyone trained. Not many new hires have come through the facility lately because of COVID-19. But the pressures of educating current staff remain, she says. "Many times, we need multiple in-services to get everyone trained on the same educational component," says Hess, who teaches most of the competencies with her charge nurse.
Staff turnover at Hastings Surgical Center in Hastings, Nebraska, has fortunately been low, even during COVID-19, says administrator and business office manager Brooke Day, MHA. Even so, "I have found it challenging to have constant communication with my staff," she says. The pandemic initially discouraged the use of group meetings, and fear of infection transmission limited the ability to disseminate information to staff, says Day.
New approaches to education
During the COVID-19 pandemic, some ASCs have learned to adapt and simplify competency training through online education tools, stricter infection control measures, and repurposing staff—and spaces—to build teamwork and advance learning more efficiently.
In the past, Copper Ridge Surgery Center in Traverse City, Michigan, a large facility of 150 employees, had an annual competency blitz day. The ASC set up different workstations where staff could demonstrate competencies in airway management, electrocardiogram (EKG), and other clinical skills. It was a great way for staff to complete their annual required competencies, says chief executive officer Tina Piotrowski, MBA, CASC.
Such an exercise is not pandemic-friendly, however. The competency blitz days have yet to resume.
COVID-19 has added an extra layer of education and an extra set of challenges, says Geier. As leaders at Copper Ridge and many other facilities have learned, it's hard to teach some things safely onsite.
"Let's say you had a new staff person start on March 1, 2020. Two weeks later, the ASC shuts down and everyone goes home. They're all furloughed, which means you can't ask them to do anything from home. Once you reopen, and everyone comes back, they all need COVID-19 training," Geier says. There are new policies on personal protective equipment (PPE) and N95 masks. "Staff won't be allowed to touch patients until they've had this training," says Geier. Again, the same questions arise for COVID-19 as they do for general training. "Who's going to do it? Who will provide fit training for PPE?" she asks.
COVID-19 has greatly affected education and training at Northeast Missouri Ambulatory Surgery Center. "I have had frequent meetings specific to COVID-19 to incorporate education specific to COVID-19, such as infection prevention practices, appropriate PPE, COVID-19 guidelines, and changes in our COVID-19 policy and practices," says Hess. Nevertheless, the facility has remained open during COVID-19 and is following the Centers for Disease Control and Prevention's guidelines on virus monitoring. And most of the training continues to take place onsite—with precautions to keep everyone safe.
Covenant High Plains Surgery Center, LLC, in Lubbock, Texas, hasn't seen much change with respect to its employee training because most of its education takes place online.
"Nothing has changed there in the broad strokes, though the details evolve over time as needs change," says administrator Alfonso del Granado, MBA-HC, CASC. Like many other facilities, Covenant has increased its focus on infection control because of COVID-19. "In our most recent round of hand hygiene surveys, for example, we saw an improvement from 91% to 99%, much of which is due to a continuing focus on education and compliance," says del Granado.
Looking ahead, del Granado says he would like to improve COVID-19 vaccination rates at his facility. "Though I haven't seen a lesson on that specific topic, I believe general education on epidemiology and the role and efficacy of vaccines will help address some of the concerns that have served as obstacles to better results," he says.
Copper Ridge has found a way to safely conduct its annual code blue drill. "Normally, because we have a large number of clinical staff, a lot of people attend this, including a member of our anesthesia team. But we couldn't maintain appropriate social distancing to conduct a typical code blue drill," says Piotrowski. Instead, staff watch a video of a team experiencing a code blue, review policies on cardiac arrest and code blue, and complete a posttest to obtain credit for the competency.
Some in-person training still takes place occasionally, notes Piotrowski. "We have at intervals performed hands-on practice with the emergency cart and in-services on using the defibrillator."

Accommodating vendors
Having outside vendors is another pandemic-related challenge. In 2020, AORN and other professional societies issued guidelines on using vendors during COVID-19. ASCs in the meantime have tailored different strategies for screening and admitting these industry experts into their facilities.
At Northeast Missouri Ambulatory Surgery Center, a limited number of essential vendors are allowed into the ASC for surgical cases and to educate staff on equipment or products, Hess says.
Before COVID-19, she says, training staff on a new piece of equipment or supply item before a specific case would include lunch for the vendors. Now, most training takes place over the phone between individual physicians and vendors. Occasionally, vendors are onsite for an in-service, but they have to wear appropriate PPE. "They have to pass the COVID-19 screening questions and temperature check, and they have to wear a procedure mask the entire time while at the facility, as do all of our employees," says Hess.
Similarly, at Covenant, instrument and equipment vendors must be screened like everyone else before entering the facility, says del Granado. The facility doesn't allow any observers in the room if they're not integral to the procedure. "We believe in keeping our staff up to speed on developments in the industry, and accept that surgeons may want demonstrations of new or improved products," he says. Vendor presentations at Covenant take place in large common spaces outside the clinical areas—and away from patients or outside of patient care hours. Screening, masking, and hand hygiene are strictly enforced.
ASCs can also use systems like VendorMate (Atlanta) or Reptrax, provided by IntelliCentrics (Flower Mound, Texas) to verify credentials, including vaccination status, says Geier.
Transitioning hospital nurses to the ASC
COVID-19 protocols notwithstanding, helping new hires adapt from the hospital setting to the ASC mindset is an ongoing challenge. This is especially true for nurses. "There are many misconceptions circulating, and when these nurses get into the [ASC] environment, they aren't cut out for it," says Geier.
There are the practical aspects of doing the job, and some higher-level challenges, says del Granado. "One example is helping nurses understand that the surgeon is our customer at the ASC, and the excellent care we give to their patients is the service we provide. These surgeons are not employees, and we are not the only place in town, so within reason we have to cater to their needs."
It's a perspective shift that some hospital-trained nurses have difficulty adjusting to, he adds.
One strategy is to set expectations up front. Copper Ridge tries to address the differences between hospitals and ASCs during the interview process. Potential candidates can gain a good understanding of what the pace is like in an ASC, says Piotrowski.
For example, ASCs do not have the depth of support departments that are typical in the hospital setting, such as lab technicians, respiratory therapists, or a cardiac team. If a patient needs an EKG, the nurse in an ASC will perform this. "It's typically just the nurse alone, or working alongside another medical assistant or registered nurse. It's more hands-on," Piotrowski says.
Copper Ridge often tries to encourage prospective employees to job shadow for a few hours at the facility, to see what the role is like before they accept the position.
"When we interview new hires, especially if they come from a hospital, we always want to know if they've had any ASC experience," says Nikki Williams, RN, CNOR, executive director of Lakeland Surgical & Diagnostic Center in Lakeland, Florida.
If they don't, they need to be aware of the quicker pace of an ASC before committing to this setting. "You're not going to have a 40-minute turnover in between cases," says Williams. "As soon as a case is finished, we're getting our support staff in the room, taking patients to the postanesthesia care unit as soon as possible, and turning over the room for the next patient."
She says new hires learn what the expectations are during orientation.
Using a cheat sheet
Simple changes can improve efficiency and educate new staff quickly to prepare them for an upcoming case. Lakeland Surgical & Diagnostic Center did away with its preference cards or pull sheets several years ago, opting for an electronic solution.
"These used to be passed around from OR to OR. Now, we put everything on a Word document that everyone has access to," says Williams. New staff members can print these documents and store them in a ring binder, eliminating the need to write their own notes.
The documents contain extensive notes for circulating nurses, scrub technologists, and anesthesia providers, says Williams.
"It's a live document, so it can be updated right in the OR. If a physician is working in two rooms, for instance, and wants something updated in Room 1, Room 2 will see that change as well. So that's been a real help for new staff coming on board—they have physician preferences at their fingertips. They can go home the night before a case and review these sheets," she adds.
Williams consults these electronic documents if the facility is short staffed and she's called back to the OR. "If I don't have the sheet in front of me, I can look it up on the computer, and it's right there."
Online tools assist with training
ASCs have turned to other types of accessible, online technology to streamline training needs.
Hastings Surgical Center uses Workplace, a website developed by Facebook, that has improved overall communication at the facility.
"We are able to share media, messages, etc in real time," says Day. "Especially with education, I ask staff to comment when they review new policies. We also use it to share fun things or have friendly competitions. I would highly recommend the site for anyone looking for an inexpensive web- and application-based tool for communication. The website has been well received by the staff, and everyone feels it is a great method of communication, even with the ability to have group meetings again."
Covenant's management company and joint venture partner, Azura NCP, and its parent company, Fresenius Medical Care, offer comprehensive onboarding and education programs through Skillsoft's Percipio, and HealthStream. "While many ASCs do not have the benefit of a large professional organization backing them up, they can avail themselves of these systems—and the cost is reasonable when you consider both the labor savings and the reduction in risk exposure," says del Granado.
Such tools came in handy when Covenant faced a diversity issue. "There was no malice, just lack of awareness," del Granado notes. The challenge was to guide behaviors without creating resentment. "For this, a Percipio educational series allowed us to introduce the topic and use group discussions to defuse the situation without pointing fingers."
Northeast Missouri Ambulatory Surgery Center also uses HealthStream to conduct online education. It's a nice tool because employees can access it during downtime, says Hess.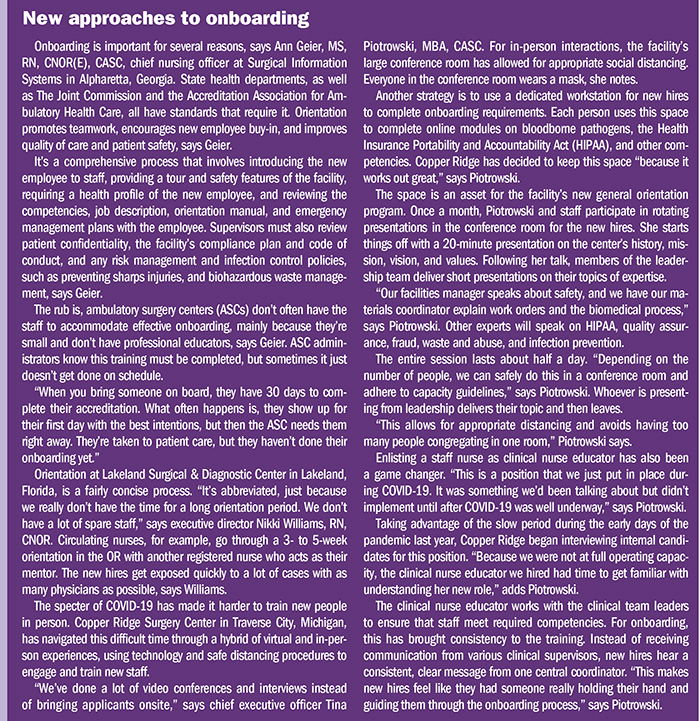 Optimizing staff
Hess' facility in 2020 revamped its in-service program, making an effort to enlist staff as active educators. "I actually started the program at the beginning of the year, but during COVID-19, specifically starting in April, we were not operating at full capacity. Therefore, we had more time to do in-services and took advantage of the downtime to complete education and in-services," she says.
Each month, Hess has two staff responsible for in-services. "They can choose what they want to do the in-service on, and all clinical staff attends. We try to do this during downtime when we are not as busy," says Hess. An in-service may focus on how to use a glucometer, other pieces of equipment in the OR, fire safety, or a specific policy. Delegating in-service duties adds value to the training, and "has made everyone more responsible," she says. ✥
Jennifer Lubell is a healthcare writer based in Rockville, Maryland.
Resources
AORN. COVID-19 Tool Kit. https://www.aorn.org/about-aorn/aorn-newsroom/covid-19-coronavirus.
Association of periOperative Registered Nurses (AORN), American Hospital Association, Advanced Medical Technology Association (AdvaMed). Re-entry Guidance for Health Care Facilities and Medical Device Representatives. May 19, 2020. https://www.aorn.org/guidelines/aorn-support/re-entry-guidance-for-health-care-facilities.
HealthStream. https://www.healthstream.com.
Workplace from Facebook. https://www.workplace.com.