The call for a diverse workforce echoes in ORs across the US. Although most OR leaders want to answer the call, they struggle in an environment where OR staff, particularly nurses, are in high demand.
OR Manager recently spoke with experts from leadership, human resources, and DEI (diversity, equity, and inclusion) to gain insights into how nurse leaders can build a diverse workforce. Part 1 of this series covers the value of diversity and the role of corporate culture and education, while Part 2 will delve into specific challenges such as recruitment and retention.
"When we're more diverse, we get better input from everybody," says Santino Estrera, MBA, MHA, RN, CNOR, chief nurse executive for the perioperative and procedural service lines at Department of VA, Los Angeles. "And I'm not just talking about OR staff or surgical techs. I'm talking about everybody: from those in the sterile processing department to our OR aides who help us turn over the rooms."
Events related to racial injustice and the COVID-19 pandemic have helped spur changes in hiring practices and workforce development, but ongoing efforts are needed to create a culture that fosters DEI.
What is diversity?
"Diversity comes in many forms," says Daphny Peneza, MSN, RN, CNOR, CSSM, education resource specialist III at Memorial Hermann Hospital, Texas Medical Center, Houston. "Apart from the cultural component, one of the diversities we are facing now is that we have added another generation, Generation Z, to the workforce."
In the context of a workforce related series, diversity refers to the many differences among those working in an organization, including race, age, gender, (dis)ability, religion, language, socioeconomic status, and culture. Equity refers to fairness (such as impartial policies), and inclusion refers to ensuring people feel they are welcome in the workplace.
Making the case
Reasons for cultivating a diverse workforce generally fall into three categories—business, regulatory, and moral.
The business case focuses on diversity as a profit driver (sidebar, "The business case for diversity"). The regulatory case includes consideration of standards and perspectives from various bodies. The Joint Commission does not have standards directly related to workforce diversity being scored currently, but in July 2021, it released a Quick Safety Alert called "Understanding the needs of diverse populations in your community." The alert includes a section on supporting the local workforce by hiring them into entry-level positions, fostering advancement and professional development opportunities. The alert also calls on leaders to make equity a "strategic priority," which includes leveraging policies and practices that embrace anti-racism.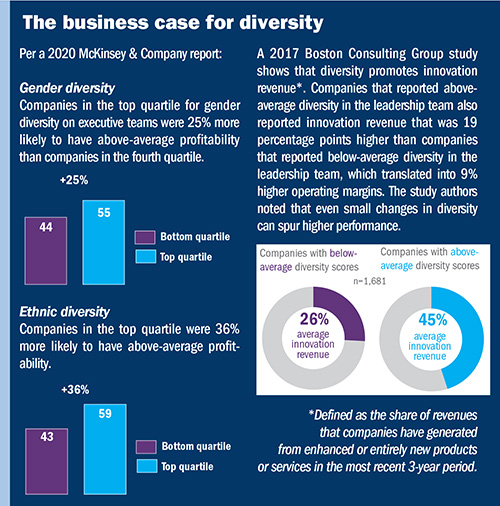 Although a surveyor cannot cite an organization for not following a Quick Safety Alert, John Rosing, MHA, FACHE, executive vice president and principal for Patton Healthcare Consulting and a regulatory expert, says these publications provide useful advice for hospitals. "They're based on reports The Joint Commission has received on topics or trends that could pose a patient safety risk or concern," he says. Rosing adds that leaders should keep in mind that "patients with a concern related to a diversity, inclusion, or equity issue could file a complaint, and that would require a written response and possibly result in a 'for-cause' visit."
In addition, several existing standards overlay with addressing the needs of diverse populations, and organizations could be cited if they are found to be noncompliant with practices such as ensuring that care is free from discrimination, identifying and addressing communication needs, collecting preferred language data, collecting race and ethnicity data, and allowing patients access to a support individual. For example, patient-centered communication standards require hospitals to provide language services using qualified interpreters and translators to patients who are not proficient in English. "Those rights apply to people of all races and sexual orientation," says Ana Pujols McKee, MD, executive vice president and chief medical officer, chief diversity, equity, and inclusion officer of The Joint Commission.
Even without specific workforce diversity standards, "surveyors may have a conversation with the leadership team about the diversity of the leadership team, especially when they see they are dealing with under-represented minorities," Dr Pujols McKee says. She adds that The Joint Commission is reviewing current standards and anticipates there will be changes to address disparities in healthcare organizations. "One of the strategies to decrease disparities is to establish a diverse workforce that understands the community it serves," she says.
In making a moral case for diversity, Sarah Kaplan, PhD, director of the Institute for Gender and the Economy (GATE) at the University of Toronto's Rotman School of Management, suggests leaders stop focusing on diversity as a business strategy and start embracing it "because it is the right thing to do," as she wrote in an article for Fast Company. Kaplan also noted that the business case breaks down amid false promises when in reality it can actually increase bias, hurting the people it is designed to help. She called on leaders to take "principled action" and "transform work practices to make people of all kinds feel like they can do their best work."
In healthcare, perhaps the strongest moral case relates to patient care and safety, which depends on individuals and teams. "There is no truer team than in perioperative," says Nakeisha Archer, DNP, MBA, RN, NE-BC, CNOR, CSSM, director of perioperative services at Pavilion for Women, Texas Children's Hospital in Houston. "No surgery can start without all members there."
A team with diverse members has different perspectives, which can help keep patients safe and better meet their needs. "Having a diverse group gives everybody more opportunity to understand or know something about the patient or patient's family," Archer says. That insight can be based on having a similar background or past experience. For example, a staff member who is a mother might realize that a mother is late for her scheduled surgery not because she is not considerate, but because she does not have someone to care for her children.
Brian Dawson, MSN, RN-BC, CNOR, CSSM, system VP of perioperative services at CommonSpirit Health in Chicago, adds that patients in the OR are in a highly vulnerable situation, so they are looking for reassurance. Staff from a diverse culture can provide that because patients see people who look like them. "It makes an individual feel comfortable," Dawson says.
The moral basis for diversity likely resonates with OR leaders, most of whom are motivated by wanting to help others. If a diverse workforce is a matter of principle, how can OR leaders operationalize it? Considerations include organization leadership and culture, education, and metrics.
Organizational leadership
The CEO needs to own—and lead—the drive for a diverse workforce, working with the board of trustees. "The first thing leaders have to do is to care, and then be aware and learn more about a diverse workforce and to see it as an asset," Dr Pujols McKee says, adding that organizations need to make diversity part of their strategic initiatives and address it in terms of staff, the C-suite, and the board. "That's the mindset an organization needs to take in order to transform itself into a truly inclusive, diverse organization," she says. Data back up the need for boards to diversify. A 2019 American Hospital Association found that 87% of voting board members were Caucasian, 70% were men, and 66% were between the ages of 51 and 70 years.
An organization that understands the importance of diversity drivers at the top of the organization is Luminis Health Anne Arundel Medical Center in Annapolis, Maryland, which received the 2020 Prism Award from the American Organization for Nursing Leadership in recognition of its diversity efforts.
"The progress we have made over the past 4 years has been a result of the commitment of the CEO and board of trustees," says Tamiko Stanley, chief diversity equity and inclusion officer for Luminis Health. "Our CEO, Tori Bayless, has left no question as to what is expected of you." One expectation is that no leadership position is filled without considering at least one candidate with a diverse background.
The hospital system created a structure that encourages diversity. For example, the Diversity, Equity, and Inclusion Leadership (DEIL) council, which provides leadership and strategic guidance, is currently meeting to discuss diversity of supply chain vendors. Business resource groups (BRGs), such as African American, Hispanic, and LGBTQ, focus on diversity and submit diversity related goals. The groups, which have executive sponsors and include participation by perioperative staff, address issues related to employees and patients. For example, the African American BRG developed a mentoring program for employees of color and is addressing retention of African Americans because they were leaving the organization at a higher rate than other groups. All staff are welcome to join any of the groups.
Luminis Health's efforts have paid off: Since 2017, there has been an 8% increase in workforce diversity and a 10% increase in new-hire initiatives; leadership diversity increased from 14% to 21%. Diverse applicants comprise 61% of the applicant pool, with about half (56%) of selected candidates from diverse backgrounds.
Creating the culture
According to a survey of more than 19,000 Harvard Business Review readers, a learning-oriented culture, which encourages flexibility and open-mindedness, is a hallmark of inclusive companies. This type of culture also establishes goals and holds people accountable for not meeting them. At Texas Children's Hospital, Archer says leaders are required to choose accountability partners who are different from themselves. For example, people might choose a mentor younger than themselves so they can better see how a different generation perceives them as leaders. "Accountability partners help us make sure we are making some of these changes and talk through barriers to making change," Archer says.
A culture that supports DEI depends on the leader's commitment to the organization's goals, which Estrera says are the same no matter the leader's background. He tells OR managers, "You could be speaking a different language, you could be from a different cultural background, different religion, different political views, but our mission and vision will be the same." He notes that everybody needs to buy in. "It starts with executive leadership, down to senior leadership, middle management, and frontline leadership to the staff."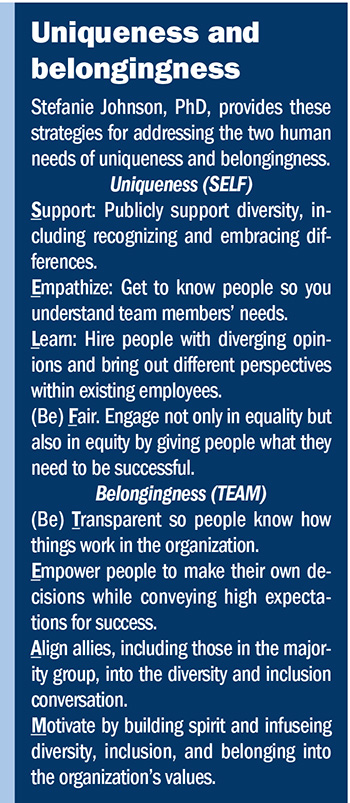 At that same time, the organization needs to recognize what employees are looking for in life, says Stefanie Johnson, PhD, academic director of the center for leadership for Leeds School of Business at University of Colorado Boulder, and author of the book, Inclusify: The Power of Uniqueness and Belonging to Build Innovative Teams. Johnson's research and experience with many organizations, including Kaiser, Catholic Health Charities, and Pfizer, point to two basic human needs—uniqueness and belongingness—as essential factors in achieving inclusivity. Too many organizations focus only on belongingness, which ignores the uniqueness part of the equation. "We like to be different; that's part of the human experience," Johnson says. "But we don't want to be distinctive alone, we want to feel like we belong." By addressing both human needs, OR leaders can create an inclusive environment (sidebar, "Uniqueness and belongingness").
The bottom line is that people want to feel comfortable in the workplace. "I tell staff that we spend more time with each other than with those we sit around the dinner table with," Dawson says. "It's important that the workplace is a place that people enjoy coming to."
Education
DEI education should start with leadership and flow down to staff. Initial training typically includes information on unconscious biases, which are based on associations, not sexist or racist attitudes that shape behavior. "We are unaware of how our past experiences influence our impressions," Johnson says. For example, people tend to picture an image of a woman when they think of a nurse because most of the nurses they have encountered have been women.
"Biases are made in your head, not your heart," Archer says. "We all have unconscious biases, not just certain people." Learning about unconscious bias helps leaders identify their own biases. "It allows us to remove barriers we may have had about hiring people who look different than us," she says.
Education needs to be ongoing. Texas Children's Hospital holds monthly 15-minute huddles on DEI topics. This type of discussion can lead to new insights. For example, leaders might realize they thought a nurse with no OR experience would not be a good fit based on a past negative experience training someone. To facilitate the process, Archer says, leaders share first. Since implementing the huddles, Archer has seen more staff feedback related to why they feel candidates they interview would be a good fit with the team.
At Luminis Health, education topics have included nonverbal communication, communicating with people who have accents, bullying awareness, and cultural differences. The leadership council also dedicates time for DEI-related topics, such as how to manage microaggression.
A creative tool Luminis Health uses to help people learn is Coming to the Table (CTTT), a national initiative founded to address issues of racism. The organization broadened the focus to include diversity issues in general. CTTT helps build understanding by creating an environment where dialogue is welcomed and encouraged.
"It's about being open and honest, and having a safe place to talk," says Nia Wright, MSN, MHA, RN, CNOR, senior nursing director of surgical services and executive sponsor for the cultural diversity and workplace advocacy collaborative at Luminis Health. Wright, who advocated for the program, adds, "It increases the intentionality of our inclusion and lets people know that we are endeavoring to promote understanding and acceptance as well as providing a safe place to work." Monthly meetings start with a short presentation, followed by participant discussion.
Role of metrics
Perspectives on the value of metrics for tracking diversity vary. Some feel it reduces DEI efforts to a numbers game, but Dr Pujols McKee points out that "you can't improve what you can't measure." She adds, "I think it's very realistic to have goals and to implement measurements."
"Metrics are necessary, but not the whole story," says Louis Williams, vice president of talent acquisition for PeaceHealth System of Vancouver, Washington. Metrics can serve as a guide for determining trends, but the frequency of data collection matters. "There is no point in tracking diversity improvement on a quarterly basis," he says. Instead, leaders should set small, achievable goals and track them annually. "That will help determine if you're on the right path, as opposed to focusing on a percentage quota goal."
One value of metrics is to create awareness. "You become aware of whether you have a diverse workforce or not, so you can start working on it if you need to," Dawson says. "It's not a quota system, it's just a way to realize that this is an area you want to focus on." However, he adds, "it's important to look around your department and really take an assessment yourself: Do I see the community we work with in the faces of the staff who serve it?"
Metrics at Luminis Health include DEI questions in its employee engagement survey and collection of data from a variety of sources to create the DEIL Scorecard. The quarterly scorecard examines both staff (eg, who is being hired) and patients (eg, disparities in the health of women). "Many of our diversity goals are based on trending data on the scorecard," Stanley says.
Building a diverse workforce is a journey, not a destination, and it takes time. Having a diverse team "is not something that happens overnight; it has to be engrained into the culture and focused on," Archer says. "It's important to us to give some grace and march in the same direction—to have a diverse team of people doing excellent work."
The benefits are well worth the investment, particularly when it comes to delivering patient-centered care. "We're here to make sure that patients who come through the doors of our hospital feel like they're among family," Dawson says. "Having a diverse workforce makes people feel comfortable." ✥
–Cynthia Saver, MS, RN, is president of CLS Development, Inc, Columbia, Maryland, which provides editorial services to healthcare publications.
References
American Hospital Association. National healthcare governance survey report. 2019.
Kaplan S. Why the 'business case' for diversity isn't working. Fast Company. February 12, 2020. https://www.fastcompany.com/90462867/why-the-business-case-for-diversity-isnt-working.
Lorenzo R, Vogt N, Tsusaka M., et al. How diverse leadership teams boost innovation. BCG. January 23, 2018. https://www.bcg.com/en-us/publications/2018/how-diverse-leadership-teams-boost-innovation.
McKinsey & Co. Diversity wins: How inclusion matters. May 19, 2020. https://www.mckinsey.com/featured-insights/diversity-and-inclusion/diversity-wins-how-inclusion-matters.
Srinivasan H. Helping our customers source and build more diverse talent pools. LinkedIn. August 10, 2021. https://www.linkedin.com/business/talent/blog/product-tips/source-and-build-more-diverse-talent-pools.
The Joint Commission. Understanding the needs of diverse populations in your community. Quick Safety. 60: 2021.
Yo-Jud Cheng J, Groysberg B. Research: What inclusive companies have in common. Harvard Business Rev. June 18, 2021. https://hbr.org/2021/06/research-what-inclusive-companies-have-in-common.