Looking toward 2022, spine procedures are expected to drive growth and optimize performance in ambulatory surgery centers (ASCs). Michael Ast, MD, chief medical innovation officer for HSS, Hospital for Special Surgery in New York, can attest to this personally.
A year ago, his father could not even walk up a flight of stairs. Now, he plays golf and tennis throughout the week, thanks to advancements in spine surgery, says Dr Ast. "What typically used to involve a high level of pain and large surgical incisions can now be done with smaller incision and advanced technology, producing superior results," he adds.
HSS, where surgeons perform various procedures, from the simple to complex, was among the first to perform augmented reality-assisted spine surgery in the United States. The technology allows surgeons to make smaller incisions and offers better accuracy in the positioning of screw placement around the nerves of the spine. Patients have responded by flocking to ASCs for certain spine procedures.
"Spine is definitely a growth area. Our rates of outpatient spinal surgery have increased dramatically. This is positive both in terms of patient satisfaction and optimizing efficiency for HSS," says Dr Ast.
Other experts agree. Spine cases, along with total joints, are predominantly becoming same-day discharge surgeries with extended same-day recovery periods, Monica Crellin, director of operations, San Diego, for Surgical Care Affiliates (SCA), said during a Becker's conference this past summer. SCA is a large provider of outpatient surgery.
ASCs are achieving exceptional outcomes with these surgeries, said Crellin. They offer a more cost-effective option for patients with out-of-pocket expenses. "But you want to be prepared to make the investment to set up your program," she advises. This applies to equipment and staff education time (sidebar, Gearing up for spinal surgeries: a checklist). Technology, patient safety, and trends in the payer universe must also factor into an ASC's plan.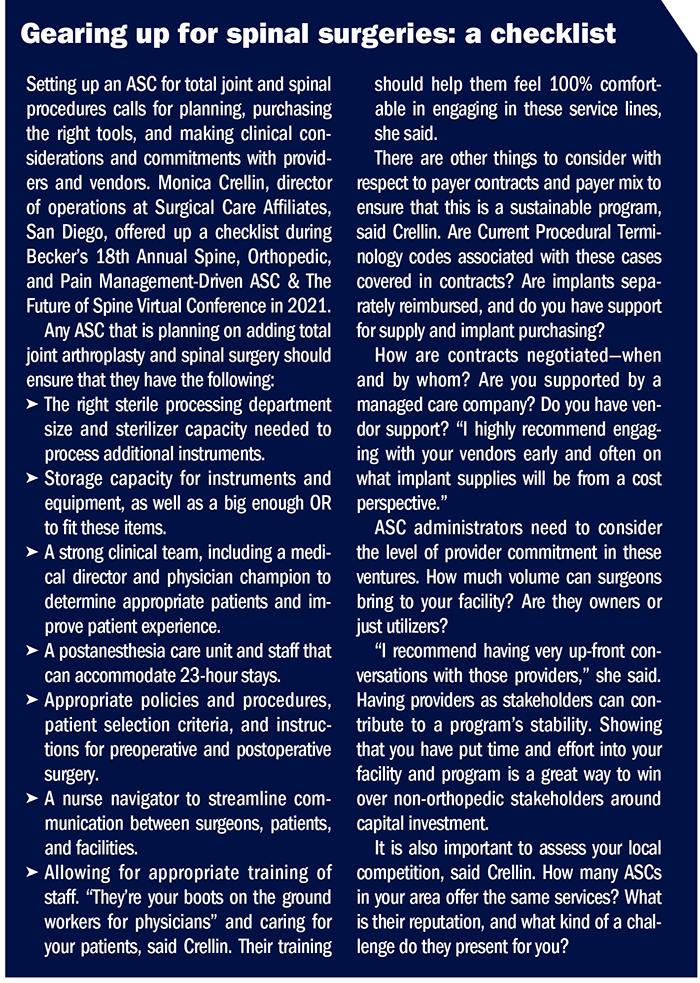 Migration of spine surgeries to outpatient
Orthopedics and spine are helping to drive the migration of cases from the hospital to an ASC, says Sean Hartzell, associate principal at ECG Consultants in Washington DC, which provides healthcare delivery solutions and strategies.
Continued advances in surgical techniques and technology and reducing length of stay for certain procedures such as total hips, total knees, and anterior cervical discectomy and fusion (ACDF) are driving this, he says. Additionally, government and private commercial payers are playing a hand in this migration.
"We recently reviewed Florida specific surgical data from 2017 to 2020 that revealed, after Medicare approved total knees in the hospital outpatient department (HOPD) setting, a
pretty large migration from inpatient to outpatient," he says. Spinal surgeries show similar trends. In the first quarter of 2017, about 67% of all ACDFs took place in the inpatient setting. By the second quarter of 2020, that figure had dropped to 44%, with 55% taking place in HOPDs or ASCs.
"This definitely had a growth trajectory in the ASC and outpatient setting. As more and more payers work on migrating cases or providing incentives to move cases, we'll continue to see this," Hartzell says.
Many surgeries done in ASCs today are safe and allow the patient to go home the same day, says Douglas B. Kasow, DO, an orthopedic spine surgeon at Piedmont Orthopedics in Atlanta.
According to Dr Kasow, these may include:
• anterior cervical discectomy and fusion
• artificial disc replacement
• minimally invasive transforaminal lumbar interbody fusion
• posterior lumbar interbody fusion
• oblique lumbar interbody fusion
• laminectomy
• spinal cord stimulator
• anterior lumbar interbody fusion (sometimes).
However, spine surgeons continue to do a lot of work in the inpatient space, Hartzell says. It is important to understand the optimistic and conservative forecasts and how that affects the success of this service line.
For ASCs, this calls for comprehensive planning.
Financial considerations
ASCs are ideal for growing spine procedures, says Justin Barad, MD a practicing orthopedic surgeon as well as CEO and co-founder of Osso VR, a virtual reality surgical training and assessment platform.
Surgeons see that reimbursement is trending down as workload cases go up. "ASCs are a great way to mitigate some of these challenging dynamics. It's easier to get people through there—you can get more cases done in a day. The cost is lower, and you're also sharing in the ownership. So, there's a financial incentive to be moving into an ASC setting," says Dr Barad.
Patients like ASCs because they can show up, get their surgery, and leave. "They're not paying for their length of stay and they're not at risk for hospital-related infections, including COVID-19. It's a much more tailored experience, like flying on a private plane as opposed to a commercial jet," he adds.
ASCs looking to add spinal surgeries should perform a financial analysis on volume, revenue, and expenses, as well as the capital required to introduce spinal surgery into the ASC, recommends Hartzell. "Spinal surgery has expensive capital and implant requirements," he adds. Understanding what the dollars and cents are in making such an investment is critical, he emphasizes. "Doing it on a whim is not a good strategy."
Pencil out what this service line may look like in 3–5 years, Hartzell continues. "Make sure you have visibility on what the long-term volume will look like and where it will come from."
Finding the right partners
One partnership ECG organized between a hospital and a group of urologists and spinal surgeons has excelled because of each party's desire and ability to bring great clinical and business processes to the venture, says Hartzell.
Each partner understands what it will bring to the table; for example, high quality clinical processes, staffing, benefits, access to high quality staff, vendor contracting from the managed care perspective, as well as supplies and other professional service vendors.
ASCs should choose partners that will improve metrics, whether it is a hospital partner, a health system, or a regional or national ASC management company. "One of the things that's important for an ASC is the ability to collect every dollar owed—making sure you have a set of partners that can help bill and collect for services provided," he advises.
Alignment with your physicians is also a key ingredient. "Without surgeons performing spinal surgeries at the ASC, the ASC will not have a spinal surgery line," offers Hartzell. Spinal surgeons need to feel invested in the success of the venture. If they are equity investors or members of the investor group, they need to feel as though they have some say in the operation and have a desire to improve the spinal surgery performance at the ASC.
"If they're users, you want physicians who want to be busy. The surgeons should be doing everything in their power to perform appropriate spinal surgeries in the ASC without compromising patient care."
Safety first
Communication between the surgeon, anesthesiologist, and nursing staff is critical, says Dr Kasow. "Everyone needs to be on the same page to ensure the patient's safety."
The ASC environment is not for everyone, he cautions. Patients with comorbidities that put them at a higher risk should be seen at a hospital to receive continuous monitoring. "For example, a patient who requires continuous pain management may not be a good candidate for an ASC because they require around-the-clock, postoperative monitoring," says Dr Kasow.
Patients who need reconstructive spine surgery and have an increased risk of falling are not good ASC candidates either. "In a hospital, they have access to staff and physical therapists who can help monitor the patient and ensure they can safely get around independently," he says.
Technology driving spinal procedures
Innovations in robotics and other technologies offer further exciting possibilities for spinal surgery in the ASC space.
"We're starting to see a huge amount of robotics, advanced imaging, and other innovative new tools being utilized by our spine surgeons. This is great for both the surgeons and the patients, as these types of surgical innovations can potentially make a big difference in technical procedures," says Dr Ast.
Robotics make certain treatments possible that were not before, said Dr Barad. "It smooths the curve and provides very consistent outcomes. Regardless of who's doing the surgery, you're likely to get the same result."
Other technologies are opening the ASC model, providing new options for spinal surgery. Dr Barad's company, Osso VR, trains surgeons using a virtual reality OR setting, where they are able to practice procedures in virtual reality. This leads to improved performance, and ultimately, to better patient outcomes.
"You're able to practice surgery in a safe, repeatable, and very realistic virtual world and are also able to collaborate with the entire OR team in the process," he explains. The training platform also incorporates assessment into its modules. This tool objectively measures the trainee's knowledge of steps, level of precision, and overall efficiency throughout the procedure, says Dr Barad. "Anecdotal data from the surgeons we train shows that it cuts time in half. If we're able to scale things up, that will be very exciting."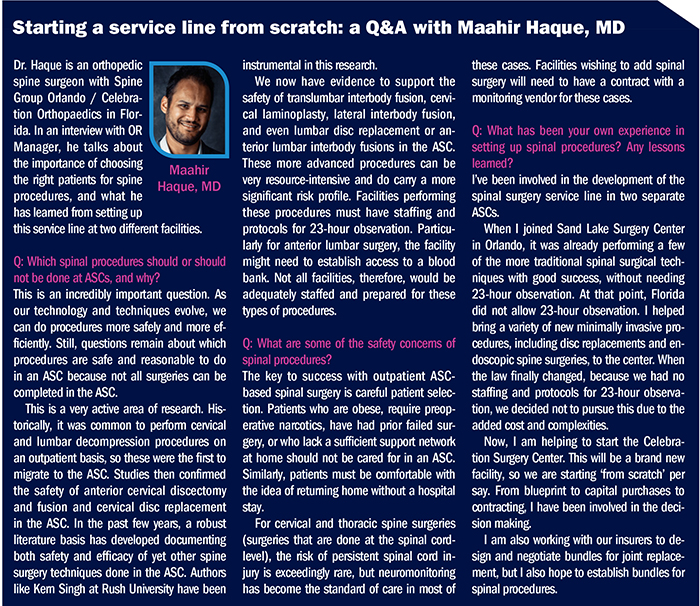 The payer outlook
One issue with this type of innovation is the associated costs, which can be significant. "We have to be mindful of the additional costs that can be incurred during these surgeries," given that reimbursement may decrease over time as utilization of spine surgeries rises, says Dr Ast.
Medicare confused things when it decided to move nearly 300 procedures back to its inpatient-only list, including some musculoskeletal surgeries. Six or seven have stayed off, meaning they remain approved for reimbursement in the ASC setting. Most of these are spinal procedures, says Dr Ast. In his view, this is setting the stage for certain lumbar procedures in the Medicare population.
Prior to Medicare's removal of musculoskeletal surgeries from its inpatient-only list, it was difficult to obtain payer contracts for these types of cases performed at ASCs without having a detailed conversation with insurers. "Now that awareness and data on this have increased, regulatory change has been possible, and this is getting better," says Dr Ast.
Private insurers, who typically follow Medicare for spinal procedures, are starting to support spinal surgeries in ASCs, recognizing a significant cost savings, he says.
A bundled payment option?
Changes in the payer space will be interesting to watch, adds Dr Ast. One possibility is that spinal procedures may become subject to more value-based care arrangements such as bundled patients.
"This could further align incentives between payers and surgeons and potentially increase the utilization of ASCs for spine surgery. However, it may also increase economic pressures on healthcare systems, as these lucrative procedures continue to exit hospitals," notes Dr Ast.
A revenue-sharing bundle program has the potential to drive volume to an ASC, much like it has for joint replacement, says Maahir Haque, MD, an orthopedic spine surgeon at Spine Group Orlando, Florida. Designing a spinal surgery bundle is much more difficult than joint replacement, however, he adds, because many different techniques can be used to treat the same condition.
"I do believe we will get there soon, at least for microdiscectomies, laminectomies, and anterior cervical surgeries. But insurance companies and spine surgeons still have a lot of work to do to build the trust and understanding necessary to make it all work," he concludes. ORM
—Jennifer Lubell is a freelance medical and health policy writer based in Rockville, Maryland.
Reference
Centers for Medicare and Medicaid Services. CY 2022 Medicare Hospital Outpatient Prospective Payment System and Ambulatory Surgical Center Payment System Final Rule (CMS-1753FC). November 2, 2021.