Health systems across the country are enacting COVID-19 mandates to comply with a broad-sweeping federal requirement. Amid reports of high compliance rates, the mandate has triggered passionate and visceral responses on both sides of the debate. While some healthcare employees are eager to roll up their sleeves, others decry the idea that employment is contingent on getting the shot. Striking a balance between the safety of employees and patients while assessing an individual's free will is the crux of this challenge to mandate vaccines.
In early October 2021, 1,400 employees at Northwell Health, the largest hospital system in New York, lost their jobs for refusing to comply with the state's COVID-19 vaccine mandate. In a statement, Northwell Health acknowledged it took a rapid, aggressive approach to get to 100% vaccination: "Northwell regrets losing any employee under such circumstances, but as healthcare professionals and members of the largest healthcare provider in the state, we understand our unique responsibility to protect the health of our patients and each other."
In the Midwest, eight Nebraska health systems made a joint pledge to mandate vaccination of its employees. "Each of our organizations takes very seriously the responsibility of providing healthcare to people of all ages and all backgrounds in our communities. Vaccination against COVID-19 is an important step to stop the pandemic and allow our teams to work in the safest way possible," they stated.
Federal mandate rule is here
This is the reality facing any Medicare- and Medicaid-certified healthcare facility. President Joe Biden's national strategic plan to fight the virus calls for an industry-wide vaccine requirement. In September 2021, federal regulators announced that an emergency vaccine mandate in nursing homes would expand to hospitals, dialysis facilities, ambulatory surgery settings, home health agencies, and others as a condition for participating in Medicare and Medicaid.
The mandate applies to clinical staff, third-party contractors, volunteers, and staff not directly involved in patient care. The final rule was issued in November 2021 and calls on eligible staff to be fully vaccinated by January 4, 2022. Certain exemptions for medical or religious reasons apply. The rule was also stayed for private businesses by a federal appeals court.
It is a necessary step, explains Smita S. Rouillard, MD, associate executive medical director of The Permanente Medical Group, which employs 9,000 physicians as well as 35,000 nurses and staff, and delivers healthcare to more than 4.5 million patients in Northern California. "We know that vaccination is the most powerful tool we have to stop this pandemic, to prevent more dangerous strains from developing, and to restore the freedom of safety and normalcy," she says.
Thinking ahead
Even before the Biden administration's actions, states and many facilities were putting the wheels in motion. A national survey of 1,000 employers in late August 2021 found that more than half of US companies were planning vaccine mandates. As of October 2021, The American Hospital Association reported that 2,549 hospitals and health systems were proceeding with vaccination requirements. And 13 states and cities are requiring vaccinations for healthcare workers.
Many of these mandates target specific groups of workers, says Patrick T. Collins, Esq, chair of the labor and employment practice group at Norris McLaughlin, a law firm that serves New Jersey, New York, and Pennsylvania. The governor of New Jersey, for example, issued an executive order that requires "all workers in certain state and private healthcare facilities and high-risk congregate settings … to be fully vaccinated against COVID-19 or be subject to COVID-19 testing at minimum one to two times per week," says Collins.
SurgeryDirect, LLC, an ambulatory services center (ASC) development company that manages several ASCs in Colorado, worked to meet the state's two-fold deadline of a first shot by September 30, 2021, and full vaccination by October 30. "This impacts all employees, contractors, vendors, and support staff, including management company and board members when visiting or onsite," says Beverly Kirchner, BSN, RN, CNOR, CNAMB, compliance officer of SurgeryDirect. As of October 2021, the first round of vaccine reporting had taken place at SurgeryDirect facilities, with its attorney filing waiver documents for three religion exemptions.
Becker's Hospital Review updated its vaccination-related employee departures list on November 8, citing, among others, 440 staff departures for lack of vaccination at Advocate Aurora Health, a 75,000 employee health system with dual headquarters in Illinois and Wisconsin.
Still, many health systems like The Permanente Medical Group are reporting high vaccination rates. "Response to the mandate has been tremendous across our system," says Dr Rouillard. The group was an early adopter of a mandate this past summer. "Across our national program, more than 92% of our employees have been vaccinated, and our physician vaccination rates have reached 97%," she adds.
Spanning 100 hospitals and clinics and 14,000 employees, The University of Kansas Health System has a 95% compliance rate among its physicians. Approximately 80% of all staff have gotten their shots, although the numbers keep changing, says Sean Kumer, MD, PhD, VP of perioperative and procedural services. By the date of this article's publication, the percentages might have risen higher.
Offering options and exemptions
Health systems are trying to make the process as easy as possible. "Our employees can get the vaccine here or locally. They just need a proof of vaccination card they can bring back and show us," says Dr Kumer. Like many other organizations, The University of Kansas Health System has made vaccination a condition of employment, with certain exemptions for medical or religious reasons (sidebar, "The slippery slope of exemptions").
BJCMG Orthopedics and Sports Medicine in Alton, Illinois, has granted medical or religious exemptions to some 20% of its employees. "For those who are unvaccinated and required to undergo weekly testing under the mandate, a free testing site has been set up on campus. Vaccines are also offered conveniently on our campus," says John W. Stirton, MD, MBA, medical director of the joint replacement center and associate chief of surgery at BJCMG.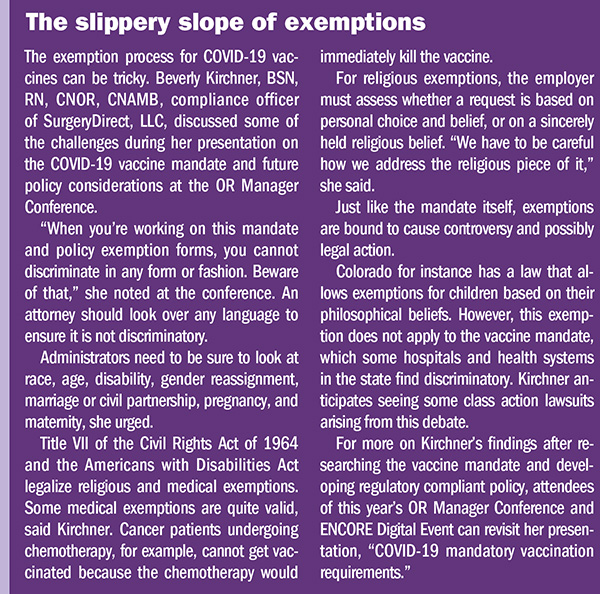 Northwell Health, before this article's publication, was evaluating several requests for exemptions. "Every exemption request, religious or medical, goes through a lengthy, rigorous review process before any decision is made," said a Northwell Health spokesperson.
Pushback among employees
As in the case of Northwell Health and other facilities, not everyone is ready or willing to comply. "Many within the healthcare workforce feel that in an attempt to promote vaccination, some institutions have compromised the essential principles of patient autonomy and informed consent," says Dr Stirton.
The reasons and concerns over vaccine mandates are multifactorial, says Kirchner (sidebar, "One nurse's perspective"). "We found we had as much pushback from physicians as we did from nurses," she said. Surveying healthcare workers in the field, Kirchner learned that some workers fear that the mandate will lead to staffing shortages if some do not get vaccinated. And in the end, this will hurt patients.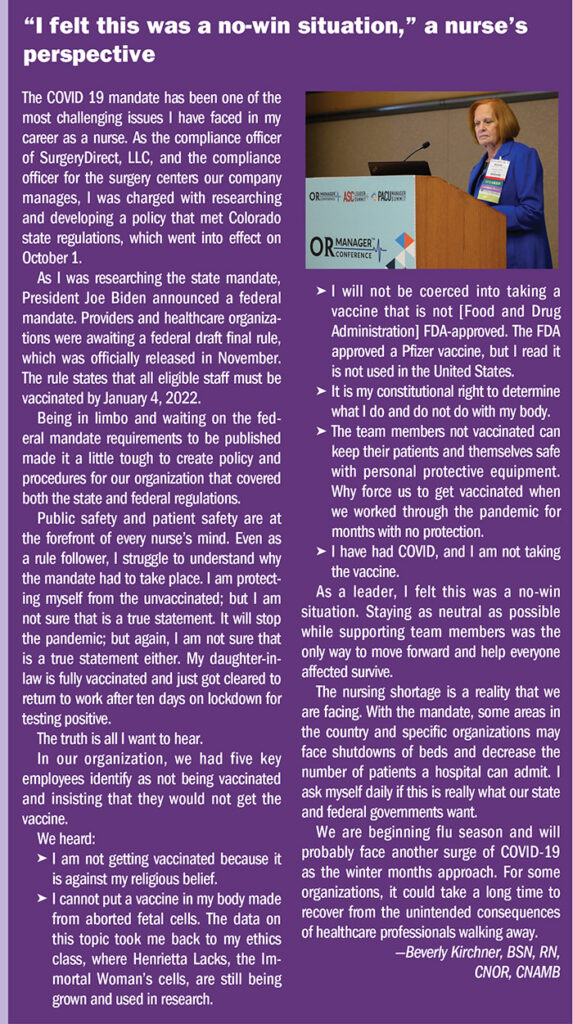 Others say it is illegal to coerce; that the responsibility is to educate about vaccines, not mandate vaccinations. Some have concerns about the safety of the vaccine itself—that there are no allergy tests for some of the ingredients, for instance.
Then there is the question of natural immunity—letting the virus run its course until it becomes endemic in society. Some people who have already recovered from COVID-19 say they do not need the vaccine.
Legal recourse?
Employers have their own concerns about being sued if they terminate an employee over the vaccination, and the government will not protect them, says Kirchner.
Dr Rouillard does not expect these concerns to have much impact at The Permanente Medical Group. "At the same time, we have established contingency plans in each of our markets to ensure continuity of care, which may include sourcing temporary staff, if necessary," she says.
As of October 4, 2021, just over 2,200 had not responded to The Permanente Medical Group's vaccine requirement. These employees were placed on unpaid administrative leave across its national vaccination program. "This number is declining daily, and as employees respond, they may return to work. Those not responding have until December 1, 2021, to do so," says Dr Rouillard.
Employees who challenge these mandates probably will not have much success, offers Collins. This is especially true if employees are allowed to claim exemptions from the vaccine for religious or medical reasons. "Cases I have seen around the country have overwhelmingly come down in favor of mandates that allow for exemptions. Even those that do not allow for exemptions have been upheld."
Knowledge is power
Healthcare institutions face the great challenge of providing accurate information on vaccines while respecting everyone's fundamental right to make their own healthcare decisions without coercion or undue external pressure, says Dr Stirton. He advises that all facilities have an informed consent process. This should include an unbiased presentation of the risks, benefits, and alternatives of the intervention just as it does with any other medical intervention.
"Moreover, in trying to reach people, we must take great care to maintain patient confidentiality and the privacy of healthcare information, and to avoid HIPAA violations. Balancing these fundamental principles with an aggressive vaccine campaign can be very difficult. But it's essential," he adds.
Similar to other health systems, The University of Kansas Health System has been reaching out to employees through town halls, smaller group meetings, as well as Zoom and team meetings. There are opportunities to ask questions and voice concerns, with the option to remain anonymous.
Dr Kumer has heard a wide range of grievances and feedback from these meetings. "Some people have concerns about their own medical wellbeing. Or they're immunocompromised and don't want to get it," even though they probably stand to benefit most from vaccination.
Hearing questions about the effects of the vaccine on pregnancy, the chair of OB-GYN and head of the neonatal intensive care unit at The University of Kansas Health System met with these individuals to allay fears and straighten the record about the effects on unborn children. Clinical trials have shown that the vaccine is not harmful to the fetus, Dr Kumer says.
Everyone has free will, and they have the choice to get the vaccine or not, Dr Kumer adds. In his view, it comes down to stating the facts.
With mRNA vaccines, he explains, "you're 25 times less likely of being hospitalized or dying. You're four times less likely to get COVID at all. This vaccine is extremely effective with a low side effect profile." Presenting the facts is key when an employee wants to argue about the merits of vaccination, emphasizes Dr Kumer.
"We have a highly intelligent and professional set of folks who work in the hospitals," he concludes. "We treat these individuals with respect, and we tell them the facts. We offer sources and have a conversation about it." ✥
—Jennifer Lubell
References
13 states or cities requiring COVID-19 vaccinations for healthcare workers. October 4, 2021. Becker's Hospital Review. https://www.beckershospitalreview.com/workforce/8-states-cities-requiring-covid-19-vaccination-for-healthcare-workers.html.
AHA urges CMS to ensure its mandatory vaccination rule is feasible, fair. September 27, 2021. American Hospital Association. https://www.aha.org/2021-09-27-aha-urges-cms-ensure-its-mandatory-vaccination-rule-feasible-fair.
Biden-Harris Administration to Expand Vaccination Requirements for Health Care Settings. September 9, 2021. https://www.cms.gov/newsroom/press-releases/biden-harris-administration-expand-vaccination-requirements-health-care-settings.
Biden-Harris administration issues emergency regulation requiring covid-19 vaccination for health care workers. Centers for Medicare & Medicaid Services. November 4, 2021. https://www.cms.gov/newsroom/press-releases/biden-harris-administration-issues-emergency-regulation-requiring-covid-19-vaccination-health-care.
Gooch K. Vaccination-related employee departures at 37 hospitals, health systems. Becker's Hospital Review. November 8, 2021. https://www.beckershospitalreview.com/workforce/vaccination-requirements-spur-employee-terminations-resignations-numbers-from-6-health-systems.html.
Joint statement from Nebraska Health Care Systems regarding COVID-19 vaccinations for employees. August 12, 2021. Methodist Health System. https://bestcare.org/news/20210812/joint-statement-nebraska-health-care-systems-regarding-covid-19-vaccinations.
Majority of U.S. companies may mandate COVID-19 vaccine in coming months – survey. September 1, 2021. https://www.reuters.com/world/us/majority-us-companies-may-mandate-covid-19-vaccine-coming-months-survey-2021-09-01/.
Path out of the pandemic: President Biden's COVID-19 action plan. The White House. September 2021. https://www.whitehouse.gov/covidplan/.