Release of the National Academy of Medicine's (NAM) report, Future of Nursing 2020-2030, has been delayed until spring 2021. The report is expected to address "newly emerging evidence related to the COVID-19 global pandemic and include recommendations regarding the role of nurses in responding to the crisis," according to the NAM website.
Meanwhile, as 2020 draws to a close, several other healthcare experts have examined the impact of COVID-19 on nursing practice and the anticipated nurse shortage. This article discusses some of the changes that are recommended to support a robust nurse workforce in the future.
Growing dearth of nurses
---
Sponsored Message
---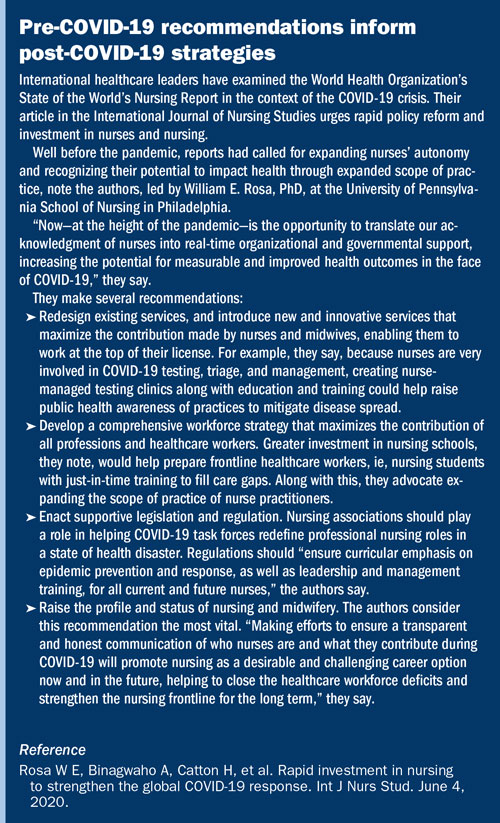 The World Health Organization's (WHO) State of the World's Nursing Report, issued in April 2020, projects a worldwide shortage of 5.7 million nurses by 2030. The report, developed in partnership with the International Council of Nurses and the global Nursing Now campaign, is based on data from 191 countries.
The authors say the nurse workforce is relatively young (age 35 and under) in most countries outside the US and Europe, where most nurses are age 55 or older. Altogether, they say, there are 18 countries considered to be at risk of an aging workforce.
The WHO recommends some ways to mitigate the shortage:
• Increase funding to educate and employ at least 5.9 million more nurses by 2030.
• Continue to collect and analyze data to develop actionable strategies.
• Monitor and manage nurse mobility and migration.
• Invest in faculty to teach, provide clinical placement sites, and have program accessibility to train nurses and a diverse student body to serve a diverse patient population (sidebar, "Pre-COVID-19 recommendations inform post-COVID-19 strategies").
The report's authors also stress that an 8% increase in new graduates each year is needed to improve the ability to employ and retain nurses.
What does OR nursing look like?
Donna Doyle, DNP, RN, CNOR, NE-BC, a perioperative healthcare consultant, connects the dots between some of the WHO report's conclusions and her own research on the nursing workforce.
In a 2017 survey she administered to hospital leaders in the AORN database, Doyle says, approximately 62% of the survey's 209 respondents said there was an absence of succession planning in their organizations. More than half planned to retire within 9 years and had not identified future perioperative leaders.
The 2020 OR Manager Salary/Career Survey mirrors these findings, with 63% of respondents finding it more difficult to recruit experienced RNs, and 56% having trouble hiring surgical technologists. A total of 24% of respondents said they plan to retire by 2024.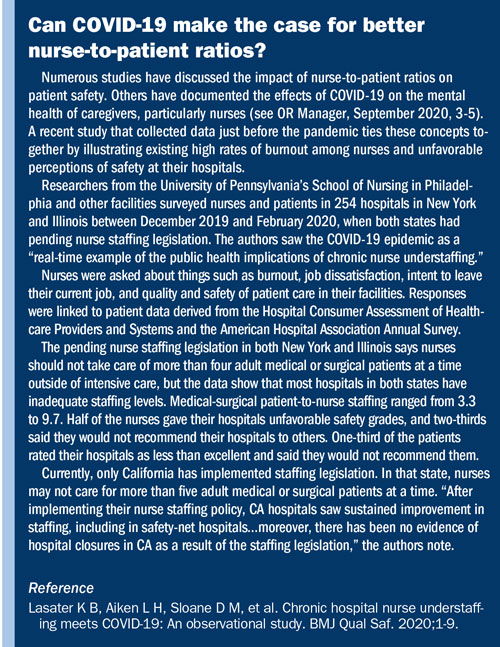 The literature cites a range of 3 million to 4 million nurses in the US, Doyle says. That pool is expected to increase by 15% in the next several years, but about half of the RN workforce is over age 50, and more than a million nurses likely will have retired by 2030. "To meet future demands, we need 9 million more nurses trained by 2030," she says.
Some 100 million procedures are performed annually in hospitals and ambulatory surgery centers. The average age of specialty RNs is 51 to 57 years, and the average age of nurse faculty is 57, Doyle says.
Already there is a shortage of nurse educators; US nursing schools turned away more than 75,000 qualified applicants in 2018 and were unable to fulfill the clinical needs in the workforce. Many nursing programs lack a perioperative elective or rotation, and it costs upwards of $75,000 to $100,000 to provide the orientation needed to develop competent perioperative nurses.
Each year, about 10,000 Baby Boomers turn 65, and the US Census estimates that 83.7 million people will be 65 or older by 2050. "We'll have an increased need for geriatric and surgical care," Doyle notes. "These individuals often have multiple chronic conditions, requiring greater and more complex care."
A nursing shortage will probably increase the incidence of burnout and moral distress from being overworked, she adds, because nurses may feel that they're not providing the best care for their patients. "We know that an increase of one patient in a nurse's workload will increase the likelihood of dying within 30 days of admission by 7%," she says. "It's also associated with higher readmission rates, higher infection rates, and failure to rescue." (See sidebar, "Can COVID-19 make the case for better nurse-to-patient ratios?")
How can we bridge the gap?
"Succession planning is integral to positive organizational performance, and growing novice nurses' competencies and leadership abilities takes time," Doyle says.
Some organizations recruit at the high school level, but Doyle suggests starting at the elementary school and middle school levels, when children begin thinking about what they want to be when they grow up. "By the time they get to high school, they've already tried to figure out which colleges they may attend and what their majors may be, so I think it's a little late then," she says.
She also suggests several strategies she and her peers have found to be successful in developing a perioperative nurse workforce:
• Develop academic partnerships that help promote OR rotations and practicums. "OR nursing is not well understood, even in nursing programs, because not many have a perioperative elective or faculty to teach perioperative practice." Doyle was involved in developing a perioperative elective that started in January 2014 at two OhioHealth hospitals. This 15-week curriculum was taught in 15 days, using AORN's Periop 101 for some modules. Some program participants were hired at those hospitals and are still there today, she notes.
• Visit nursing programs at career fairs, and have a booth at those conferences.
• Hire new graduates and students who are eager to work.
• Create or modify your structure and processes for education, onboarding, and preceptors.
• Offer sign-on referral and retention bonuses.
• Develop people at all levels with a career path, including people who currently work outside the OR but aspire to work in the OR.
• Create, support, and develop preceptors.
• Develop mentoring relationships between experienced and novice nurses.
• Develop a "three-deep" succession plan (ready now, ready in 1 year, ready in 5 years). She recommends identifying staff nurses who could potentially take on a leadership role now, or within 1 year with some development, or in 5 years. "You really need to have a three-deep minimum number of people that you're constantly developing to join the ranks of leadership within the perioperative space," she says. Although general leadership skills are transferrable across different areas, she notes that perioperative skills and backgrounds are unique to the specialty.
• Assess your staffing models to fit the needs of your workforce.
• Engage physician partners in the value of recruitment/retention strategies.
• Reduce or eliminate hazards in the workplace such as surgical smoke and sharps injuries.
Nurture and grow
What might a post-COVID-19 world look like? Resiliency is an important component of retention, and Doyle urges leaders to keep this top of mind. "Find creative ways to measure resiliency in real time," she suggests. A quick and easy way to do this is to provide some red and green ping pong balls and two empty fishbowls. Green balls represent a feeling of resiliency and support, and red balls represent a lack of that. "Each month, ask staff to choose a color and drop it into one of the fishbowls."
If there are more red balls than green, talk with staff to learn what may be causing stress. "If you monitor it over time on a monthly basis, you can tease out the actionable items that can address problems rather than having to wait for the yearly staff satisfaction survey," she says.
She also recommends the use of tactics such as Schwartz rounds, "healing with hounds" or "pet therapy" programs, or staff comfort rooms. "Even a 10-minute chair massage can do wonders for your staff," she adds.
It's also important to solicit ideas from staff and provide opportunities for new nurses to take on leadership roles early in their careers.
"We know that a number of nurses have died from COVID, retired early, or plan to retire soon," Doyle says. Although some nurses have told her that they enjoyed their redeployments during the height of the pandemic in the spring, she believes most OR nurses would not choose to transfer from the OR to other units. Hospitals may, however, view OR nurses as resources when shortages occur in other units, making future redeployments more common. Those who do not want to redeploy may end up retiring early, she says.
"We haven't been proactive enough within the perioperative community," she says. "The shortage we're starting to see and will experience is very real. We need to identify and remove barriers, and think outside the box in our approach. A leader I worked with many years ago said, 'Plan the work and work the plan.' Remember that plans that align the strategic goals for the organization will contribute either exponentially or disproportionately to the success of the organization." ✥
References
Doyle D. The global nursing shortage: The solutions are in our hands. OR Manager Connect. August 26, 2020.
Doyle D. 2020 is the Year of the Nurse: How do we leave our mark in an era of shortage? OR Manager Conference, 2020.
World Health Organization. State of the World's Nursing. https://www.who.int/publications/i/item/nursing-report-2020.