The good news/bad news for OR leaders from the 2018 annual OR Manager Salary/Career Survey: Surgical volume continues to increase for many hospitals, but staff turnover and recruitment difficulties remain, creating challenges in meeting that increased volume. Another ongoing challenge is reimbursement changes; more than half of respondents report bundled payments for orthopedics as the top reimbursement trend compared with a year ago.
More survey highlights
Other key findings of the survey include:
---
Sponsored Message
---
• Models of care are making only modest inroads. One-third of respondents reported that none of the care model options presented in the survey—such as Enhanced Recovery After Surgery (ERAS), Accountable Care Organizations, and the perioperative surgical home (PSH)—had been implemented or were planned to be implemented in the next 6 months.
• The average staff turnover rate (defined as the percentage of staff who have left and been replaced in the past 12 months) was higher this year than last: 13% for RNs (vs 10% in 2017) and 11% for surgical technologists (STs) (vs 8% in 2017).
• Difficulty in recruiting RNs and STs continues to be a trend. Two-thirds of leaders noted that, compared to 12 months ago, it's more difficult to recruit experienced OR nurses (down from 73% in 2017), and more than half (52%) said it's harder to recruit STs, up from 47% last year.
• The number of reported open positions is relatively stable.
Healthcare environment
It has been 4 years since the major provisions of the Patient Protection and Affordable Care Act went into effect. These provisions, along with other changes in healthcare, have created a healthcare environment that benefits many patients, but OR leaders continue to face challenges in terms of volume, reimbursement, and care models.
Nearly half (47%) of respondents reported increased volume over the past 12 months, up slightly from 43% in 2017 and up significantly from 33% in 2014. Back then, 30% reported decreased volume, compared with only 18% this year. This year, more than a third (35%) reported that volume stayed the same in the past 12 months, compared with 36% in 2014.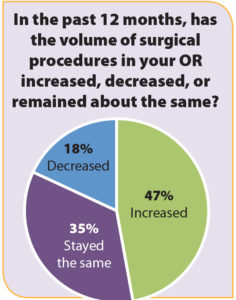 For the first time, we asked respondents to identify top reimbursement trends. More than half put more bundled payments for orthopedics as number one. (See related article on the cover.) Far behind in the second and third slots were more patients covered by Medicaid (17%) and more patients enrolled in Medicare Advantage plans (15%).
Those numbers are likely to continue increasing as the population ages. By 2030, all Baby Boomers will be older than age 65, according to the US Census Bureau. Those 85 years or older comprise the fastest-growing segment of the total population, and it is expected to double by 2036.
New care models have sprung up in response to the new healthcare environment, but they aren't being widely adopted. ERAS is a case in point: Despite research showing numerous benefits, fewer than half (42%) of respondents are using ERAS or plan to implement it in 6 months. In 2017, 46% reported having ERAS for at least one specialty. The percentage of respondents who have adopted or plan to adopt a PSH is only 14%; in 2017, 32% reported having a PSH.
Staffing stats
The unsettled healthcare environment makes it more important than ever for OR leaders to have the right staff—and the right number of staff—in place.
About a third (35%) of OR leaders have hired more direct care staff in the past year, similar to the 34% reported in 2017. Leaders continue to respond to financial pressures in a similar pattern. For instance, 25% have eliminated open positions (vs 31% in 2017 and 22% in 2016). Other actions include:
• reduced overtime usage (36% vs 43% in 2017)
• required staff to take time off without pay (20% vs 24% in 2017 and 16% in 2016)
• decreased use of agency staff (26% vs 29% in 2017 and 23% in 2016). In all, 20% reported increased use of agency staff, compared with 22% in 2017 and 23% in 2016.
The percentage of open full-time equivalent (FTE) positions for RNs in the past 12 months increased for more than a third (37%) of participants (vs 33% in 2017), and only 17% (vs 20% in 2017) reported a decrease. More than a quarter (27%) had no open positions, 38% had between one and two, and 21% had five or more.
In all, 37% reported an increase in ST open FTE positions, up from 26% in 2017, with 14% reporting a decrease, down from 19% last year. However, a third had no open positions for STs, and 42% had only one to two; half (48%) said the number of open positions was the same.
Looking back to 2014 reveals significant changes. That year, few respondents reported an increase in open positions for RNs (11%) and STs (12%); more than two-thirds (65% for RNs and 64% for STs) reported open positions were the same. Nearly half (42%) were in the enviable position of having no open RN positions.
Staff transitions
Although the average RN turnover rate rose, the percentage of respondents reporting an increased turnover rate over the past year remained relatively stable, although it has been trending downward the past few years (39% in 2016, 35% in 2017, and 32% in 2018). Still, it remains much higher than the 20% in 2014.
Slightly more than a quarter (26%) of participants reported an increased turnover rate for STs, but 63% said it had stayed the same. ST staffing turnover has been stable for the past 4 years, with 59% to 64% reporting no change during that time frame and 21% to 28% reporting an increase.
Recruitment
OR leaders continue to struggle to fill RN positions. Only 6% report that recruiting experienced OR nurses is easier compared with 12 months ago; last year, that figure was 2%. The percentage of participants reporting greater difficulty in recruiting new or inexperienced OR nurses jumped from 16% in 2017 to 25% this year, but this could be a one-time variance—more than half (51%) said that the level of recruiting difficulty stayed the same for this group, similar to the 57% for last year.
When it comes to resumes for new RN hires, 44% of OR leaders require the applicant to have a baccalaureate degree in nursing (BSN), 57% require an associate degree in nursing (ADN), and 9% don't require a degree. The percentages differ significantly between community and teaching hospitals.
More than two-thirds (67%) of teaching hospitals requiring a BSN, and more than two-thirds (65%) of community hospitals require an ADN. Despite the merits of having a CNOR, only 6% of all respondents require that certification.
More than half (52%) of OR leaders said it was more difficult to recruit STs, up slightly from 47% last year. Only 11% said it was easier, the same as last year.
About the respondents
Consistent with previous surveys, most respondents (64%) work in community hospitals as opposed to teaching hospitals (28%). Of the options provided, the most common job title was director (46%), followed by nurse manager (39%), and administrator/administrative director (6%).
Watch for more information about respondents, including salary, scope of work, and job satisfaction, in the October issue of OR Manager.
In service to patients
As volume continues to increase in an environment with an aging population, reimbursement changes, and new care models, OR leaders will need all their skills to recruit and retain staff so patients can receive the quality of care they deserve. ✥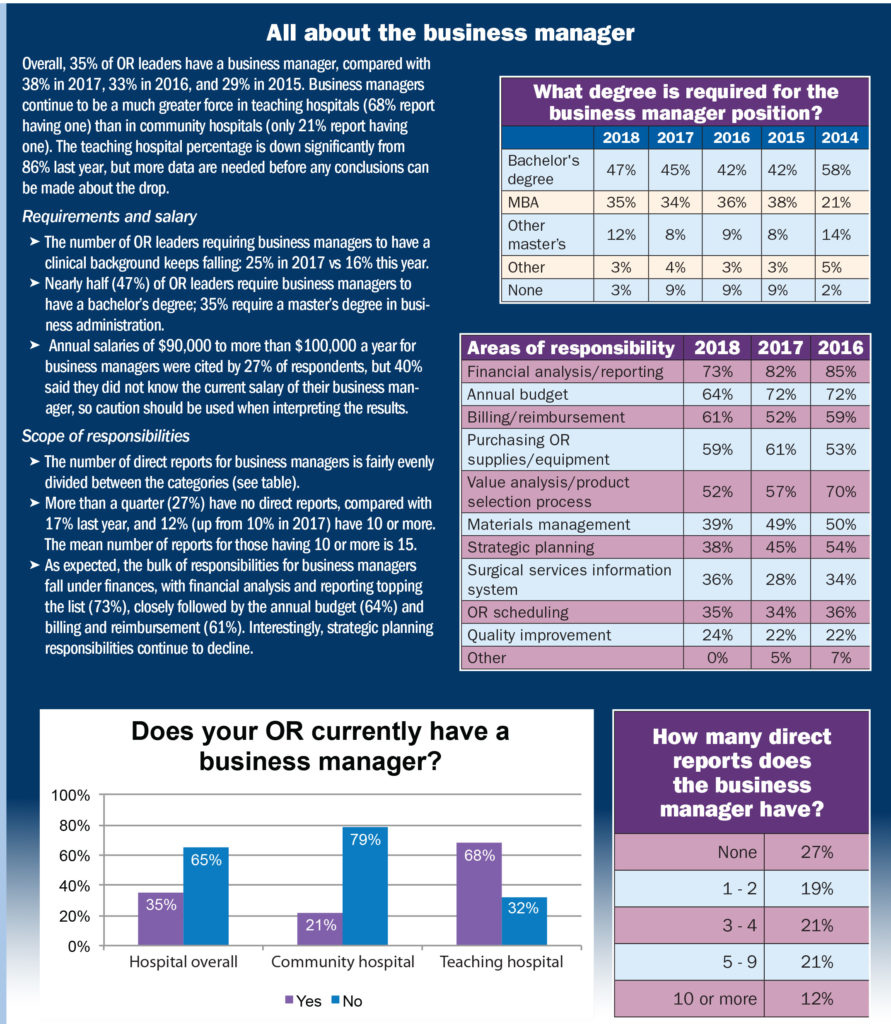 References
Ortman J M, Velkoff V A, Hogan H. An aging nation: The older population in the United States. 2014. https://www.census.gov/prod/2014pubs/p25-1140.pdf.

United States Census Bureau. Older people projected to outnumber children for the first time in US history. 2018. https://www.census.gov/newsroom/press-releases/2018/cb18-41-population-projections.html.