Reforms are underway to curb surprise billing practices, with new federal government regulations due to be published by July 1 as part of the No Surprises Act passed by Congress in late 2020. Among many other provisions, the new law will require insurance providers to be more transparent about prices and better protect patients from out-of-network provider fees.
But more needs to be done to bring more price transparency to the marketplace, Marty Makary, MD, told OR Manager. Dr Makary, a practicing surgical oncologist and advanced laparoscopic surgeon at Johns Hopkins Hospital, Baltimore, received the 2020 Business Book of the Year award for The Price We Pay: What Broke American Healthcare—and How to Fix It. In June, an updated version of the book will be published to reflect recent changes that have occurred and the impact of COVID-19.
Dr Makary, who is also the best-selling author of Unaccountable: What Hospitals Won't Tell You and How Transparency Can Revolutionize Health Care, will share insights from his research during a keynote presentation on October 21 at the annual OR Manager Conference: "Examining What Broke American Healthcare."
What does healthy competition look like?
"Many places are using good ethical principles in pricing and billing," Dr Makary says. But he notes that there are a lot of noncompetitive markets in healthcare. "The change that's needed is to make the markets competitive and to address the fundamental problems of monopolistic pricing and price gouging," he says. "There's an effort to do that on a policy level through a price transparency executive order and within the private sector through efforts like price estimators and marketplaces."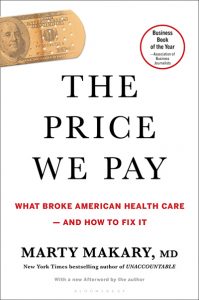 Dr Makary is a long-time advocate of transparency, not only for healthcare costs but also other metrics by which to judge quality of care. "When I wrote Unaccountable 10 years ago, many people said we would never have public reporting of readmission, infection rates, and other key quality measures," he says. "But in fact, that's exactly what happened."
He ran into the same kind of resistance with The Price We Pay, he says. "I was told by industry that hospitals couldn't show prices because they didn't know what the prices were. They said it would take a lot of money to develop a price, and if they did so, prices would be higher because they would be spending time and energy creating pricing."
A similar argument was made years ago with regard to placing nutrition labels on food, he notes. "We were told that if food had to have a nutrition label on it, the price would be much higher, people would lose jobs, and we would see world hunger. None of that was true. Nutrition labels were added efficiently, and the market for food was transformed to be a competitive market, based on ingredients."
What does medical quality mean?
Dr Makary equates billing quality with medical quality. "We have lost control of our billing practices," he says. "We have to let our facilities know that financial toxicity is a medical complication and reflects poorly on us as providers. And billing quality is medical quality, and taking care of a person means taking care of the whole person."
In a 2020 JAMA article, Dr Makary and his co-author, Simon Mathews, MD, outlined their Billing Quality 5-Star Rating System, which consists of these five measures:
• Itemized bills: Patients should routinely receive itemized bills with explanations in plain English.
• Price transparency: Patients should be given real prices for common, "shoppable" services.
• Service quality: Patients should be able to speak with a billing representative about any concerns with their bills.
• Suing patients: Institutions should not be suing patients to garnish their wages when patients have difficulty paying their bills.
• Surprise bills: Out-of-network patients paying out of pocket should not be expected to pay more than the region-specific, reference-based price.
"These are basic standards of billing quality by which the market should be rewarding the good actors—which are most facilities," Dr Makary says. "Let's harness the power of the marketplace to reward centers that are using good and fair billing practices, and expose those that are engaging in the deceptive practice of price gouging and predatory billing that is eroding trust in the medical profession."
How does COVID-19 play into the picture?
"With COVID-19, we learned that our system is too rigid," he says. "We have not been able to pivot to respond to a health emergency. For the first time, we were talking about converting ambulatory surgery centers into ICUs because they had ventilators in them. Our research centers were unable to answer the most basic questions physicians were asking, such as: How does this virus spread? How do you stop the spread? What percent of people are asymptomatic?"
Not only must health systems respond more quickly in the future—be it an infectious disease outbreak, natural disaster, or mass casualty incident—he says, they must also provide care in an appropriate setting. "We need to reserve hospital care for things that absolutely require a hospital," he says. "Everything else needs to move closer to the patient's home."
In the Afterword of his new book, Dr Makary says: "If this virus has taught our country nothing else, it should be humility. … Humility marks a great physician, nurse, trainee, business person, or teacher. It enables a clinician to deal with uncertainty and manage it appropriately."
He anticipates that in the coming months, pent-up consumer demand for medical services will be unleashed. "People will want to get back to taking care of their health," he says. "We have a great heritage of caring for anyone in need, regardless of their circumstances. That is why we have such tremendous rapport with patients, and they trust us to do things. And that is being threatened by the outlier facilities that are engaging in egregious price gouging and predatory billing. We have to speak up."
To learn more or to register for the conference, visit www.ormanager.com. ✥
References
Gordon M. 'The Price We Pay' argues rising healthcare costs undermine public trust in medicine. NPR News. October 22, 2019. https://www.npr.org/sections/health-shots/2019/10/22/767376340/the-price-we-pay-argues-rising-health-care-costs-undermine-public-trust-in-medic.
Kaiser Family Foundation. Surprise medical bills: New protections for consumers take effect in 2022. Published February 4, 2021. https://www.kff.org/private-insurance/fact-sheet/surprise-medical-bills-new-protections-for-consumers-take-effect-in-2022/.
Mathews S C, Makary M A. Billing quality is medical quality. JAMA. 2020;323(5):409-410.