Poor communication has been the root cause of many sentinel events over the years, and there has been growing recognition of how the work environment and culture influence patient outcomes. In a 2018 Sentinel Event Alert, the Joint Commission stressed the need to develop a "reporting culture"—to make it safe for providers to speak up and either prevent errors from occurring or correct course afterward without fear of punishment.
"Reporting close calls is a step toward developing the ability to respond to 'weak signals' or poorly detected risks," the alert says. "Close calls are defined as unsafe acts or conditions—errors, procedure violations, or hazards—that could have seriously harmed a patient but did not because they were identified, reported, and addressed or eliminated."
---
Sponsored Message
---
After a near miss at St Claire Healthcare in Morehead, Kentucky, in 2017, an in-depth look at culture and communication ultimately led to adoption of Crew Resource Management (CRM), says Riki A. Watts, MSN, RN, NE-BC, CNOR, administrative director of perioperative services. St Claire Healthcare is a 159-bed hospital with five ORs. Regular CRM training has enhanced team communication by transforming a silo model of thinking into a shared mental model, and staff perceive patient safety as a higher priority than they did before the training, she says.
Communication breakdowns
What got the ball rolling toward a culture shift at St Claire Healthcare was a case in 2017 in which a patient was decompensating in the OR. The environment was chaotic, with no one leading a rapid response until finally the anesthesiologist took charge, the procedure was aborted, and the patient was taken to the postanesthesia care unit, Watts says.
She called her chief medical officer to express her concerns about patient safety, and they subsequently met with the nursing educator, medical director of surgery, an OB-GYN physician who was a TeamSTEPPS® trainer, and the medical director of emergency services. They discussed what had happened and how to prevent a similar situation in the future.
"We decided that communication was fragmented and unilateral," she says. "We noted that key perioperative staff members didn't feel empowered to speak up or stop the line. There was no shared mental model. None of us were on the same page."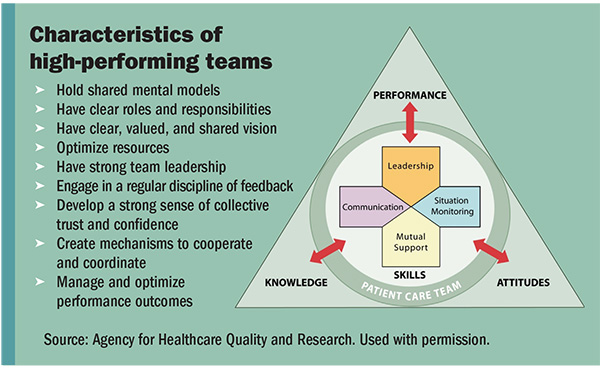 At the time, Watts happened to be reading Why Hospitals Should Fly: The Ultimate Flight Plan to Patient Safety and Quality Care, by John J. Nance, JD. That book, in combination with this incident, made her realize there was a culture problem that needed to be resolved. She surveyed staff for feedback and decided to implement CRM training.
Crew Resource Management—a team training curriculum that focuses on flight crew communication, near misses, and fatal errors—started in the airline industry years ago and has been used in many healthcare organizations.
"In healthcare we're shifting to taking away key lessons from our near misses—we can learn just as much from those as we can from actual errors," Watts says. Through CRM training, she explains, staff are empowered to speak up and avoid three crucial errors teams sometimes make: perception, assumption, and poor communication.
An example of this is the "halo effect," or the tendency to defer to a senior team member's judgment. Watts says this resulted in a sentinel event in 2018, when regional anesthesia was administered on the wrong side of a patient. Two experienced certified registered nurse anesthetists performed a block on the patient's shoulder, and although a third nurse—who was brand new to the OR—thought the block should have been done on the opposite side, she didn't speak up because of her relative lack of experience.
When this happened, Watts says, she stressed to this new staff member and the rest of the perioperative team that silence isn't acceptable; they must speak up.
Another common OR communication failure stems from the "undiscussables," Watts says—a risk or an issue that is known but not discussed. The authors of Silence Kills: The Seven Crucial Conversations for Healthcare identify concerns that often go undiscussed and contribute to avoidable medical errors, Watts notes. They link the ability of healthcare professionals to discuss emotionally and politically risky topics with key results like patient safety, quality of care, and retention of staff. "If staff don't feel like they have collegial respect or the ability to speak up, they'll leave," Watts says.
Using TeamSTEPPS® principles
TeamSTEPPS® (Team Strategies and Tools to Enhance Performance and Patient Safety) is another highly effective program adopted by some healthcare organizations to improve communication and teamwork. It includes a comprehensive set of ready-to-use materials and a training curriculum to successfully integrate teamwork principles into any healthcare system.
The American Hospital Association hosted a TeamSTEPPS® training conference in June and periodically offers webinars to familiarize providers with the program's protocols and resources (https://www.aha.org/education-events/2019-aha-team-training-national-conference).
In a recent webinar, David L. Feldman, MD, MBA, CPE, FAAPL, FACS, senior VP and chief medical officer at Healthcare Risk Advisors, The Doctors Company, in New York City, shared his experience with TeamSTEPPS® and ways to ensure a just culture in the context of a discussion about creating a culture of safety.
In defining what is meant by disrespectful behavior, Dr Feldman notes a number of examples, as delineated in an article by Lucian Leape, MD. "We're familiar with disruptive behavior," Dr Feldman says, "but there are also behaviors like passive-aggressive behavior, which includes refusing to do tasks or doing them in a way intended to annoy others. Passive disrespect may be resistance to safe practices like hand disinfection or time-outs. Dismissive treatment of patients may include refusing to return calls or ignoring people on rounds. And then there's systemic disrespect—why is it acceptable to keep patients waiting?"
Dr Feldman, a plastic surgeon, is the former vice president for patient safety, vice president of perioperative services, and vice chairman of the department of surgery at Maimonides Medical Center in Brooklyn. At Maimonides, he says, they developed a Code of Mutual Respect (https://www.maimonidesmed.org/about-us/core-principles/code-of-mutual-respect).
This consists of:
• clear expectations of respectful behavior that applies equally to everyone
• recognition of and mechanisms to address systems issues that cause frustrations
• investigations conducted by unbiased peers from other departments
• progressive discipline that is similar in concept for physicians and other employees.
Teachable moments
Taking transparency to a whole new level, Dr Feldman says that some years ago while at Maimonides, he filmed 10 or 12 time-outs and showed the videos to a group of all OR staff—surgeons, anesthesiologists, nurses, and trainees—and asked them vote on the best time-out. The video cameras captured what was going on in the room, but they did not invade patients' privacy, he stresses. The videos are meant to show the process rather than assign blame to individuals, and he says they taught staff "what a good time-out looks like."
More recently, working in a collaborative with multiple large academic medical centers, he assisted in the development of an audit tool to help staff evaluate their compliance with elements of the time-out that a group of OR experts determined were critical to good teamwork, and were directly correlated with TeamSTEPPS® skills. His office employed software that allowed data entry from any Internet-connected device so that audits from hospitals could be securely collected.
"The hospitals in our collaborative trained people to observe, and some put in video cameras. This allowed trainers to give feedback to surgical teams. It's not easy to do—to get them to stop right after the time-out and before the surgery. One of our hospitals had the chief of surgery and OR nurse director watch these time-outs. This sent a message to staff—when senior leaders watch people do time-outs, they realize it's an important thing for them to do." Videos are routinely being used at Mount Sinai Beth Israel in New York City, Dr Feldman says.
It's one thing to receive feedback on processes, however, and another to decide how to determine appropriate actions to take for human error, at-risk behavior, or reckless behavior.
Dr Feldman asked the webinar audience to consider this artificial, but plausible, scenario and vote on whether it represents human error, at-risk behavior, or reckless behavior:
"A surgery resident accidently contaminates an instrument in the OR. No one notices. The instrument is critical to the procedure, and the resident knows if the instrument has to be re-sterilized, it will delay the procedure by at least 20 minutes to either re-sterilize or call for a replacement. Knowing the attending surgeon has a history of being abusive to residents, the resident says nothing."
About two-thirds of the webinar audience judged this as risky behavior; one-third thought it was reckless; and a few percent thought it was human error. "I don't know what the right answer is," Dr Feldman says. "You could argue that the resident, knowing he or she risked upsetting the attending, had a situation that was not workable. This is not clear-cut. It's complex."
A scenario like this illustrates the kinds of questions that need to be considered: Was the job understood? Were the actions as intended? Were the results as intended? Were procedures clear and workable?
Prioritizing patient safety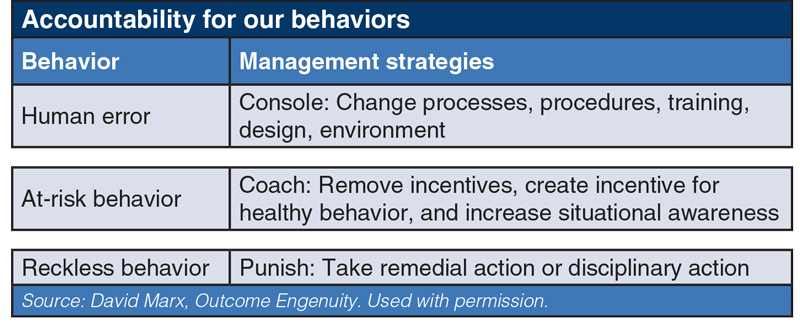 When Watts decided to conduct CRM training, she shut down the OR for 4 hours and required every surgeon and all staff, including housekeeping, to attend. "We created a systematic training course that focused on team communication, using scenarios that had actually happened in our ORs," she says. "We started with an hour and a half didactic session. Then we broke everyone into four groups, and they had to go to four different stations and apply the principles they were taught to actual scenarios."
Surveys given to staff before and after the training revealed that the education made them feel that patient safety was a higher priority than it had been previously. "We saw a shift in our culture after we implemented this training," Watts says.
Watts now teaches CRM once a month. About 70% of the nursing staff have completed training thus far, putting her well on the way to a goal of 100%.
CRM may not be the answer for everyone, Watts acknowledges, but she says it worked best for her team. "We've had codes and rapid responses, and in one instance, I watched the team perform, and it was effortless. Communication was cohesive—nothing like that day in 2017," she says. ✥
---
What research shows
This year marks the 15th anniversary since publication of the Institute of Medicine's report, Keeping Patients Safe: Transforming the Work Environment of Nurses. The report's authors say that creating work environments most conducive to patient safety requires changes in "how work is designed, how personnel are deployed, and how the very culture of the organization understands and acts on the science of safety." They emphasize the need to change both physical environments and the beliefs and practices of nurses and other healthcare workers.
Since then, many studies about nurse work environments have been published. In late 2018, a study by Aiken and colleagues analyzed 10 years' worth of survey data (2006 through 2016) and concluded that patient safety was better at hospitals where work environments had improved. However, among the 535 hospitals included in the study, only 21% substantially improved their clinical work environments, 71% made no improvements, and 7% had worse environments.
This study and other research by Aiken are included in a recent meta-analysis of the association between nurse work environments and nurse job outcomes, patient health record-based outcomes, patient satisfaction, and nurse assessments of quality and safety. The authors use the Practice Environment Scale of the Nursing Work Index (PES-NWI) to evaluate 21 samples from 17 studies with 16 years' worth of data from 2,677 hospitals.
This comprehensive analysis finds that better work environments are associated with:
a 28% to 32% lower odds of job dissatisfaction, burnout, or intention to leave
a 23% to 51% lower odds of rating nursing unit quality and safety as fair or poor
a 22% lower odds of nurses reporting lack of confidence in patients being able to manage care after discharge
a 16% higher odds of patient satisfaction
an 8% lower odds of adverse events or death.
"Managers should utilize the PES-NWI and the benchmarks provided by existing literature to identify areas of weakness in their work environments," the authors say. Currently, they add, Magnet hospital accreditation is the only evidence-based approach for improving work environments. "Nursing education should include content on the nurse work environment and its relation to health and job outcomes to prepare future nurses to recognize and promulgate healthy work environments," they say.
In its most recent survey, the American Association of Critical-Care Nurses (AACN) sees some improvement in work environments since its 2013 study but also cites several areas needing improvement. Their 2018 study of 8,080 critical care RNs is based largely on the Critical Elements of a Healthy Work Environment (HWE) Scale, a 32-item survey that measures efficacy of the AACN-HWE standards: skilled communication, true collaboration, effective decision making, meaningful recognition, appropriate staffing, and authentic leadership.
Responses show improvements in communication and collaboration, respect and meaningful recognition, authentic leadership, and effective decision making. However, just 39% of respondents said they have the right number of nurses with the right knowledge and skills more than 75% of the time. A total of 80% said they had been verbally abused at least once in the previous year, and 47% reported physical abuse.
Retention is another area signifying a less than ideal work environment, with 54% of respondents saying they plan to leave their current position within the next 12 months (32.6%) or the next 3 years (21.8%). What would change their minds? Responses included better staffing (50%), higher salary or improved benefits (46%), better leadership (44%), more respect from administration (42%) and frontline management (39%), and more meaningful recognition (39%).
"The results of this study provide information on how job satisfaction can be improved," the authors say. "Attention must be paid to the implementation of all AACN HWE standards, tolerance of verbal and physical abuse must decrease, and frontline nurse managers need to be educated and supported in their roles."
References
Aiken L H, Sloane D M, Barnes H, et al. Nurses' and patients' appraisals show patient safety in hospitals remains a concern. Health Affairs. 2018;37(11):1744-1751.

Institute of Medicine. Committee on the Work Environment for Nurses and Patient Safety. Keeping patients safe: Transforming the work environment of nurses; Page A, Ed. Washington, DC: National Academies Press. 2004. https://www.ncbi.nlm.nih.gov/pubmed/25009849

Lake E T, Sander J, Duan R, et al. A meta-analysis of the associations between nurse work environment in hospitals and 4 sets of outcomes. Med Care. 2019;57(5):353-361.

Ulrich B, Barden C, Cassidy L, et al. Critical care nurse work environments 2018: Findings and implications. Crit Care Nurse. Published online February 6, 2019. http://ccn.aacnjournals.org/content/early/2019/02/05/ccn2019605.full
---
References
Bui A H, Guerrier S, Feldman D L, et al. Is video observation as effective as live observation in improving teamwork in the operating room? Surgery. 2018;163(6):1191-1196.
Feldman D L. Creating a Culture of Safety. Webinar. American Hospital Association, April 10, 2019.
Joint Commission. Sentinel Alert 60. Developing a reporting culture: Learning from close calls and hazardous conditions. December 11, 2018. https://www.jointcommission.org/assets/1/18/SEA_60_Reporting_culture_FINAL.pdf.
Leape L L, Shore M G, Dienstag J L, et al. Perspective: A culture of respect—part 1 and part 2. Acad. Med. 2012;87:845-858.
Marx D. Patient safety and the just culture. Obstet Gynecol Clin North Am. 2019;46(2):239-245.
Watts R A. Crew Resource Management for Your OR Team. OR Business Management Conference, 2019.