On January 1, 2020, the Centers for Medicare & Medicaid Services (CMS) began reimbursing healthcare providers for total hip arthroplasty performed in outpatient hospital settings and total knee arthroplasty in ambulatory surgery centers (ASCs), thereby opening the floodgates for explosive growth in outpatient total joint arthroplasty (TJA).
About a million TJAs are performed annually in the US, of which about 3% to 5% are outpatient procedures. Experts predict that number will rise to 30% to 50% over the next 5 years, says Ritesh R. Shah, MD, chief, orthopedic surgery, Advocate Illinois Masonic Medical Center, Chicago.
Other factors contributing to the growth of outpatient TJA include ongoing demands for cost savings and patient preference for same-day discharge. "One of the most important drivers behind this trend is patient experience. Today's patients don't want to go a hospital and stay overnight," says Judith Pins, MBA, RN, former president of Pfiedler Education, an accredited provider of continuing medical and nursing education and a subsidiary of AORN.
However, there are concerns about sacrificing patient safety in the name of saving money and rapid patient processing. Can TJA patients be safely discharged home the same day of surgery? And what processes really work for these patients?
Is it safe?
Dr Shah presents the case of a retired police officer in his 50s with a history of work-related knee injuries. His treatments had included corticosteroid injections, physical therapy, and arthroscopic surgery. A few years later, he developed increasing pain and progressively worsening arthritis. He was a good candidate for a total knee arthroplasty and chose the option of outpatient surgery in an ASC.
After surgery he was quickly mobilized, walking and even climbing stairs before being discharged home the same day. He had no postoperative complications and was happy with the process and the outcome, says Dr Shah.
His experience is not unusual. On average, Dr Shah's outpatient TJA patients get up and walk 40 to 45 minutes after surgery, climb stairs within 70 to 90 minutes, and are discharged home within 2 hours.
Such rapid postoperative mobility after TJA has been made possible in recent years because of several factors, including:
• innovation in technology
• appropriate soft tissue management
• advanced pain management
• multimodal anesthesia care
• improved patient education from an integrated multidisciplinary surgical team.
"Many TJA patients can now safely go home the same day," says Dr Shah, lead author of a study on the safety of outpatient total joint arthroplasty. The study evaluated 30- and 90-day complication rates in outpatient TJA procedures performed at a freestanding, independent ASC. Cases included a mix of total knee, total hip, and unicompartmental knee arthroplasties, with a mean patient age of 57±7 years. Researchers found no intraoperative or direct ASC-related complications. The study concluded that same-day discharge from a freestanding, independent ASC is a safe option for these patients after development of a multidisciplinary TJA pathway.
"Patients have less pain and feel better if we focus on energizing and getting them up and walking," says Dr Shah. Other benefits to early mobilization include less nausea, vomiting, and constipation, as well as less anxiety about mobility.
Getting patients up and walking soon after surgery is only one piece of a successful TJA pathway. Ensuring patient safety requires a comprehensive, multifaceted approach.
The entire surgical team, along with physical therapists, must focus on patient education and the safety net at home. Collaborative patient education and role clarification within the team are key.
"Every team member must know the part they play in the extensive follow-up process to ensure patients are progressing well at home," says Terry Avitable, MSN, RN, CNOR, president of Pfiedler Education.
Creating a streamlined, patient-centered process is also crucial. Dr Shah has been performing outpatient TJAs since 2013 and has developed a systematic process that includes:
• standardizing the surgical approach and surgical care
• standardizing anesthesia care and the pain regiment, including multimodal pain management and narcotics minimization
• focusing on early mobility.
This process has been adopted by several Chicago-area facilities, including Advocate Illinois Masonic Medical Center, Advocate Lutheran General Hospital, Illinois Sports Medicine & Orthopedic Surgery Center, and NorthShore Surgical Suites.
ASC staff who are accustomed to less invasive procedures, such as arthroscopies, will need training to develop competencies for more extensive TJA procedures. In addition, CMS is requiring ASCs to provide documentation of this training, says Pins. She includes these four key elements for successful TJA program in the ASC setting:
• surgeons who are comfortable performing total joint replacements in the ambulatory surgery setting
• innovative anesthesiologists who understand the types and methods of administering anesthesia to same-day discharge patients
• a highly motivated and integrated multidisciplinary team, including the surgeon, anesthesiologist, nurse, physician assistant, physical therapist, and home health agency
• a motivated patient who has a support system at home and is healthy enough to have surgery outside a hospital.
The multidisciplinary team should meet with the patient several weeks in advance to perform a full assessment. Together they ensure the patient is an appropriate candidate for surgery in the ambulatory setting.
Physicians' offices and staffs must also adapt to the extra work required to care for these patients, such as fielding more telephone calls. While reducing the costs of inpatient stays, outpatient TJA will likely burden physicians with extra costs in their practices. "It's not business as usual, and eventually that will have to be recognized by Medicare and other payers," says Pins. "The great migration of TJA from the hospital to the ambulatory setting will require everyone to change to accommodate it."
Ideal candidates
Today more patients are candidates for same-day discharge than ever before, says Dr Shah. "Although some patients are too unhealthy to send home the same day, it is 100% safe for a certain subset of patients," he says. "More than half of my patients are good candidates."
In addition, advancing age alone is not a deal breaker. Dr Shah has successfully discharged an 85-year-old patient the same day after total joint replacement. On the other hand, after preoperative evaluation of a 68-year-old patient, he decided she would be admitted to the hospital after TJA. This was due to a complex medical history and a physiological age closer to 82, he says.
"Outpatient TJA is not for everyone, but for those who are good candidates, it can be a wonderful option," says Avitable.
The Canadian experience
Queensway Carleton Hospital (QCH) in Nepean, Ontario, Canada, began reducing the length of stay for TJA patients from 2 days or longer to 1 day in 2017. Now more than 80% of TJA patients are discharged successfully on Day 1 following surgery.
"We recognized that we were keeping patients in the hospital for an extended period of time unnecessarily," says Susan Coates, RN, BScN, CNCC, clinical manager, PACU, Day Surgical Unit, and Preoperative Assessment Clinic. QCH has 264 acute-care beds, including 40 surgical beds and 29 day surgery bays.
Coates cites several factors driving the transition to same-day discharge of TJA patients. "Our city is in a huge overload situation. Patients are lined up in the emergency department, and we needed to find innovative ways to relieve the pressure on the inpatient units," she says. "Also, the cost to the system is reduced when patients go home the day of surgery, and patients are often more comfortable in their own homes."
Developing an outpatient TJA program
QCH joined with Hôpital Montfort in Ottawa, Canada, in a collaborative working group to develop their outpatient TJA programs. Key strategies included ensuring that all stakeholders were involved in the development of the program. The working group included surgeons, anesthesiologists, nurses, clinical nurse specialists, anesthetic assistants, physical therapists, and acute case services from both hospitals.
The working group began with a literature search to establish best practices and standards of care for an outpatient TJA program. At monthly meetings, the group addressed each aspect of care and how it had to change or evolve for outpatient TJA.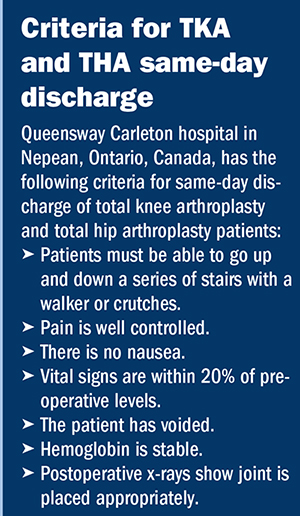 For example, the surgeons examined anticoagulation therapy, including their current inpatient practice and how to safely adopt it. Anesthesia providers focused on adopting pain management plans, which had included intrathecal morphine sulfate requiring a 12- to 24-hour hospital stay.
Physical therapy staff assessed the equipment, resources, and new knowledge the PACU staff would need. That included stairclimbing equipment and training, which had only been performed in the past by the inpatient staff.
In addition, TJA patients had to be booked as first or second cases of the day to ensure enough time for recovery and preparation for same-day discharge.
The collaborative working group also established criteria for same-day discharge and completed trials of surgical dressings (sidebar at right). "We found the dressing that best allows the wound to stay covered and protected for 3 days before patients change it themselves and apply gauze and tape," says Coates.
Same-day discharge readiness
The collaborative working group researched criteria for appropriate patient selection. "Much of the literature was specific about excluding patients with certain comorbidities, but we did not want to exclude anyone from the possibility of going home because they had such conditions as obstructive sleep apnea or coronary artery disease," says Coates.
Patients with comorbidities who are stable enough to have surgery may still be eligible for the same-day discharge program if they meet the following criteria:
• live within 1 hour of the hospital
• have someone staying with them in the home for at least 48 hours
• sign an informed consent for same-day discharge.
"Educating patients about possible complications is a large part of preoperative teaching, and if they have help at home and live within an hour [of the facility], we feel comfortable that they will recognize complications and be able to return here if needed," says Coates.
Successful trial program
The program trialed in 2019 with one surgeon to evaluate and refine the process with a limited number of cases. Initially, an inpatient bed was held open for each trial patient in case of complications after discharge, which allowed patients to be admitted directly and bypass the emergency department. "After 8 weeks, we found this wasn't necessary. None of the trial patients needed to come back," says Coates.
Trial patients were called at home the evening after surgery and the next morning. Staff used a standardized questionnaire to:
• assess their pain levels
• ensure patients had filled their prescriptions and understood how to take their medications
• evaluate their understanding and compliance with ice therapy and their exercises
• ask about the patients' dressings and amount of drainage
• encourage patients to ask questions or discuss any concerns.
The program has expanded since the trial, and from April 2019 to December 2019, QCH enrolled 49 TJA patients in the outpatient program. Nine patients, about 18%, failed and had to be admitted. The reasons for readmission were unrelated to comorbidities, says Coates. Some patients had postoperative nausea and pain that needed in-house management. In addition, two patients needed oxygen therapy, which they had not needed in the past, and one patient had a new-onset seizure preoperatively.
Another patient changed his mind about same-day discharge on the day of surgery. "We are working on this issue by increasing our preoperative coaching," says Coates. "Patient engagement and buy-in play a huge role in our success rate. People who are motivated succeed." Preoperative coaching includes ensuring patients are thoroughly educated and prepared preoperatively, and reinforcing the expectation they will go home unless a complication occurs.
The trial also found that the difference in safety between discharge at the 24-hour mark versus discharge in 10 or 12 hours was not significant, says Coates.
Enrollment in the program has increased since December 2019, currently totaling two or three TJA cases almost daily.
Preop and postop education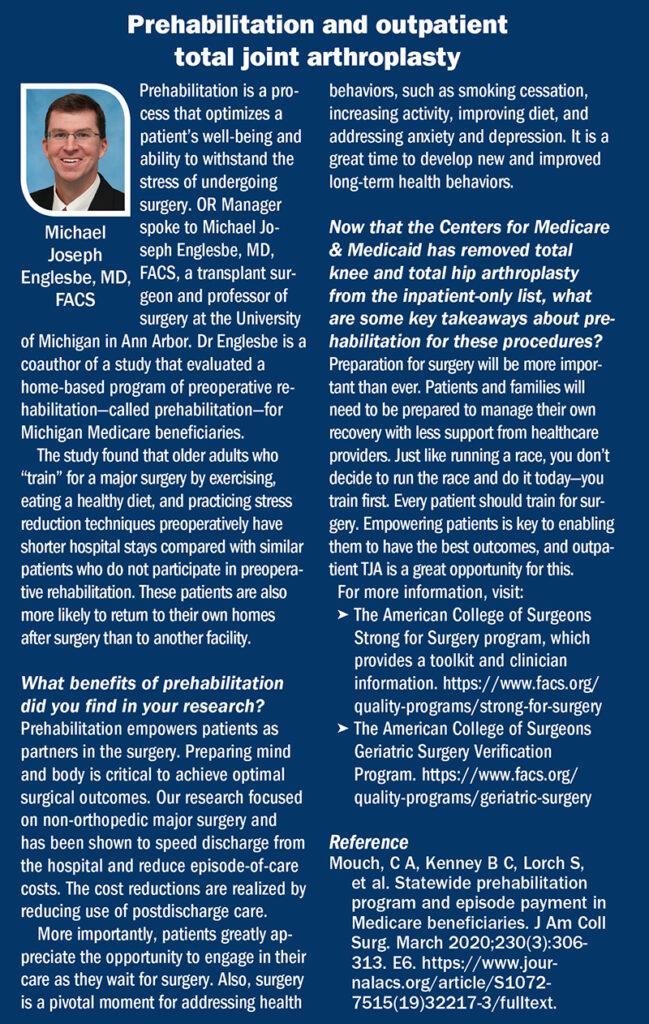 TJA patients are evaluated as possible surgical candidates by rehabilitation specialists at the central Total Joint Assessment Clinic. A surgeon then evaluates them, and if they are deemed appropriate candidates, they go to a rehabilitation clinic where they receive verbal and written information about postoperative care and exercises. After that, they receive preoperative education from a nurse who discusses what to expect after surgery regarding pain, mobility, and dressing changes.
The staff also developed standardized teaching booklets, which are reviewed with patients preoperatively and before discharge. Follow-up phone calls also reinforce preoperative teaching.
"All of the preoperative teaching is reinforced in many steps. Hearing the same messages many times from different people is an effective teaching strategy," says Coates.
The surgical team has found that extra teaching is required for some patients who have had a TJA in the past. They can be resistant to same-day discharge, says Coates.
"If they had a TJA 10 years ago, they might have spent 5 to 7 days in the hospital and can't believe we will send them home the same day," she says. "Their teaching includes how techniques have evolved to be faster and less invasive. It's important to stress how quickly patients today respond and become mobile."
Many patients are surprised by how comfortable they are for the first 18 to 24 hours but are equally surprised by how uncomfortable they are after the preoperative nerve block wears off, says Coates. Patients are told preoperatively to expect postoperative pain and how to manage it with icing and pain medication regimens.
Patients may call an integrated care coordinator, who answers questions and arranges all physical therapy appointments. "Patients say that having someone to call 24 hours a day was a big comfort for them," says Coates.
Nursing practice challenges
In the past, most same-day discharge patients spent only 30 minutes to an hour in the day surgical unit. Stays of 4 to 8 hours were an adjustment, and the nurses were concerned about patient safety.
"Our nurses are very experienced, tremendously detail oriented, and concerned about safe recovery. Initially they were not comfortable with all that needed to be done to ensure these patients could go home safely," says Coates.
To address this concern, Coates allocated additional staffing resources, so nurses had extra time to adjust to new tasks, skills, and protocols. Examples include administering antibiotic infusions and teaching some patients how to inject Lovanox at home.
As time passed, those same nurses said that they became more comfortable with the new process and felt they could send their patients home safely, says Coates. She has since been able to return to the original staffing quotas on the day surgical unit. ✥
–Catherine Spader, RN, is a medical writer, editor, and award-winning fiction author based in Littleton, Colorado.
Reference
Shah R R, Cipparrone N E, Gordon A C, et al. Is it safe? Outpatient total joint arthroplasty with discharge to home at a freestanding ambulatory surgical center. Arthroplast Today. 2018;4:484-487. https://www.arthroplastytoday.org/article/S2352-3441(18)30082-7/pdf.