It is not unusual for OR leaders to perform many different roles: Boss, mentor, coach, facilitator, or participant, to name some. Administrators in ambulatory surgery centers (ASCs) likewise are tasked with many different responsibilities, often shifting among multiple roles within the same day.
With the rapid growth in volume and type of procedures being performed in the outpatient setting, ASC administrators are under increasing pressure to meet cost and efficiency demands. They may find it daunting to don many different hats each day, and becoming a new administrator or switching to an ASC with a different ownership model can be especially challenging.
In this article, several experienced administrators from varied backgrounds share perspectives that may help shed light on how to meet these demands.
---
Sponsored Message
---
Ownership models differ
There are different models and types of ownership in the ASC environment, and they require different support structures. The most common are:
• Sole proprietor/surgeon—one OR. This type of ownership is least common but still exists in today's ASC market. Efficiency is high, but typically a limited number of staff will have multiple roles. This model tends to be in a relatively weak position when negotiating with payers, so the ASC administrator must be skilled in keeping the business profitable.
• Joint venture with hospital, physician group, or company. Joint ventures exist in many different forms, but this model is probably the most common. Hospitals may partner with management companies to gain the operational expertise they need to manage a freestanding facility. Companies may buy smaller centers to offer capital and expertise to expand and add services. Joint ventures have a wealth of resources for ASC administrators to utilize, regardless of which partners are involved.
• Hospital/Integrated Delivery Network owned. Hospitals will typically include ownership of ASCs as part of their strategic plan to offer alternative care delivery settings that may be more cost effective and efficient. ASC administrators in this setting will be considered as part of the management structure, with full use of hospital resources. Still, being off campus will make it challenging to manage responsibilities such as snow removal, security, emergency preparedness, equipment maintenance, and supply delivery.
• Physician owned. Like other physician ownership models, the physician-owned, multispecialty freestanding ASC provides some economies of scale, depending on the size of the center—especially if it contracts with a local hospital for services. This model gives control to physicians over their practice environment. If a physician-owned ASC is not associated with a hospital, the ASC administrator will need to solicit outside contracts for services.
Different strokes for different folks
"There are a lot of smaller centers with maybe one surgeon and one OR," says Alsie Fitzgerald, RN, CASC, a surveyor for the AAAHC (Accreditation Association for Ambulatory Health Care) and veteran of the ASC industry. "These centers are really limited in staff and resources. You may be the scrub nurse, biller, scheduler, and supply technician all in one day! These centers must be highly organized and identify what jobs need to be done and when."
Fitzgerald opened the first hospital-based outpatient surgery department in Iowa in 1976. She later opened one of the first freestanding physician-owned centers in 1980. Over the years, the center was sold and acquired by various companies. Fitzgerald also served as a regional vice president and director of clinical operations for HCA until her retirement 2005. Today, she serves as an AAAHC surveyor, which includes surveys for Medicare certification.
In her early years as the administrator of a small center, Fitzgerald says she transcribed operative notes when the system was not working. "You did what needed to be done," she says.
Joint ventures with large management companies provide a significant advantage, says Fitzgerald, because they provide a lot of resources, particularly in terms of government regulations and reimbursement information. "Not having such resources is a huge burden for smaller facilities," she says. Although hospital-owned facilities have resources, she notes, it is important to be knowledgeable about how the facility is licensed. "The regulations for a hospital outpatient department and a freestanding surgery center are different."
Michelle Eilander, MHA, BA, RN, administrator of Ankeny Medical Park Surgery Center in Ankeny, Iowa, agrees. As the new administrator of a surgery center that transitioned from a hospital department to a joint venture with the hospital and two physician groups, she says her first priority is to obtain AAAHC accreditation and certification by the Centers for Medicare & Medicaid Services (CMS) in order to be eligible for reimbursement.
The center, which specializes in orthopedics and gastroenterology, has two ORs and two procedure rooms, although currently they are using only one OR and one procedure room. Once accreditation is received, the physician groups expect to increase case volumes, and those will dictate the timing of opening the second room. "Growing the business is a priority," Eilander says.
"Right now, I'm 'the everything' girl. But it is also important to educate staff to promote camaraderie, loyalty, and ownership. This center is all about being a team, and I want to create that environment." While waiting for certification, Eilander is educating staff about the various roles that will make the center successful and promoting the center with the physician groups.
Carol Tyson, BSN, RN, perioperative manager at Spartanburg Surgery Center-Prisma Health, Spartanburg, South Carolina, who also manages four inpatient ORs at Prisma Health, says it can be challenging to change hats when managing different facility types—especially if they are geographically separated. "My center is 23 miles from the main hospital, so I am not always on site when things happen," Tyson says. "I depend on my supervisor and charge nurse to manage in my absence."
Tyson notes the importance of visibility: "I make a point of putting on scrubs and talking with staff," she says. Learning about the latest regulations is also important, she notes. "You can't manage an ASC with an inpatient mentality." Having a hospital partner means having some resources that surgery centers lack, but nonetheless, she says, "when the security alarm goes off in the middle of the night, the call comes to me."
Staffing is different in an ASC. In the hospital, everyone has a different role, necessitating the transfer of information at all phases of care. Communication can sometimes break down, and the next caregiver may not receive critical information. Tyson is currently training the pre- and postoperative staff to follow patients through their stay at the center. Other than the OR, the same nurse follows the patient in all phases of care. The result is continuity of care, which improves patient safety by decreasing the number of handoffs and enhancing communication. Thus far, Tyson says, the staff and patients have been very receptive.
Develop the right skills
Managing an ASC requires a variety of skill sets that clinical leaders traditionally have not learned. "Initially, the focus was just on a minor procedure being performed outside the hospital setting," Fitzgerald says. "We soon realized outpatient surgery was more complex as we needed a new skill set that included knowledge of finances, legal and regulatory expectations, human resources issues, supply chain, information technology, and marketing.
"In the 1980s, we had no idea what ICD 9 and CPT codes were. We had to figure it out as there were no support services available," she adds. "CMS did not start reimbursing ASCs until 1982, so we had to get special approval from various private payers to receive reimbursement. Times have certainly changed."
Most clinical administrators learned these responsibilities on the job. Fitzgerald highly recommends the Certified Ambulatory Surgery Center Credential (CASC) designation as a way to demonstrate knowledge of the business. But, she cautions, "this exam is proof of knowledge, but it does not measure leadership. To be successful, you need both."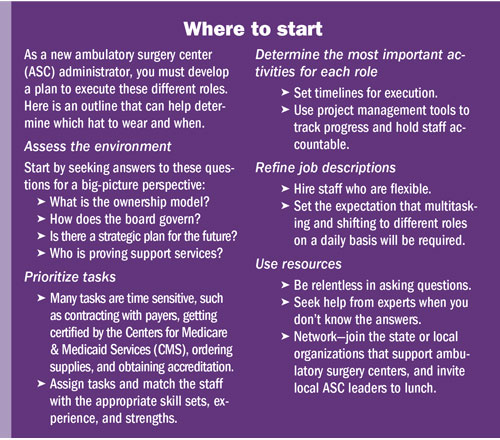 The CASC exam covers five domains of knowledge: Delivery of patient care, quality management, human resources, financial, and regulatory and legal. The CASC credential is considered a benchmark for demonstration of a high level of knowledge and expertise in the industry. CASC provides exam specifications, study materials, and references for those preparing to take the exam.
"My weakness was the billing and coding," Eilander says. "I have partnered with an outside company to do the billing, and they have helped me understand that side of the business. You must also research the various regulations to know the requirements for CMS Conditions of Participation and Life Safety Codes. Many times you are learning on the fly."
Eilander says she was very fortunate to partner with another ASC administrator who leads another center owned by the same physician group. "This was very helpful in gaining information about surgeon preferences and equipment. It also helps us be consistent between the two centers."
Tyson says she found resources such as the AAAHC manual, webinars, research articles, and peer experts were valuable sources of information along with ASC-specific conferences. "Physician peer review is an important part of managing a center, and the AAAHC manual was very helpful in establishing this process," she notes.
A roadmap for implementing the various roles an administrator may play in any given day is shown in the sidebar above.
Communication is critical
Because of the diverse stakeholders, clear, concise, and timely communication is an important aspect of an ASC.
"I try to be as transparent as possible," Eilander says. "I tell the staff and board everything I know to promote trust. It's important to share the same message with everyone." Tyson agrees that good communication with everyone is important for promoting efficiency in the continuum of care throughout the center.
"Communicating with the governing board and owners is also important," Fitzgerald notes. "You must have a good working relationship with your medical director and owners."
Eilander says she sends a weekly communication to the board members and owners so they are apprised about the center's activities in real time. Tyson recommends meeting regularly with physician office staff to promote collegiality and continuity of patient information, and she says it's important to promote the surgery center's presence to the local community. For example, Tyson's center participates in local food drives, various community activities such as the Christmas parade, and recycling blue wrap to make rain capes and blankets for the homeless.
What's ahead?
Ongoing growth is expected for out-patient surgery, and ASC administrators should anticipate that they will continue to play many roles as a result—particularly in the areas of compliance and information technology. Data analysts will also become important as quality measures become more complex.
"Be flexible and adaptable, and don't micromanage the process," Tyson advises. Fitzgerald suggests that administrators leave their offices, wear scrubs, and "do what it takes to get the job done." She considers delegation and commitment to quality the most important factors for success.
"My advice is to learn everything you can," Eilander says. "Train and teach the staff, and create an atmosphere for continuous growth and opportunity." ✥
Amy L. Bethel, MPA, RN, NE-BC, is an independent consultant in Des Moines, Iowa.
References
Brown J. The Weirdness of Juggling many Different Roles at work. The Cut. Published online April 19, 2017. https://www.thecut.com/2017/04/the-weirdness-of-juggling-many-different-roles-at-work.html.
Riordan C M. How to juggle multiple roles. Harvard Business Review. Published online October 3, 2013. https://hbr.org/2013/10/how-to-juggle-multiple-roles.