First assistants (FAs) can play an important role in achieving optimal outcomes and higher surgical case volumes. Part 1 of this two-part series discussed types, education, and certification of FAs (OR Manager, May 2021, pp 1, 15-18). Part 2 answers questions related to risk management and oversight, and discusses possible future directions for the role.
What are the risk management issues?
To avoid risk management issues, OR leaders need to ensure FAs have a valid license as well as the necessary education and experience to function within the scope of practice permitted by laws and regulations in the state and local jurisdiction (eg, health departments) in which the hospital is located. This applies whether the FA is employed by the hospital or by a surgeon group. (OR managers can verify registered nurse first assistant (RNFA) and nurse practitioner first assistant [NPFA] certification at the National Assistant at Surgery Certification website: https://nascertification.com/.)
Some states provide very specific information related to FA practice. For example, Nebraska law says a licensed surgical FA may engage in 10 tasks, including: "inserting running or interrupted subcutaneous sutures with absorbable or nonabsorbable material" and "preparing specimens, such as grafts." Interestingly, the tenth task is general: "performing other tasks during a surgical procedure delegated by and under the personal supervision of a physician appropriate to the level of competence of the surgical first assistant." State boards of nursing may provide specific details as well. For example, the California Board of Registered Nursing provides guidance for the role that aligns with AORN standards.
FAs also need to undergo credentialing according to medical staff policies and procedures to ensure they are qualified for privileges. Privileges should define scope of practice as permitted by law and should be developed by OR surgeon leadership, says Rebecca Cady, Esq, BSN, CPHRM, DFASHRM, FACHE, vice president and chief risk officer at Children's National Health System in Washington, DC.
The American College of Surgeons (ACS) recommends that privileges specify which surgeons the FA will assist, what duties will be performed, and which surgeon will be responsible for supervising, and says the hospital board should review and approve the application. AORN recommends that organizations verify the following as part of the credentialing process for advanced practice registered nurses (APRNs) practicing as FAs: professional education, licensure, certification, previous experience, professional references, qualification to practice in the FA role, current and continued competency in the FA role, professional continuing education, health status, and malpractice and criminal history.
Again, some states weigh in on the process. For example, New Jersey RNFA regulations state that the medical staff should outline what procedures an FA would be used for and determine the credentials of each person who will serve in the role.
Part of the credentialing process is validating competency, which Cady says should include monitoring the FA for a number of cases.
"You need to have a documented process that shows the person has been educated to do a task, has the ability to perform it correctly, and knows the steps to take when something goes wrong," says Sharon Van Wicklin, PhD, RN, CNOR, CRNFA(E), CPSN-R, PLNC, FAAN, ISPAN-F, president of the board of directors for National Assistant at Surgery Certification and a certified legal nurse consultant.
The ACS publication, "Physicians as Assistants at Surgery," classifies procedures (by CPT code) in terms of when a physician assistant is needed: almost always, sometimes, or almost never (this category acknowledges that the choice is at the physician's discretion). However, in some cases, a non-physician provider can serve as an assistant, so this publication may be helpful for identifying the cases for which an FA is appropriate.
James Stobinski, PhD, RN, CNOR, CSSM(E), chief executive officer of the Competency & Credentialing Institute (CCI) in Denver, says that the OR manager should have a close relationship with the medical staff office director to ensure OR needs and risk management are congruent.
Professional liability insurance also is vital. Cady says organizations should be comfortable with the FA's "insurability" before hiring the employee. If the FA isn't employed by the hospital, Cady says, "You need a mechanism to make sure that they have sufficient professional liability insurance of their own that's consistent with the type of work they're doing."
Informed consent processes should follow local, state, and federal requirements to avoid legal issues. For example, Cady says that in some jurisdictions, failure to adequately explain to patients the "material involvement" (eg, suturing) of those other than the surgeon in the procedure (and to document that the explanation was made) could result in charges of consumer fraud.
OR managers should discuss with the legal team how specific the information in the consent needs to be, and surgeons can help craft that language. A sample statement is: "Additional personnel including, but not limited to, surgical first assistants, surgical fellows, and other trainees may be materially involved in the performance of this procedure to include, but not limited to, suturing and severing tissues."
National guidelines from associations related to education and practice recommendations for FAs play a role in risk management. "If you find yourself in a lawsuit, one of the first things people are going to do is look at the qualifications of the people involved," Cady says. "Where there are professional organizations that take a position on qualifications, it would behoove [OR managers] to at least review and consider them."
For example, the ACS statement on principles notes that an RNFA should not also serve as the scrub nurse for the case and should not have responsibility "beyond the level defined in their state nursing practice act." AORN's position statement on RNFAs notes that they should not "concurrently function as a scrub person or circulator."
Finally, Cady says that, to avoid charges of fraud, it's important to adhere to policies of commercial payers and the Centers for Medicare & Medicaid Services (CMS) regarding billing for FA services.
Cady emphasizes the need for everyone to be on the same page to ensure FAs stay within the scope of practice. "You want to make sure that everybody—nurses, physicians, and the individuals themselves—have a firm understanding of what they can and cannot do," she says.
What is the best fit?
When analyzing the role of FAs in surgery, Brandon G. Bennett, DNP, RN, CNS, CNOR, CNS-CP, CSSM, CNAMB, CEN, NE-BC, chief nursing executive at Facilitated Healthcare Transitions, LLC, a healthcare consulting firm in Denver, says OR managers should consider what services the organization needs and which type of FA can best deliver those services, based on scope of practice in the state in which the facility is based.
In many states, for example, a surgical technologist (ST) cannot function as an FA. If the organization wants FAs to provide services outside the OR, such as writing preoperative or discharge orders, an NP or physician assistant (PA) will be needed. In some facilities, it may be best to have an NP perform the work outside the OR and a PAFA to meet intraoperative needs.
One major decision OR managers must make is whether the FA should be employed by the organization or the surgeon group. "There is no benefit to the hospital to have first assistants on staff," says Randy Heiser, MA, president of Sullivan Healthcare Consulting in Orlando, Florida. Instead, he recommends clients work with their physician groups to help them hire an NP or PA. "It will be far more effective, and surgeon satisfaction will go up, and the use of an NP or PA will help surgeons grow their practice," he says.
For surgeons who want to "bounce" back and forth between two rooms, an FA who can close cases, take care of the dressing, and get the patient out of the room is critical, Heiser says. Some hospitals have required surgeons to hire their own FA in order to provide bounce rooms.
"Physicians are employing PAs or NPs as first assistants because they are far more flexible," Heiser adds. After first assisting, PAs and NPs can round on patients and take care of items such as discharge orders, while the surgeon returns to the office to see patients. If there are no scheduled cases, the PA or NP can be in the office performing histories and physicals, minor procedures, and other services. "The surgeon can then focus on visits that are going to result in a surgery as opposed to those that won't," Heiser says. "They [PAs and NPs] become much more cost-effective."
In fact, because PAs and NPs cost less than adding a physician partner, the surgeon may view them as a way to grow the practice with a smaller investment. At the same time, the surgeon can obtain some reimbursement for the other providers' services. Bennett says that few surgeon groups hire NPFAs, preferring PAFAs. Large surgeon groups may employ NPs to provide pre- and postoperative services, and a PAFA for the OR.
If the PA or NP is employed by the surgeon, OR managers need to know if they will come in for emergency cases, Bennett says. "You can't make the assumption that they will always be there," he says. "And if they're not there, the manager will need to provide support." The surgeon should be told ahead of time if that support will not include an FA provided by the OR.
Although the trend is for surgeons to hire FAs, there are some advantages to employment by the facility. Cady notes that it's much easier to address negative behavior and promote quality when someone is employed by the organization, rather than simply having privileges. The strength of the medical staff leadership, as well as credentialing and peer review processes, are factors to consider. "If those processes are weak, you'd rather have that person be an employee because at least you have your human resources pathway to deal with problems that might arise," she says.
Bennett says employers who hire FAs typically plan for them to be used in major service lines. "In organizations with open-heart programs, for example, they're often a hospital-employed PA who takes care of certain parts of the procedure," he says. Workload volume is an important factor. "You want to determine if there's sufficient work to justify employment," Bennett says.
If flexibility is a high priority for the OR manager, an RN or ST may be the best choice. "If they are not first assisting on a case, they can still function as an OR nurse or ST," Bennett says. "I can scrub, circulate, or assist in a procedure, but PAs can only assist," says Denise Weller, RN, CNOR, CRNFA, expanded RNFA at the Inova Heart and Vascular Institute in Fairfax, Virginia. NPs serving as FAs aren't able to do that, so scheduling them can be a challenge. For that reason, NPs often are used more for when preoperative and postoperative surgeon support is needed, rather than hired solely for intraoperative FA support.
In addition, RNFAs and STFAs are less expensive than NPs and PAs, an important consideration for OR managers trying to keep down expenses. On the other hand, the cost of NPs and PAs may be offset somewhat through billing for their services.
NPs and PAs are credentialed as providers, and they could help increase volume, boosting revenue. However, OR managers need to consider reimbursement and work closely with their billing departments to ensure any billing adheres to CMS and commercial payers' requirements (sidebar, "What is the reimbursement picture?").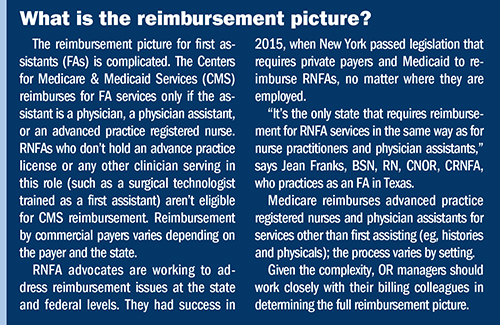 For hospitals that own a physician practice, Heiser says providing an NP or PA who also first assists in surgery can be a tool that keeps surgeons focused on generating volume. A less common option is for organizations to contract with independent FAs, who have their own business.
Stobinski at CCI points out the most important consideration: "What makes the most sense financially?"
What oversight is needed?
"You need to have a process for ongoing validation of competency, the same as you would with any other credentialed category of provider on your medical staff," Cady notes.
The frequency of revalidation for FAs should match that for other medical staff providers, including surgeons. Revalidation should meet The Joint Commission's requirements for ongoing professional practice evaluation, including reviewing quantitative and qualitative data approved by the medical staff.
Weller says Inova requires two evaluations by surgeons each year. The surgeon uses a tool to assess the FA in several clinical areas. Each area is ranked from 1 (performs with maximal guidance and direction, preceptor dependent, consistently needs assistant) to 5 (performs independently and consistently, asks for assistance in new situations, mentors others).
Examples of evaluation areas include the ability to:
• minimize blood loss
• preserve tissue homeostasis during tissue manipulation
• provide the surgeon with safe and adequate visualization of the surgical field
• select appropriate suture for the task and to use suturing techniques that provide optimal patient recovery
• safely and correctly use and assist the surgeon in using surgical staplers.
Teamwork and critical thinking skills are evaluated. In addition, specific skills, such as harvesting a radial artery or saphenous vein to be used as a bypass conduit, are evaluated on a scale of 1 to 5 (not applicable, not demonstrated, inadequate, adequate, proficient).
Looking to the future
Despite the COVID-19 pandemic and reimbursement issues, interest in FAs is strong in some areas. For example, Jacqueline Bak, MSN, RN, CNOR, RNFA, CST, director of perioperative programs at Delaware County Community College (DCCC) in Media, Pennsylvania, reports that enrollment is up, and she sees increasing numbers of surgeons using RNs in the FA role.
Weller notes that FAs provide value even as technology results in fewer open cases. "[Minimally invasive surgery] is just a different challenge; the surgeon still needs assistance," she says. In addition, there is the possibility that a case might need to be converted to an open procedure. Robert Salsameda, MSN, MPA, NP-C, RN, CNOR, CRNFA, CNRN, chair of the RNFA program at UCLA Extension in Los Angeles, says many graduates are focusing on a surgical subspecialty such as robotics.
The pandemic may affect the human resources needs of surgical services, including FAs, Bennett says. "Some areas are so short of nurses that we may see a push for PAs because they can be educated quickly," he says. Salsameda says more FAs may also be needed.
Stobinski believes the need for FAs will be greater, but says: "The insurers and CMS will play a role in who prospers and who doesn't." Those with a higher level of training (NPs and PAs) are likely to benefit more than STs.
Like Bennett, Stobinski sees a possible pandemic effect. The trend of moving more complex procedures, for example, total joints, to ambulatory surgery centers (ASCs), may accelerate because patients will want to have surgery done in an ASC rather than in a hospital treating COVID-19 patients. This may result in more FAs in the ASC setting.
No matter what the future brings, it will be important to match the right FA services with the organization. "The goal is to have the best care possible for patients," Van Wicklin says.
Stobinski will be presenting at the annual OR Manager Conference, October 20-22. To learn more or to register, visit www.ormanager.com. ✥
–Cynthia Saver, MS, RN, is president of CLS Development, Inc, Columbia, Maryland, which provides editorial services to healthcare publications.
References
AAPA. Third-party reimbursement for PAs. 2020. https://www.aapa.org/advocacy-central/reimbursement/.
American College of Surgeons. Statement on principles. 2016. https://www.facs.org/about-acs/statements/stonprin.
AORN. AORN position statement on advanced practice registered nurses in the perioperative environment. 2020.
AORN. Response to: Request for feedback on scope of practice. 2020.
CMS. Advanced practice registered nurses, anesthesiologist assistants, and physician assistants. 2020. https://www.cms.gov/Outreach-and-Education/Medicare-Learning-Network-MLN/MLNProducts/Downloads/Medicare-Information-for-APRNs-AAs-PAs-Booklet-ICN-901623.pdf.
CMS. Appendix A—Survey protocol, regulations and interpretive guidelines for hospitals. State Operations Manual. 2020.
MedPAC Staff. Improving Medicare's payment policies for advanced practice registered nurse and physician assistants. The MedPAC Blog. 2019. http://www.medpac.gov/-blog-/the-commission-recommends-aprns-and-pas-bill-medicare-directly-/2019/02/15/improving-medicare's-payment-policies-for-aprns-and-pas.
Nebraska Department of Health and Human Services. Statutes relating to surgical first assistant act, medicine and surgery practice act, Nebraska hospital-medical liability act, University of Nebraska. 2019. https://dhhs.ne.gov/licensure/Documents/SurgFAAct.pdf.
NJ Department of Law & Public Safety. RNFA's 1st assist regulations.
The New York Senate. Senate bill S1233A. https://www.nysenate.gov/legislation/bills/2015/s1233.
State of California Department of Consumer Affairs. The RN as first assistant to the surgeon. 2011.
The Joint Commission. Ongoing professional practice evaluation (OPPE)—Understanding the requirements. 2020. https://www.jointcommission.org/standards/standard-faqs/critical-access-hospital/medical-staff-ms/000001500/.