Resuming elective surgical procedures is critical for recovering revenue lost during the early phase of the COVID-19 pandemic and treating patients whose health may have been compromised while awaiting surgery. Timetables and protocols for resuming those procedures tend to differ by facility, but OR leaders nationwide feel that "we're all in this together."
Here's a look at how some of them were planning or rescheduling procedures as of early May. For more on this and other aspects to consider in the COVID-19 era, see articles elsewhere in this issue under the COVID-19 banner.
Pillars of protection
In a recent article, Atul Gawande, MD, describes four general practices at Mass General Brigham in Boston that have enabled staff there to work safely with few infection transmissions: hygiene, distancing, screening, and masks. Although some healthcare workers have been infected, Dr Gawande notes that using these practices consistently and in tandem effectively shuts down the virus.
Healthcare facilities that are opening their doors to elective surgical patients are using these practices, which are essential for ensuring safety. But Dr Gawande notes that they will only work if used in combination and if propped up by a fifth pillar of protection—culture. "This requires developing norms about how to address lapses in rules, so you can comfortably call one another out when you see a standard slipping and still enjoy working together," he says.

Broadly speaking, these are the main considerations to address for safely resuming elective surgery:
• availability of testing and policy for testing of patients and staff
• availability of supplies—surgical instruments and personal protective equipment (PPE)
• availability of physicians, staff, and ancillary services
• impact of COVID-19 on redeployed staff who are now returning to the OR
• adjustments to the OR schedule and prioritization of cases (sidebars at right and p 8)
• visitor policies and provisions for social distancing
• how to prepare for a second wave.
Boston Medical Center, Boston
"From the beginning, we cohorted our whole department to different teams rather than rotating them around," says Mauricio Gonzalez, MD, vice chair of clinical affairs, department of anesthesiology, at Boston Medical Center and clinical associate professor at Boston University. "We wanted the airway team ('super tubers') to be facile with donning and doffing PPE to protect the workforce. We had a team that deployed to the ICUs to manage the 12 anesthesia machines that were used as respirators. We also had people serving in surge teams."
Dr Gonzalez says an increasing amount of testing is being done at his facility, and he anticipates gradually returning the anesthesia machines to the OR from the ICUs.
"We're in motion," Dr Gonzalez says. "The OR executive committee has designated task forces, and the electronic health record is being used to optimize workflows for schedulers and surgeons to get a handle on the cases and how to prioritize."
Dr Gonzalez says his state is still waiting for the curve to flatten more and, as a result, Boston Medical Center is sticking with outpatient surgery for now.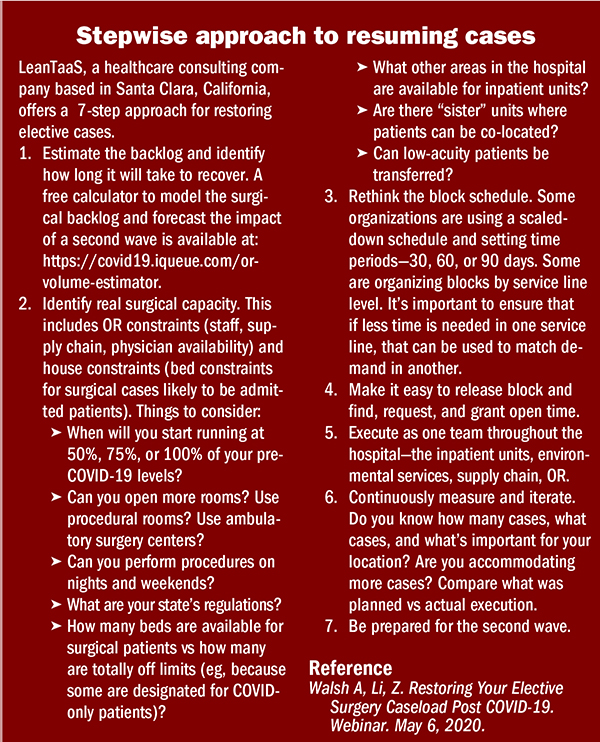 Johns Hopkins Hospital, Baltimore
Laurie A. Saletnik, DNP, RN, CNOR, senior director of nursing, perioperative services at the Johns Hopkins Hospital (JHH) in Baltimore, says her facility is still in the planning stages for resuming elective surgery. JHH is a Level 1 trauma center that is part of a six-hospital system with an annual volume of about 49,000 procedures.
Since mid-March, only urgent or emergent cases have been performed. This translates into about 15% of the normal surgical volume, which is 25 to 30 cases per day.
"We're running essentially two businesses: a COVID-positive business and a regular business, side by side," Saletnik says.
Nursing staff have been redeployed to other roles, including:
• a patient safety officer, who oversees donning and doffing, especially in areas not accustomed to using PPE
• patient transport safety roles
• runner roles—essentially, an extra set of hands
• a nurse extender role to help in other units.
The most critically ill patients are being treated at the JHH main campus. Five negative pressure ORs are being used for all COVID-positive patients and patients under investigation (PUIs). One postanesthesia care unit has been converted to an ICU for non-COVID patients.
In addition, she says, JHH has partnered with the University of Maryland to create a field hospital in the convention center with 250 beds for patients who are ready to leave the hospital but cannot yet return home.
Daily briefings are held by the executive team and the incident command centers to discuss the current status of COVID-19 patients: number of admissions, discharges, and number of acute care beds needed for COVID-positive patients or PUIs. They also consider each department's staffing requirements, medication needs, and safety concerns.
As of May 1, there were 2,500 backlogged cases at JHH and about 9,000 systemwide. Leaders there were prioritizing deferred cases based on urgency, resources, and availability of supplies with the goal of resuming some elective surgery by June 1.
ProMedica Health Systems, Toledo, Ohio
With some 4,200 deferred cases, marrying the surgical backlog with surgical capacity and constraints has been the pathway to surgical recovery at ProMedica Health Systems in Toledo, Ohio, says Thadius Wadsworth, MBA, BSN, RN, vice president, operations, providers, and surgical at ProMedica.
"We took the path of preserving the patient-physician relationship as essential. We set up a surgical governing council to review those 4,200 cases and take them off the schedule," he says.
Largely because so many anesthesia staff were redeployed to care for critically ill COVID-19 patients, Wadsworth says, the system immediately lost about 80% of its case volume. "Now it's a challenge to bring them back into surgery because staff are needed to fulfill roles like testing and other things surgical staff were doing," he says.
In anticipation of the overtime that will be needed to increase capacity, he says, an incentive-based program is being considered.
As of May 1, outpatient surgery was permitted in Ohio but not in Michigan. "We're making continuous adjustments about what type of surgery is permissible," Wadsworth says.
University Hospitals, Cleveland
"We saw a decrease down to about 30% of normal volume," says Dan Towarnicke, MBA, vice president, perioperative services, University Hospitals (UH), Cleveland. UH consists of the main Cleveland Medical Center, three ambulatory surgery centers (ASCs), and several community hospitals, all of which have variable volumes, Towarnicke says.
The organization has been analyzing the COVID-19-related case cancellations in its electronic health record to determine how the 6,000 canceled procedures translate into OR time, he says.
"We used our performance measurement tools to quantify by service time and location to see how much block time is needed to meet the demand. There are social and economic factors that have come into play," he says.
Surgeons have reached out to patients to see how they are feeling and to reassure them that they're still eligible for surgery. In addition, the revenue cycle team has been helpful in getting financial clearance for patients who have lost jobs or insurance.
"As we move forward, one tactic is to open blocks as much as possible and have the service lines dedicate a larger portion of their block times as open to make better use of capacity," Towarnicke says. "At our ASCs and Cleveland Medical Center, we are expanding blocks from 8 to 10 hours and from 10 to 12 hours. That's a quick way to immediately improve access."
In addition, he says, release time is being extended from 72 hours to 1 week or 2 weeks, depending on the need.
Surgeons are being offered weekend blocks on the main campus, and a surgeon access tool makes it easy for them to release time and pick up open time, Towarnicke notes.
"We're not booked to the capacity we would be on a normal operating day, but the surgeons are on board and open to all strategies we have to make sure they have easy access to the ORs," he adds.
Inova Health System, Falls Church, Virginia
"All of the pent-up demand of cases equals pent-up demand of supplies," says Patti Hoch, MBA, senior director, sourcing, contracting, value analysis, Inova Health System, Falls Church, Virginia.
Thus far, her facility has not run out of PPE, but she is concerned about the sudden increase in supply needs as cases resume.
Hoch raises a number of questions:
• Will swabs be moved to the ORs, or will they be kept wherever they were being used? "You'll want to test the patients and the staff. There's not enough to do both simultaneously," she says.
• What is the health system's N95 protocol? Will everyone in the OR have N95s, and if so, how many days' worth are there? "At some point, supply chain will be the limiting factor as to whether you can run cases. Even suppliers have cloudy visibility about what's coming from overseas manufacturing," she says. Some manufacturers are now making masks and gowns instead of products they previously supplied. "We'll need to look every day at what we have on hand, and see what is in the supply line moving forward," she says.
• What will be the status of respiratory machines and supplies that have been repurposed?
• What are the new protocols for disinfecting the ORs?
• Are custom packs available for cases? Are manufacturers who traditionally make those able to supply them?
• If sterile processing staff have been involved in reprocessing masks or sterilizing their own swabs, can they continue to do these kinds of jobs and also handle instrument sterilization for cases?
"We are on a bumpy road ahead trying to get the pent-up demand to match what we have available from manufacturers," Hoch says.
She anticipates 18 months will be needed for the healthcare supply chain to reach pre-COVID levels.
Like leaders at many other facilities, she is concerned about the ability to recover from a second wave in 2020.
Lakeside Surgery Center, Omaha
Laura Rowe, MSN, RN, director of nursing, Lakeside Surgery Center in Omaha, says Nebraska's governor lifted restrictions starting May 4.
Criteria for reopening include having 30% of ICU beds available, 30% of ventilators available, and 2 weeks' worth of PPE, but there are no restrictions on the type of cases that may be done.
"We are rescheduling patients who were canceled first," she says, adding that pre-COVID-19 patient selection criteria were stringent and will continue. Lakeside Surgery, an independent ASC that sits on a hospital campus, had a normal monthly volume of 250 to 300 cases, which dropped to 214 cases in March and to 49 in April.
To begin handling the backlog, her plan was to open to full capacity, running three rooms on some days and four rooms on others. All staff and physicians are tested daily for COVID-19.
All elective surgery patients will be tested within 72 hours of their procedures and are supposed to self-isolate at home.
Patients are tested again just prior to surgery, and if they test negative for COVID-19, the case can move forward without the additional protocols (PPE, N95 masks, etc) needed for COVID cases.
One visitor per patient is allowed to ensure that the patient returns home safely after the procedure.
Patients who test positive for COVID-19 would not be eligible for the surgery center; their procedures would be done in the hospital, she says. In spite of these protocols, some patients are fearful about having surgery and prefer to wait until June or July.
University Hospitals, UT Southwestern Medical Center, Houston
"We're shifting into a state where COVID-19 is endemic," says David A. Wyatt, PhD, RN, NEA-BC, CNOR, chief nursing officer, University Hospitals, UT Southwestern Medical Center. "We'll have COVID-19 patients in our hospitals for the foreseeable future. Until there is a vaccination or community immunity, every hospital needs to plan for how to manage these patients."
Like JHH, after elective surgery was stopped in mid-March, many perioperative staff were redeployed to roles such as screening patients, occupational health, and testing N95 masks.
The Texas governor's phased reopening plan includes requirements for how many beds are kept available within a hospital for COVID-19 patients, Wyatt says.
"We've shifted to a risk grid where we've categorized patients as screened patients, low-risk patients, and patients who are more high risk for COVID-19," he says.
Wyatt notes that although the majority of patients who get this virus do not need to be hospitalized, about 20% do. Of those, only a small percentage need critical care, but those patients are very ill.
"We've had to activate a surge plan, and we try to stay at least one step or multiple steps ahead of our current state," he says. "Unlike a mass casualty, these patients don't arrive at the hospital 50 to 100 at a time. They trickle in, but over time, you will find that you have doubled your volume of patients, so you've got to be prepared."
Wyatt stresses the importance of having an interdisciplinary team with perioperative nursing, anesthesia, and surgeon leadership to review case types and prioritize. Testing strategies and protocols must be detailed and communicated to everyone involved. "Consider when and where testing can be conducted, which tests are available and how effective they are, and how much time it will take to get results," he advises.
Availability of PPE, ventilators, and medication must be considered, he says, noting that PPE may be redirected to facilities elsewhere in the US at the discretion of the Federal Emergency Management Agency, which could create a shortage at some facilities.
"As states open for business, keep in mind how to watch for the potential impact of COVID-19 volumes. There's a lag of 2 weeks from when patients are exposed to when they might need care," he notes. "This is a marathon. It is not a sprint. This will not be over in a week or a month. We're in this for the long haul." ✥
References
AORN. Virtual Town Hall. Which Cases Come First? Roadmap for Resuming Elective Surgery. May 1, 2020.
Gawande A. Amid the coronavirus crisis, a regimen for reentry. The New Yorker. May 13, 2020. https://www.newyorker.com/science/medical-dispatch/amid-the-coronavirus-crisis-a-regimen-for-reentry.
Hospital IQ. Reopening Surgical Services During COVID-19 Recovery." Webinar. April 30, 2020.