Hospitals nationwide have thousands of unique instrument trays that take up valuable space on their shelves. Many trays are cluttered with rarely used instruments that are there "just in case."
The problem can be particularly acute in large health systems. Across Cleveland Clinic's multiple locations in northeast Ohio, for example, more than 50,000 instruments were processed daily, and up to 50% of those instruments were going unused during surgical procedures.
"Not only were 50% of those instruments going unused, but they had to be reprocessed over and over again," says Mark Taylor, MD, FASE, chairman of enterprise surgical operations at Cleveland Clinic. "The instrument sets were built, and then they grew," says Dr Taylor. "They never shrank."
In addition, there were significant storage issues at Cleveland Clinic's facilities. In the last 15 years, Cleveland Clinic has grown from 1 hospital to 17 hospitals and ambulatory surgery centers (ASCs). The smallest facility is a four-room ASC, and the largest location is the organization's main campus, with more than 80 ORs spread across five buildings.
In response to a challenge issued by the chief executive officer (CEO), an enterprise-wide project was launched to standardize instrument sets. This kind of initiative can be especially daunting for a large system, but Cleveland Clinic staff found ways to make it work. Leaders at other healthcare facilities facing similar needs might take a page from the Cleveland Clinic experience.
Project One
"It all began," notes Dr Taylor, "when our CEO approached us in the hall one day and asked: 'Can your team in surgical operations standardize our surgical instrument sets by procedure across the Cleveland Clinic enterprise? Can you get the surgeons to sit around a table and agree that for a mitral valve replacement, for a primary hip, for a lap chole they would use the same set of instruments regardless of where they worked?"
Dr Taylor says he and the group of leaders he was with all quickly nodded in agreement.
As soon as they left the hallway encounter, however, they looked at each other and asked: "How are we going to do this?"
The CEO gave them a year to complete the standardization project. The team brokered an additional 3 months.
This became known as "Project One."
Scope of project
The team decided that instrument trays with 10 or more instruments would be considered for review. Consignment and vendor trays were not included in the project. "We didn't have full ownership, so we decided not to tackle those trays," says Dr Taylor.
They also defined a multidisciplinary tiered approach with a scripted process to bring in all of the stakeholders who needed to be a part of the project. As part of the process for engaging stakeholders, the team shared several "whys" for taking on the standardization project.
Among these were to:
• decrease variability
• eliminate waste
• free up storage
• improve quality control.
Building the process
"Dr Taylor is not minimizing the extent of the hallway conversation with our CEO," says Carol Pehotsky, DNP, RN, CPAN, ACNS-BC, NEA-BC, associate chief nursing officer, surgical services and senior director, surgical nursing, main campus, Cleveland Clinic. "It was a very short conversation. He did not ask us to cut costs, he did not ask us to find x million dollars in savings, and he did not tell us how to do it. Instead, he said, 'we need to do the right thing for our patients, and you have my blessing and my charge to work that out.'"
Pehotsky says this gave them the freedom to think about the right way to do the project, including:
• who the right stakeholders were
• who would make up the project teams
• how to define the work
• how to keep their CEO and stakeholders informed
• how to define success.
As with any change management project, however, says Pehotsky, "you soon figure out that what you decided on wasn't exactly what you wanted, and you have to go back to the table and adjust the process." After they did this, she says, "the project took off" (sidebar below).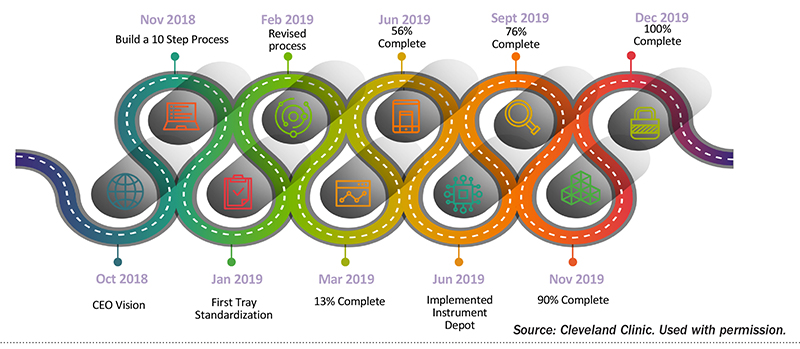 Barriers
Even though the team had their CEO's endorsement for the project, there were many people who had to be persuaded to get on board.
Getting the message out. Pehotsky says they planned on making a video to tell management and staff at their facilities about the project, but the timeline and urgency did not allow for that. The CEO included a brief message in an enterprise-wide quarterly update.
"In addition to that update, we had to decide how to get the message out to a lot of people in a short amount of time that this project was a great idea, it was the right thing to do for the patients, and it had uppermost executive support," she says.
Cleveland Clinic is an institute-based model aligned around the patient's needs. The leadership from each surgical institute, along with surgeons and residents, needed to be informed.
"The challenge was to get the message out that we weren't just coming in and taking their instruments away," she says.
Time. Even though the team had 12 months to tackle more than 3,000 trays, they decided to take their time and work slowly in the beginning. They used this time to recruit and get buy-in from as many people in leadership positions as they could.
Resources. Because the team did not have a budget to buy a lot of new instruments, they had to work with what they had. This meant there might have to be some variations in instruments and still be standard. For example, Pehotsky says, "if one hospital has vendor A's instrument trays and another has vendor B's instrument trays, but they are the same instruments, we wouldn't chuck vendor B's trays and get all new sets."
Resistance to change. Change is hard. It can create a physical response in some people. In this instance, personnel had emotional connections to surgical trays and instrument sets they worked with every day and had worked with for years.
Some OR staff said they were going to get "yelled at" if certain instruments weren't there, and some surgeons insisted they "couldn't do their cases" without their own trays.
"What we had to do was diffuse the fear. We had to get the right people in the room and tell them it was going to be okay," says Pehotsky. "We told surgeons who go to multiple sites that what they need at hospital A is also going to be at hospital B. We told OR staff that now instead of sending them home if it was a slow day, they could go to another one of our hospitals and pick up those hours because all of the materials and equipment would be the same."
Getting the right people in the right room. It was important that this wasn't a sterile processing initiative, or a nursing initiative, or a surgeon initiative. It was about getting five or six surgeons from across the organization—along with surgical technologists, clinical nurses, sterile processing staff, and nurse managers—to sit down and talk about what these standardized sets would look like, says Pehotsky.
"It was key," she says, "to get people talking, for example, having a surgical tech speak up and say: 'Dr Smith, you don't ever use that instrument.'"
Accessibility. This meant accessibility to information and to clinicians and staff without having people work overtime.
Timeline. The team was given a timeline, but they weren't told how to do the standardization. Initially they worked with people who were open to change, and later they approached those who were resistant. "It is important not to procrastinate and let the challenging people go until the end of the project," says Pehotsky. It is okay, however, to wait until the team is in a more confident space before they tackle the challenging services and make sure they get the right people on board, she says.
Managing personnel
"When you are talking about instrument standardization, it's much more than having five surgeons around a table. Everyone comes in emotionally tied to their surgical sets," says Rebecca Urban, M Ed, project manager, Cleveland Clinic.
"For this project it was essential that we had different personalities, which when brought together, provided different perspectives for coming to a collective agreement," says Urban. "Some surgeons may say: 'I only need seven instruments. I'm super lean.' However, this is not a sustainable change," she says. "Not everyone can do a case with seven instruments."
Another individual may come to the review session with a surgical technologist, a sterile processing department (SPD) technician, and a nurse who know exactly the instruments he or she uses on a case. "They want to make sure everyone is included," says Urban.
Some caregivers may act as protectors. They are there because they have assured their favorite surgeons that they will not let anyone take away their favorite instruments.
Several individuals, Urban calls "the enforcers," were brought to the table to help challenge the conversations. "However," she says, "they didn't do anything I expected them to do. I needed them to challenge their peers on a $2,000 scissor to cut suture, but instead, they sat in the corner and said nothing."
Urban says, "I had to become adept immediately to contain these personalities and lead them to the end goal."
It is important to have support from a powerful individual when surgeons refuse to back down, she says. "You need a line to your executive office and physician and nursing leadership," she says, "and you need to make sure they all stay on message about the standardization: 'It's best for our patients. It's best for our caregivers. It's best for our organization.'"
Tracking/sustainability
The team needs to determine early on what and how to track the standardized sets, says Urban.
"You have to ask yourself the following questions:
• Do you want to track for usage?
• Do you want to keep track of instruments that were in the original set as well as those in the new set?
• How are you going to update preference cards?
• How are you going to change the name of the set?"
Once the changes are made, how will they be sustained? "You have to put practices into place at the beginning to sustain them in the end," says Urban. "You have to put practices into place to keep the nurse or tech from putting an instrument back into the set and updating the count sheet every time a surgeon asks them to."
Once all was said and done, the team talked about what the challenges were and how they got through them, says Urban. The biggest challenge was distinguishing between surgeons' wants and needs, and satisfying them with the final new tray. For example, she says, before changes were made, the ENT thyroid set was about 178 instruments. After getting the surgeons around the table to decide which instruments were really needed, the ENT standard basic set had 89 instruments (sidebar below).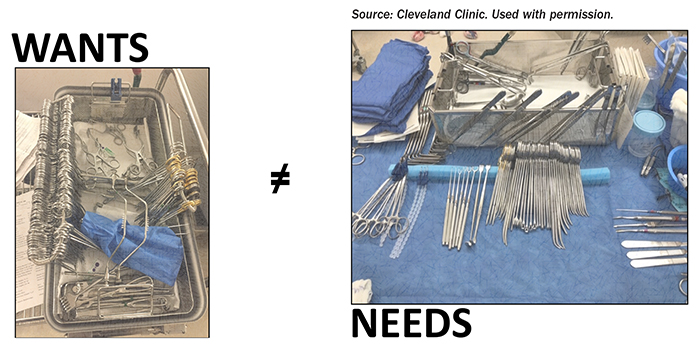 Outcomes
Within 15 months, the team:
• reviewed 3,683 trays
• decreased content per tray by 30%
• removed 51,419 instruments
• eliminated 672 unique trays
• reduced new instrument spend by 19%.
One decision, Urban says, the team hadn't thought about in the beginning was what to do with all of the instruments that would be taken out of the trays. They decided to move them to a depot, where they could be stored and then redeployed when a like instrument broke or accidentally got thrown in the trash. Redeployment of these instruments has resulted in a savings of more than $1.4 million in new instruments that didn't need to be purchased.
"We can summarize it all," says Dr Taylor, "with a quote from the president and CEO of Cleveland Clinic, Tomislav Mihaljevic, MD, whose idea this was: 'It's irrational for people who work together for 20 years to use completely different instrument sets for the same operation. It simplifies the work for everyone. It introduces a greater degree of safety, and reduces the cost of care—the key is to standardize surgical sets." ✥
Reference
Pehotsky C, Taylor M, Urban R. Gains over pains for instrument standardization. OR Business Management Conference. 2020.