Can hospital leaders and surgeons partner to reduce opioid use while maintaining high patient satisfaction scores? Leaders at OSS Orthopaedic Hospital in York, Pennsylvania, answer that question with a yes.
Meghan McNelly, PharmD, MHA, FACHE, who was director of pharmacy at OSS when the opioid-reduction project started, says that from 2015 to 2016, the hospital saw a 15% decrease in total prescriptions and a 33% decrease in the overall number of prescribed oral opioids. The change did not have a negative effect on patient satisfaction scores.
Achieving results like these depends on collaboration among pharmacists, nurses, and physicians.
Driving change
Suzette Song, MD, an orthopedic surgeon and vice president of medical affairs for OSS, spearheaded participation by the largest physician group. "If you have seven physicians, you get at least eight opinions," says Dr Song.
That meant it was important to start with the facts. Baseline data for the top 10 inpatient and outpatient procedures were gathered from the electronic health records for the hospital and the physician offices.
"The results surprised us," Dr Song says. "We felt we were on the conservative end and were mindful about what we were prescribing, but when you take 20 or more physicians who do many cases, it makes for a lot of prescriptions and a lot of pills."
The underestimation isn't uncommon. For example, a study in Academic Emergency Medicine reported that nearly two-thirds (65%) of emergency department physicians underestimated the number of opioids they prescribed. Raising awareness resulted in fewer prescriptions.
A closer look at the OSS data showed significant variability among physicians about type of medication, amount prescribed, and when patients were seen for their first postoperative visit. "Everyone had a logical reason for why they did what they did, but we still had to address the variability," Dr Song says. "It wasn't that anyone was doing anything wrong, it's just that they were doing things differently," McNelly adds.
McNelly and Dr Song emphasize the importance of physician champions, and Dr Song asked the surgeon with the highest volume of total knee arthroplasty (TKA) and total hip arthroplasty (THA) procedures for the practice to trial the project.
Dr Song says volume is key when choosing a champion. For instance, when the team—which included Dr Song, McNelly, and Joseph Alhadeff, MD, president and chief executive officer for OSS—later worked on opioid prescribing for carpal tunnel surgery, they chose a surgeon with a high volume for that procedure.
The goal was to manage pain and reduce opioid prescribing without leaving patients short of medication. "There are about six steps that have to happen for patients to get a refill, and you don't want to make your patients go through that," Dr Song says.
TKA was the first surgery the team tackled. When patients returned for their initial postoperative visit, 2 weeks after surgery, the surgeon and his physician assistant asked them how many pills they had left. "It gives you a sense if you overshot the number you prescribed or got it right," Dr Song says. "We needed a better internal database in our brains."
That database gives physicians a more precise idea of the number of opioid pills needed for most patients. Eventually, the average number of pills prescribed dropped from 100 to 60, although Dr Song emphasizes that the number is adjusted based on patient need.
The pilot was soon expanded, and the team used the same approach for each common procedure and injury.
Dr Song appreciates the courage of her colleagues' willingness to change their practice. "We were asking them to change when no one was really complaining about receiving too many [opioids]," she says. "We were asking them to take a risk with their patient relationships." Opioids are inexpensive, so patients are unlikely to complain about being given too many.
Administrative support was also key. "Dr Alhadeff was behind it, and you need that support from the top," Dr Song says.
Staff on board
"This was an 'all hands on deck' initiative," McNelly says, adding that education was key so everyone who had contact with patients could talk about the program and answer questions. Standardization helped keep people on message. "The more we can come to agreement with a standard starting point, the more effectively people can educate patients because they can be specific instead of too generalized," Dr Song says.
For example, a patient undergoing TKA hears the same message in total joint class, the day of surgery, and postoperatively from nurses, physical therapists, pharmacists, and other staff. That message includes what pain medication will be ordered and when the patient should expect to be weaned off of it. This consistency isn't possible when different surgeons have different expectations.
Education also included nonpharmacologic interventions such as positioning and distraction.
"The most important thing is open communication about [reducing opioid use] and providing the understanding and knowledge of why it's so important," says Kristin Ward, BSN, RN, clinical nurse manager for the OSS Ambulatory Surgery Center (ASC), which has four ORs and does 20 to 30 cases a day. "If you do that, you'll have the support of the staff."
Patient pointers
Because patients are also educated about the initiative, satisfaction scores haven't suffered. Pain expectations and management are discussed preoperatively, the day of surgery, and postoperatively.
Preoperative discussion begins in the physician's office, and Dr Song emphasizes that patients are looking to the surgeon for guidance for pain management. "They are asking us, 'when can I drive?', 'when can I go back to work?', and we have to tell them about pain expectations, too," she says.
She lets patients know the anticipated length of severe pain and when it's likely to improve. For example, patients with shoulder arthroplasty or TKAs will have worse pain than those with THAs or ankle arthroplasty.
Preoperative education also occurs at joint and spine "school." And patients who are scheduled for ambulatory surgery are called 1 to 2 days before surgery, which provides an ideal communication opportunity.
"We ask multiple questions about their medications, including what they are for and how they are using them, and about any recreational use of drugs or alcohol," Ward says. "Patients are surprisingly forthcoming."
She credits that openness to how nurses position the call—one that focuses on keeping patients safe. "We let patients know up front that the call will take time because we want to keep them safe," Ward says.
Questions related to drug use are just part of a panel of safety questions, such as, "do you feel safe at home?" and "do you have any thoughts of harming yourself?" Nurses connect patients with social work staff if there are any concerns.
"It's not easy to ask some of these questions, but we've been able to help people, and that makes a difference," says Ward, adding that patients receive a handout about safe medication use after discharge (sidebar at end of story). "It explains the patient's responsibility, how to properly dispose of medications instead of giving them to friends or families, and that our policy is to limit pain medication to the shortest duration possible."
Patients may receive the handout in the office before surgery, and they also receive it before discharge.
McNelly notes that it's important to maintain privacy when discussing prescribed and illicit medication use because some patients don't want to discuss their history, such as being in a recovery program, with family members.
Nurses in the hospital clinic or ASC also check the state's prescription drug monitoring program database on behalf of the prescribing clinician. The database, which aggregates prescribing and dispensing data related to controlled substances, helps identify patients who have received many prescriptions, although it won't help providers detect opioids obtained from family, friends, or drug dealers. (See http://www.pdmpassist.org for more information.) Potential issues are brought to the attention of the surgeon.
McNelly adds that clinicians make it clear that they want to work with patients to manage their pain based on their preferences. Ward says preoperative nerve blocks have significantly reduced pain for many patients because the block can last anywhere from 8 to 20 hours.
Dr Song adds that blocks, along with other components of multimodal therapy such as oral pain medication before surgery, help control pain. "You want to be preemptive," she says. "The body reacts differently if the pain is at a 4 instead of getting to 10."
During surgery, multimodal pain therapy continues. For example, IV acetaminophen has been effective for patients with fractures, although Ward cautions that patients need to know how much acetaminophen they can take during the first 24 hours after surgery; nurses provide patients with an acetaminophen dosing education sheet before discharge.
Postoperatively, nurses use nonpharmacologic interventions such as elevating the extremity or applying ice to supplement medication use. "We review all medications before discharge," Ward says.
Nurses also tell patients who received a nerve block to take a dose of pain medication before going to sleep at night to be proactive in managing pain before the block wears off. A family member or escort is present during the education, and patients receive a copy of the instructions.
Nurses call patients within 24 hours of surgery to ask if they have any questions about their postoperative instructions, including how they are taking medication (to determine if patients are following prescribing directions) and how well it is managing pain.
"Patients truly see this as wanting to do the right thing, and they feel safer because they know they will be partners," McNelly says. Pharmacists, who provide medication counseling for surgery inpatients, also call outpatients after surgery and before surgery if requested.
Sustainability
Monitoring was key for the success of the initiative. "You need to have checkpoints to make sure you are in line with your goals," McNelly says. Data about usage and calls to request refills are examples of information that is tracked, and adjustments are made as needed.
Although data are shared at monthly and quarterly meetings, if changes are needed, the pharmacist talks with the surgeon before then. For example, at one point, the number of pills prescribed for TKAs dropped too low, based on the number of calls physician offices received from patients; that was quickly remedied.
Sustaining the program requires committed physicians and staff, Ward says. "Our staff are very dedicated to safe, quality care for our patients, and they understand why we're doing this. Physicians understand the 'why' too, and that's what's making it stick."
Results can be replicated
"[This strategy] can be implemented in any facility of any size," McNelly says. "It's relatively inexpensive and doesn't take a lot of capital resources."
Dr Song says hospitals seeking to replicate the OSS experience need to know it involves more than just focusing on the number of pills prescribed. "You have to have the whole picture: educating staff, physicians, and patients, and setting expectations for pain," she says. "We want to be sure patients get what they need and still protect the rest of the world."
Dr Song cautions that state and national governments, along with insurers, may go too far in regulating how long opioids can be prescribed in their attempts to stem the opioid addiction crisis. "We can't let insurance companies and legislators make prescribing decisions," she says.
"Everyone is feeling the opioid addiction crisis in the community; we talk about it all the time," Ward adds. "It feels good to be doing something to address the problem." ✥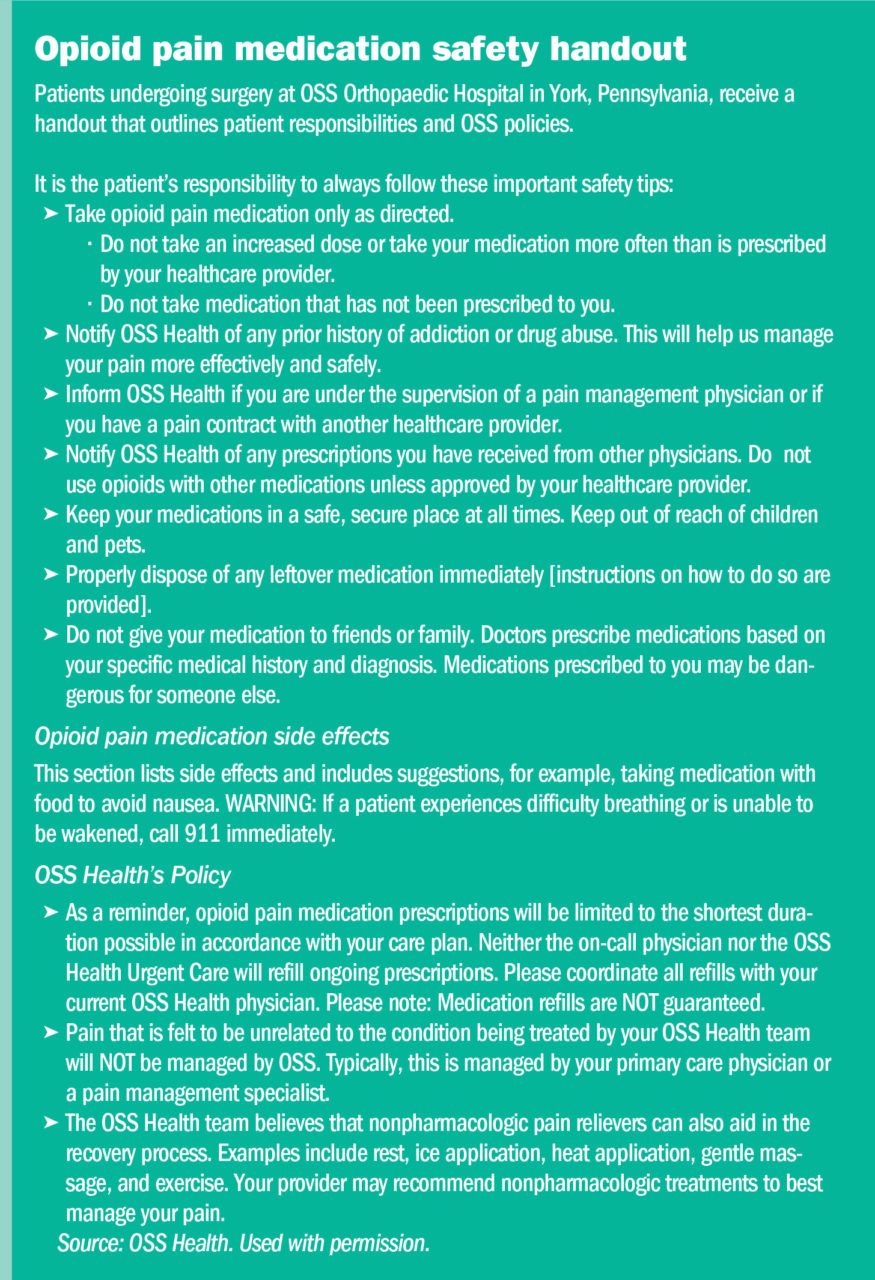 Reference
Michael S S, Babu K M, Adroski C, et al. Effect of a data-driven intervention on opioid prescribing intensity among emergency department providers: A randomized controlled trial. Acad Emerg Med. Published online April 2, 2018. https://onlinelibrary.wiley.com/doi/abs.