Contaminated surgical instruments made ECRI Institute's 2019 annual top 10 list of health technology hazards, coming in at number five: "Mishandling flexible endoscopes after disinfection can lead to patient infections." Number two on the list in 2018 was "Endoscope reprocessing failures continue to expose patients to infection risk."
It's not only endoscopes that are of concern. ECRI Institute's Patient Safety Organization, which hosts a voluntary database of events, contained more than 1,000 events related to the effects of contaminated instruments between January 1, 2015, and June 30, 2017. The events fell into one of three categories: device, surgery/anesthesia, or healthcare-acquired infections. These categories are among the Common Formats from the Agency for Healthcare Research and Quality, which are used to promote consistent collection and analysis of safety data.
A random sample of 536 events related to contaminated instruments revealed six types of failure modes:
---
Sponsored Message
---
• immediate use steam sterilization (IUSS) (60%)
• bioburden or contaminants on instruments (34%)
• unsterile instruments (34%)
• a vendor instrument issue (16%)
• sterilization quality issues (8%)
• human factors (7%).
Not only do such failures pose a patient safety threat, they can also expose healthcare organizations to negative publicity and possibly litigation. A recent Google search for "dirty surgical instruments" produced 601 results, including reports from local and national news affiliates.
Part of the problem can be traced to pressures on the sterile processing department (SPD). "Surgical volumes are higher in many areas, with inadequate instrument availability, increased complexity of instruments, and not enough staff or under-skilled staff," says Gail Horvath, MSN, RN, CNOR, CRCST, senior patient safety analysis IV and consultant for ECRI Institute, Plymouth Meeting, Pennsylvania.
When leaders of the OR and SPD collaborate with each other, their teams, and other experts, they can reduce instrument contamination. Part 1 of this two-part series discusses the scope of the problem and prevention strategies. Part 2, which focuses on how to investigate potential contamination and correct the situation, also reviews design and equipment considerations.
Behind the errors
Most people come to work wanting to do a good job, so why do events such as contaminated instruments occur? In a 2012 article, Chobin categorized possible reasons into processes and people.
Process factors
• complex surgical instruments that are difficult to clean or can't be disassembled to clean
• ambiguous or missing manufacturer instructions for use (IFU)
• loaner instrumentation not accompanied by training for staff on cleaning and sterilization
• lack of sterile processing input for instrument and device purchases to be sure the SPD can meet IFUs
• insufficient inventory that results in shortcuts and IUSS.
People factors
• insufficient staff
• poorly paid technicians
• high turnover rates
• rushed orientations and training
• no incentives to become certified
• lack of opportunities for staff to advance in their careers
• lack of financial support for continuing education, cleaning equipment, and creating a pleasant physical work environment.
Ensuring proper instrument processing to avoid contaminated instruments requires addressing both processes and people.
Processes and efficiency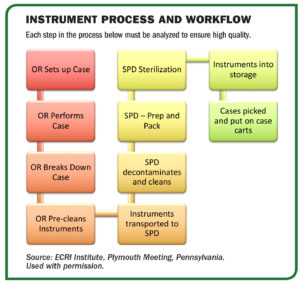 The key steps in processing reusable instruments are precleaning in the OR, transport to the SPD, decontamination and cleaning, inspection to ensure an instrument is clean, high-level disinfection or sterilization, and storage and handling. "You have to look at each subtask [within those steps] and determine what could go wrong," says Catherine Pusey, MBA, RN, associate director, ECRI Institute (sidebar at right). "That will help you ensure quality."
Several tools can help analyze disruptions in the process that can lead to instrument contamination.
Asking why. Keep asking why until all questions are answered. Pusey illustrates this with the example of batch delivery of instruments to the SPD, which results in wide swings in workload. The answer to the first question ("Why is this happening?") is that the OR is waiting for several surgical procedures to be completed to fill the large case carts. The second question is, why is the OR waiting to fill the case carts? The answer is that it reduces the number of times the OR personnel have to travel down the elevator to the SPD. Answering "why" questions helps identify the source of the problem.
Spaghetti diagram. A spaghetti diagram shows workflow, which helps identify inefficiencies and bottlenecks. To create a diagram:
• Record the steps or process on a separate piece of paper. (For instance, an SPD leader might want to record the process of decontaminating and cleaning instruments.)
• Draw the process with arrows showing direction.
• Note how long each process step takes and how long it took at each station within the step.
• Document who performed each process step.
A diagram can often identify where time is being wasted, such as unnecessary steps to go from one station to another.
Fishbone diagram. Fishbone diagrams help with root cause analysis. The "head" of the fish is the problem statement, with the branches off the "body" of the fish identifying categories of contributing factors. Each branch is then outlined in more detail. Pusey cites the example of a fishbone diagram examining the problem of missing instruments. Categories of factors might include human knowledge (eg, employee turnover and inaccurate count sheets), facilities (eg, placement of shelves and racks), and process (workflow interruptions and time pressures).
Impact-effect matrix.The results of a fishbone diagram can be converted into an impact-effect matrix, which helps identify the root causes that the team can best address. The matrix creates four categories: low effort-high impact, low effort-low impact, high effort-high impact, and high effort-low impact.
"It's usually best to start with the low effort-high impact solutions," Pusey says. (For more information about these methods, download the Adrianzen 2014 reference.)
"Think about workarounds staff might be using, which can compromise instrument processing," Pusey adds. Ways to assess for workarounds include observing staff as they work or during simulation labs. For example, a supervisor might see that staff are using the wrong tool to clean an instrument because the correct tool is located too far away. Staff should understand that following IFUs is required by several accrediting bodies, including the Centers for Medicare & Medicaid Services, the Joint Commission, and the Accreditation Association for Ambulatory Health Care.
SPD leaders should also audit key points. For instance, one audit point might be checking a set number of randomly selected trays for factors such as whether the count sheet matches what is in the set and whether hinged instruments are in the open position. Other potential audit points include trays returned from the OR, case cart preparation, peel packs, wrapped trays, and rigid containers. With proper training, staff can conduct these audits.
National benchmarks aren't available for errors of IUSS, so Horvath recommends benchmarking against your own organization. For example, if IUSS occurs in 25% of cases, the organization might decide that it wants to reduce to 10% by a certain point in time.
People and productivity
Productivity metrics can be used to justify staffing needs. Horvath says metrics can be divided into two categories: fixed and variable hours.
Fixed hours include the hours the job requires each week, administrative support for reports, and management time. Variable hours can change from day to day and include number of case carts picked, number of trays processed, the complexity of the trays, swings in workload caused by emergency cases, and number of loaner trays.
"In some cases, SPD staff are picking up and cleaning equipment that is not in the OR," Horvath adds. "That also has to be considered when examining productivity." SPD leaders can compare the minutes it takes for a particular step, such as assembling a tray, against benchmarks the organization has established (sidebar below).
To encourage positive partnership and communication between OR and SPD staff, Horvath suggests scheduling time for SPD staff to observe in the OR and for OR staff to see processes in the SPD.
OR staff are frequently amazed at how long it takes to turn over even a basic instrument tray, and seeing SPD staff in action gives OR staff a better appreciation of the pressures on their colleagues.
In turn, SPD staff can better understand the pressures in the OR, such as surgeon frustration when a desired instrument is missing from a tray.
For a good example of how to improve understanding and communication between OR and SPD staff, see "Instrument Handling in the OR Shines After SPD Training," OR Manager, April 2018, 15-18.
Another way to promote needed skills in SPD staff is to encourage (and offer a financial incentive for) certification and create a clinical ladder for staff so they have room to grow. Finally, staff need intensive training on how to clean the increasingly complex instruments that they encounter on a daily basis.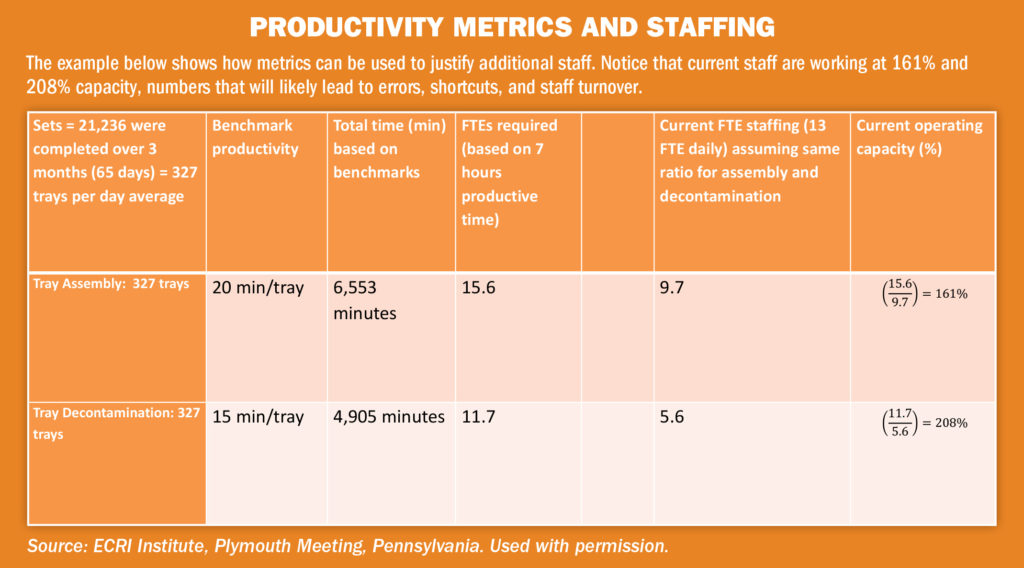 A concerted approach
These are just some of the steps OR leaders can take to improve communication and collaboration across departments and increase competency. The more they focus on these things, the greater the chances of reducing the risk of contaminated surgical instruments—thereby protecting patients from harm.
Cynthia Saver, MS, RN, is president of CLS Development, Inc, Columbia, Maryland, which provides editorial services to healthcare publications. 
References
Adrianzen D, Dombroski Z, Soofi et al. Implementing lean process improvement in the sterile processing department at the academic medical center. Worcester Polytechnic Institute. 2014. https://web.wpi.edu/Pubs/E-project/Available/E-project-032514-103357/unrestricted/Implementing_Lean_Process_Improvement_in_the_Sterile_Processing_Department_at_The_Academic_Medical_Center.pdf.
Chobin N. Dissecting the dirty instruments issue in healthcare facilities. Infection Control Today. 2012. https://www.infectioncontroltoday.com/sterile-processing/dissecting-dirty-instruments-issue-healthcare-facilities.
ECRI Institute. 2019 top 10 health technology hazards. Executive brief. https://www.ecri.org/Resources/Whitepapers_and_reports/Haz_19.pdf.
ECRI Institute PSO. Sterile processing department's role in patient safety. PSO NavigatorTM. 2012;4(3):1-9. https://www.ecri.org/components/PSOCore/Pages/PSONav0812.aspx?tab=2.