Perioperative services is a key driver for financial performance, and efficient use of space and staffing is vital in the current era of declining reimbursement. A bottleneck in any of the three phases of surgery—pre-, intra-, and postoperative—can result in long delays as well as surgeon, anesthesiologist, and staff anxiety and dissatisfaction.
At Mayo Clinic Hospital in Phoenix, the postanesthesia care unit (PACU) was a frequent bottleneck.
"When I arrived at the Mayo Clinic more than 2 years ago, we had an issue with the PACU being frequently full of patients," says Marialena Murphy, MSN, MHA, RN, NEA-BC, CNOR, nurse administrator, surgical services. "This meant patients were staying in the OR to recover from their anesthetic, patients in preop weren't going to the OR, and surgeons were knocking on my office door to find out what was going on," she says.
Compounding the problem was the effect of the P888 code displayed on the overhead physician and staff paging monitors throughout the hospital that signaled the PACU was full.
"One of the things that started to evolve when the 'dreaded 8s' popped up on the monitors was the staff went into slow-down mode," says Murphy. "They figured no one was going to be coming out of the ORs for a while, and preop didn't need to hurry, so they had time to take it easy."
Instead, says Murphy, they should have been looking at this in a completely opposite way. The P888 light should have been seen as a cry for help that the PACU was in trouble, and all available staff should have been running to their aid. "It was very apparent that a big shift needed to happen in our processes and in our thinking," she says.
Space and bed analysis
To address these issues, a leadership team was formed that included three RNs, two physicians, and a finance analyst.
The first thing the team did was analyze why delays were occurring. They determined there were two primary problems:
• a shortage of beds in the preoperative and postoperative units, especially at peak times
• a nursing staff shortage in the PACU and a mismatch of nursing staff scheduling with patient volume demand.
The issue with the staff schedule was compounded by nurses who had been working their set shifts and set days off for many years, says Murphy.
"We knew we had to change their way of thinking about their shifts, and we approached this issue with a little trepidation because we also knew one of the fastest ways to anger staff was to upset their schedules," she says. "We mitigated this by involving staff in the scheduling changes we implemented."
The team started with a space and bed analysis and found a preoperative bed shortage. There were 16 preoperative beds for 21 ORs, and preoperative beds were being lost to inpatient overflow.
After reviewing case mix and timing, the team decided to schedule outpatient procedures in the mornings and inpatients in the afternoon. This system would allow the nursing units more time to discharge patients and open up beds for the surgical patients.
To make transfer of inpatients to the units smoother, the team decided the PACU nurses would call the unit to notify them that a patient was ready to be transferred and that they were ready to give report. However, taking report proved problematic, and the decision was made to let the unit nurses call the PACU when they were ready to take report.
"This turned out to be much more efficient, and reduced the number of phone calls from the PACU to the unit nurses," says Murphy.
The team also developed a flexible space plan to utilize all 16 preoperative and 34 PACU bays to accommodate first case starts.
Staffing to volume analysis
The leadership team next analyzed volume, staffing, daily patient flow, and the staff schedule.
They found that:
• Surgical volume had increased 6.1% between 2014 and 2015 and 13% between 2015 and 2016.
• Staffing vacancies had not been refilled as a cost-saving measure in 2013 and early 2014. "One of the problems with this is that vacancies cause more vacancies," notes Murphy. "When vacancies aren't filled, staff have to work harder, stay late more often, and take more call. Soon they get burned out and leave." There were 16 vacancies that had gone unfilled.
• There were no recommended staffing metrics for the PACU. "Because we didn't have a recommended staffing metric, we didn't know how many nurses we were supposed to have in the PACU," says Murphy.
• There was no tool for the team leader to use to plan staffing for the coming day. "We knew how many staff members had left and not been replaced, but we didn't know the right number to have, and we didn't have a tool in place for the team leader to use to plan staffing for the coming day, based on the surgery volume," says Murphy.
• PACU RN schedules had not been adjusted with the change in OR scheduling and increased surgery volume.
The leadership team looked at best practices and standards and recommendations for staffing from the Joint Commission, American Society of PeriAnesthesia Nurses (ASPAN), and AORN.
They needed to know when to have one nurse to one patient, when it was safe to have one nurse to two patients, and when to have two nurses for one patient, says Murphy.
They also needed to know when to move patients to phase II recovery and what those staffing ratios should be—one nurse to three patients or one nurse to two patients.
In addition, they needed to know the nurse-to-patient ratio for patients who were being held because there wasn't an open bed on the unit, or patients waiting for a ride, or those waiting for prescriptions to be filled. This could range from one nurse to three patients or one nurse to five patients.
"This was not something they had routinely done in the past, and it was really important that staff understood what the standards were for nurse-to-patient ratios," says Murphy.
PACU staffing formula
The leadership team took the staffing formula from AORN's position statement on safe staffing and on-call practices and added staffing recommendations from ASPAN to make their own formula for the PACU.
"I knew the team would be able to develop a formula and spreadsheet for the PACU, but if we did it all internally, we probably wouldn't have as good a buy-in from administration," says Murphy. "So we decided to bring in our finance colleagues." Through many meetings with a finance analyst, the team developed recommended staffing metrics for the PACU based on patient population (sidebar below).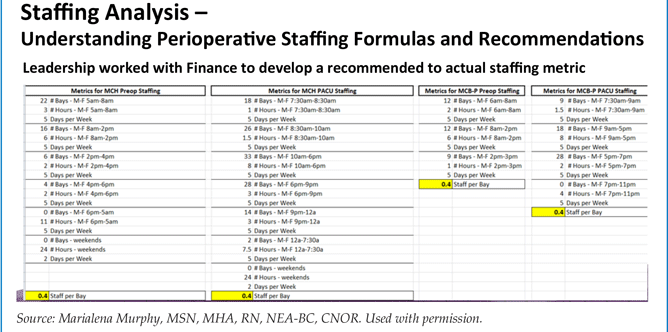 "Bringing finance into the development of the formula was a huge plus," says Murphy. "It gave credibility to the numbers and the formula in administration's eyes."
Staffing considerations used to develop the metrics included:
• PACU hours per day and per week. Prime time was considered separately from after hours.
• Number of PACU bays and PACU nurses needed for preoperative preparation of patients for 2 hours each morning. This necessitated the cross-training of nurses for PACU and the preoperative area.
• Number of full-time equivalents (FTEs) and indirect FTEs needed to staff the PACU each day, including relief for breaks and lunch, and considering high and low census times.
A spreadsheet was created that the finance analyst filled in each month with actual and recommended staff numbers (sidebar below). The information was then put in the nursing dashboard.
This spreadsheet is now filled in daily by the team leaders from the PACU, preoperative area, and OR, and it is used in afternoon huddles to plan for staffing for the next day.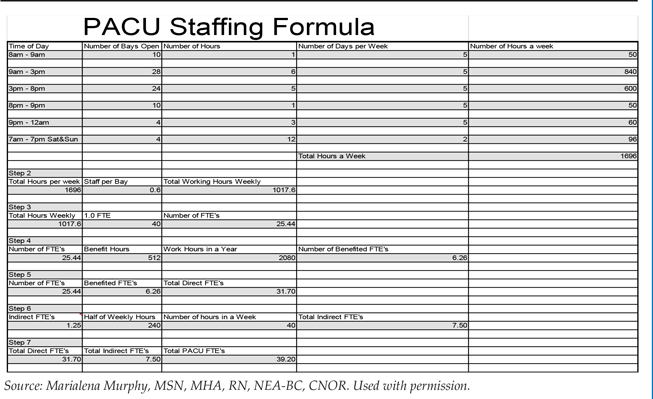 Making the case for more staff
The formula determined that more FTEs were needed, and existing vacancies needed to be filled.
The leadership team used OR hold minutes and the cost of OR time to make the case to administration for hiring more staff.
They determined there were 448 OR cases held over a 1-year time frame (October 2013 to October 2014) for a total of 16,133 minutes of hold time. These minutes were multiplied by the cost of OR time per minute.
"This added up to a lot of dollars, which we used as our justification for more FTEs," says Murphy (sidebar below).
"The formula still has challenges, but it gives us metrics based on professional standards that we can use and credibility with our administrative team to get the FTEs we need. We have been able to right size our PACU staff, and we have filled our 16 empty positions," she says.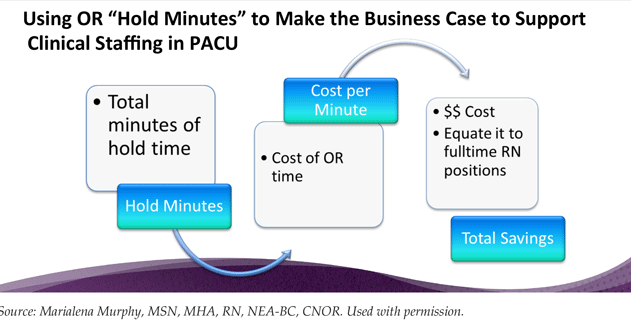 'Dramatic' culture shift
"The nurses really feel like they are a part of the process now," says Murphy.
One thing that has "miraculously" evolved is the staff ownership of their schedules, she says. They look ahead at the schedule and voluntarily flex their start times if they see more nurses will be needed early on certain days or do a split shift—coming in and covering the morning and then coming back to finish cases at the end of the day. "In the past, they felt like they had no control; that it was being done to them. Now they feel like they own it," says Murphy.
"The culture shift has been dramatic," she says. Now they have a tool to use when PACU beds are getting tight before the 8s come up. The managers send staff to the PACU and extended care areas. All of the preoperative and PACU staff have been cross-trained to work in the preoperative area and the PACU.
"We also have a stronger partnership with the finance team and administrative leadership, who have increased confidence in us because they now understand how the PACU is staffed and why it needs to be staffed the way it is staffed," says Murphy.
Staff surveys in 2013 and 2016 show that satisfaction has increased from 86% to 100%, and engagement has gone up from 86% to 97%.
"This has been a journey," says Murphy. "It didn't happen overnight. It takes time to get from 'gee, this is a great idea,' to making it work in practice. It requires a lot of evaluation, tweaking, and relooking. The leadership team did that and helped lead the change in day-to-day operations of the PACU, preoperative area, and the OR." ✥
References
American Society of PeriAnesthesia Nurses. Practice recommendation 1: Patient classification/staffing recommendations. http://www.aspan.org/Clinical-Practice/Patient-Classification-Staffing.
AORN. AORN position statement on perioperative safe staffing and on-call practices. https://www.aorn.org/guidelines/clinical-resources/position-statements.
Murphy M. Redesigning perioperative staffing to reduce inefficiencies of OR delays. OR Business Management Conference 2017.