As part of the shift to value-based care, a logical step for healthcare organizations is to adopt enhanced recovery after surgery (ERAS) protocols.
The literature supporting the use of ERAS is growing, with many studies demonstrating that it leads to shorter length of stay (LOS) and fewer complications.
---
Sponsored Message
---
Results of an as-yet unpublished study presented at the 2017 OR Business Management Conference delved into some of the newer anesthetic modalities that are proving beneficial to patients. It's important to move away from the "we've always done it that way" mentality, Garry Brydges, DNP, MBA, ACNP-BC, CRNA, told attendees.
"If something is not going to benefit the patient, there's no point in using it," said Dr Brydges, chief nurse anesthetist at MD Anderson Cancer Center in Houston. "I don't put nasogastric tubes in any patients unless the surgeon says they're needed."
Evolution of ERAS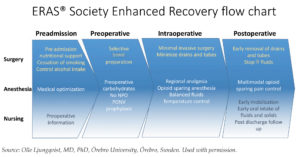 ERAS® was started in Europe by academic surgeons who formed an ERAS Study group in 2001. Their purpose was to come up with a protocol to optimize outcomes according to evidence-based practice. Through a series of studies of surgical procedures, they demonstrated how perioperative care using a multidisciplinary team and a multimodal approach could benefit patients.
A flowchart illustrates how each function performed by surgeons, anesthetists, and nurses during the preadmission, preoperative, intraoperative, and postoperative phases overlap and affect each subsequent step (sidebar right). All of these steps are basically intended to minimize stress on the patient, and numerous studies have shown the efficacy of ERAS (OR Manager, April 2016; 1, 11-13).
In 2010, an ERAS® Society was formed, and since then has published guidelines for the following procedures:
• colon resection
• rectal resection
• pancreaticoduodenectomy
• cystectomy
• gastric resection
• major gynecology
• bariatric surgery
• liver resection
• head and neck cancer surgery
• breast reconstruction.
In addition, the ERAS® Society has published guidelines for anesthesia.
The society has also developed an interactive audit system to help organizations implement the program and track outcomes (http://www.erassociety.org).
Though some aspects of ERAS appear to be more expensive than traditional surgical care protocols, the superior outcomes—notably, shorter length of stay and reduced complications—argue for wider adoption of ERAS practices, say proponents.
Decreased use of opioids
"The opioid epidemic is rampant," Dr Brydges said at the conference. "We don't need to use opioids. We have eliminated opioid use and inhalation anesthetics from our practice, and we try to manage the pain pathway differently."
A recent study supports the merits of reducing opioid use. Researchers from the University of Michigan Medical School, Ann Arbor, analyzed outcomes for 2,413 patients in the Michigan Surgical Quality Collaborative clinical registry database who underwent nonemergent major abdominal surgery from 2008 to 2014.
A comparison of patients who used opioids preoperatively vs those who did not found that opioid patients had worse outcomes. Specifically, results for opioid vs non-opioid users were as follows:
• Mean LOS was 5.9 vs 5.2 days
• Major complications were seen in 20% vs 16% of patients
• Non-home discharge was 13% vs 11% of patients
• Hospital readmissions were 10% vs 6%
• 90-day costs were $26,604 vs $24,263.
"We estimate that 80,000 opioid users undergo abdominal surgery annually in Michigan," the authors said. "Assuming $2,300 in excess costs per opioid user, we estimate that the financial impact of preoperative opioid use in this population is $184 million dollars annually in Michigan alone," they added.
For this reason, they have implemented a rehabilitation program to inform patients about the risks of opioids. "Weaning patients down or off of opioids or replacing opioids with alternative analgesics preoperatively may be possible," they said.
In Dr Brydges' experience, not only can opioid use be reduced, but other components of ERAS can help improve outcomes. As an example, he discussed a 74-year-old male patient undergoing extensive colorectal resection.
"It was a 9-hour procedure that used no inhalation anesthesia and no opioids," he said. "We were using epidurals to manage these cases. We've replaced the epidurals with regional anesthesia techniques. For lower abdominal procedures, we use TAP [transverse abdominis plane] blocks where we infiltrate the dermatomes supplying the abdomen with liposomal and free bupivacaine. We try to avoid any epidural catheter use."
Fluid management
He explained that fluid management is another area that has undergone a change in practice.
"In anesthesia we have a 4-2-1 rule; we try to replace people's NPO status before going back to the operating room," he said. "Historically, we would give about 3 to 4 liters of crystalloid fluid for these cases. We are now down to 500 cc of plasmalyte. If we do have to manage fluid, we use colloids—specifically, 5% albumin."
He noted that there is a considerable cost difference: about $1 to $2 for plasmalyte vs about $84 for each 500-cc bottle of albumin. However, he said, albumin produces less swelling and inflammation. "Plasmalyte takes 3 days to shed off of the system, which makes people puffy," he noted.
His colorectal surgery patient on postop day 1 was ambulating and practicing colostomy pouch management, on day 2 was on a full liquid diet, and on day 3 had no more opioid requirements and was discharged to home, Dr Brydges said.
In a similar case that took 16 hours, he said, an obese patient was able to sit and take a clear liquid diet on the day of surgery, and on the morning of postop day 1 was ambulating and taking solid food. This patient didn't require any opioids for breakthrough pain.
As another example, he said his facility is using robotic systems for anterior-peritoneal resections for rectal carcinoma. "Thirty months ago, it was a 12-day hospital stay for these patients. Today we have it down to a 2- to 3-day length of stay."
Anesthetic protocol
Alternative agents to opioids include such drugs as alpha2 agonists and lipid-containing bupivacaine—a local anesthetic that can provide 3 to 4 days of pain relief.
The protocol used at his facility, Dr Brydges said, is as follows:
Preoperative
• IV acetaminophen as early as possible
• Gabapentin PO
• Celebrex PO
• Tramadol ER (Ultram) PO (unless the patient is taking antipsychotropic drugs)
Pre-induction
• Dexmedetomidine
• Ketamine
• Lidocaine
• Propofol
• Magnesium sulfate
Intraoperative maintenance
• Dexmedetomidine
• Ketamine
• Lidocaine
• Propofol
• Magnesium sulfate
• Metoprolol
Cost justification
When IV acetaminophen first appeared on the market, he said, it cost just $8 to $12 per bottle, but the price has since risen to $42 per bottle.
"Why avoid opiates and inhalation agents? Because there is profound inflammation that occurs with these drugs. They also blunt patients' immune response," Dr Brydges said. He added that although IV acetaminophen is more expensive than other drugs, in his opinion, its efficacy justifies the additional cost.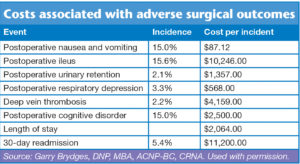 As for paralytic agents, he explained that nerve twitch monitoring is required to ensure optimal levels of paralysis. A new drug, Sugammadex, has been shown to be very useful in reversing the paralytic effects of Rocuronium, without the adverse effects of traditionally used reversal drugs. However, Sugammadex is perceived as very expensive.
"In many institutions, pharmacy fights us about an agent that might be $100 per vial. We do about 200 cases a day, so if we're using 200 units, it adds up," he said.
The benefit with this drug, however, is that the patient wakens and leaves the recovery room more quickly without the complications induced by traditional reversal agents, he noted.
Is enhanced recovery too expensive?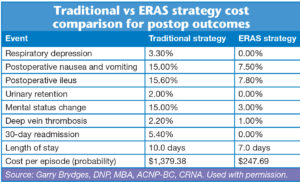 Dr Brydges acknowledged that the direct costs for the anesthesia agents used in an enhanced recovery model exceed those of traditional methods. Using a 6-hour case as an example, he said the cost for anesthesia agents was $1,428 vs $297.
"You've got to translate the direct cost to the cost associated with outcomes of the patients," he said. Taking an average of several studies he looked at with sample sizes of 40,000 to 400,000, he showed costs associated with adverse outcomes (sidebar top right).
A comparison of the incidence of these outcomes using traditional vs ERAS protocols shows a savings: Cost per episode is $1,379.38 for traditional vs $247.69 for ERAS (sidebar bottom right).
Engaging staff and patients alike
ERAS involves a huge number of staff, Dr Brydges said. "The surgeon is the big driver of the process. The education starts during the initial consultation, and there needs to be redundancy of information that follows patients through the entire ERAS pathway, including discharge to home."
Pharmacy needs to participate in staff meetings because they're involved in tracking the data and the costs of outcomes. If they understand that even though IV acetaminophen is more expensive, it allows patients to recover more quickly, they're more likely to support use of a higher priced drug, Dr Brydges noted.
As for nurses, he said, "we work with our holding area nurses to make sure we give patients the agents they need as early as possible. For nurses to buy into the ERAS protocols, there has to be a rationale for improved understanding of ERAS objectives and engagement in what they're doing."
Patients also need to be active players in the ERAS process, Dr Brydges said. At MD Anderson, patients are given education pamphlets to help them pay attention to what is normal for them versus when things are deviating from the norm.
A symptom burden score is used to assess risk for the patient, which determines the intensity of care. A number of ERAS and institutional committees continually review outcomes, and that information is then shared with surgeons and team members.
Future directions
For orthopedic procedures, Dr Brydges anticipates increased use of regional anesthesia because it decreases pain, postoperative nausea and vomiting, time in the postoperative anesthesia care unit, length of stay, opioid-related adverse events, readmissions, and need for a skilled nursing facility.
"ERAS strategies are proving to be cost-effective healthcare delivery strategies around the world," Dr Brydges said. "Improvement in patient outcomes and patient satisfaction are hallmarks for ERAS programs, which are revolutionizing healthcare delivery."
As more shared risk is transferred to hospitals and providers, he believes ERAS strategies will continue to be integrated into the patient care protocols at market-competitive healthcare organizations. ✥
—Elizabeth Wood
References
Brydges G. Enhanced recovery after surgery (ERAS): The new paradigm for anesthesia care delivery. OR Business Management Conference, 2017.
Cron D C, Englesbe M J, Bolton C J, et al. Preoperative opioid use is independently associated with increased costs and worse outcomes after major abdominal surgery. Ann Surg. 2017;265(4):695-701.
Dexter F, Tinker J H. The cost efficacy of hypothetically eliminating adverse anesthetic outcomes from high-risk, but neither low- nor moderate-risk, surgical operations. Anesth Analg. 1995;81(5):939-944.
Dexter F. Application of cost-utility and quality-adjusted life years analyses to monitored anesthesia care for sedation only. J Clin Anesth. 1996;8(4):286-288.
Dexter F, Lubarsky, D A, Gilbert B C et al. A method to compare costs of drugs and supplies among anesthesia providers: A simple statistical method to reduce variations in cost due to variations in case mix. Anesthesiology. 1998;88(5):1350-1356.
Hilton W M, Lotan Y, Parekh D J, et al. Alvimopan for prevention of postoperative paralytic ileus in radical cystectomy patients: A cost-effectiveness analysis. BJU Int. 2013;111(7):1054-1060.
Iyer S, Saunders W B, Stemkowski S. Economic burden of postoperative ileus associated with colectomy in the United States. J Manag Care Pharm. 2009;15(6):485-494.
Kharasch E D, Brunt L M. Perioperative opioids and public health. Anesthesiology. 2016;124(4):960-965.
Lee L A, Caplan R A, Stephens L S, et al. Postoperative opioid-induced respiratory depression: A closed claims analysis. Anesthesiology. 2015;122(3):659-665.
Ljungqvist O, Scott M, Fearon K. Enhanced recovery after surgery: A review. Jama Surg. 2017;152(3):292-298.
Parra-Sanchez I, Abdallah R, You J, et al. A time-motion economic analysis of postoperative nausea and vomiting in ambulatory surgery. Can J Anaesth. 2012;59(4):366-375.
Steinmetz J, Christensen K B, Lund T, et al. Long-term consequences of postoperative cognitive dysfunction. Anesthesiology. 2009;110(3):548-555.
Wu A K, Auerbach A D, Aaronson D S. National incidence and outcomes of postoperative urinary retention in the Surgical Care Improvement Project. Am J Surg. 2012;204(2):167-171.