Orientation is the backbone of a sustainable workforce. Part 2 of OR Manager's two-part series focuses on the orientation of experienced and per diem nurses, social onboarding, and how the pandemic has affected orientation, post-orientation efforts, and evaluation.
Experienced nurses
Experienced OR nurses are typically placed on the fast track when it comes to orientation. However, it is still important to assess competency. For instance, Connie Garrett, MSN, RN-BC, CNL, CNOR, RNFA, perioperative nurse educator at James A. Haley Veterans Hospital in Tampa, Florida, says, "I make sure the nurses are scrubbing according to AORN guidelines." She posts photos illustrating the guidelines at each scrub sink to encourage adherence. She also reviews organization-specific information, such as radiofrequency sponge detection.
Support is also important. Karen Edwards, MBA, BSN, RN, CNOR, professional development leader for the OR nurse residency program at Houston Methodist Hospital, Texas, runs a 6-month orientation program for experienced nurses who have not worked in the OR. If a new experienced OR nurse needs refreshing on specific skills, the manager or educator may recommend they attend the relevant class in the orientation program. Edwards manages the OR nurse residency program orientation for seven Methodist hospitals in the Houston Metropolitan area.
Per diem nurses
Orientation of per diem nurses (such as travel and agency nurses) varies, but this group receives considerably less attention. Orientation is brief and focused on specifics related to the facility. Mary Jo Hutchcraft, MSN, RN, CNOR, nurse education specialist for surgical services at Mosaic Life Care in St. Joseph, Missouri, says per diem nurses attend a 2-day general orientation course and spend 2 to 3 days orienting to the unit, which includes reviewing standards for fire safety and patient positioning, completing electronic health record training, and working with a preceptor. "They already have the OR expertise, so they just need to be acclimated to what we do," Hutchcraft says. Many organizations rely on the agency providing the nurse to ensure competency, but Hutchcraft says OR educators or specially trained qualified evaluators evaluate the nurse's skills by completing an agency onboarding checklist during orientation. The nurses also spend 2 weeks with a preceptor before independent practice.
Other organizations have shorter orientations. For example, at Akron Children's Hospital in Ohio, Anita Wilson, MSN, RN, CNOR, OR nursing professional development specialist, says the first day of orientation for travel nurses consists of general onboarding, including safety and documentation training. On the second day, nurses shadow another nurse, and by the third day, nurses are functioning independently. At Penn State Health Milton S. Hershey Medical Center, a level 1 trauma center in Pennsylvania, Donna Ceschini, MSN-Ed, RN, CNOR, OR nursing professional development specialist, says the hospital provides a 3-day general orientation, followed by some 5 days of OR-specific orientation. And at St. Charles Health System in Bend, Oregon, the coordinators in each specialty line manage orientation for these nurses, which typically lasts 1 week, according to Brenda Larkin, MS, RN, ACNS-BC, CNS-CP, CSSM, CNOR, perioperative clinical nurse specialist.
Pandemic considerations
Orientation is not exempt from the effects of the COVID-19 pandemic. Depending on the level of the surge, some organizations are requiring masks and social distancing for classes, while others have had to switch to virtual.
"We had to pivot from face-to-face speakers to presenters speaking on a virtual platform," says Edwards. During peak surges, nurses in the residency program returned to their "home" hospital units for training on gowning, gloving, scrubbing, and for skills sign-offs, rather than completing these in the centralized simulation lab as is usually done.
In January 2022, the program returned to a larger classroom and simulation lab, social distancing, although some hospitals are still having nurses perform skills check-offs on the home units. The program requires proof of vaccination and a negative COVID-19 test the day before orientation and a negative COVID-19 test every month.
Edwards notes that staffing demands and education have to be balanced to ensure patient safety. "Some people need more time to orient than others, so I work with the clinical educator to hone in on a particular skill an OR nurse resident might need," Edwards says. "I also make rounds at the other facilities to meet with the educators and participants to discuss progress."
Social onboarding
Orientation is more than knowledge and skills. It also includes ensuring new staff are supported and integrated into the organization's culture. That is especially important in the OR, where teamwork is vital.
"I tell them the OR is like a small town that you are going to move into," Larkin says. "Everyone doesn't know you in the small town like they know everyone else, so it will take time to break in socially." She relies on preceptors to take the lead in ensuring new staff feel they are part of the unit (sidebar, Role of preceptors). "If you don't integrate them into the social structure, they're not going to stay," Larkin adds. "They'll feel like an outsider, and nobody wants to feel that way when they come to work." Social onboarding is important to all new nurses, no matter their background.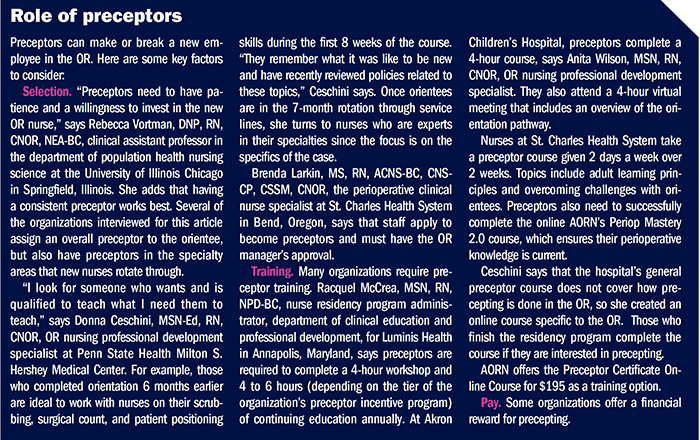 At Akron Children's Hospital, Wilson meets regularly with new staff and holds monthly huddles with the manager and new nurses to discuss what has gone well, any concerns, or suggestions. She also invites nurses who have recently completed orientation to attend and share their experiences. "It encourages new staff," Wilson says. "They can see that someone has mastered what they needed to master in a year's time."
Garrett at James A. Haley Veterans Hospital encourages new nurses to participate in shared governance and is open to insights from those new to the organization. "They sometimes bring great ideas, including ideas about new products," she says. "Listening to them helps us avoid becoming stagnant and when we implement something they suggest, it makes them feel valued."
Social onboarding is not simply something that is nice to do—it can make the difference in retention. In an article for Harvard Business Review, Ron Carucci notes that new employees who do not establish a sense of community may be more likely to leave their jobs. He suggests managers collaborate with new employees to identify people who will be key to their success (for example, in the OR, this could be the educator) and arrange to meet with them on a regular basis for the first year.
Post-orientation follow-up
The work of OR leaders and educators does not end with completion of the core orientation program. "Continue to check in with nurses after they complete orientation," says Rebecca Vortman, DNP, RN, CNOR, NEA-BC, clinical assistant professor in the department of population health nursing science at the University of Illinois Chicago in Springfield, Illinois. Vortman, who previously managed an OR education department, suggests leaders ask those who have completed orientation where they see themselves in 6 months to a year. "Show them you want to help them grow professionally," she says.
Wilson continues to follow-up with new staff by attending huddles, sending them emails noting that she is available for support, and encouraging participation in the organization's clinical ladder program.
Edwards says that every 6 months, Methodist welcomes the nurses starting the nurse residency program and congratulates those who completed the program a year ago. "I take pictures during orientation that we then display at the luncheon," Edwards says. "It's a great way to recognize the nurses' achievements."
Evaluation is an important follow-up step, and can encompasses assessment of individual nurses as well as the overall program. Orientees are typically evaluated through tests of knowledge, demonstrations in a skills labs, which may include simulation, and observation by a preceptor. Participants usually complete a skills checklist on which the preceptor, orientee, educator, and sometimes the manager sign off.
However, Kimberly Jones, MSN-Ed, RN, CNOR, RNFA, program director for Nurse In Surgery Essentials (NISE™), an evidence-based orientation program for nurses new to the OR, cautions that, "A competency is more than a checklist." She recommends that educators and preceptors assess a skill on the basis of "can they do it, how they do it, and how much prompting do they need." Educators need to decide how to best measure each competency: test, direct observation, or some other tool. Jones adds that even nurses who have worked in the OR for 1 year are still either a novice or advanced beginner.
In addition to assessing hands-on skills, Larkin, at St. Charles Health System in Oregon, uses case studies to evaluate knowledge. The topics are often ones that the orientee might not encounter in routine practice, such as certain ethical dilemmas, a fall from an OR bed, septic synovitis after an accidental scalpel injury, and refractory hypotension caused by intraoperative hypothermia.
Evaluation should be ongoing. For instance, Edwards' program builds in an overall evaluation at 30 days, 60 days, and 90 days. Evaluations of specific aspects are also included. For example, scrubbing evaluation occurs at 7 weeks, circulating evaluation at 11 weeks, and both scrubbing and circulating evaluation at 16 weeks, 20 weeks, and 24 weeks. Each designed evaluation includes validation of 30 critical element skills related to the role of the scrub or circulating nurse.
Retention is the most common measure used to evaluate orientation effectiveness. At Akron Children's Hospital, Megan Dorrington, MSN, MBA, RN, NPD-BC, CPN, nursing professional development specialist for the nurse residency program, says the goal is to keep turnover to no more than 7% annually. In 2015, at the start of the nurse residency program, turnover among new staff was 11%; that dropped to 1% in 2019, although it has risen in the past 2 years due to the pandemic. Ceschini at Milton S. Hershey Medical Centerfinds retention of new graduate nurses is higher than experienced nurses, who may decide that they simply miss the patient contact.
OR leaders have learned, however, to temper their retention expectations, particularly for those of younger generations who may view each job more like a tour of duty as opposed to a long-term commitment. "We're lucky if we can keep younger nurses in the OR for 2 years," Vortman says. However, supporting a nurse's goals, such as a desire for leadership, may at least keep nurses in the department or the organization.
Rather than focusing on how long someone stays with the organization, James Stobinski, PhD, RN, CSSM(E), CNOR, CNAMB, who is CEO of the Competency and Credentialing Institute (CCI) in Englewood, Colorado, says, "The ideal is to measure competency to determine the effectiveness of your orientation program." CCI has developed the Certified Foundational Perioperative Nurse (CFPN) credential, which helps organizations gain a more complete picture of a nurse's early-career competency. The tests and tools used for the credential have been validated, so they are effective in determining a person's skills and aptitudes (sidebar, Credential for new OR nurses). In addition, because of its focus on professional development, Stobinski says the credential also "helps an organization jump start nurses' OR careers." Anyone who holds a CFPN can take the CNOR at 18 months (instead of 24 months) if they have enough practice hours.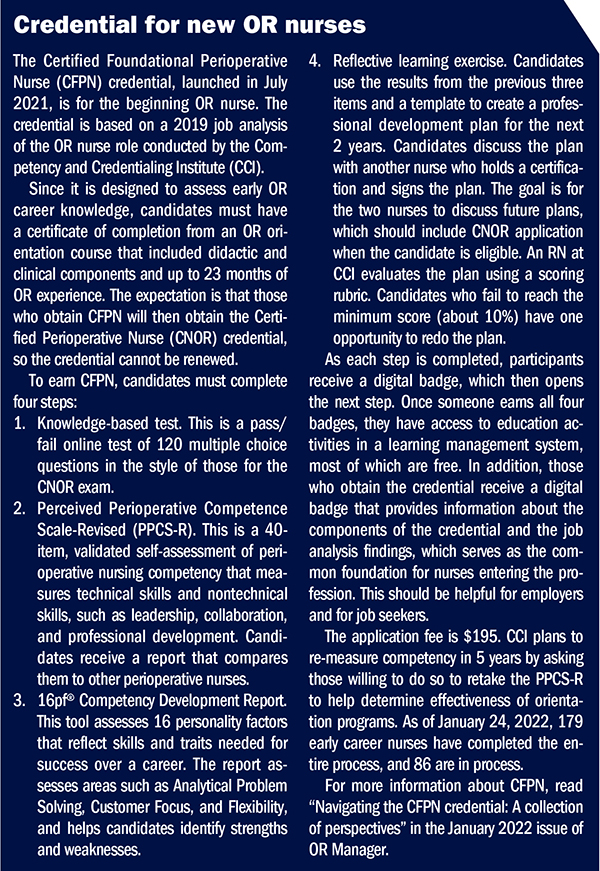 Dorrington says one measure of the effectiveness of Akron Children's Hospital's residency program is higher participation in the clinical ladder program among those who completed their residencies. The organization also compares scores on the Vizient/American Association of Colleges of Nursing Nurse Residency Program Progression Survey at the start of the program and 12 months later to see if nurses are developing confidence, competence, and comfort in their roles. "Pre-pandemic, our mean scores at 12 months were consistently above the benchmark, indicating the nurses were more satisfied and committed to the profession," Dorrington says. Not unexpectedly, scores have been slightly lower during the pandemic. Another tool some organizations use to help them evaluate effectiveness of nurse residency programs is the Casey-Fink Graduate Nurse Experience Survey.
Positive outcomes help to justify the cost of orientation to finance leaders. In addition, managers may want to set up a separate cost center for orientation that includes those participating in the program. "That way it doesn't look like the manager has excess staff," Ceschini says.
Setting up for success
Perhaps the best definition of a successful orientation program comes from Pertiwi and Harlyati, who conducted a systematic review of 14 studies related to new graduate nurse orientation. They concluded that the more effective orientations had well-established goals and used "proven learning materials, support systems such are preceptorship and mentorship, learning methods, and evaluation instruments within the organization." These factors likely also apply to experienced nurses. Although it takes time to craft (and maintain) a high-functioning orientation program, the efforts will pay off in an effective nursing workforce.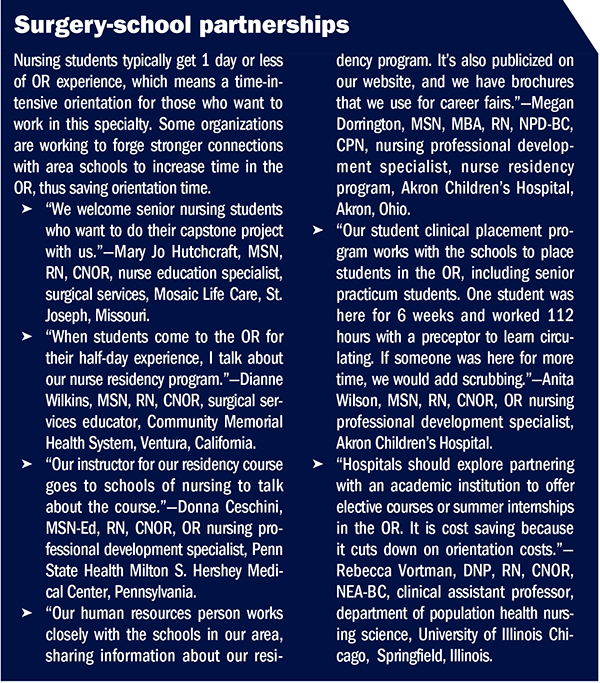 —Cynthia Saver, MS, RN, is president of CLS Development, Inc, Columbia, Maryland, which provides editorial services to healthcare publications.
References
CCI. CFPN Certified foundational perioperative nurse: Candidate handbook. 2021.
Ceschini D. Innovative programs promoting careers in OR nursing. AORN J. 2016;103(6):623-630.
Kinlaw T S, Stobinski J X, Irvin S A, et al. Professional development in perioperative nursing begins with the certified foundational perioperative nurse (CFPN) credential. Perioperative Care and Operating Room Management. 2021.
Pertiwi R I, Harlyati R T S. Effective orientation programs for new graduate nurses: A systematic review. Enfermería Clínica. 2019;29(2):612-618.