Having a "Battle Buddy" has helped US Army soldiers maintain resilience for years, and now the practice has been adopted to help healthcare workers at the University of Minnesota Medical Center in Minneapolis deal with COVID-19-related stress.
A multidisciplinary team from the University of Minnesota's department of anesthesiology and department of psychiatry and behavioral sciences developed and deployed the Minnesota Resilience Action Plan (MinnRAP), which is based on the Battle Buddy peer support model. MinnRAP was spurred by Colonel Brian McGlinch, MD, an Army Reserve hospital commander and assistant professor at the University of Minnesota's department of anesthesiology.
MinnRAP, which was rolled out in March 2020, comprises two key tools: a peer support Battle Buddy and a designated mental health consultant who works with each department or unit to facilitate training in the stress inoculation method: Anticipate Plan Deter (sidebar, Stress inoculation).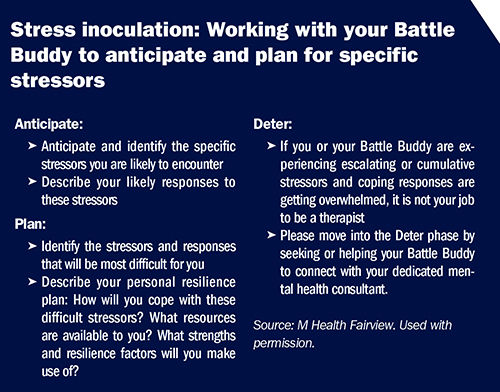 Having each other's back
"At the beginning of the COVID-19 pandemic, many young faculty members and OR personnel felt that coming into work was a great risk," says Dr McGlinch. "They were really afraid to come to work. They were afraid of taking the disease home to their families."
However, a lot of OR personnel faced financial concerns and could not afford not to work. Untold and unaccounted for concerns started to grow.
"The level of anxiety was similar, almost identical, to what people experience in combat," says Dr McGlinch. "It was amazing how similar the behaviors and the concerns were."
When the chairman of anesthesia asked Dr McGlinch what the Army did to make sure soldier's concerns were raised and taken care of, he recommended the Battle Buddy program. As commander of an Army hospital center with 1,000 soldiers, he saw firsthand how the Battle Buddy program helped address a number of suicide and mental health concerns the soldiers faced.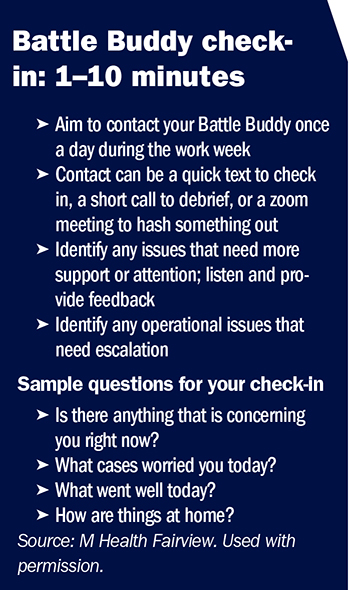 "The Battle Buddy program means having each other's back, nobody is left alone, and nobody gets left behind," says Dr McGlinch. "It gives you somebody to talk to on a day-to-day basis. It's not intended to be 'we're going to make you have a best friend.' It's simply someone who can share your concerns and experiences. They know what you're talking about," he says (sidebar, Battle Buddy check-in).
"When we saw the writing on the wall with what COVID-19 was doing with our care teams, Dr McGlinch really stepped forward and was the linchpin of inspiration behind the Battle Buddy program," says Annie Walsh, MBA, director, clinical risk management, University of Minnesota Physicians, Minneapolis. "He looked around at his colleagues in the OR and said: 'This is what I saw on the front lines. This is the fear that I saw in soldier's faces,'" she says.
He recognized the danger these healthcare workers could be to themselves and to their families, and that nobody can really experience what somebody else is going through in the same way unless it is somebody who is going through it at the same time. And that is why the Army has the Battle Buddy program in place.
No BFF Buddies
Healthcare workers are assigned Buddies by their managers based on the kind of work they do, how long they have been in practice, where they work, and their lifestyles. Best friends cannot be Buddies.
In the OR, for example, a nurse manager would pair off staff members who are similar in terms of life and job experience, level of responsibility, home environment, and age. Assigning Buddies based on these types of criteria, rather than close friendships, makes conversations more effective because they have a lot more in common, says Dr McGlinch.
"We looked at people with kids at home, people with an empty nest, people taking care of older parents, and tried to match up both work and life circumstances because everybody was experiencing things at home in a different way," Walsh says.
Dr McGlinch notes that one of the common themes among the nurse anesthetists, for example, was that they had to work in the hospital all day and then go home and teach algebra and French to their children. Having similar working and home environments allowed them to "blow off steam," he says.
"Your Battle Buddy is somebody who can check your pulse and ask: 'How stressed are you? Do you need help?'" Close friends may not make recommendations to get help to each other for fear of losing a friendship.
The intent of the program is that if healthcare workers are feeling anxious, they can talk to somebody at work who understands. They can be honest with themselves and speak openly about their anxieties, which is a different culture than most have in their clinical practices.
The second part of the program includes mental health consultants who can do small group or one-on-one sessions to address concerns.
"We paired up each unit with a psychiatrist or a psychologist," says Walsh. "Our group facilitation helped staff with coping skills and helped normalize the reactions they were having to the pandemic."
Rapid roll out, adoption
Every environment that had a high critical care component got the program first. It was first rolled out to the intensive care unit (ICU) because ICU nurses were really getting burned out. It was launched in the OR next because the only surgical procedures being performed were emergency cases, and a lot of the patients were very sick with COVID-19. It was then rolled out to various residency programs.
"It was adopted much more quickly than we expected," says Dr McGlinch. "We thought people would be hesitant, but as a whole, the people wanted some kind of support."
He added: "One of the reasons our program took off so quickly was because of our very motivated department of psychiatry and behavioral sciences that wanted to help employees who were raising more and more concerns."
For the chaplains and behavioral health specialists, this was access they had never had before. They really valued the interactions they got to have with employees, Dr McGlinch explains.
When someone was showing a pattern of increasing concerns, a behavioral health specialist would schedule a half-hour, one-on-one session. These sessions were never recorded in an employee's medical record and were not reported to the employee health services unless the concerns became elevated to a point that the employee needed to see someone more officially to discuss the issues.
In the military, an example would be soldiers who are twice divorced, living with their parents, and who have access to weapons. "We have a high barometer there," says Dr McGlinch.
In the hospital, an example would be employees who are overextended financially or are difficult personality behavior types, and the strain of the pandemic created even more stress and hostility, warranting a more professional therapy. "An OR manager couldn't really handle these problems," he says.
Dr McGlinch notes that they were able to move people who really needed more advanced help into lanes of therapy or interventions that helped them become more productive employees.
Once word got out that this program was available, the response became so large that the department of psychiatry had to recruit providers from outside the university to help. "It was fascinating to see the uptake in the broad need for these services," he says.
Walsh adds that "one of the fortunate things to come out of the pandemic is the recognition that people are willing to seek out mental health support."
Additional Battle Buddy benefits
In the midst of the Battle Buddy program's growth, the murder of George Floyd happened in Minneapolis along with the ensuing unrest, which added another level of fear for healthcare workers, says Walsh.
To combat this added fear, she says, additional support resources were brought in with a focus on racism, violence, and safety. "We quickly adapted the Battle Buddy program to a huge, national, worldwide profile event that happened in our city and built a different kind of resilience and communication pathway," she says. It has provided a long-term vision of how quickly this program can be activated when something happens. "The Battle Buddy program has become so ingrained in our culture that when something acute does happen, when we have an event that is difficult, there will be someone who steps in and asks: 'How are you doing?'"
Another positive that evolved out of both the military and civilian use of the Battle Buddy program is that it can help modify inappropriate behavior. "It gives you the ability to talk to your Buddy about people in your working environment who are unpleasant or disrespectful and how that affects you with someone who understands," says Dr McGlinch. It also provides an avenue for those staff members whom multiple people complain about to be counseled in a nonthreatening atmosphere and shown ways to modify their behavior.
"The OR and the military are two very competitive and stressful environments, and often it boils down to a battle of the fittest," says Dr McGlinch. "People who don't work in these environments are unlikely to understand the stresses."
The mental health consultants who joined the Battle Buddy program learned about the difficulties intrinsic to working in the OR by listening and interacting with OR staff, surgeons, and anesthesia personnel. "It was imperative for them to understand the environment we worked in before they could counsel us," he says.
"This had so many benefits that we didn't anticipate, both for the healthcare providers as well as the mental health consultants and chaplains. They got a lot more understanding of what goes on in an operating room, the different professions working together, and the typical issues they needed help with," says Dr McGlinch.
The behavioral and mental health providers grew with the OR healthcare providers in their ability to share problems rather than criticize and discuss ways to fix the problems.
"These are benefits of the program that we have seen in the military also," he says. "If you complain about everything, nothing gets done. But, when the group starts to work together and says: 'Hey, we can get over this,' then they can begin to resolve problems."
Dr McGlinch adds: "I am so proud that the Battle Buddy program was so successful and appreciated by so many people that we didn't anticipate. The key element is that no one gets left behind." ORM
—Judith M. Mathias, MA, BS, RN, is the clinical editor of OR Manager. Previously, she was clinical editor of the AORN Journal and a cardiac surgical nurse at Rose Medical Center, Denver, and Massachusetts General Hospital, Boston.
References
Albott C S, Wozniak J R, McGlinch B P, et al. Battle Buddies: Rapid deployment of a psychological resilience intervention for health care workers during the COVID-19 pandemic. Anesthesia & Analgesia. 2020;131(1):43-54.
Ramsberger P F, Legree P, Milles L. Evaluation of the Buddy Team Assignment Program. Alexandria, Virginia: United States Army Research Institute for the Behavioral and Social Sciences. 2003.
Schreiber M, Cates D S, Formanski S, et al. Maximizing the resilience of healthcare workers in multi hazard events: Lessons from the 2014-2015 Ebola response in Africa. Mil Med. 2019;184:114.