Keeping a close eye on implants that are opened and not used is one way OR leaders can track practices that add significantly to costs. But what about blood products? Blood taken to the OR and not used also can be costly.
Although an individual unit of blood doesn't compare to the outlay for something like a spine implant, avoiding wasted blood can pay off. For instance, over 1 year, Vanderbilt University Medical Center in Nashville, Tennessee, was able to cut blood use by 30%, yielding $2 million in savings over 3 years.
There's a human component to blood wastage, too. "Blood donors give a gift of life," says Mary Kay Wisniewski, MA, MT, improvement specialist and coordinator for the blood management program at UPMC in Pittsburgh. "We have a responsibility not to waste that gift."
From January 2013 through April 2014, UPMC reduced blood waste in its eight hospitals—an effort that saved an estimated $131,520.
Stopping wastage of blood products in the OR doesn't necessarily require a large time investment. Beth Israel Deaconess Medical Center (BIDMC) in Boston reduced its wastage by 75% within 90 days. "By a month later, we had gone from an average of eight units per month wasted to none," says Elena Canacari, RN, CNOR, associate chief nurse for perioperative services. Since then, it has been rare to see a wasted unit.
Barbara Martin, MBA, RN, CCRN-K, CPPS, senior quality and patient safety advisor at Vanderbilt, says three main drivers reduce blood wastage—transport, storage, and accountability. (Unless otherwise indicated, "blood" refers to red blood cells [RBCs], platelets, and plasma.)
Proper transport and storage
Martin says pneumatic tubes, which provide less control over how blood is stored and have lower transport reliability, are used only when the need is urgent, and just one unit is sent at a time. A cooler is used to transport multiple units of RBCs. The coolers, along with any unused blood, are returned to the blood bank immediately after the case ends.
Vanderbilt also tackled the issue of blood transported from the OR with the patient to the ICU. "If there isn't a plan to use the blood soon, it's returned to the blood bank instead of being kept in the ICU," Martin says.
The most common cause of blood wastage in the OR is failure to keep components at the correct temperature. For example, too often components like platelets, which should be kept at room temperature, are tossed into a cooler of RBCs.
"Blood components are liquid organs that keep people alive," Wisniewski says. "You wouldn't keep a liver improperly stored, so why would you do that with blood?"
Much of UPMC's savings came from addressing the temperature issue. For instance, blood bank staff now place components that can't be refrigerated in a tote that hangs on the cooler. The tote can be easily disinfected with sodium hypochlorite.
Wisniewski talked with anesthesia providers and nurses to reinforce the practice of replacing ice in the cooler as needed. And she worked to reduce the number of coolers used in the OR. "We wanted to limit the number of coolers going to the OR because 75% came back untouched," Wisniewski says.
Martin says Vanderbilt replaced ice with cold packs in coolers, which make it easier to place blood for optimal storage. Blood bank staff check the temperature of the blood when it's returned, along with the expiration time that is placed on the cooler before it's sent. A staff member, usually the circulator, is responsible for the blood when it's in the OR, including proper storage and return.
Kathy Frey, MD, director of the blood management program for Fairview Southdale Hospital in Edina, Minnesota, and chair of the AABB Patient Blood Management Standards Program Unit, says the Fairview blood bank checks a sticker that shows the temperature at which the blood was stored and that changes color if the component temperature was ever out of range.
Accountability
"The target for blood waste should be zero, but from a hospital transfusion perspective, red blood cell wastage should be less than 1%," says Jason Carney, BS, TSO, chief operating officer (COO) for the Patient Readiness Institute, Minneapolis, and former COO of SunCoast Blood Bank in Sarasota, Florida.
Dr Frey cautions that it's important to track trends in addition to exact numbers. "Waste depends a lot on your environment of care," she says. For example, platelet waste can be less than 1% to 2% when units identified as nearing their expiration date can be easily shared among members of a hospital system.
Rural hospitals usually don't have that option, and blood suppliers may not allow units to be returned unused. "In that case, your platelet wastage rate might be 15%, and that might be good," Dr Frey says. She adds that plasma waste is particularly challenging, estimating that 30% to 50% of plasma waste can be attributed to infusing it in someone who didn't need it.
"The accountability part is that any waste outside of zero has to be explained," Carney says. That requires real-time feedback, Martin says, noting that Vanderbilt's blood bank sends a daily report of blood waste to perioperative leadership. The level of detail in the computer order entry system, including the provider who administered the blood, makes it easy for the anesthesiologist to investigate why the waste occurred. At BIDMC, Canacari says any waste is reported to the vice chair of anesthesia, who follows up with the appropriate staff member.
Putting the process together
Martin says a multidisciplinary team composed of surgeons, perioperative nurses, and anesthesia providers, as well as staff from the blood bank, intensive care units, and general nursing units, is essential. "You also need the support of a really talented data team," she adds.
Of course, teams need a champion. At BIDMC, a well-respected anesthesiologist filled the bill. "He made presentations to anesthesia, nursing, and surgery," says Ross W. Simon, senior management engineer for the office of improvement & innovation and perioperative services at BIDMC. "The message came from the right voice."
Simon helped facilitate the team's work. Another important team member was the supervisor for attendants, who transport blood.
At BIDMC, collaboration on quality improvement (QI) projects starts with a team charter. "It all begins with that," Canacari says. "We know what the opportunity is, what the goals are, and our initial thoughts in terms of addressing it."
The team leaders create the charter, which is shared and adapted as needed the first time the full team meets. For example, with the blood wastage reduction project, the leaders established a goal of 75% reduction, which was confirmed by the entire team. "Having a charter means everyone knows what they are on board for," Canacari says. That's vital because QI projects at BIDMC have a 90-day time frame.
The charter served as an important guide because most of the project work was done outside of the meetings. "If we had tried to do everything in the meetings, it would have taken much longer than 90 days," Canacari says. Instead, weekly meetings served as strategy sessions where the team discussed progress and determined next steps. "Everybody knew their responsibilities for the project when they left the meeting," Canacari says.
Simon summarizes the steps the team followed:
Map out the process. During the second team meeting, a 5 x 20 foot piece of paper and lots of Post-it notes were used to map the process, says Simon. The paper was set up using a "swim lane" approach, which, says Simon, is a flow diagram turned on its side. Each "lane" represented a department or individual responsible for the step—blood bank, attendants, anesthesia, and the OR. "We marked every step of the process and identified any problems with the steps," he says.
Simon cautions that it's important to determine when a process truly starts. For instance, blood wastage can begin with a surgeon unnecessarily ordering prophylactic blood to have available in the OR during a case.
Create an affinity diagram. Similar problems were placed into groups (communication, education, process, preadmission testing, and blood bank) on an affinity diagram. "We then prioritized the groups by impact," says Simon. Priority was assigned by evaluating the impact that each solved group of problems would have on meeting the goal and how difficult it would be to solve each group of problems. "We could then make smart decisions about the order in which we needed to solve each group," he says.
Brainstorm solutions. At future meetings, the team brainstormed solutions to the groups of problems given top priority on the affinity diagram (sidebar below).
The team also used an activity scorecard, which lists tasks, the next activity, the responsible party, and the completion deadline. "This very careful management of activities is why we can keep our timeline for projects very short," Simon notes.
During the meetings, Simon shared an updated performance scorecard, also distributed to upper management, showing the number of units wasted by component type (RBCs, platelets, plasma, and cryoprecipitate). "The scorecard monitors performance of your primary goal," he says.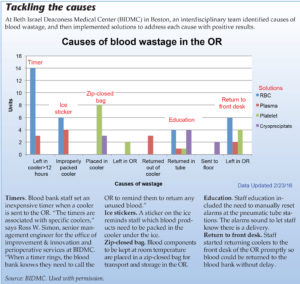 On the campaign trail
Many improvement programs fail because of flawed education campaigns. Wisniewski says that successful campaigns have three components—awareness, acceptance, and action. "If you don't have those three components, you'll fail."
Here's how she applied those concepts in the campaign to reduce blood wastage at UPMC.
Raise awareness. Wisniewski let staff and physicians know how much blood was being wasted. Canacari agrees that data are a powerful way to build awareness. "Have the baseline data that are true and reliable with good data going forward," she says. "When you can demonstrate that something as precious as blood is being wasted, you have a compelling story."
Gain acceptance. "You can tell somebody that they have a problem and tell them what they can do, but if it doesn't resonate with them, you're less likely to have a substantial adoption of the campaign," Wisniewski says, adding that she chose her message with care. "When you tell people that money is being wasted, it really doesn't go to their heart," she says. "What matters to staff are the people they are caring for—the people who are receiving the blood."
That insight prompted Wisniewski to focus on the donors who give blood to save a life. She asked those attending an education program if they had donated blood. After almost everyone raised their hands, she asked, "How would you feel if, as you were going out the door eating your cookie, you saw the clinician throwing the blood in the trash?"
The question prompted people to think about wasted blood in terms of not respecting the donors. "It was a message that resonated with our care providers, whether surgeons, anesthesiologists, nurses, or others," Wisniewski says.
Call to action. Once people accept the need to change, they must have clear steps on what to do. At UMPC, this information was provided through a variety of formats (sidebar at right).
For example, after educating—and gaining support from—key groups such as the chief nursing officers from the hospitals, Wisniewski met with nurse educators. "We took a 'train the trainer approach,' providing them with an online toolkit they could use to reach out to their staff," she says.
The toolkit included a standard PowerPoint presentation for a "lunch and learn" program and an email blast with a video clip. "It was very standardized," Wisniewski says.
Sustain the gain
At BIDMC, Simon says, the scorecard is used as a tool to hold the gains and keep track of sustainment. He continues to share results with the team members and OR leadership. Continuing education also facilitates sustainment. For example, new anesthesia residents learn about blood waste and what actions they need to take to prevent it. "We present the information in a consistent way to ensure consistent practice," Canacari says.
Wisniewski says UPMC continues to maintain low percentages of blood wastage despite growing from 8 to 23 hospitals since the 2014 study. She credits the success to having a "finger on the pulse" of waste and a blood management dashboard that nurse leaders have access to. The dashboard, populated in real time, provides costs associated with wastage.
Wisniewski receives a daily report of any waste. Because the number is low (0 to 5), she can easily follow up with the appropriate nurse leader to determine the reason why.
Wisniewski also follows trends. "If the OR at one hospital is having issues with waste, I can engage with the anesthesiologist to snap it off at the bud."
Taking action
"OR directors are a mighty group of people who can have significant influence on changing behavior among staff," Wisniewski says. Reducing blood waste not only will enable leaders to save money, but also provides a platform to help patients and others understand how precious blood products are. ✥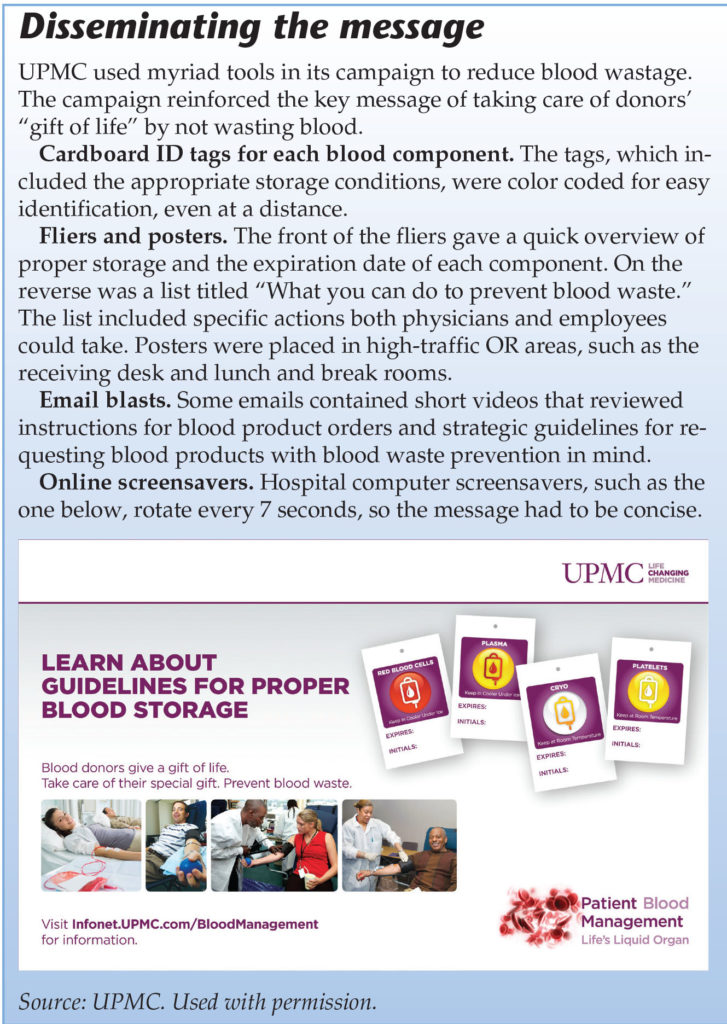 References
AABB. Patient blood management. http://www.aabb.org/Pages/default.aspx
AABB. An AABB white paper: Building a better patient blood management program. 2015.
American Society of Anesthesiologists. Guidelines for perioperative blood management. Anesthesiology. 2015;122:241-275.
Collins R A, Wisniewski M K, Waters J H, et al. Effectiveness of multiple initiatives to reduce blood component wastage. Am J Clin Pathol. 2015;143(3):329-335.
Ferraris V A, Brown J R, Despotis G J, et al. 2011 update to the Society of Thoracic Surgeons and the Society of Cardiovascular Anesthesiologists blood conservation clinical practice guidelines. Ann Thorac Surg. 2011;91:944-982.
Gross I, Seifert B, Hofmann A, et al. Patient blood management in cardiac surgery results in fewer transfusions and better outcome. Transfusion. 2015;55(5):1075-1981.
Simon R W, Canacari E G. A practical guide to applying lean tools and management principles to health care improvement projects. AORN J. 2012;95(1):85-100.
Whitney G M, Woods M C, France D J, et al. Reducing intraoperative red blood cell wastage in a large academic medical center. Transfusion. 2015;55(11):2752-2758.
Woodrum C L, Wisniewski M, Triulzi D J, et al. The effects of a data-driven maximum surgical blood ordering schedule on preoperative blood ordering practices. Hematology. April 25, 2017;1-7. http://www.tandfonline.com/doi/abs/10.1080/10245332.2017.1318336?journalCode=yhem20.