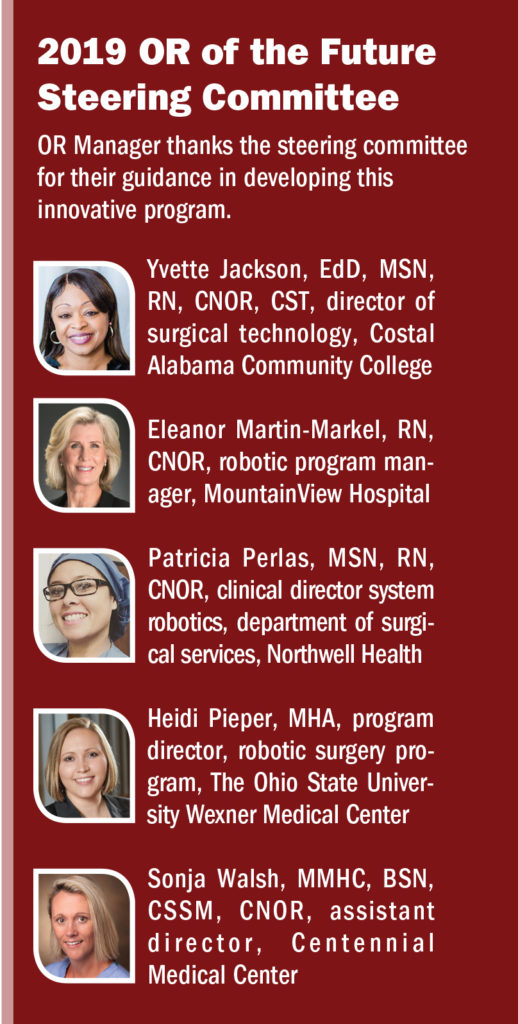 Innovative technology and surgical procedures, including artificial intelligence, will be explored in depth during the OR Manager Conference, September 18-20 in New Orleans. The new OR of the Future gives attendees a unique opportunity to learn through interactive experiences, educational sessions, and discussions with leading experts: product manufacturers as well as steering committee members who have been selected to offer their guidance about how to navigate this new surgical environment.
We recently asked steering committee members about the OR of the Future and what it means to OR leaders.
What does the OR of the Future look like?
Technology is integral to the OR of the Future. For example, Heidi Pieper, MHA, program director of the robotic surgery program at The Ohio State University Wexner Medical Center in Columbus, Ohio, says that the OR of the Future will have improved integration technology, advanced endoscopic and robotic surgical technology, and artificial intelligence.
But the most important goal of the OR of the Future is to facilitate excellent patient outcomes.
"For me, the OR of the Future means an OR that enables us to do better surgery, more quickly and more safely," says Sonja Walsh, MMHC, BSN, CNOR, CSSM, assistant director at Centennial Medical Center in Nashville, Tennessee. She adds that she believes the OR of the Future will have more intuitive equipment to reduce risk to patients and staff.
Melissa Quinlan, global marketing communications manager for Zimmer Biomet in Broadview Heights, Ohio, sees an increased emphasis on connecting the entire episode of care, including preoperative, intraoperative, and postoperative phases. "We [Zimmer Biomet] do this through advanced integrated technology, efficiency tools, and outcomes-based solutions," she says.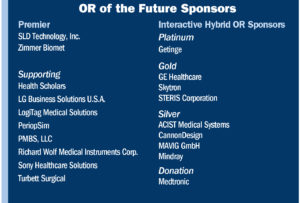 What are the challenges?
The technology associated with the OR of the Future brings challenges for nurse leaders. "Having two different platforms of the same equipment is always a challenge for me," Walsh says. "This creates an environment of varying levels of competence as well as confusion among staff and surgeons."
Walsh also says the ability of different generations to learn new technology and the speed at which they learn is another challenge. Pieper agrees: "Adapting to new technology can be hard, so OR leaders must understand how to lead through change management as well as ensure workflow is not compromised during implementation."
Finding time to cross-train staff so they are comfortable with the equipment can be difficult, says Patricia Perlas, MSN, RN, CNOR, clinical director for system robotics, department of surgical services, at Northwell Health in Manhasset, New York. One solution is to use teams for highly technical procedures, although she says creating specialized teams can be difficult for smaller hospitals with less staff.
How can leaders hire and prepare OR staff?
Hiring staff with the right mind set is key to the success of the OR of the Future. Yvette Jackson, EdD, MSN, RN, CNOR, CST, director of surgical technology at Costal Alabama Community College in Bay Minette, Alabama, says the ideal candidate should be eager, innovative, and humble—as well as a go-getter, pace setter, good listener, and hard worker. "You want someone who is open to change, but willing to mix a little old school with a little new school," she adds. Walsh looks for people who are enthusiastic and show interest in different technologies.
Pieper emphasizes the need to choose staff willing to adapt to change and to learn new equipment and processes. "It's imperative to have forward thinkers who foster curiosity while being patient-centered," she says. Because the number of nurses with OR experience is limited, Perlas says she is willing to consider nurses from other high-technology specialties such as critical care. These nurses can usually adapt quickly to the OR role.
Preparing staff will require combining knowledge and understanding with preparation and training, Jackson notes. "OR staff must be able to think critically and use clear, expedient decision-making when faced with healthcare demands. Common sense will get you going, book sense will keep you going, and critical thinking will get you where you need to be," she says.
Pieper recommends basing the curriculum on desired outcomes. "Professional development design should focus on assessment of baseline knowledge, demonstration of competency, and performance implementation," she says. The Ohio State University uses computer-based learning modules, hands-on instructional training labs, and simulation labs to prepare staff.
Other committee members also view simulation as a valuable tool for preparing staff. "Simulation allows learners to make mistakes, learn from the mistakes, improve their skill sets, and develop and use their critical thinking ability," Jackson says. Walsh adds that learning to troubleshoot technology in a simulation environment reduces anxiety during live cases.
Manufacturers can be a good source for staff education. For example, Zimmer Biomet offers education in person and online. "We provide healthcare professionals with personalized education opportunities online and at our training facilities with the goal of improving clinical outcomes," Quinlan says. "These range from general courses to cadaveric labs and facility tours."
What's the best way to evaluate and fund new technology?
How does an OR leader know when to jump on a new technology and when to wait? Walsh recommends first considering what's currently in the community. "Always find the technology that will distinguish you from your competitors, that no one in your area is offering," she says. The demographics of surgeons' patients are also important; for example, a robot may not provide an advantage over traditional surgery for some procedures.
Committee members agree that involving stakeholders is key. "They hold significant importance and influence in emerging technology adoption and will help in defining the needs, expectations, and interests of the organization," Pieper says. For example, it might not be wise to be an early adopter if a new technology only meets the needs of a few in the organization. Perlas adds that new product committees should carefully evaluate the research behind the proposed technology and whether it is approved by the Food and Drug Administration (FDA). "It's important for the committee to do its homework," she says.
Quinlan suggests looking at products that drive efficiency, such as integrated technology platforms and products designed to reduce OR turnover time. "OR leaders also will want to look for products that make nurses' or surgeons' jobs easier so they can better care for their patients," she says. They should seek out technology that connects the entire perioperative workflow.
As for funding, Walsh says, "the best way to get the equipment needed is always get to the bottom line." That includes looking at revenue and reduced length of stay, and having surgeons who can provide the necessary volume.
Pieper notes that business planning is an ongoing process, not limited to when a specific new technology is being considered. "Regular business planning helps in identifying alignment among surgeons and services, improving patient outcomes, and demonstrating a return on investment through a financial analysis," she says. "If the business plan demonstrates how the growth will improve outcomes and add value, then the OR of the Future will be positioned to obtain more funding for products."
Improving patient outcomes is a key driver behind SLD Technology's laminar airflow system, notes Andrew N. Hall, vice president, sales and marketing. The integration of air, lighting, and ceiling-hung equipment supports helps to reduce schedule, coordination, and site conflicts, he says.
"Utilizing contamination control expertise and emerging technologies, SLD surpasses today's OR design guidelines to bring your OR into the future," Hall adds.
"It's important to know the difference between emerging and existing technology, so you can keep track of what will be or could be useful to your facility," Walsh says. Pieper suggests the Agency for Healthcare Research and Quality and the FDA as resources, and Perlas adds manufacturer representatives to the list.
"The OR of the Future will be a healthcare setting that will revolutionize, transform, and reshape how we provide care," Jackson says. "It will allow healthcare personnel to provide highly skilled and personalized solutions to predictable and unpredictable health issues."
OR leaders can learn more about emerging technology by visiting the Hybrid OR exhibit with the OR of the Future, attending related sessions, and networking with committee members.
Wednesday, September 18
4-5 pm:Town hall on challenges of emerging technologies. Don't miss this Q&A session with OR of the Future Steering Committee members and some OR of the Future manufacturing partners as they explore the challenges that come with technological advancements and how to prepare for and overcome them. They will listen to your concerns and share lessons learned from their experience.
5-6 pm:Continue the discussion during the happy hour with the OR of the Future Steering Committee that immediately follows the town hall.
Thursday, September 19
1-1:30 pm: Dessert with OR of the Future experts. Use this opportunity to learn more about future OR trends.
1-2 pm:Tours of the OR of the Future. Join members of the OR of the Future Steering Committee as they lead you through the inaugural OR of the Future. As liaisons between you and sponsors of the OR of the Future, committee members will introduce you to the product solutions and contacts you're looking for, while guiding discussion and helping to answer your most pressing questions. The first tour will begin at 1 pm, with subsequent tours starting every 15 minutes (last tour leaves at 1:45 pm).
"We hope the OR of the Future will help nurses find ways to address their challenges, and strategies to use in their organizations," Perlas says. ✥
Cynthia Saver, MS, RN, is president of CLS Development, Inc, Columbia, Maryland, which provides editorial services to healthcare publications.