Many healthcare organizations have adopted Lean processes to save money, improve workflow, and reduce waste. But it's not just process change that drives success. It's the individuals—especially those on the front lines—who work together to identify problems and solutions. It's also ongoing efforts to sustain changes once they have been
implemented. At the University of Utah in Salt Lake City, repeated value stream improvement projects—a hallmark of Lean process change—have led to reduced length of stay, readmissions, and costs in select surgical specialties.
"In healthcare we're good at launching and completing isolated projects, but then we tend to go back to business as usual," Robert Pendleton, MD, chief medical quality officer at the University of Utah, told OR Manager. "The idea of the value stream redesign is that we should organize our teams to continually improve how we deliver care for defined cohorts of patients. That requires a series of projects."
A Lean primer
The Lean approach, originally developed by Taiichi Ohno for the Toyota Production System, is fundamentally based on looking at each step of every process and evaluating which ones add value and which are wasteful. It's an approach that can be applied in any industry, but for healthcare, the American Medical Association has established these steps to start a Lean project:
Identify and get buy-in from a high-level champion for the initiative.
Creating an interdisciplinary improvement team to work toward the goal.
Empower frontline staff by involving them in generating ideas.
Choose a small but meaningful starter project so as to build the trust and skills that will be needed for larger projects.
Celebrate the experience, even if the solution isn't successful. It can still be celebrated for the effort behind problem solving and the learning process.
Sustain the improvement by making it a standard of work, and reinforce the new process through team meetings and visual reminders.
Value stream mapping and redesign
Value stream mapping (VSM) is a Lean tool that analyzes process flow through a visual representation of the steps. The University of Utah defines value stream redesign as "a strategy to strengthen our position by curbing patient-level costs, improving outcomes, and preparing us for payment reform."
One impetus for value stream redesign is the unsustainable 5% increase in costs that occur annually in most healthcare organizations like the University of Utah, Dr Pendleton says. Before his tenure as chief quality officer, VSM was not routinely being used there. Today, there are 15 active value stream programs for these areas: colorectal surgery, joint replacement, transcatheter aortic valve replacement (TAVR), coronary artery bypass grafting (CABG), sepsis, pneumonia, cataract, hip fracture, chronic obstructive pulmonary disease (COPD), vaginal delivery, spine surgery, total shoulder replacement, lung resection, and kidney and liver transplant surgery, he says. And the list continues to grow.
"Physicians and most clinicians are familiar with the notion of a care pathway for patients, which tends to focus on what care we deliver," Dr Pendleton explains. "We use the term 'value stream' instead of 'care pathway' because value stream emphasizes how care is delivered."
The evolution from no VSM to several value stream projects required establishing a general framework for all specialties and support from experts in value engineering, quality, information technology, and data and analytics.
"Each care design cohort is very different from one another in terms of clinical providers," Dr Pendleton notes. "We start with a physician leader who has credibility and is clinically active." Physician leaders (synonymous with physician champions) are typically early- to mid-career physicians or even senior fellows in training. These younger physicians are keenly interested in becoming change agent leaders and really understand patient care, he says. With strong support from their medical director, division chief, or department chair, they can be highly successful in leading a value stream redesign project.
In addition to the physician leader, each team includes staff from case management, the OR, and any other areas that touch on the value stream for patients in that particular cohort. Just how each team operationalizes the desired changes will vary from group to group, although several may be aiming for similar goals, according to Dr Pendleton.
For example, some patients previously moved from the OR to the ICU after undergoing TAVR or a kidney transplantation. Now such patients move from the OR to an acute surgical floor. Making this change required education, training, and protocols specific to each patient cohort because of the differences in the type of care they need, he says.
Value stream maturity
It takes a team about three or four value stream improvement projects before they shift from talking about projects to focusing on continuous improvement, Dr Pendleton says. "Our maturity stages are somewhat arbitrary, but they're based on several years of experience in our institution," he notes.
"You need about 10% of a physician leader's time, that is, a good 4 hours per week, at least during the first 6 months," he says. That amount of time diminishes as the team becomes more efficient.
"One of my jobs is trying to constantly figure out how to get better faster," Dr Pendleton says. One goal is to shrink the time for value stream projects from the current 6-month time frame to 16 weeks, a benchmark that comes from Case Western University in Cleveland, Ohio. To do that, it's sometimes necessary to replace one physician leader with another who is more available.
"It's a challenge to balance the value stream work with clinical duties," he acknowledges. "Our leaders have been remarkably resilient in readjusting staffing to get the involvement needed from our OR teams, nursing, pharmacy, and other units. They view this as mission-critical work for us to continue to evolve as a health system."
Each value stream program progresses through three levels of maturity before they are considered fully developed.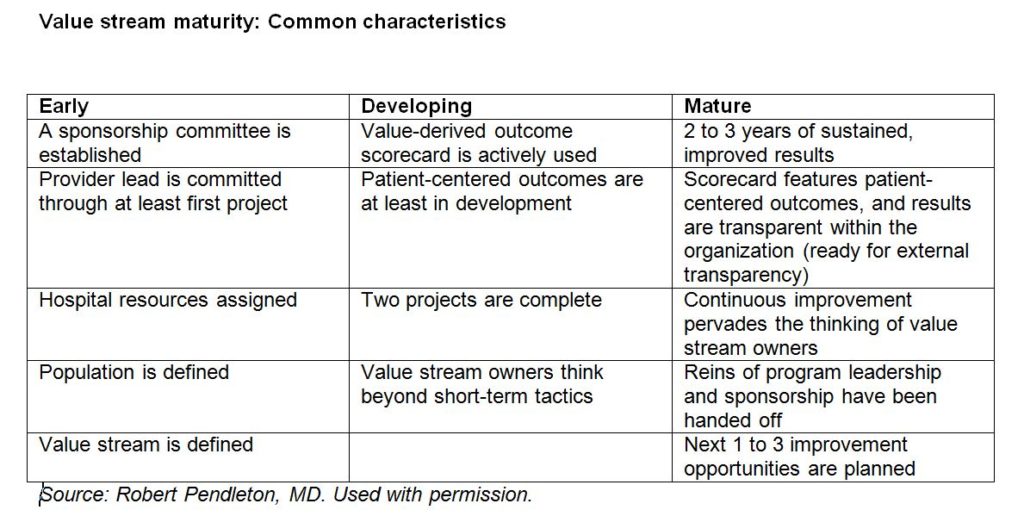 Recognizing results
Each program has a value-driven outcome scorecard that reflects overall cost of care and the individual component cost of care (eg, pharmacy, supply, labor on different units) and outcomes of the patient's value stream, along with team-defined process measures that are put into a "perfect care index," Dr Pendleton says. "That scorecard, which is an aggregate of a particular patient population, is disseminated monthly to the team and periodically to the entire organization. Although it's disseminated in a static form, our platform allows the team members to drill down to an individual patient level for more information," he explains.
"Each month, we highlight the current results of an active project as well as the changes in outcomes and costs across all of the programs," he says. "We also have an online 'community of practice,' which is a way to share improvement work across the entire organization." Information about the project and team members is posted on Accelerate, an open-source platform that is accessible both internally and externally and has around 40,000 visitors each month.
As for incentives, he says, most teams have willingly adopted the value stream approach because it's the "right work," and they have a chance to shine during presentations at annual health system retreats.
Patient participation
A chief outcome of doing value stream work is achieving a better understanding of the patient's journey, according to Dr Pendleton. For example, in the case of joint replacement patients, the team has taken steps to better communicate and prepare patients for postoperative care. "That empowers them to manage and thrive at home versus going to a rehab setting," he notes.
When it comes to postsurgical care after colectomy, the team learned that patients were the best teachers. "Really listening to the patient completely revamped how we were preparing them for fluid management post discharge," he says. "A patient who has learned to manage a new ostomy can communicate what to expect at home in far more practical terms than the clinical team could." This realization led to producing education videos by patients for patients.
From silos to solidarity
Value stream redesign has united teams that were once working in silos. "Aligning everyone with the patient's value stream leads to better teamwork quantified by the results of the project and an informal esprit de corps," Dr Pendleton says.
"We're looking for fundamental changes in how we're caring for patients," he adds. "If we look hard enough, there's always significant opportunity to redesign how we deliver care."
References
Holden R J.  LEAN thinking in emergency departments: A critical review. Ann Emerg Med. 2011;57:265-278.

Gellad Z F, Day T E What is value stream mapping, and how can it help my practice? Am J Gastroenterol. 2016;111(4), 447-448.

Teich S T. LEAN management—The journey from Toyota to healthcare. Rambam Maimonides Med J. Published online April 30, 2013. https://www.ncbi.nlm.nih.gov/pmc/articles/PMC3678835/.

Toussaint J S, Berry L L. The promise of LEAN in health care. Mayo Clin Proc. 2013;88(1):74-82.
---
Editor's note: To learn more, visit the OR Manager store at www.ormanager.com, click on webinars, live training, and choose "A LEAN approach to eliminating waste in the OR." This webinar, presented by Judith Seltzer, MS, BSN, RN, CNOR, surgical clinical director, strategic accounts, at Mölnlycke Health Care, a global company with a US office in Norcross, Georgia; and Perry Wein, MS, RN, CNOR, director of perioperative services at Newport Hospital in Newport, Rhode Island, provides detailed background information about Lean and discusses how Lean methods apply to perioperative settings. See also "Can converting to synthetic surgical gloves lower hospital operating room costs?" (OR Manager, June 2016, 22-26).
Other OR Manager articles on this topic include:
No time to waste: A children's hospital Lean team streamlines its turnover process (January 2015; 19-20)
Lean makes a clean sweep of the OR (November 2015; 21-23)
Take time to make time: Involve your team in closing schedule gaps (August 2015; 21-23)
Using Lean strategies to improve operating room efficiency (January 2014; 18-20)
Time Busters: A Lean team tackles OR turnover (July 2012; 6-8)
Collaboration and creative thinking hold down the number of OR holds (January 2014; 17, 26)