Before COVID-19 emerged as the biggest disruptor of 2020, many ambulatory surgery centers (ASCs) had been growing volume and receiving Medicare reimbursements for an increasing number of procedures. Stopping elective procedures in the spring was a significant setback, especially for smaller, independent facilities, notes a Global Healthcare Advisors (GHA) brief, and resuming surgical patient care has been challenging. However, "there is an expectation of pent-up patient demand that could allow ASCs with the right cost management, business mix, and geographic diversity to quickly recoup lost volumes," notes GHA.
Growth opportunities
Some ASC leaders echo the optimism of GHA. When asked by Becker's ASC Review to share their visions of the next 5 years, 20 ASC owners, administrators, and operators from across the US cited similar trends influencing future growth. Among them:
• The Centers for Medicare & Medicaid Services (CMS) will continue to remove procedures from the inpatient-only list.
• More physicians will become owners in ASCs.
• There will be more industry consolidation, greater efficiency, and lower costs associated with ASCs.
• Technological advances will enable more complex procedures to be performed on an outpatient basis.
Patients see ASCs as safer than hospitals, with the added benefits of shorter stays, minimally invasive techniques, faster recovery, and lower costs. This article offers projections for growth as more cases shift to the outpatient setting.
Shifts in service lines
Data from Sg2, a Vizient subsidiary and healthcare consulting firm headquartered in Skokie, Illinois, indicate that currently about 83% of surgical procedures are performed in the outpatient setting—either hospital outpatient departments (HOPDs), ASCs, or physicians' offices. That outpatient shift may ultimately hit a ceiling at something like 85% to 90% of procedures, but most of the shift has already occurred.
"It is important to remember that further inpatient to outpatient shift will be tempered by increased patient complexity—patients experiencing medical comorbidities like diabetes, hypertension, or obesity. In other words, much of the low-hanging fruit has already been plucked," says Tony Guth, senior director and surgery lead, Sg2.
For example, for general surgery, Sg2 forecasts a 3% decline in inpatient procedures and a 10% increase in outpatient procedures over the next decade. The majority of procedures such as appendectomy, cholecystectomy, and hernia repair are already being performed in the outpatient setting.
Many women's health procedures have shifted from inpatient to the HOPD, but they remain tethered to the hospital setting because OB/GYNs often need to be closely tied to delivery units. Higher risk patients will continue to be treated in hospitals.
"What is more interesting to us is what we call the 'outpatient shuffle' or movement of ambulatory surgery between different outpatient sites of care—HOPD, ASC, or office," says Brianna Motley, principal and Sg2 System of CARE practice lead. "The biggest wild card in this game is payer policy activity driving toward site of service payment parity." According to Sg2, inpatient procedures will decline by 3% over the next decade while more cost-conscious sites of care such as ASCs will see a 25% growth in procedures.
Sg2 anticipates many of these procedures now being done in HOPDs will shift to ASCs or even physicians' offices.
Using 2019 baseline volume, Sg2 breaks down the ASC case mix as follows:
• GI procedures, 40%
• ophthalmology, 20%
• pain management, 15%
• orthopedics, 13%
• ENT, 4%.
The story differs considerably by service line (sidebar, "2019 Procedure Volume by Service Line"). Most of the anticipated out-patient growth over the next decade will occur in services such as orthopedics (25%), followed by ophthalmology (23%), GI (18%), and pain management (10%).
Ever since CMS added total hip arthroplasty and total knee arthroplasty to its list of outpatient procedures, growth in total joint arthroplasty has surged. For 2021, CMS's Outpatient Proposed Payment Rule includes another 266 orthopedic procedures that may be removed from the inpatient-only list. Sg2 forecasts 78% growth in total knee and total hip replacements over the next decade.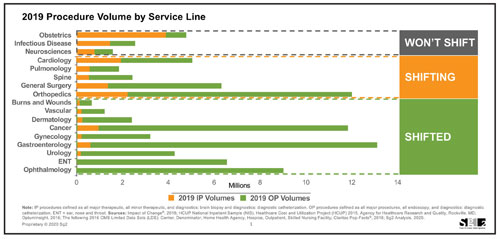 For general surgery, the shift toward antibiotic management for appendectomies may preclude the need for emergency general surgery in a hospital, and minimally invasive approaches for cholecystectomy and hernia repair may make it more feasible to perform these procedures in ASCs.
For OB/GYN, the outpatient shuffle includes procedures being done in physicians' offices. Currently about a fifth of all hysteroscopy and endometrial ablation occurs in the office, partly because vendors facilitate the process by setting up the rooms. Sg2 projects that 98% of pelvic floor procedures will be outpatient within the next decade and expects to see greater interest in urogynecologist-owned ASCs as well as accelerated adoption of more minimally invasive approaches.
For ENT, 55% of outpatient procedures have shifted to physicians' offices and only 17% to ASCs, but a large proportion of those ASC procedures are single commodity procedures such as Eustachian tube placement or removal. Sg2 anticipates that some of those procedures and other sinus/endoscopy procedures will shift to the office.
Many HOPDs continue to garner higher facility fees with grandfathered payment accommodations, which puts strong, if temporary, financial brakes on the continued outpatient shuffle, according to Sg2. Perhaps the best example of this is in GI, where about 35% of colonoscopies are being performed in HOPDs, yet many of those cases are ASC-eligible. Sg2 anticipates a 23% growth in ophthalmology and 18% in GI/endoscopy over the next decade. Whereas 79% of ophthalmology procedures are for Medicare patients, 48% of GI/endoscopy procedures are for commercial patients.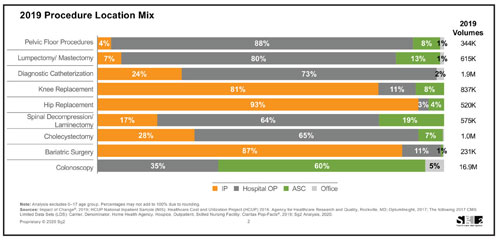 "Follow local payment action to predict further outpatient shuffle—the story will be market specific and subject to local politics," says Guth (sidebar, "2019 Procedure Location Mix").
Sg2 says as smaller ASCs continue to face COVID-19 headwinds, a key strategy is physician engagement in developing these subspecialty programs. First, consider ownership arrangements where physicians will practice. For example, some cases will tend to stay in HOPDs because some surgeons prefer to co-locate their inpatient and outpatient procedures. Indeed, there is still a significant volume (10% to 20%) of high-acuity cases. But physicians who are well versed in minimally invasive techniques may be more comfortable with taking cases off campus.
As COVID-19 has limited procedural activity across the country, emphasis has shifted from capital expenditures for new technological investments to maintenance costs for upkeep of equipment already in ASCs and offices. New types of clean infrastructure and new lab requirements, such as COVID-19 testing for patients and staff, will further challenge ASCs for the foreseeable future.
"We encourage hospitals to extend a helping hand to ASCs in need of assistance—as we fight the COVID-19 battle together, we know unconventional relationships forged in a crisis will extend in mutually beneficial ways into the future," notes Motley.
Cardiovascular procedures
In 2019, CMS's inclusion of "surgery-like procedures" added cardiac catheterization and coronary interventional procedures to the approved list, and in 2020, the addition of certain angioplasty and stenting procedures further expanded the range of cardiovascular services that may be performed in ASCs or officed-based labs (OBLs).
In a recent migration risk assessment case study, leaders from ECG Management Consultants, Seattle, looked at more than 2,300 cardiac cases done in an HOPD and assessed which ones could potentially move to an ASC and when. They identified that 66% of cases were ASC eligible, and it was projected that 77% are at risk to shift in 5 years, and 82% in 10 years. The ability to shift the cardiology cases is highly dependent on the proximity of the ASC and the higher incident rate of comorbidities of cardiology cases, notes I. Naya Kehayes, MPH, principal.
Furthermore, they compiled data that demonstrate significant potential savings when certain procedures are performed in ASCs.
"We looked at 2018 data for common pacemaker, cardiac catheterization, and coronary intervention procedures, which made up about 566,000 Medicare procedures based on 2018 Medicare reporting data," Kehayes says. "When you look at the full volume, this sample of codes represents $3.7 billion in Medicare revenue in HOPDs vs $2.5 billion in the ASC environment—a $1.2 billion savings opportunity to Medicare. At a 10% to 30% shift, there's an opportunity for ASCs to access $247 million to $740 million worth of additional revenue."
However, Kehayes notes that many state rules and regulations and licensing requirements must be met to be in compliance with CMS. "If a state has a rule that limits or prohibits a surgery center from certain cardiology procedures, those procedure types cannot be performed in the ASC there even though they're on the CMS ASC approved list," Kehayes says. "There are also Certificate of Need rules, sometimes specific to cardiovascular services, and specific rules about what can be done in an OBL. It's critical to review state rules and regulations to see if there are any limitations to performing procedures in the ASC or OBL. There may be accreditation requirements as well." (For an in-depth discussion of the distinctions between ASCs and OBLs, see "Cardiology services: The next wave in ASCs?" OR Manager, June 2019, 28-31.)
Reimbursement for procedures performed in ASCs vs OBLs also varies, Kehayes explains. OBLs are considered a "place of service 11," she says, which means the physician is paid a site of service adjusted nonfacility fee, or global reimbursement fee, that includes both professional and technical components of providing the service. There's no separate facility fee billed or reimbursed.
An ASC, by contrast, bills and is reimbursed for facility services, but physicians are reimbursed only for the professional services performed in the ASC. "When you consider a hybrid ASC/OBL model, consider the types of procedures that can be done in both places because it's important to compare the ASC plus professional reimbursement fee vs the global fee in the place of service 11," Kehayes says, adding that some procedures have a higher rate of reimbursement in the OBL than in the ASC.
In its final rule, CMS estimated that moving 5% of coronary interventions from the hospital outpatient setting to ASCs would reduce Medicare payments by about $20 million and total beneficiary copays by about $5 million in calendar year 2020. That was before COVID-19, which has taken a toll on outpatient surgery. But as surgical volumes continue to ramp up and a wider range of procedures are offered in the outpatient setting, there's reason to be optimistic about the future. ✥
References
Dyrda L. 20 bold predictions about the ASC industry over the next 5 years. Beckers ASC Review. August 28, 2020. https://www.beckersasc.com/asc-news/20-bold-predictions-about-the-asc-industry-over-the-next-5-years.html?origin=ASCE&utm_source=ASCE&utm_medium=email&oly_enc_id=9452A8901623D4T.
Dyrda L. 266 orthopedic procedures CMS may remove from the inpatient-only list in 2021. Becker's ASC Review. August 6, 2020. https://www.beckersasc.com/orthopedics-tjr/266-orthopedic-procedures-cms-may-remove-from-the-inpatient-only-list-in-2021.html?origin=ASCE&utm_source=ASCE&utm_medium=email&oly_enc_id=9452A8901623D4T.
Hartzell S, Kehayes N. Navigating the opportunities in cardiology and ASCs. Becker's Cardiology Virtual Forum. September 14, 2020.
Slama L, Vanacore C. Procedure centers of the future: Lower-cost, lower-acuity settings. ASCA 2020 Virtual Conference & Expo.
Toth M, Mitzel D. Coronary Interventions in the ASC: Now What? Does Your Health System Have an Ambulatory Strategy? CathLab Digest. Published online February 5, 2020. https://www.cathlabdigest.com/content/coronary-interventions-asc-now-what-does-your-health-system-have-ambulatory-strategy.