Perioperative services is the key driver of a hospital's performance. More than 68% of better performing hospitals' revenue comes from perioperative services, and 60% of their margin is derived from the OR, according to Alecia Torrance, MBA, BS, RN, CNOR, senior vice president of clinical operations, Surgical Directions, Chicago.
One of the biggest daily challenges for any perioperative services leader is to match staffing with rooms running.
---
Sponsored Message
---
To reduce labor costs, OR managers flex staff off on slow days and increase staffing on busy days, but this approach creates staff dissatisfaction and hampers efficiency.
Some OR managers are eliminating staff flexing by rightsizing the number of rooms running and types of procedures performed per day.
"Developing a predictable and balanced surgery schedule and staffing according to a rational demand are strategies for running an efficient OR," says Torrance. "If you don't get this right, you will not be viable in the future, with value-based purchasing and the Affordable Care Act."
With so many variables to juggle—delayed case starts, emergent cases, unexpected absences, and the like—providing efficient, high-quality patient care can be an uphill climb. Having the support of governance and using some data analysis and predictive modeling tools, however, can make the journey a little less strenuous.
Conflicting perspectives
Getting staffing right is often made harder because of conflicting perspectives, says Torrance.
These include:
• Surgeons want a room when they want it. They don't care what it costs.
• Anesthesiologists want the rooms full between 7 am and 5 pm. They want to do only emergencies after 5 pm and send the rest of their staff home.
• Nurses want the rooms full between 7 am and 3 pm but closed from 11:30 am to noon so they can get lunch. They don't want to be more efficient because the more efficient they are, the more cases they have to do.
• Administration wants the rooms running 24 hours a day with well-paying patients while utilizing staff on straight time.
Where to start
"To get staffing right, you have to first establish block and open scheduling rules through appropriate governance," says Torrance. "Don't try to redesign your staffing until you have these in place; otherwise, you will be doing rework," she says.
If the OR doesn't have a governance structure, Torrance advises setting up a surgical services executive committee (SSEC) with surgeons, nurses, anesthesia providers, and executive hospital leaders.
"This type of structure with buy-in from all of the leadership prevents end-around games, such as when a surgeon asks the OR manager for something, doesn't get the answer he wants, goes to the CEO, and then the OR manager gets a call," says Torrance.
"You have to train the executive leadership to send all of those types of issues to the SSEC," she says.
The SSEC plays an integral role in staffing needs, says Barbara McClenathan, MBA-HCM, BSN, RN, CNOR, senior nurse executive at Surgical Directions.
Among the SSEC's responsibilities are:
• determining the number of rooms to run based on volume and block utilization
• analyzing block utilization per surgeon or group and determining the threshold to maintain a block
• defining block scheduling rules
• setting a date for surgeon sign-up for block times
• setting a date for roll-out of new block times
• developing a monthly surgeon scorecard
• monitoring quarterly utilization metrics with block revisions every 6 months.
The SSEC writes definitions for on-time start, turnover time, and urgent, emergent, and elective procedures. "Without these definitions, you can't determine what your prime time utilization is going to be, or your needs for staffing," says Dhir Desai, senior analyst at Surgical Directions. "For example," he says, "turnover is not surgeon in to surgeon out. It's wheels in to wheels out."
Once definitions are established and all stakeholders are on the same page, data can be provided on a daily basis.
When discussing data with physicians one on one, says Desai, it is important to go over all of the data and steps that were taken. This allows physicians to drive performance and remain competitive with other physicians. However, when addressing the data in a governance body like the SSEC, less is more, he says.
"On your dashboard, the less data you give them, the better it is because the physicians on the committee can't scrutinize data elements they might hold near and dear to their hearts," says Desai (sidebar, p 8).
The SSEC also should have a daily huddle to look at cases 3 to 5 days out and make sure resources are available. Then the schedule becomes predictable, says Torrance. "Once you get the schedule running on a predictable, smooth level and determine the number of rooms you will be running, you can look at staffing."
She recommends using an Operating Room Staffing Plan tool from Surgical Directions to determine the number of staff members needed by examining the OR's productive and nonproductive time. (Access the tool at http://www.surgicaldirections.com/li-library/li-articles; registration necessary.)
The Operating Room Staffing Plan tool is used to perform a staffing analysis based on full-time equivalents (FTEs). Information that has to be input into the tool includes:
• number of rooms running per day of week and the time of day
• number of FTEs per room—can range from 2.0 to 3.0 (AORN recommends 2.5; 3.0 is only recommended in complex cases)
• average amount of vacation, lunch, and break time per FTE
• RN to ST ratio (AORN recommends 70%:30%)
• number of nondirect care staff—ie, management, support staff (AORN recommends one indirect for every two direct care givers, or 33%).
Once the information is input, the tool will help calculate how many FTEs are needed, such as:
• One FTE working 40 hours per week, times 52 weeks will be paid for 2,080 hours per year (some facilities consider 37.5 hours per week, times 52 weeks, which equals 1,950 total paid hours per year).
• Based on a 5-day work week, the number of FTEs per day would be 0.2. A 6-day work week would calculate to 1.2 FTEs per day, and a 7-day work week would be 1.4 FTEs per day.
• For a 7-day work week, every 1 FTE needs an additional 0.4 FTE to staff days off. For example, 10 RN FTEs every day times 1.4 equals 14 FTEs (this is known as the 7 day per week operational rule).
"The tool is customizable," says Torrance. "You can change it, you can input what you want, and it will calculate for you."
Though FTEs are important and an essential part of the budgeting and staffing formula, measuring productivity and room utilization per time of day is required to effectively staff the OR, says McClenathan.
OR managers can determine the number of FTEs per OR, but there are many unknowns, such as:
• How many 8-hour shifts will work?
• How many 10-hour shifts do they need?
• Will 12-hour shifts work?
• How many shifts do they need?
• When should the first shift arrive and the last shift end?
• How many rooms are running?
• How do they justify and defend the positions and requests to administration?
These lingering questions are why current methodologies have not met the needs of OR managers, notes McClenathan. However, McClenathan and Desai have designed a productivity-based staffing tool that calculates not only FTEs, but also productivity.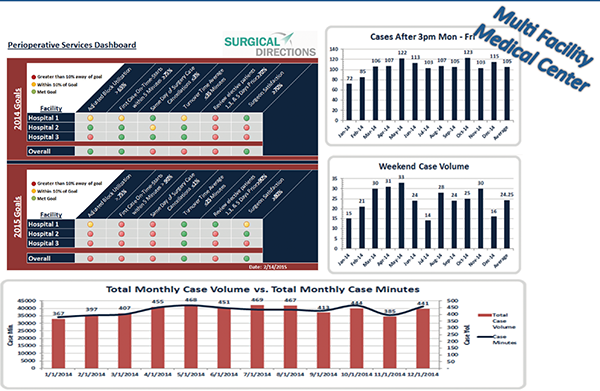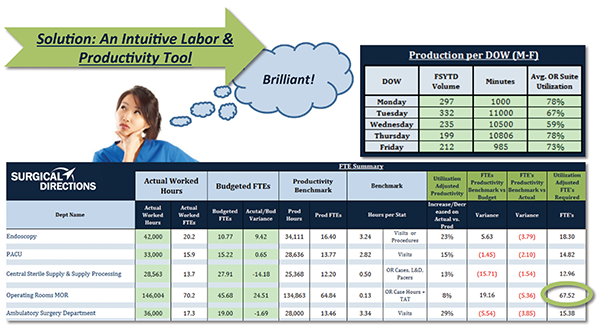 Labor and productivity
Labor and productivity are two parts of a complete relationship, says McClenathan. These two parts have to fit together to determine how many staff members are needed. Also involved in this relationship are predicted and unpredicted variables. Predicted variables include having preoperative testing done before patients are admitted, having surgeons arrive on time, and having vendors bring in implants and equipment 48 hours in advance. Predictable variables can be discussed during the daily huddle, she says.
Unpredictable variables include add-on cases, emergencies, and equipment malfunctions. "We can't predict those, which is why we define percentages to them," she says. For example, a 15% unpredicted variable would mean an 85% prediction that cases are going to run on time and an 85% correct prediction of staffing needs.
The labor and productivity tool allows OR managers to put in current utilization to configure staffing and productivity, and it can do predictive modeling (sidebar above). "For example," says Torrance, "if my current block utilization is 70%, what are the staffing needs, or if utilization is 80% what are my staffing needs?" This information can be used to justify the need for more staff, she says.
On the horizon
On the horizon are predictive modeling tools to determine day by day how many staff are needed to effectively run a productive OR, says Desai. Vanderbilt University Medical Center, Nashville, Tennessee, already has in place such tools for determining the number of rooms to run by day of week. What is needed is a similar tool that takes current blocks and current utilization and calculates new block needs and the staff needed for the new blocks, says Desai. Currently, he says, it takes him about a week to calculate these needs.
"If you had a tool that allowed you to input your current information, and it would do the calculations for you in a matter of minutes to hours, you would really be able to more efficiently run your perioperative services," says Desai.
"The technology is out there," he adds. "We've just got to figure out how to get the information out of electronic medical record systems into a usable format to be able to do that." ✥
Reference
Torrance A, Desai D, McClenathan B. Staffing to demand to improve on-time starts, case length, and turnover times. OR Business Management Conference 2015.

 

 
---
Interested in learning more about business management of the OR? Register for the 2016 OR Business Management Conference! Learn more here.
---