Technology acquisitions require OR leaders to weigh the competing demands of stakeholders—including physicians, nursing staff, the finance department, and patients—and to make sure they address those demands when justifying a new purchase. "New technology can be what's needed to keep competitive in the current environment," says Beth Bozzelli, MBA, RN, CNOR, CSSM, assistant vice president of surgical services for operations at HCA Healthcare, Nashville, Tennessee. "But it has to be the right technology at the right time and at the right price."
In this second of two case studies related to technology acquisition, OR Manager shares advice and strategies from Bozzelli and Phil Jaklich, MS, RN, CNOR, vice president of surgical services, spine, and joint at Sky Ridge Medical Center in Lone Tree, Colorado (see OR Manager, February 2020, 1, 5-8, for Part 1). The two leaders recommend having a clear process and building a business plan based on four key components described below.
A clear process
When making decisions about technology, Bozzelli says it's important to know not only who the stakeholders are, but also what drives them. Examples of motivators include:
• clinical staff: ease of use, patient safety
• team leaders: efficiency, patient safety, storage
• administrators: strategy, goals, performance metrics, staff retention, volume
• anesthesia providers: efficiency, patient safety
• vendors: money, insight into surgeon's perspective, pipeline of product
• patients: outcomes, marketing
• surgeons: efficiency, familiarity, competition
• regulatory staff: patient safety.
Clearly communicated policies and procedures are essential to manage stakeholder expectations. "A common complaint from both surgeons and staff is lack of communication," Bozzelli says. "Be as transparent as you can."
Value analysis teams are typically a vital part of the acquisition process. "Preplanning for the value analysis meeting is key," Jaklich says. He recommends using a template for the request that answers the who, what, why, when, and how related to the new technology. Bozzelli says a premeeting before the value analysis team begins the review process can be invaluable.
OR leaders should plan for that and make sure the right stakeholders are at the meeting. They should also factor in the extent of the review. For example, they may need to build in time for the chief operating officer (COO) to review the request after the value analysis team approves it.
Those involved in making the request should be informed of the purchase decision soon after it's made. In some cases, a leader can note that a rejected request could be revisited in the future. "Be as transparent as you can," Bozzelli says. "If possible, have a plan to get to 'yes,' but be honest if that's unlikely."
Bozzelli and Jaklich recommend incorporating four key components into the acquisition process: strategy, justification, education, and implementation.
Strategy
One of the first questions to ask is: What is the purpose of the new technology? To best answer that, Jaklich says OR leaders must understand future plans for the organization. Sometimes a new technology is important for a service line even if it won't yield immediate financial gains. For example, the sterile processing department may need a new ultrasonic cleaner before an additional robot can be purchased to expand a service line.
"Your population will drive the services that you offer," Jaklich says. Consider the types of patients the hospital serves and the demographics of the community. Sources of demographic information include search engines (search by a city's zip code to obtain population and economic data for the community); hospital, county, and state websites; and the hospital's marketing department.
"You don't have to be responsible for gathering all the information yourself," Bozzelli says. "You can delegate to other stakeholders such as specialty leads for the service line or your supply chain partners."
If the demographics support the new technology, establish both short- and long-term volume goals and determine how to meet those goals. In some cases, the organization may need to create a feeder system for patients. For example, strong connections with the area's emergency medical service is essential for neurology programs that feature technology related to stroke care.
Jaklich suggests establishing midpoints between short- and long-term goals to keep the project on track and to monitor the competition. He reviews state and national data volume trends monthly and quarterly, evaluating goals for each service line. He also examines volume by service line and by surgeon three times a week. He meets with his team on Mondays, with hospital administration on Wednesdays, and with the clinical team on Fridays.
Bozzelli and Jaklich recommend using a SWOT (strengths, weaknesses, opportunities, threats) analysis when considering acquisitions. "A multidisciplinary team needs to conduct the analysis," Bozzelli says. "Look at the big picture as much as possible," Jaklich adds.
The justification needs to provide sufficient detail for reviewers to make an informed decision, with the amount of detail based on who will be conducting the review. For example, the COO will want a succinct summary of the anticipated return on investment from the new technology and the time frame. The nursing team will want to know what service lines will be affected and the projected patient volume so they can anticipate care needs.
The overall proposal should include who will use the technology, whether it's new or is replacing existing technology, any potential patient safety issues (eg, what could happen if the equipment malfunctions), and priority compared to other requests. The financial section should address costs and revenue based on expected patient volume. It's also important to state the net present value, which helps in determining profitability of the project.
Costs include depreciation, training costs, software upgrades, repair costs, warranties, any effect on length of stay, and extra staffing in the room. Facility upgrades and construction costs need to be included as well; Jaklich notes that recently purchased sinks for the sterile processing department were less expensive than the installation costs. Storage is another consideration. "Space is at a premium in the OR, and we don't always think about that," Jaklich says.
Education
Any education related to new technology starts with assessing the needs of surgeons, anesthesia providers, staff, and patients. Jaklich says that education may involve more than how to operate the equipment. For example, a surgeon may anticipate that a new piece of equipment will save 15 minutes of operating time, but that equipment requires an additional 25 minutes of time for setup. In this case, educating the surgeon about the process will help realign expectations.
In addition to educating patients about the new technology, Jaklich suggests asking those who have had the procedure to share their experience on the organization's social media channels.
Be sure to allow enough time for credentialing surgeons and developing staff competencies, Bozzelli says. Your plan should address the questions of who, when, why, how, and where. A "dry run" with the new equipment that includes both the surgeon and the staff may be needed to build staff confidence and reveal issues such as missing support equipment.
Implementation
Implementation includes prioritizing when to start using the new technology. "We all have a lot of competing priorities, from staff, surgeons, ancillary departments, and more," Bozzelli says. Implementation of new technology may be delayed if there are more pressing needs such as an unexpected purchase for failed equipment.
Implementation also requires a solid understanding of the specifications and requirements of the new technology; the vendor is a valuable resource for this information. "Too many times our technology doesn't speak to other technology," Bozzelli says.
OR leaders also have to think about maintenance. Can existing staff handle it, or is a service contract needed? Jaklich recommends checking pricing for the various elements of the contract such as hardware, software, and education. "One option is to build training for your biomedical staff into the purchase contract," Jaklich says. In some cases, Bozzelli adds, it may be beneficial to lease equipment for a year or two before deciding to purchase.
Leaders also need a plan to address how the technology will affect the schedule. Questions to consider include: Will it shorten or lengthen case time? How will it affect turnover time? How will supplies be ordered and obtained? How and when will preference cards be updated?
Bozzelli notes that OR leaders should identify ripple effects, such as how a new technology will affect staffing in other areas. For instance, new hybrid OR technology may require an additional radiology technician, or an increase in patient volume may affect nurse staffing on the surgical unit. It may be necessary to pay for short-term support such as a superuser to help with the initial implementation.
Stakeholders again play a key role in implementation. "You need to have the right people in the room," Jaklich says.
The business plan
The four components come together in the business plan. An effective business plan starts with stating the goal, for example, purchasing equipment to launch a new bariatric center of excellence. That goal has to be backed up by an analysis showing the benefits.
"It's not enough just to say your department needs this," Bozzelli says. "You need to have a compelling argument." For example, a smoke evacuation system may be needed for every case to meet state regulatory requirements.
"If you create a compelling argument, administrators will be your advocate," Jaklich adds. He says that the key elements of the plan are volume and financial projections. "It's helpful to distill that into one page."
All stakeholders should be in the loop when building the plan, including surgeons, anesthesia providers, administrators, staff, surgeons, vendors, and team leaders. Bozzelli and Jaklich outline three phases of a business plan (sidebar below).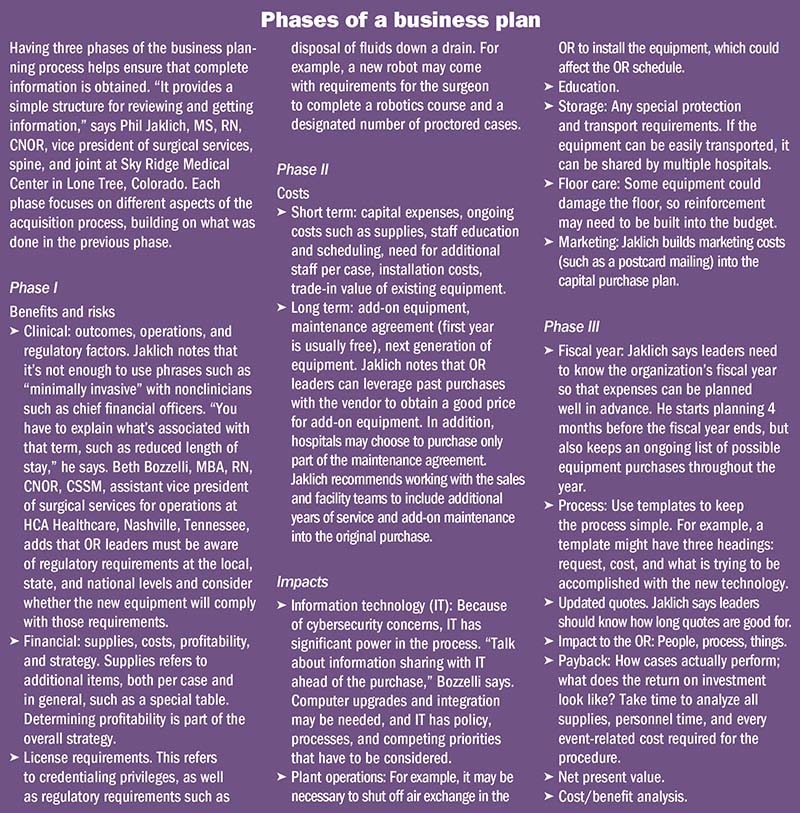 Navigating the process
By involving the right stakeholders, conducting a thorough analysis, and creating a detailed plan, OR leaders can help ensure successful acquisition of new technology. "Being prepared, knowing your resources, presenting a compelling story, and clearly communicating to your stakeholders will help you, as a leader, to navigate the acquisition process," Bozzelli says. ✥
–Cynthia Saver, MS, RN, is president of CLS Development, Inc, Columbia, Maryland, which provides editorial services to healthcare publications.
Reference
Bozzelli B, Jaklich P. Technology acquisitions: Mastering the puzzle to ensure success. OR Manager Conference. 2019.