The 2021 OR Manager Conference in Chicago saw John R. Rosing, MHA, FACHE, executive vice president and principal of Patton Healthcare Consulting, Naperville, Illinois, give his annual update on mastering Joint Commission standards and Centers for Medicare and Medicaid (CMS) regulations.
The past 2 years of COVID-19 restrictions have delayed annual surveys and changed the way they are carried out for many.
Rosing covered not only the COVID-19 influenced survey changes and logistics, but the most frequently cited high-risk findings (sidebar, Top 10 most frequently cited higher-risk accreditation requirements for 2020) and new maternal mortality standards. He also spoke on updates to workplace violence standards and The Joint Commission's upcoming application of diversity, inclusion, and equity issues to standards.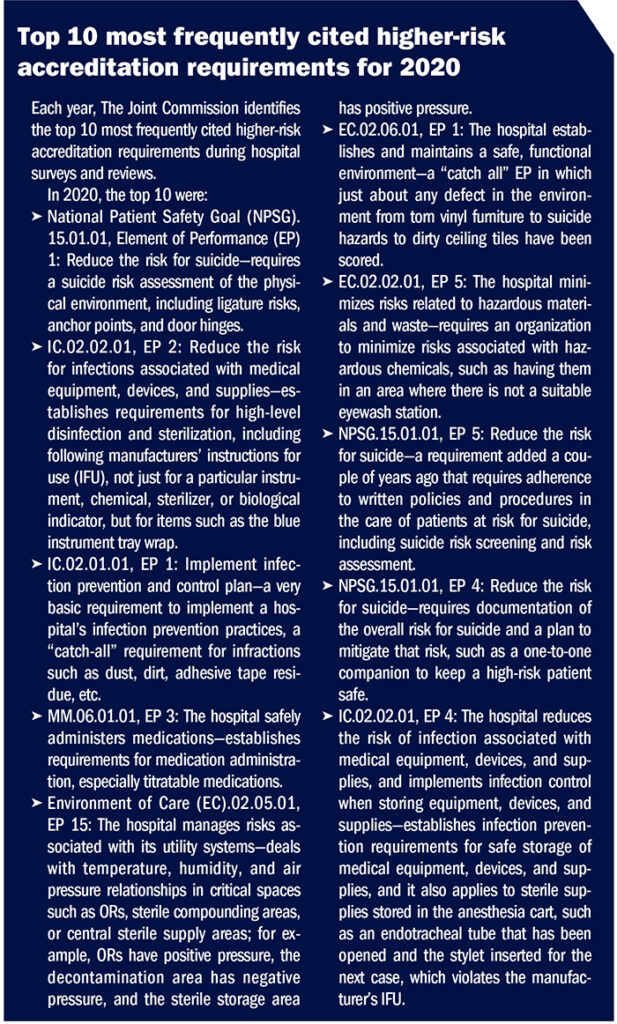 Catching up
The Joint Commission is catching up on its surveys. In the hospital program alone, there was a backlog of 350 surveys for 2020, as of August 2021. Rosing says this is much better than it was 6 months before that. The backlog for all accreditation and certification programs as of August 2021 was 2,900.
Surveyors are trying to catch up, and that is mainly being done regionally. "If you hear they are at a neighboring hospital this week, they may well be at your hospital next week. They try to keep a survey team in a particular location, so be ready if you are due," he says.
There is no specific order to doing surveys—they are based on availability and resources—which means 2021 surveys are being conducted along with those that were due in 2020.
If a facility is surveyed in 2021 that was due in 2020, the next triennial due date will be 2023, reverting to the original prepandemic due date.
"If you are due in 2021, you should certainly be ready; if you are due in 2022 you are likely going to be better matched to your actual due date," says Rosing.
In the past, CMS said deemed facilities had to be surveyed by their anniversary dates. They have relaxed this a bit, he says, but they are catching up.
The Joint Commission is no longer reaching out to facilities before surveys like they did during the height of COVID-19. Therefore, an organization experiencing a surge in COVID-19 cases should contact its account executive for consideration to delay its survey. However, Rosing notes, such requests may not be honored.
As of September 2021, the threshold for delaying a survey was 7.5 new COVID-19 cases per 1,000 in the county in which the hospital is located. Surveyors usually look at the numbers 1 week out, he says. To see what the threshold is by state and county, facilities can go to: https://app.powerbi.com/view?r=eyJrIjoiODNjZmIxZTQtYjg0My00YjhiLTg4YzMtOTZmOTYyZGU5MjllIiwidCI6ImYxMTc3OTkxLTVjOGUtNGNiNy1hZjkzLWM1MWFkNWJlZGUxMSIsImMiOjN9.
Presently, The Joint Commission says facilities that have November and December 2021 anniversary dates will be surveyed in 2022, and The Joint Commission will use October, November, and December anniversary dates to try to catch up on the 2020 surveys.
There are some exceptions though, Rosing notes. He gave the example of a Michigan hospital, of which anniversary was in November 2021 but the hospital was surveyed in the middle of October.
Rosing adds that if a facility's accreditation coordinator has a good relationship with its account representative at The Joint Commission, the account representative may help narrow down a survey date. "They can't tell you, but they can give you a hint that will help in your planning," he says.
Surveyor screening / hybrid surveys
When surveyors arrive, they should be screened for COVID-19 daily like all visitors, and they should be screened again if they visit areas that require additional screening, such as a bone marrow transplant or burn unit, says Rosing.
"You should follow your policy and not give them a short shrift. This is one thing they are testing—whether they are being screened as to your policy and state and local requirements," he says.
The Joint Commission is also doing a pilot study of offsite document reviews. SharePoint software allows a surveyor in the home office to review files and documents at the facility being surveyed. This saves a surveyor from being onsite and saves people from having to sit in close proximity to each other in a conference room.
To participate in a hybrid remote/onsite survey a facility must have a full electronic health record (EHR).
Records that can be included in remote reviews are:
• human resources files
• credentials files
• grievance process and files
• contracted services
• patients with critical tests and/or critical results
• closed records—blood, autopsy, transfer.
"Although offsite reviews are more efficient, CMS is not happy about them, and they are in negotiations with The Joint Commission as to whether they will allow this to continue," says Rosing.
Survey changes / logistics
Infection Control (IC) and Data Use System Tracers are being combined into one session, and usually they try to do it as remotely as possible while still being onsite at a hospital, says Rosing. For example, instead of having 25 people around a conference table, there may now be just 5 with the other 20 in their own offices connected by Microsoft Teams or Zoom. In addition, Emergency Management has been separated back out from the Leadership chapter. The rationale behind these changes is to provide additional time for tracers, he says.
During the preplanning session or opening conference of the survey, the onsite and offsite participants are introduced. Often the surveyors will tell the hospital participants to let them know, for example, if they are not following the hospital's policies, if they do not perform hand hygiene, or if they do not have a mask on correctly.
"They are putting these things out there," says Rosing. "They want the organization to correct them if they are doing something wrong."
Also during the preplanning session, the surveyors will review the post-survey process, and they will want to know which of the 1,135 CMS waivers were in use in the hospital during the pandemic.
"CMS allowed certain requirements to be relaxed in order to facilitate patient care during the Public Health Emergency, and you will have to tell the surveyors which of the waivers were used and the time period they were in use, and which are still in use, if any" he says. "Have a list ready."
Hospital participants can do a slide presentation at the opening of the survey to talk about their challenges during the COVID-19 pandemic; but keep it under 10 minutes, Rosing advises.
Some of the questions surveyors have been asking include:
• How are you getting back to normal?
• How did you communicate with frontline staff about COVID and PPE?
• Did you reprocess masks when there was a shortage?
• Did you create any negative pressure airflows in any areas?
• How did you handle aerosolizing procedures?
• Did you change terminal cleaning of rooms, and how did you train the housekeeping staff?
• How are you screening patients, staff, and all providers?
• What was the most surprising thing that happened?
Rosing notes that there is a vaccine mandate for surveyors, and more than 90% have been vaccinated. However, he says, they are still required to wear a mask; will not enter COVID-19 patient rooms, but they will be on the unit; and will not visit aerosolizing locations. Surveyors are allowed to drive with other surveyors or facility staff.
New Maternal Mortality standards
According to the Centers for Disease Control and Prevention's latest statistics, the US ranks 65th among industrialized nations in maternal deaths.
Effective January 2021, 13 new EPs were added to the Provision of Care, Treatment, and Services (PC) chapter at Standards PC.06.01.01 and PC.06.01.03. They are designed to improve the quality and safety of care for women during all stages of pregnancy and postpartum and focus on prevention, early recognition, and timely treatment for maternal hemorrhage and severe hypertension/preeclampsia.
Rosing notes that these standards were supposed to go into effect in July 2020, but more time was afforded because of the pandemic.
Requirements under PC.06.01.01: Reduce the likelihood of harm related to maternal hemorrhage include:
• Evidence-based assessment tool to determine hemorrhage risk
• Evidence-based procedures for management of hemorrhage during pregnancy and postpartum
• Hemorrhage kit
• Staff education
• Annual drills (a real patient event does not count)
• Case review
• Patient education.
Requirements under PC.06.01.03: Reduce the likelihood of harm related to maternal severe hypertension/preeclampsia include:
• Evidence-based procedures for measuring blood pressure—identification of severe range blood pressures
• Evidence-based procedures for management during pregnancy and postpartum
• Staff education (including in the emergency department)
• Annual drills (a real patient event does not count)
• Case review
• Patient education.
Many hospitals have been following these recommendations for a couple of years because they came out in a draft form, and everyone predicted they would be put in place, Rosing says.
New, revised workplace violence prevention standards
New and revised workplace violence prevention standards become effective January 1, 2022.
A new EP 17, which establishes a requirement to conduct an annual worksite analysis related to an organization's workplace violence prevention program, has been added to EC.02.01.01, which generally sets expectations for managing safety and security risks.
"What they are looking for," says Rosing, "is that you have done an assessment of your risks for workplace violence." He recommends an assessment tool designed by ECRI, titled: "Violence prevention in the healthcare workplace."
In addition, EP 17 establishes a requirement to mitigate or resolve workplace violence safety and security risks based on findings from the annual workplace analysis.
An explanatory note at the bottom of EP 17 helps define the annual analysis as a "proactive analysis of the worksite, an investigation of the hospital's workplace violence incidents, and an analysis of how the program's policies and procedures, training, education, and environmental design reflect best practices and conform to applicable laws and regulations."
Rosing explains that, "in a proactive analysis, you look to redesign how services are provided in advance of a problem in order to make practices safer, and after you implement changes, you will want to re-evaluate to determine if the changes worked as anticipated and things improved, or if you continue to refine the process."
He adds that there is also an existing EC management plan called the safety and/or security plan that requires an annual evaluation and update, and salient points from the workplace violence preventions analysis should be incorporated in it.
There is a minor change to EC.04.01.01, EP 1, which now states that: "The hospital establishes a process(es) for continually monitoring, internally reporting, and investigating—Safety and security incidents involving patients, staff, or others within its facilities, including those related to workplace violence." EP 6 is also modified to now report and investigate—"Safety and security incidents involving patients, staff, or others within its facilities, including those related to workplace violence."
In addition, a new EP 29 specifically on training for workplace violence prevention has been added to HR.01.05.03, which is the existing standard that establishes requirements for education and training. EP 29 requires training for all leaders, staff, and licensed independent practitioners on a facility's workplace violence prevention program at the time of hire, annually, and whenever practices change. The training should include prevention, recognition, response, and reporting of workplace violence, and it must include de-escalation, nonphysical intervention skills, physical intervention techniques, response to emergency incidents, and the reporting process.
"This will likely be a significant, resource-consuming new requirement for many hospitals," Rosing says. "They are going to be looking at how you decide who should have the formal training on de-escalation. You don't have to train the whole workforce, but you have to decide which departments are at risk based on your risk assessment, and you have to show evidence of the training followed by a method to validate competency." This could be done with a true-or-false or multiple-choice type of test in a computer-based learning (CBL) module, he says.
LD.03.01.01, the existing standard for establishing a culture of safety, has a new EP 9, which is to establish a workplace violence prevention program led by a designated individual and developed by a multidisciplinary team to create policies and procedures; a process for reporting and analyzing incidents and trends; a follow-up process for victims and witnesses; and a process for reporting workplace violence incidents to the governing body of the organization.
Workplace violence in healthcare is not new, says Rosing, and many organizations have been tackling this issue before these new standards. The formality of requiring a team and leadership involvement in reporting to the governing body, however, may help strengthen existing programs and expand the process in organizations that have been slower to develop such initiatives, he says.
Diversity, inclusion, and equity
In the coming year, The Joint Commission will be ramping up their standards around the issues of diversity, inclusion, and equity, Rosing says.
In July 2021, The Joint Commission released a new "Quick Safety Issue 60: Understanding the needs of diverse populations in your community." The Quick Safety points out that the COVID-19 pandemic shed additional light on the gaps in healthcare that diverse populations have been experiencing for decades. It provides four strategies and actions to help hospitals and medical centers support their communities:
• An organization's leadership should make equity a strategic priority by leveraging polices and practices that embrace anti-racism, nurturing of partnerships, and professional pipelines within communities.
• A social intervention framework, such as the Centers for Medicare and Medicaid Services Accountable Health Communities model, should be used to help identify needs of patient populations, such as housing instability, difficulty paying utility bills, food insecurity, transportation, and interpersonal violence.
• An organization should create a strategic plan for community outreach, beginning with an understanding of its culture, mission, vision, and values as well as its patient population.
• Organizations should support their local workforces by making an effort to fill entry level positions with people from their communities and provide them with advancement and professional development opportunities.
On November 10, 2021, The Joint Commission released a new Sentinel Event Alert, Issue 64: "Addressing healthcare disparities by improving quality and safety." The Alert summarizes strategies for healthcare and human services organizations as they begin to address healthcare disparities, and it provides examples of successful initiatives already underway.
The Joint Commission quotes the Henry J. Kaiser Family Foundation's definition of healthcare disparities, which is: "differences between groups in health coverage, access to care, and quality of care." Though these disparities are commonly viewed through the lens of race and ethnicity, The Joint Commission says, they can occur across many dimensions—socioeconomic and/or disability status, age, location, gender, and sexual orientation and expression.
Actions suggested by The Joint Commission include:
• Collect and stratify quality and safety performance data specific to the communities an organization serves and develop communication channels.
• Analyze stratified random sampling of data and community feedback to identify healthcare disparities and improvement opportunities.
• Commit to achieving diversity and inclusion as a key step for addressing healthcare disparities.
• Undertake initiatives to correct healthcare disparities by building a business case for sustainability.
The Joint Commission observes that it is "committed to safe, high-quality healthcare for all," and that it requires "accredited organizations to protect the rights of individuals and prohibit discrimination." ORM
—Judith M. Mathias, MA, BS, RN, is the clinical editor of OR Manager. Previously, she was clinical editor of the AORN Journal and a cardiac surgical nurse at Rose Medical Center, Denver, and Massachusetts General Hospital, Boston.
References
Centers for Disease Control and Prevention. Reproductive Health: Pregnancy Mortality Surveillance System.
ECRI. Violence prevention in the healthcare workplace. 2020.
Patton Healthcare Consulting. Joint Commission Top 10 Findings. May 26, 2021.
Patton Healthcare Consulting. Workplace violence standards. The Patton Post. July/August 2021.
The Joint Commission. New and revised workplace violence prevention requirements. Prepublication Standards.
The Joint Commission. Sentinel Event Alert Issue 64: Addressing healthcare disparities by improving quality and safety. November 2021.
The Joint Commission. Top 5 most challenging requirements for 2020. Joint Commission Online. May 12, 2021.
The Joint Commission. Quick Safety Issue 60: Understanding the needs of diverse populations in your community. July 2021.
The Joint Commission. R3 Report. Provision of care, treatment and services standards for maternal safety.