Disruption in the healthcare setting occurs all too often and can be dangerous for patients and staff like. Part 1 of this series discussed some of the reasons behind the volatile behavior of patients or their families and provided a list of organizations with resources for managing the problem (OR Manager, June 2018, 1, 8-10). In Part 2, we take a look at how to prevent disruption and what to do when it occurs.
A team approach
Organizations need a team to address workplace disruption and develop a policy. "The team should be multidisciplinary, have an administrative owner, and reflect the population covered within the policy," says Franchesca Charney, MS, RN, CPHRM, CPHQ, CPPS, CPSO, DFASHRM, director of risk management for the American Society for Healthcare Risk Management (ASHRM). For example, teams working on disruption in the surgical area should include nurses from all perioperative settings, surgical technologists, surgeons, anesthesia providers, transporters, environmental services staff (OR room turnover personnel), and a representative from hospital security.
The organization may also want to consider involving the local police department and having a consumer representative from the community it serves. The team should have an action plan to use as a guide for defining and managing disruption (sidebar below).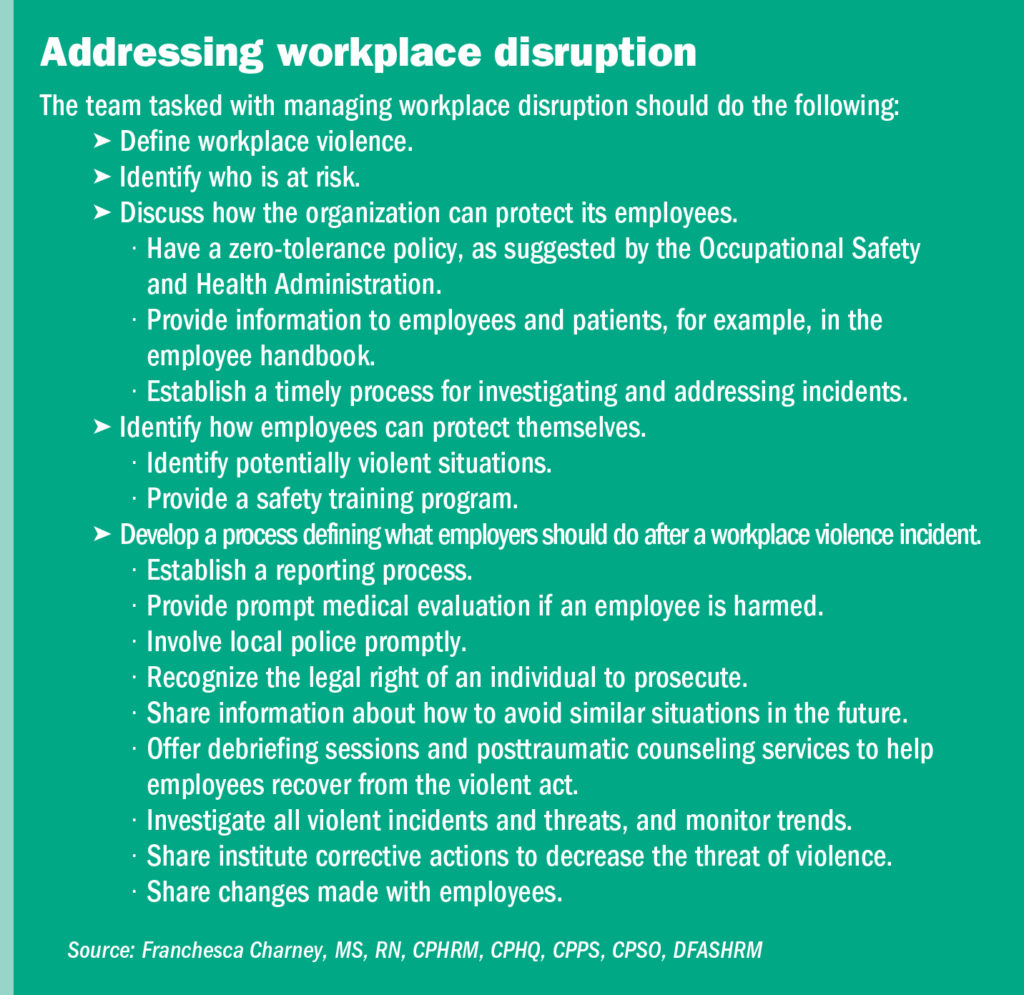 Improving communication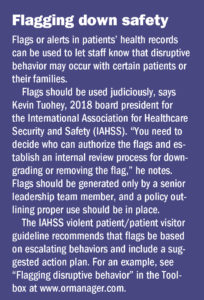 The workplace violence committee at Unity Point, West Des Moines, Iowa, has been successful in improving safety.
"We talk about what we can promote as a group to ensure safety for staff, patients, and families," says Kimberly Brangoccio, LMFT, IAADC, CEAP, manager for employee assistance. Committee members representing staff and leaders from departments across the system's campuses meet on a monthly basis.
One example of the committee's work is the use of red flags in the electronic health record to alert staff that a patient or family member is violent or has a history of violence. "It gives people a head's up," Brangoccio says. Flags are used judiciously to avoid creating unnecessary alarm (sidebar at right). The committee was also instrumental in stocking protective devices such as helmets and protective sleeves for staff to use if a patient is known to be violent.
Another effective Unity Point strategy is the organization-wide safety huddle. Senior leaders and service line executive directors attend a short daily huddle, which begins at 8:30 am and lasts for 15 to 20 minutes.
"We start with 'good catches'—problems that have been prevented—and then identify any safety concerns that have arisen in the past 24 hours," says Jennifer Early, MS, BSN, RN, director of behavioral health. The team discusses patient, visitor, and employee issues. Leaders attending the huddle learn how their colleagues in different areas manage disruption.
"They don't have to reinvent the wheel, and they've got a team of people to help support them," says Kevin Carroll, EdD, FACHE, vice president of behavioral health services at Unity Point. "They don't have to feel bad or guilty because they know disruption is happening everywhere.
Huddles also take place at the unit level, which provides an opportunity for staff to identify potential issues and put a plan in place. For example, a preadmission nurse could alert the OR staff that a patient is exhibiting aggressive tendencies.
Structuring prevention
A calming physical environment can help reduce stress and, in turn, reduce disruptive behavior. Kaye Reiter, MSN, RN, NE-BC, vice president for surgical services and women's health services at Summa Health in Akron, Ohio, anticipates that the new surgical waiting area, scheduled to open in July 2019, will ease current crowding. It will be larger and will contain quiet areas as well as booths for eating and more places for connecting online.
"It's changing the whole makeup of the area," Reiter says. Visitors also will have easy access to meditation areas and places to buy food.
The Joint Commission recommends organizations adapt the physical environment to their individual needs. They may add mobile panic buttons, alarms, keypad access doors, and metal detectors, and perhaps conduct more frequent security rounds.
OR leaders involved in renovation and creating new spaces can take the opportunity to build in staff safety. "If you can design a safe environment, you can operate much more safely after it's built," says Kevin Tuohey, CHPA, 2018 board president for the International Association for Healthcare Security and Safety (IAHSS).
The IAHSS Design Guidelines help hospitals address security concerns. For example, it's best to separate waiting rooms from grief areas. Another suggestion is to have a private room in the waiting area that can become a place of refuge or escape; a staff person could lock the door once inside the room and then go through another door into a safe hallway to escape a volatile individual. "When nurse managers work with architects and engineers, they should also get their security department involved," Tuohey advises.
Partnering with security goes beyond design. "Have your public safety team come to staff meetings and share any information or concerns with them," says Constance Packard, CHPA, executive director of support services and deputy chief for public safety at Boston University Medical Center (BUMC), a level 1 trauma center with a high number of victims of violence. "It's all about collaboration and knowing that you have that partnership and support before an event happens." Packard is president of the board of directors for the IAHSS Foundation.
Prevention also includes assessing for high-risk areas and situations. Although the OR is traditionally thought of as a secure area, risks exist. "When the doors to the OR are open, they are open for a long period of time because of stretchers coming in," Packard says. Staff at BUMC's OR front desk use a video and intercom to ensure that it's safe to open the door. The video feed also streams to security.
Heading off disruption
"It's always about being proactive and not reactive," Packard says. That includes watching for signs of disruptive behavior.
"If we notice [a family member] becoming more agitated, we can take steps to intervene before a problem arises," says Casey Orth-Nebitt, BSN, RN, director of surgery at Buena Vista Regional Center in Storm Lake, Iowa.
Those interventions can range from offering snacks and coffee, to providing a computer tablet to use, to notifying security of a potential problem. The Vocera system allows nurses to click their badges to summon security.
Sometimes nurses have to play detective to determine the true reason for disruptive behavior. For example, Orth-Nebitt says one patient's family member was loudly complaining about the delay in his loved one's surgery and being disrespectful to staff in the waiting area.
"The same-day surgery manager spoke with him and discovered that he just wanted to chat and be entertained," Orth-Nebitt says.
When it comes to patients, defusing tension can be as simple as helping them understand that they have options.
Orth-Nebitt once had a patient scheduled for repair of a fractured finger, and the procedure was late getting started. "He was cursing at the nurses and saying that he wasn't going to do what they were asking him to do," she says. The nurse simply told him that if he wanted to have the procedure, he needed to change clothes. She then closed his door, left the room, and notified her manager and security that she didn't feel safe.
The manager and ultimately the surgeon both spoke with the patient about why he needed to do what was being requested and reiterated that he didn't have to have the surgery that day.
"You have to put the ball in their court by telling them it's their choice because most procedures are elective," Orth-Nebitt says. "We explain why things need to be done and the consequences of not doing something."
Communication begins with the preoperative call; Reiter says that during the call staff explain expected time frames for surgery.
At Buena Vista, nurses can use the electronic health record system to send family members text updates during surgery, choosing from a menu of options that includes when the procedure has started and when to meet the surgeon in the waiting area.
"It's efficient for everyone involved," Orth-Nebitt says. For patients upset by procedure delays, she says something like this: "The doctor is with another patient, and it is taking this amount of time because he wants to do the best job he can. He will also take the time needed with you."
At Summa Health, Reiter says, they allow family to visit patients in the PACU (postanesthesia care unit), which alleviates some concern. She notes that enhanced recovery after surgery protocols help in reducing patient and family anxiety as well.
Margo Halm, PhD, RN, NEA-BC, associate chief executive, nursing research and evidence-based practice at VA Portland HealthCare System in Portland, Oregon, suggests having "rounders" for waiting areas that may be at risk for disruption. For example, the hospital where she previously worked had a rounder for the emergency department (ED) waiting area, which helped in early identification—and resolution—of problems. Packard says that security staff can also be asked to round if trouble is anticipated.
Training
One of the most important steps organizations can take to address disruptive behavior is to provide staff education. Halm, who has analyzed the effectiveness of aggression management education for acute-care nurses, notes that benefits of education include improvement in knowledge, skills, and confidence related to aggression management, as well as increased reporting and some reduction in the incidence and severity of workplace violence.
Halm says education should be tailored to the specific patient population and historic trends. For example, a children's hospital with a history of substance misuse among parents would have different needs from a hospital with a surgical patient population consisting of older people with a high incidence of dementia.
Charney adds that although the OR is a more secure area than other parts of a facility, preadmission, registration, and preoperative areas are at higher risk of disruption.
Education should include both didactic material and application through the use of case studies (sidebar below). There's no need to reinvent the wheel by creating a curriculum from scratch. Leaders can turn to companies that specialize in this type of training. For a fee, these companies provide initial education and periodic refresher courses. In the interim, education should be provided if an event occurs.
OR leaders can also turn to resources such as the ASHRM toolkit, which includes a proactive assessment of an organization's current process and opportunities to improve, and a list of de-escalation tips (https://www.jointcommission.org/assets/1/6/CPI-s-Top-10-De-Escalation-Tips_revised-01-18-17.pdf).
De-escalation techniques include what Packard refers to as "tactical pauses"—slowing the conversation so that the other person can think, and, if necessary, the staff person can escape the situation.
Unity Point is in the midst of implementing a 1-day course called Management of Aggressive Behavior, which all staff will complete over the next 2 years.
"It teaches them to pay attention to their surroundings, how to de-escalate people verbally, and to know safety precautions, including when to call the public safety officer [security]," Early says. Volunteers in the waiting areas also receive training, although it is less in-depth than what staff receive.
Halm acknowledges that getting funding for education can be problematic, but some data analysis can help justify the expense: "[Leaders should] take a hard look at their environment, risk management, and data or stories about how violence is increasing in their institutions."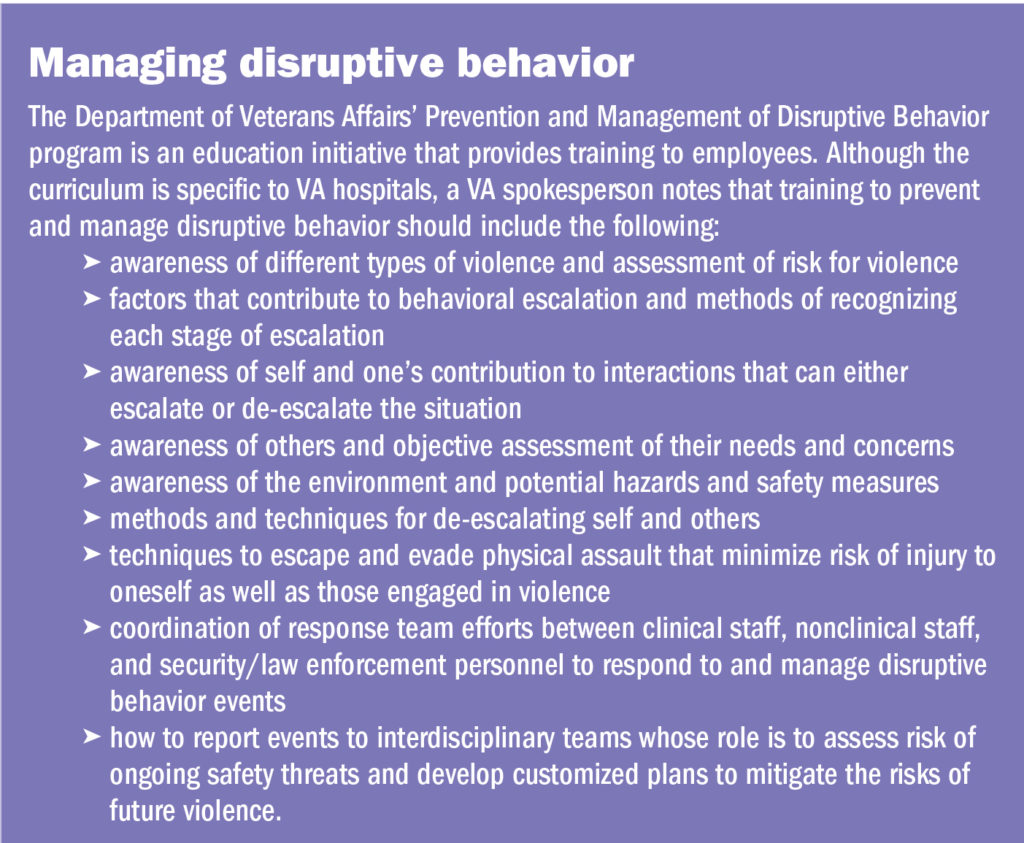 Changing attitudes
In her analysis, Halm found that education didn't change nurses' attitudes toward aggression. She attributes the lack of change to preformed attitudes, biases, and fears that shape people's perspectives, as well as the clinical environment. Another factor is how experienced the nurse is with addressing violence; for instance, nurses in the ED are likely to feel more comfortable and confident than nurses on an obstetrical unit. In addition, nurses tend to be more forgiving if the behavior can be attributed to a disease.
Although research suggests that the ability to feel empathy for the aggressor is key to effectively managing a disruptive situation, Halm says it can be challenging to develop that empathy. She recommends storytelling as a way to help people shift their points of view, so they are better prepared to act when an event occurs.
"Try to feel empathy by being mindful, nonjudgmental, and objective," Halm says. "Don't take [the behavior] personally, and try to put yourself in the other person's shoes." The goal is to understand the root cause of the behavior and what the person's unmet need is. "If we can understand what the person is trying to communicate and what unmet need is there, we may be able to de-escalate the situation," she says.
When more than talking is needed
What if a staff member feels he or she needs to leave because of potential harm? To extradite themselves from this type of situation, staff can say, "I want to help you; I'm going to get form 9," and leave the room.
"There is no form 9," Packard says. "But it allows the person to think you are helping them in some way and lets you leave the room."
Another tool is the app My-EOP (emergency operation plan). This app can be customized with information from a hospital's organization plan so that staff can access the information from a smartphone.
Family members who are persistently disruptive are typically escorted out of the hospital by security. "You can't ban them forever because it's a public hospital and they might have to go to the emergency department," Brangoccio says. Public safety supervisors at BUMC can enter a comprehensive care plan alert if security should be called when a patient or family member enters the facility.
Employees or others who are injured need immediate medical attention. Complete documentation is essential. "Include behavioral information regarding the patient or family," Charney says. "Quoting actual language or threats is helpful [along with whether] law enforcement becomes involved."
A thorough investigation is essential to determine what should happen next. "Risk management staff need to be involved in possible next steps, which can include a cease and desist letter, a trespassing notice, or other actions," Charney says, but adds that organizations have to consider the Emergency Medical Treatment and Active Labor Act, which prevents patient "dumping." In addition, some state and practice guidelines address required notification of threats, and risk management staff will be helpful with that as well.
Safety first
"It's a balance between keeping employees safe and understanding that patients and families are going through rough times and may have a lot of issues," Carroll says. That's why it's important for staff to facilitate referrals as appropriate, particularly when substance misuse is involved. "Addiction is an illness, and people can recover from it," Early says. "We have to deal with the behaviors, but we don't want to be judgmental." ✥
References
Halm M. Aggression management for acute care nurses: What's the evidence? Am J Crit Care. 2017;26(6):504-508.

International Association for Healthcare Security and Safety. Security Design Guidelines for Healthcare Facilities. 2016.

International Association for Healthcare Security and Safety. Violent patient/patient visitor management. 2018. https://c.ymcdn.com/sites/iahss.site-ym.com/resource/collection/21FD11D9-3808-4A9A-B16A-3CFB29BC93E6/05.03_Violent_Patient_Management__.pdf.

The Joint Commission. Sentinel event alert 59: Physical and verbal violence against health care workers. 2018. https://www.jointcommission.org/sea_issue_59/.