Disruption in the perioperative setting occurs across a continuum ranging from verbal outbursts to physical violence.
"We live in an increasingly violent society, and we need to take measures to educate and prepare nurses and other team members to be safe," says Margo Halm, PhD, RN, NEA-BC, associate chief executive, nursing research and evidence-based practice at VA Portland HealthCare System in Portland, Oregon. Halm has analyzed the effectiveness of aggression management education for acute-care nurses.
"It's no longer an ED [emergency department] issue; it's an inpatient unit issue, it's an oncology issue, and it's an OR issue," adds Kevin Tuohey, CHPA, 2018 board president for the International Association for Healthcare Security and Safety (IAHSS).
Some statistics are alarming:
• Healthcare workers are 20% more likely than other workers to be victims of workplace violence, according to the National Crime Victimization Survey.
• An American Nurses Association survey found that 25% of nurses have been physically assaulted by a patient or a patient's family member.
Unfortunately, underreporting is common, often because clinicians feel that these incidents are "part of the job." Yet disruption and violence take a high toll, including low staff morale and high turnover.
Recent actions taken to address such incidents include the Joint Commission's Sentinel Event Alert 59: Physical and verbal violence against healthcare workers and the Violent patient/patient visitor management guideline, from the IAHSS, both released in April 2018 (sidebar below).
By understanding the issue and taking steps suggested by the Joint Commission, the IAHSS, and other organizations, OR leaders can protect patients, staff, and themselves from harm. Part one of this two-part series focuses on the depth of the problem and the organization's role in addressing it.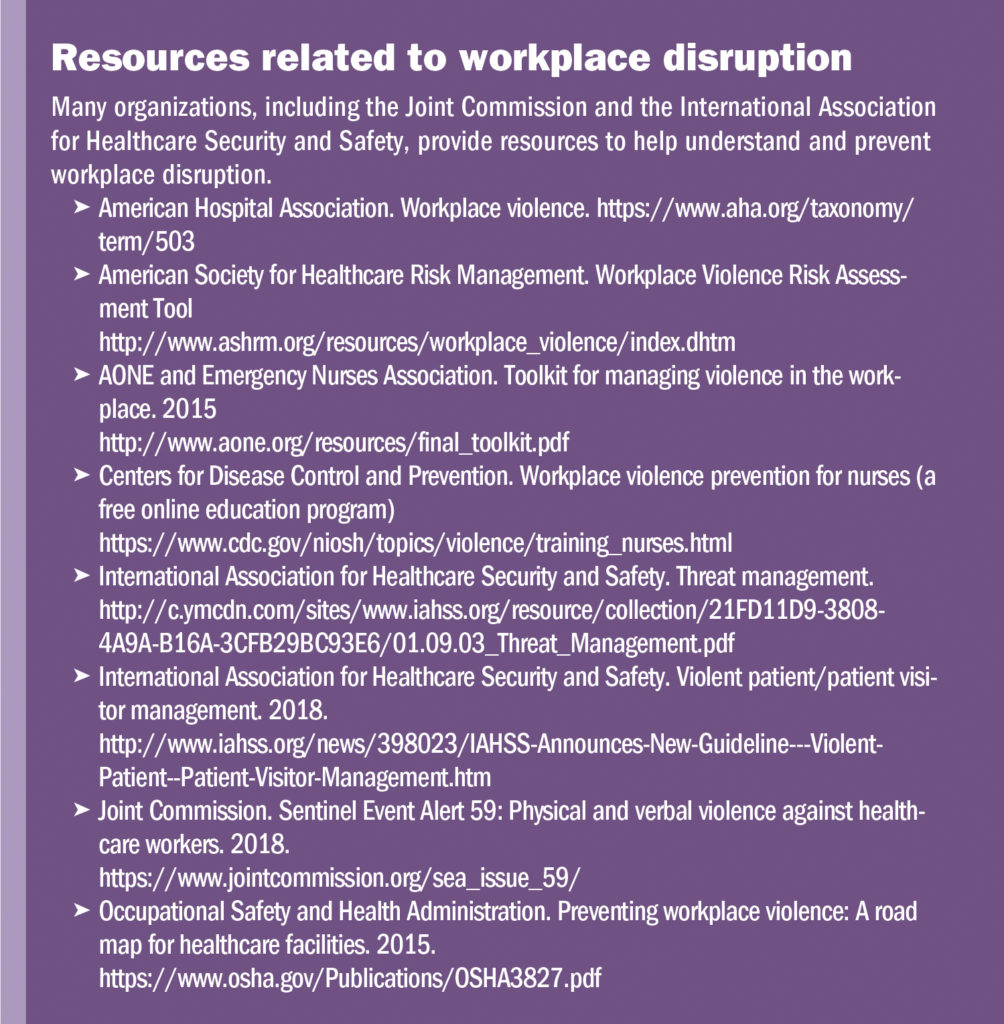 An increasing problem
While a patient at an ambulatory surgery center (ASC) waits for her procedure, her husband, who has a history of alcohol misuse and intimate partner violence, arrives and demands to see her. When told his wife doesn't want to see him, the husband becomes verbally disruptive. Security is called to escort him out of the ASC. The event prompts management to install security cameras and start requiring a passcode to enter the center.
This experience, shared by Mary Jo Steiert, BSN, RN, director of nurses at Lowry Surgery Center in Denver, is one small example of the problems disruptive patients and families can cause OR leaders and staff.
"There's no doubt in my mind that the days of hospitals being a little sacrosanct are over," Tuohey says. "People are much more prone to bring their emotions, their anger, and their violence into these places like they didn't used to do 20 years ago." Another shift has been hospitals' willingness to welcome family members around the clock.
These factors, along with the opioid epidemic, may be fueling an increase in disruption. "From working with frontline nurses and hearing their stories, I can say that they are feeling that there is more disruption in recent years," Halm says. Results from a 2016 survey conducted by Health Facilities Management and the American Society for Healthcare Engineering support that perception:
• 75% of respondents said that maintaining security had become more challenging in the past 2 years.
• 78% of responding hospitals conduct security risks at least annually, and 97% have workplace violence policies.
Statistics specifically related to disruptive patients and families are hard to come by. Kevin Carroll, EdD, FACHE, vice president of behavioral health services at Unity Point, West Des Moines, Iowa, notes that one reason for the uptick may be that people are now encouraged to report these types of problems. "We're just much more open now about the struggles that departments face," he says. "People feel more comfortable reporting things verbally and through the computer tracking system we use."
Most experts say incidents and reporting of incidences have increased.
Sources of disruption
The Joint Commission's Sentinel Event Alert summarizes factors associated with healthcare violence, including:
• altered mental status associated with dementia, delirium, substance intoxication, or decompensated mental illness
• patients in police custody
• being given "bad news" about a diagnosis
• gang activity
• domestic disputes among patients or visitors
• presence of firearms or other weapons
• understaffing, especially during mealtimes and visiting hours
• lack of organizational policies and training for security and staff to recognize and de-escalate hostile and assaultive behaviors from patients, clients, visitors, or staff
• long wait times or crowding.
That last factor can be a particular problem for the OR because of the number of people waiting for their loved ones. "People used to bring just one family member, but now it's often a large group—as many as 10 people," says Kaye Reiter, MSN, RN, NE-BC, vice president for surgical services and women's health services at Summa Health in Akron, Ohio. Reiter attributes part of the increase to the rise of outpatient surgery. During the preoperative call, staff encourage patients to have a limited number of people accompany them, but patients don't always do this.
More people can lead to more problems and more noise. "It can become like a family reunion, with people even bringing in pizza because the cafeteria is far away [from the waiting area]," Reiter says, adding that negative family dynamics can also erupt into loud arguments. Children, unused to sitting still for long periods of time, can become loud and disruptive.
An organizational responsibility
The Occupational Safety and Health Administration (OSHA), the states, the Joint Commission, and safety associations have weighed in about the responsibility of organizations to protect employees.
Franchesca Charney, MS, RN, CPHRM, CPHQ, CPPS, CPSO, DFASHRM, director of risk management for the American Society for Healthcare Risk Management, says that although OSHA has no specific standard related to workplace violence, the General Duty Clause 5(a)(1) of the Occupational Safety and Health Act of 1970 states employers need to provide employees with a place of employment that is "free from recognized hazards that are causing or are likely to cause death or serious harm."
According to the OSHA website, the courts have interpreted the general duty clause to mean that an "employer has a legal obligation to provide a workplace free of conditions or activities that either the employer or industry recognizes as hazardous and that cause, or are likely to cause, death or serious physician harm to employees when there is a feasible method to abate the hazard." Therefore, employers who have experienced threats or workplace violence, which certainly would include hospitals and ASCs, need to, according to OSHA, "implement a workplace violence prevention program combined with training, engineering controls, and administrative controls."
OSHA has an injury tracking system where covered employers must report incidents. (For more information, see https://www.osha.gov/injuryreporting/index.html.) In addition, organizations can submit workplace violence data to the National Institute for Occupational Safety and Health's voluntary Occupational Health Safety Network and receive reports customized to their facilities.
OR leaders need to be aware of any state requirements related to workplace violence prevention programs. For example, state laws in Washington, New York, New Jersey, and Connecticut require employers to provide workplace violence education. California's law, effective April 2018, was the first to require hospitals to have a comprehensive plan to protect clinicians from workplace violence.
Joint Commission standards in several areas (leadership, environment of care, emergency management, performance improvement, rights and responsibilities of the individual, and provision of care, treatment, and services) address workplace violence. A list can be found in the Sentinel Event Alert.
The IAHSS has collaborated with the Emergency Nurses Association and the American Organization of Nurse Executives (AONE), which led to the development of guidelines including threat management, and the most recent one on managing violent behavior.
The AONE and Emergency Nurses Association Toolkit for Mitigating Violence in the Workplace says the following five focus areas are critical to a successful workplace violence prevention program:
• Necessary foundational behaviors, including respectful communication and mutual respect.
• Essential elements of a zero-tolerance policy, including a code of conduct that defines and manages disruptive or inappropriate behavior by all staff, healthcare providers, and administrators.
• Ensuring ownership and accountability, including developing institutional and individual response protocols.
• Proper training and education, including evidence-based training in violence recognition and mitigation such as de-escalation techniques.
• Outcome metrics, including tracking the nature and number of incidents institution-wide.
Recommendations from the Joint Commission's Sentinel Event Alert confirm this approach and emphasize the importance of reporting incidents, including verbal abuse and attempted assaults where no injury occurred.
"Nothing can guarantee that an employee will not become a victim of workplace violence, but knowing your risk, mitigating that risk, educating employees about the established process against violence, and having a culture that does not tolerate violence or poor behavior will decrease its likelihood of escalation of harm or death from a violent act," Charney says.
in the second part of this two-part series, OR Manager will explore steps organizations can take to protect patients, staff, and visitors. ✥
References
Burmahl B, Morgan J, Hoppszallern S. Hospital security plans stress prevention. Health Facilities Management. 2016. https://www.hfmmagazine.com/articles/2431-hospital-security-survey.

Halm M. Aggression management for acute care nurses: What's the evidence? Am J Crit Care. 2017;26(6):504-508.

Occupational Safety and Health Administration. Workplace violence: enforcement. https://www.osha.gov/SLTC/workplaceviolence/standards.html.