Though long fasting before a surgical procedure is tied to increased patient risks, the outdated guideline of NPO after midnight continues to be practiced by many healthcare organizations.
In 1999, the American Society of Anesthesiologists (ASA) revised their fasting guidelines to clear liquids up to 2 hours before surgery and solid food up to 8 hours for healthy patients having elective procedures (ASA Class I & II). The ASA reviewed the guidelines again in 2010 and 2015 without any further modifications.
Despite the new guidelines, however, transitioning from this entrenched "Sacred Cow" to evidence-based practice has been met with many barriers.
---
Sponsored Message
---
Two years ago, perioperative leaders at Monadnock Community Hospital, a critical access hospital in Peterborough, New Hampshire, with five ORs, decided to put this Sacred Cow out to pasture.
To fast or not to fast
After working at two large Boston hospitals where the accepted practice was NPO after midnight, John Poillucci, MSN, RN, CNML, CNOR, became director of perioperative services at Monadnock. He wasn't there long before the manager of perioperative services, Christine F. Howe, BSN, RN, SDS, approached him about changing NPO times for surgical patients.
Howe explained that long fasting times are associated with:
• aspiration
• hypoglycemia
• dehydration and thirst
• postoperative nausea and vomiting
• patient discomfort
• increased anxiety
• hunger
• malaise.
"My concern came about because we had so many endoscopy patients who were coming in dehydrated," says Howe. "Some had bad migraine headaches, some were very nauseated, and they all felt terrible."
She says it was common to bring patients into the preoperative area early from the waiting room because they felt faint. Most had been fasting an average of 12 to 17 hours.
Changing practice
Howe showed Poillucci recent studies on the benefits of shorter fasting times and the new ASA recommendations. "There was a lot of evidence out there to support shorter fasts, but many of the studies were done overseas. There's been very little research done in the US," Howe notes.
"I looked at the evidence and gave her the go ahead, but I cautioned her that she had better be passionate about making these changes because she was going to get a lot of pushback from anesthesiologists and surgeons," Poillucci told OR Manager.
Howe approached the anesthesiologists first. Much to her surprise, they agreed with the new recommendations, and the chief of anesthesiology gave her "his blessing" to move forward with her plan.
Her biggest challenge was with the surgeons. Their fear was that if a patient cancelled on the day of surgery, the to-follow patient would not have been NPO long enough to move up in the schedule.
However, Howe says, they found that patients didn't typically cancel at the last minute, and even if they did, the next patient would still be NPO long enough to move up.
The new process would allow patients to drink clear liquids up to 2 hours before arrival, and the patients had to arrive 1 hour before the procedure.
"Another concern with shorter fasting times was risk of aspiration," says Poillucci. "However," he says, "after reviewing the literature, we found that aspiration is extremely rare, and when it does happen, it's not as big a problem as many believe."
In addition, the evidence showed that patients who are hydrated have a lower gastric pH and better gastric emptying, he says, "so it is much better to be hydrated than dehydrated before surgery."
After the surgeons were reassured, Howe met with the preoperative nurses and educated them on the importance of hydration and the shorter fasting times. The preoperative nurses do the preoperative patient interviews, 90% of which are telephone interviews. She also educated nurses in the surgeons' offices on the new practice.
The preoperative nurses started educating outpatients during the preoperative interviews on the effects of dehydration and the benefits of hydration. The nurses also told the patients the exact time they should stop drinking clear liquids, and they wrote this time down on the booking schedule.
The new fasting guidelines also apply to inpatients. Howe met with the nurse director of the med-surg unit and did some in-services on the new practice at staff meetings.
"They were all very excited," says Howe. "Many of them were new grads who knew about the recommendations for shorter fasting times and wanted to start implementing them."
Shorter fasting times achieved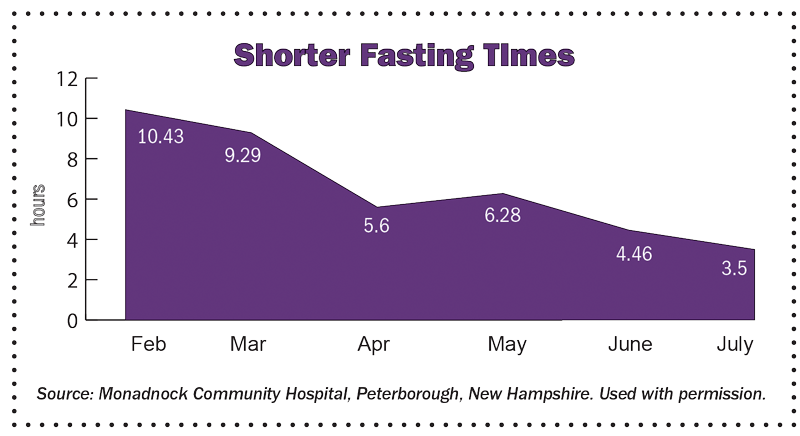 The preoperative hydration initiative was started in February 2018, and within 6 months, the average preoperative fasting time fell from 10.43 hours to 3.5 hours (sidebar at right):
• February 10.43
• March 9.29
• April 5.6
• May 6.28
• June 4.46
• July 3.5.
"We have had great support from our anesthesia personnel, and also the surgeons have voiced few complaints," says Howe. The biggest problem has been with the patients who refuse to eat or drink anything after dinner the night before. They will say they didn't hear the instructions to drink up to 2 hours before the procedure. "This is one of the biggest drawbacks of doing the preoperative interview by phone; the patients don't hear or remember everything," she says.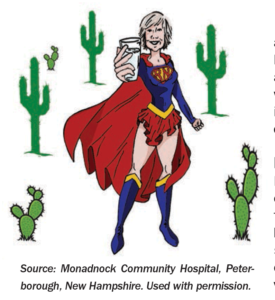 "We have considered putting together a brochure on the new practice, but we have been pretty successful just with talking to our patients. There are always outliers," says Poillucci.
He noted that although he can't correlate the two, the patient satisfaction scores have gone up significantly since they started the shorter fasting times. "I think hydrated patients are happier patients, especially those who drink coffee, and we have a much easier time starting IVs because the patients are hydrated," he says.
Howe also presented the new practice to the board and administrators and had very positive feedback.
In addition, Poillucci says, to get the attention of nurses and physicians, they had buttons made with Howe depicted as "Super Chris" holding a glass of water. "It was eye-catching, a good talking point, and a great way to start a conversation about hydration," he says.
Next steps
Education for patients, families, and office staff about the benefits of hydration is ongoing, says Howe. She and Poillucci plan to begin a randomized single-blind study of the effects of preoperative complex carbohydrate drinks versus water loading in 2019. ✥
References
Aguilar-Nascimento J E, Almeida Dias A L, Dock-Nascimento D B, et al. Actual preoperative fasting time in Brazilian hospitals: the BIGFAST multicenter study. Ther Clin Risk Manag. 2014;10:107-112.
American Society of Anesthesiologists. Practice guidelines for preoperative fasting and the use of pharmacologic agents to reduce the risk of pulmonary aspiration: Application to healthy patients undergoing elective procedures. Anesthesiology 2017;126:376-393.
Dalal K S, Rajwade D, Suchak R. Nil per oral after midnight: Is it necessary for clear fluids? Indian J Anaesth. 2010;54:445–447.
Howe C, Poillucci J. Stop the insanity, stop the dehydration. Poster Session. OR Manager Conference 2018.
Munsterman C, Strauss P. Early rehydration in surgical patients with prolonged fasting decreases postoperative nausea and vomiting. J PeriAnesthesia Nurs. 2017;33:626-631.
Yoshimura S, Fujita Y, Hirate H, et al. A short period of fasting before surgery conserves basal metabolism and suppresses catabolism according to indirect calorimetry performed under general anesthesia. J Anesthes. 2015;29:453-456.