Demand for interim executive leadership services in 2018 increased by 113%, according to a 2019 Nurse Leader article. "We are experiencing a gap for qualified and trained nursing leaders at all levels, but especially the chief nursing officer level," says Ila Minnick, MS, BSN, RN, president, Interim Leadership Associates. "Because it can take up to 6 months or longer to hire a permanent leader, interims who can fill that role, maintain momentum, and keep the organization moving forward are of great value."
Given the pending retirements of many surgical services directors, lack of available replacements, and limited succession planning, some facilities turn to interim nurse leaders to provide short-term, temporary services while a replacement is sought for a permanent position. The interim leader will typically lead staff through a specific project, serve as a change agent, and provide coaching and mentoring.
In Minnick's experience, when smaller hospitals merge with a larger organization, the interim needs for that organization may decrease because the larger organization's leaders will assume more responsibility.
Because of this trend, the need for interims has temporarily plateaued, Minnick notes. However, colleagues of hers say organizations are flattening their organizational structures, and the remaining leaders must assume a larger scope of responsibility for which they may or may not be prepared. This means that, in addition to serving as transitional leaders until the permanent leader can be found, interims are called upon to provide coaching, mentoring, and leadership development.
"Although I served as a coach and engaged in leadership development at every assignment, those skills are now identified deliverables," Minnick says.
Minnick has served in positions ranging from staff nurse to OR director, a role that included oversight of additional service lines such as the emergency department, maternal child health, and postsurgical acute care. In addition, she was chief nursing officer for several facilities and worked for the federal government for 5 years before pursuing interim leadership as the next stage in her career.
"I am passionate about leadership; I love being a leader, but I especially love being an interim leader," Minnick says. "I've traveled to places I would have never seen, cultivated lifelong friendships, and embraced the challenges and rewards this lifestyle has to offer."
Who is the right fit?
An interim leader must be comfortable with rapid change and unpredictability. There's no guarantee that one job will follow another, and there's a lot of juggling, Minnick says. Although an interim leadership contract is usually 13 weeks, interims often are asked to extend. In one case, Minnick signed on as an interim leader for a 6-month period. And it's not unusual for a job to begin almost immediately upon arrival, she notes, recalling cross-country travel to a destination that left little time to recoup before being on duty.
Keys to success for any leader include good communication and business skills, time management, and a high degree of organization. Interim leaders need to take these to another level because they are change agents who often are brought into a system to fix what's broken.
In their book, The Interim Manager: A New Career Model for the Experienced Manager, Clutterbuck and Dearlove present some of the myths associated with interim leadership. They state that interim leaders may be perceived as former leaders who can't get a job, "loaners" who don't work well with teams, someone "doing the company's dirty work," or "has-beens." But Minnick says interim leaders bring a wealth of experience, wisdom, and knowledge to the table.
Making a real difference in an organization and leading staff successfully through change are two things she has found rewarding, and she especially loves working with emerging leaders.
Interim leaders must be calm, stable, able to lead under pressure, and able to deal with challenging personalities. The political environment can sometimes be complex. "I went to an organization where they were experiencing a very contentious move into a union environment," Minnick recalls. "My department was leading the charge on that, and I had to remain calm and keep my staff calm."
It's important to be a strategic thinker, she says. "You have to have astute assessment skills and the ability to identify and prioritize change. You have to be accountable—you're there to achieve the deliverables." This may mean holding staff accountable, as well, such as restructuring to replace counterproductive individuals with those who are good team players.
But interim leaders also serve as coaches and mentors, she notes. "You want to listen, learn, and lead. Listen during your first weeks there and get to know staff's concerns. I always carry a notebook and write things down and learn people's names. Get a sense of the culture and assimilate into it; is it forward-moving, where they want to do things quickly, or more laid back, where they want to look at things for a while?"
Pathway to progress
No two assignments are alike, Min-nick says. Hers have ranged from large academic centers to small community hospitals and both union and non-union environments. However, each evolves through the same stages, which are akin to the nursing process, she says. Clutterbuck and Dearlove outline the stages an interim assignment will follow: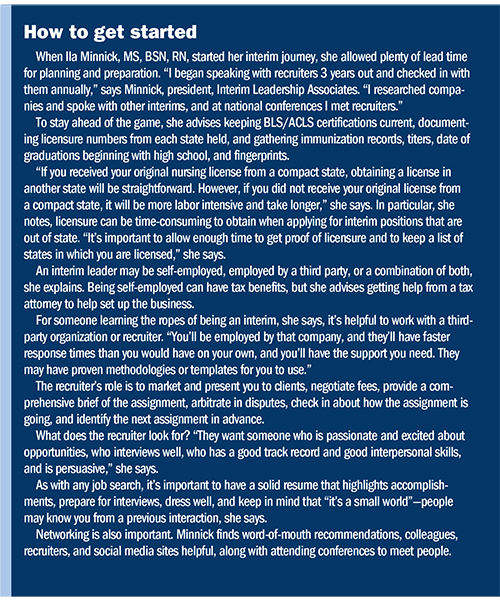 • Gather information. "Look up the organization online, review the job description, learn about the deliverables, and get an estimate regarding the length of the assignment. Then you will go through the interview, sign the contract, and negotiate fees," Minnick says.
• Get to know the organization and the people. "Orientation may be one day or less, so you have to get up to speed quickly. Meet the team and set up regular meetings. There will be objectives and expectations. Understand the internal politics. It can be formidable at first, but themes will begin to emerge," Minnick notes.
• Define the assignment. "There will be an initial assessment of your direct reports, the department, and the organization," she says. "I schedule one-on-one meetings with my direct reports and service lines right away. As part of my assessment, I always perform a SWOT (strengths, weaknesses, opportunities, threats) analysis." She adds that it's important to establish credibility by always being truthful. She recommends rounding often and asking a lot of questions. "I tell staff, 'I'm not challenging you; I'm asking because I don't know the answer.' Staff will be more open if you approach it that way, and you'll gather a lot more information," she says. This is a stage of golden opportunity, she notes, before phone calls, meetings, and emails consume so much time.
• Establish goals—both incremental and long term—for the department, the organization, and direct reports. "Sometimes you'll achieve these, and sometimes you'll just move some things forward," she says.
• Implement the plan. Look for "quick wins" and then strategize and prioritize to meet needs, Minnick advises. "Get the team on board and engage your direct reports. Celebrate success—acknowledge everyone's hard work." This can be as simple as showing them the data that illustrate the progress made and thanking them, she says. She also says it's important to continue rounding, coaching, and mentoring as part of this process.
• Exit. "Chances are, you'll be involved in recruiting your replacement," she says. Once that person is hired, the interim position will probably end within a week or two. "Always prepare a report for senior management to show them where you started and the progress that has been made," she says. Once the replacement has been onboarded, bow out gracefully. "There may be some sadness because you may not see the end result of your work," she notes—and also because it's sad to leave people with whom relationships have been formed.
What spells success for an interim leader?
As with any job, the right attitude from the outset is one predictor of success. Minnick likes the definitions of "owner vs renter" offered by Emerald Health Services, a travel nurse recruiting firm: "Owners take this short-term assignment and become engrained in the culture. They make it their home during this time. The institution, the people, the patients, and the outcomes carry just as much weight to them as if this was a permanent position. A renter takes this assignment with the thought that they are only here to meet the deliverables and make the changes. It's a short-term job which they are leaving. They do not become vested in the healthcare system or the community. They make decisions and implement processes with the thought that this is just a job and they want to do this without emotional attachments."
The renter approach compromises the richness of the experience, Minnick says. "You're also compromising your reputation. Organizations want interims who are totally engaged. Leave the organization in better shape than when you arrived."
Best practices Minnick has adopted dovetail with habits of all good leaders, but in interim leadership positions, these are especially important:
• Do a lot of rounding and get to know people.
• Ask a lot of questions and listen carefully.
• Look for champions—find your supporters.
• Identify high, middle, and low performers.
• Assess the political landscape—who is likely to withhold support or sabotage you?
• Spend time with physicians and learn what's important to them.
• Never be Facebook friends with the people from your current organization.
Compensation
Interim leaders are well compensated, Minnick says, but they must expect to work a minimum of 10 hours per day with no overtime pay. Some companies may offer benefits, but if so, the salary will be lower. She advises doing research to calculate an appropriate rate, and to learn whether there will be state taxes on the wages earned outside of one's home state. Interims can expect to have travel, transportation, and lodging covered, Minnick says, although the particulars vary. "Organizations will provide travel home but may or may not pay your salary for the actual days you are home," she explains. "Food and fuel may or may not be included in your compensation package."
A car will be provided by rental or lease arrangement, depending on the length of the assignment and the organization's preference. In some cases, a lease may be more cost-effective, she notes. Whether renting or leasing, she recommends photographing the car and its license plate right away to make it easier to locate later on.
Worth the trouble
Minnick has adopted the interim leader life because she enjoys traveling and experiencing a constantly changing environment. Although it can be stressful to be away from home and repeatedly have to learn the culture of a new organization, she likes meeting and working with new people.
"I love partnering and helping people get to a higher level of performance," she says. "An interim can really make a difference in an organization." ✥
References
Clutterbuck D, Dearlove D. The Interim Manager: A New Career Model for the Experienced Manager. 1999. Biddles Ltd: Kings Lynn, UK.
https://www.amnhealthcare.com/interim-nurse-leaders/.
Minnick I. Are you prepared to be an interim leader? OR Manager Conference, 2020.
Smith D. Interim Leadership: Healthcare's Future Talent Strategy. 2011. B.E. Smith, Inc: Lenexa, Kansas.
Wetsel G, Batcheller J, Adams J. The power of interim chief nursing officers. Nurse Leader. 2019;17(4):335-339.