In 2020, supply costs were once again reported as one of the greatest line-item expenses in a hospital, exceeding labor expenses. US hospitals have most recently reported a combined $36 billion in medical and surgical supply costs. These expenses account for more than half of a hospital's total supply costs. And, as the pandemic continues, these costs continue to rise at unsustainable rates.
ORs continue to be a main revenue source for hospitals—and yet, ORs are one of the largest drivers of waste and cost. The OR represents approximately 60% of a hospital's supply expenditures, with the average OR supply spend per year at nearly $1M per surgical suite, not including salaries paid for manually stocking, restocking, reshelving, and checking for expired items.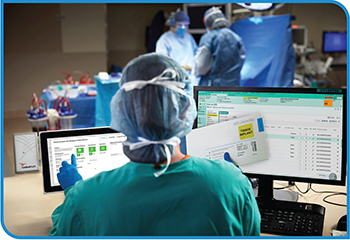 The top sources for waste include:
• supply chain management challenges
• item preference variations
• materials management knowledge gaps
• multiple stocking locations
• inefficient communication.
Supply management efficiencies are vital, especially for those in the OR when time is precious. Nurses spend up to 50% of their time searching, moving, or sorting supplies. According to a recent Cardinal Health whitepaper, many hospitals and health systems are still manually tracking supplies and inventory—identified as one of the root causes for a "never event," in which an expired or recalled product is used on a patient. Despite best efforts, between 7% and 10% of clinical products still expire on hospital shelves before being used. And 27% of hospital staff know of an instance in which an expired or recalled product was used on a patient.
Considering these figures, one thing is clear: real-time data and analytics that yield actionable insights are desperately needed to streamline OR operations and supply management and save costs. Automated, integrated technology that makes the OR more efficient also supports a more cost-effective, streamlined supply chain of the future—and further enhances patient care.
Data and analytics
There is a critical need for data-driven insights and a suggested course of action that aligns the supply chain with clinical teams. A workflow solution that allows for accurate data capture and analytics enables opportunities such as supply management and optimization. This includes product linking capabilities that help ensure product availability of preferred items and provide an alternative should that item be backordered or out-of-stock. In addition, an enterprise-wide data set that combines data from multiple sources (such as electronic health records or EHR; materials management information system or MMIS; and enterprise resource planning or ERP) helps hospitals avoid being data rich but insight poor. Too many hospitals have an abundance of data but lack the systems and expertise to act on that data.
Predictive and prescriptive analytics not only predict future needs, but they also provide a course of action to manage supply-related challenges proactively. This is an area of opportunity for hospitals to dig deeper into. These analytics take historical data—what has happened in the rearview mirror—and look at what is happening now based on customer/patient insights. Data is trained on algorithms to help predict future events and help with staffing levels, which is another huge budget item for hospitals and their ORs, especially in the wake of the pandemic. An automated solution takes data like utilization rates, what products are on shelves, and expiration dates to predict what products are expiring so they can be used before time runs out. These practices help minimize wasted resources, decrease manual time spent on supply management tasks, and contribute to the overall sustainability of the supply chain.
A single platform
The solution to many supply challenges an OR faces today is a single, health system wide platform that allows hospitals to streamline their OR processes and improve efficiency through real-time inventory visibility and prescriptive analytics. With up-to-the-minute insights and wrap-around logistics, hospital operations teams can rise to the level of excellence needed to support and advance their cost position and clinical ambitions.
A single platform can provide alerts for things like recalled or missing items with analytics that pull together multiple streams of supply data to ensure complete visibility, from receipt to usage to re-order. For example, a data linking feature would offer a daily data feed that enables hospitals' business intelligence teams to develop reports and visualizations, pulling data from multiple sources into one, streamlined dashboard.
The interoperability of a single platform is key—one that seamlessly integrates between existing hospital systems, including MMIS, EHR, and ERP. Clean item master is another piece within a hospital that sets that foundation for clean, actionable data and insights downstream. Clean item master is critical for delivering higher quality and more cost-effective care. It uncovers new opportunities for savings and shows deep historical data on product usage to increase future efficiency. Not only are a clean item master and adopting global standards key foundational elements for any mature clinically integrated supply chain, but they are also crucial for delivering higher quality and more cost-effective care.
Supply management and demand planning
Gaining efficiencies in healthcare, given that costs continue to rise at an exponential rate, is critical, especially in the OR where staff need to spend less time on supply management. OR managers or leaders want to make sure that, from a product perspective, they have the products available when they need them to avoid canceling a procedure. An integrated supply management solution carries products through the lifecycle, identifying when something needs to be reordered based on Periodic Automatic Replenishment (PAR) levels. It allows OR staff to be aware of any challenges in terms of getting the right products while also providing key data and insights regarding cost-per-case, which is critical at the surgeon level for financial reporting. Automated technology platforms also identify opportunities to reduce product variation, consolidate stock keeping units, or SKUs, and help drive cost savings and efficiency, tying directly back to value analysis. A platform of this kind should offer demand planning, which utilizes analytics to look at case scheduling—what products are being used in surgical cases, for example—to better investigate what products and quantities are needed based on past utilization levels.
Saving time and money
Overall, visibility to real-time product data and analytics opens opportunities for both cost savings and time savings for OR managers and supply chain leaders. For example, in a time-and-motion user study, users of an automated workflow solution saved an average of nearly seven hours weekly for staff—357 hours per year—in just the first 3 months of implementation. By enabling supply chain automation with analytics, hospitals can gain workflow efficiency, promote operational clarity, decrease time spent in the OR manually tracking inventory, and create a real financial impact.
In a peri-pandemic world, where supply chain has been put on the forefront, it is important that health system leaders employ the right strategies supported by the right technology to enable excellence in their supply chains. The right technology and automation platform can help health systems optimize their supply management analytics that yield actionable insights to drive optimal demand planning, ultimately saving time and money, as well as helping drive optimal patient outcomes. ORM

References
Ahmadi E, Masel D, Metcalf A, et al. Inventory management of surgical supplies and sterile instruments in hospitals: a literature review. US National Library of Medicine, National Institutes of Health. July 18, 2018.
CISOM: A model to drive clinically integrated supply chain maturity. HIMSS Analytics. 2017.
Conway K, Vitoux B, Chyung S. Eliminating supply chain waste: OEM and hospital collaboration. GHX. 2013.
Data based on WaveMark™ time and motion study led by third-party research firm. Kaleidoscope at White Memorial Hospital. Los Angeles. 2017.
Glanz E. Best practices for reducing supply and inventory waste in your OR. Medhost.com. November 9, 2021.
Hospital Supply Chain Survey. Cardinal Health. March 2018.
Moriarty A. Reigning in Hospital Supply Costs & Physician Preference Item Spending. Definitive Healthcare. August 18, 2020.
Optimizing the supply chain in the wake of the pandemic. Cardinal Health Whitepaper. July 31, 2021.