Of the approximately 57 million surgical procedures performed annually in the US, it is estimated that hospital inpatient procedures (overnight admissions) account for less than 20% of cases. Many procedures once performed in hospital outpatient surgery departments (HOPDs) have moved to ambulatory surgery centers (ASCs) over the past 15 years, and the HOPD share of the total ambulatory surgery market has dropped from nearly 60% to just 40%.
Currently, there are nearly 6,000 Medicare-certified ASCs nationwide where more than 23 million procedures are performed, with total market revenue exceeding $36 billion. Experts estimate that approximately half of the procedures now performed in hospitals can be moved into ASCs, and total ASC volume is projected to increase 27% by 2027.
This shift is concerning because approximately two-thirds of a typical US hospital's revenue and most of its profit come from procedural services.
---
Sponsored Message
---
The breakdown of total annual surgery volume is as follows:
• 23 million ASC procedures
• 12 million office-based procedures
• 11.5 million hospital-based ambulatory procedures
• 10 million hospital inpatient (overnight stay) procedures
Patients searching for value are a big factor in this industry transformation. In addition, private and government payers are incentivizing patients and surgeons to choose ASCs over hospitals through more reimbursed procedures and lower copays for patients. ASCs are projected to achieve $93 billion in yearly revenue by 2024.
With daunting statistics like these, what can hospitals do to remain competitive? This article attempts to answer this question by examining payment and ownership models as well as patient expectations. We also offer a brief strategic plan for hospital leaders looking to expand into the ASC market.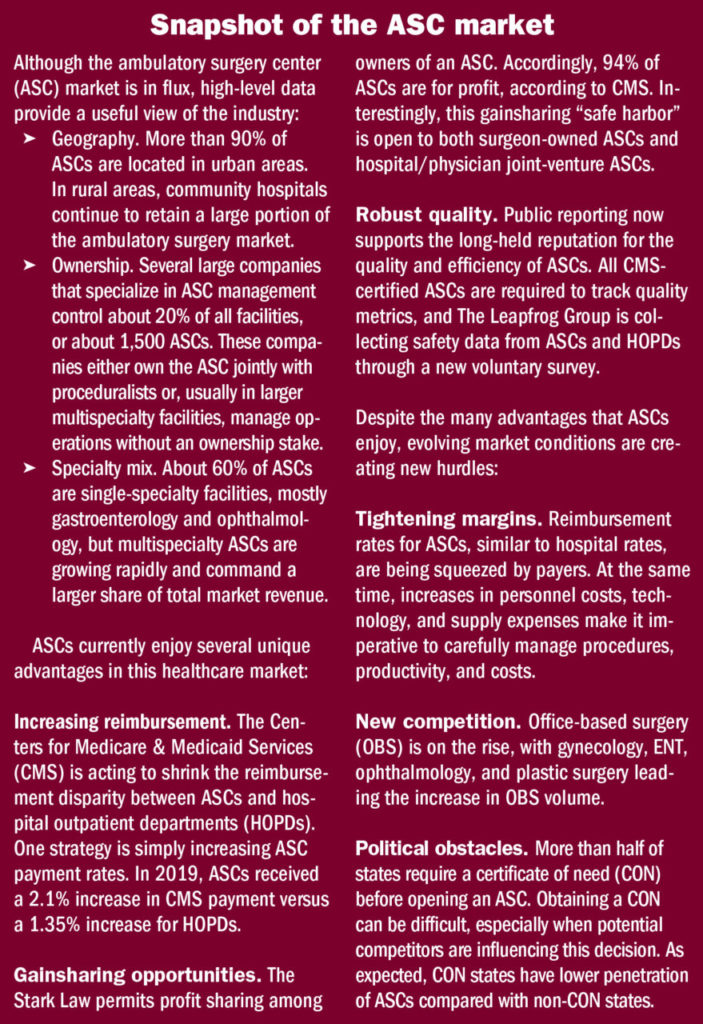 What has changed?
On January 1, 2019, the Centers for Medicare & Medicaid Services (CMS) started implementing changes that removed "unnecessary and inefficient payment differences" between HOPDs and ASCs. These "site neutrality" measures are narrowing the gap between hospital and ASC reimbursement. Traditionally, ASC reimbursement has been tied to the Consumer Price Index. As of 2018, ASC payment rates are now linked to the same market basket that CMS uses to adjust hospital reimbursement.
In addition, Medicare copays are increasingly structured to promote patient use of ASCs. For example, the copay for cataract removal is $490 in an HOPD but only $193 in an ASC. CMS has also significantly expanded the approved ASC procedure list to include a dozen cardiac catheterization procedures, various neurosurgical procedures, and total knee arthroplasty.
Although hospitals are now employing proceduralists to maintain their surgical volume, many independent surgeons who once were affiliated with hospitals are increasingly attracted to ASCs because of the greater convenience, efficiency, quality, and patient satisfaction associated with ASCs. As ASC owners, they are also seeking additional income from gainsharing.
How do ASCs differ from hospital ORs?
ASC patients are typically healthier and younger than the hospital surgical population, and they are more likely to be commercially insured, with private coverage rates ranging from 41% to 68%. In addition, with the growth of high-deductible health plans, more patients opt for surgery in an ASC to save on costs.
Several operational and clinical factors make ASCs very different from hospital ORs.
A 2017 review of 278 multispecialty ASCs by VMG Health, a healthcare industry consulting company, found that the "average" ASC has four ORs and two procedure rooms and performs about 5,000 cases per year, garnering impressive financial results. Commercial insurance paid for 53% of all cases and represented 64% of total facility revenue. However, the financial success of these facilities also owes a great deal to the unique ASC environment:
• Efficient operations. Based on data from the consulting firm Surgical Directions, high-functioning ASCs typically have a case cancellation rate of less than 1% and turnover times that are approximately one-half to one-third of those for similar cases in a hospital.
• Lean labor costs. According to the VMG review, the average ASC has 31 total staff, with 15 RNs, seven surgical technologists, and nine administrative personnel. The cost of elective OR time is less than $15 per minute in an ASC versus $40 a minute in a hospital OR.
• Optimal productivity. Based on the annual case volume numbers cited above, the average ASC performs 1,200 cases per OR and 1,650 cases per procedure room every year. In comparison, average hospital OR productivity is less than 1,000 cases per year. In the average ASC, fewer than 10 physicians perform 73% of procedures, according to VMG data. In fact, most high-volume ASC proceduralists are owners who have a personal stake in running a highly efficient facility.
In summary, the mainstream ASC is relatively small compared with the typical hospital OR but performs 50% greater volume per room. In both single and multispecialty ASCs, a small number of surgeons/proceduralists perform most of the cases, and the collaborative nature of the healthcare team drives productivity and efficiency. All this adds up to profit margins that can exceed 40% as well as high patient and surgeon satisfaction.
Barriers to market expansion
Only about 20% of ASCs have hospital ownership. At the same time, 60% of existing ASCs remain unaffiliated and privately held by physician owners—even though the major ASC management firms, investment banking firms, and even health plans are aggressively moving into outpatient surgery. What has kept most hospitals and health systems from entering the ASC market?
• a tradition of wariness
• different surgery cultures
• difficulty agreeing on a revenue split
• hospital payment advantage
• forest vs trees.
A tradition of wariness. Hospitals and physicians each have their agendas, often very different and sometimes contentious, and physician employment has done little to build trust and collaboration.
Different surgery cultures. Compared with ASCs, hospital-based procedural services are less surgeon- and patient-friendly. Surgeons often have problems accessing the OR schedule, and may be reluctant to partner with the hospital to develop an ambulatory center; they usually prefer to either partner with an experienced management company or have independent ownership.
Difficulty agreeing on a revenue split. Hospitals and physicians in the US have traditionally been reimbursed through separate fee-for-service systems. Gainsharing arrangements between hospitals and surgeons have often been characterized by difficult negotiations or failure to agree.
Hospital payment advantage. Traditionally, reimbursement for a hospital-based ambulatory procedure has been 92% higher than reimbursement for the same procedure performed in an ASC. Under this payment structure, the average facility fee for a simple lumbar spine fusion was $11,000 when performed in an HOPD, compared with $5,000 in an ASC setting. The HOPD reimbursement advantage has kept hospitals profitable, and there has been little need to share revenue with surgeons. But the more recent trends of lower HOPD revenue and higher costs have led to a search for other sources of revenue and diversification.
Forest vs trees. The current fiscal woes of the typical US hospital are keeping executives and board members focused on day-to-day operations. Longer-range strategic planning—including expansion into the ASC market—is usually very low on the priority list.
Strategies for market expansion
Hospitals have four potential strategies to consider for expanding into the ASC setting.
Option 1: Avoid ASC expansion and improve HOPD services. Current regulations do not permit gainsharing in the hospital HOPD setting, so financial support from surgeons is not possible. Perhaps most important, the typical hospital OR is less efficient than those in the ambulatory setting, and transforming the HOPD culture will not be easy. One possible exception: Rural hospitals usually face a less competitive ambulatory surgery market, so expanding and improving HOPD services may be a successful strategy for them.
Option 2: Convert an HOPD into an ASC. Hospital leaders may wish to convert an existing HOPD into a joint venture with an ASC. If a gainsharing model is part of this ASC transition, a careful choice of surgeon-owners and specialties is important. Although net reimbursement is reduced, transitioning to an ASC gainsharing model can ensure continued surgical volume and surgeon commitment. However, success hinges on adapting to the ASC's operational and cultural expectations.
Option 3: Build a new freestanding ASC. Assuming certificate of need (CON) issues have been addressed and market research confirms an opportunity, building a freestanding ASC can cost less than purchasing an existing ASC. For example, it costs between $5 million and $10 million to build an average four-room ASC versus at least $20 million to buy an existing ASC with the same number of rooms and a yearly EBITDA (earnings before interest, tax, depreciation, and amortization) of $3 million. In addition, the "building new" option enables a hospital to carefully select its surgeon partners, though it may take up to 3 years to reach full procedure volume. One overall caution: This option should be avoided in a saturated ASC market.
Option 4: Purchase an existing ASC. The main advantage of purchasing an existing ASC is that it is a known entity, with well-established volume and processes. However, an efficient and profitable ASC can be costly, with a purchase price that is typically 6 to 7 times EBITDA. Hospitals considering an ASC purchase should move with caution and consider these factors:
• Not all ASCs are profitable or provide consistently high-quality patient care. According to the most recent CMS data, for every two ASCs beginning operations, one closes its doors.
• ASC management companies and investment firms have a significant presence and expertise in this market. Competing against these experienced companies for existing ASCs can be challenging. Additionally, on average, only 2% of existing ASCs are sold yearly.
• Most ASCs have a limited life expectancy. Under a gainsharing model, the share price in a successful ASC rises steeply with increasing EBITDA. This benefits surgeon owners, but effectively eliminates the possibility of adding new surgeon partners through additional share allocation. As its owners age, the ASC eventually reaches a time for either re-syndication or closure. Beware of an ASC seeking a hospital buyout with a high asking price, and carefully review financial and operational performance.
Stay focused and move forward
With hospital outpatient surgical volume continuing to decline, hospital survival will ultimately depend on a strategic plan that includes both hospital and ambulatory-based procedural care. It's important to focus on the basic market realities and keep three ideas front of mind:
• Continued advances in procedural science and the ongoing search for value will likely leave the average urban hospital with only complex surgical care. HOPD ambulatory care will continue to decline as ASC and office-based surgery providers perform more procedures.
• Besides employing surgeons, hospitals will likely have to build gainsharing relationships with surgeons and proceduralists, both within the hospital and in hospital-owned ASCs.
• Compared with what hospital leaders are used to, working with ASC physician-partners (both employed and independent) will require a very different collaborative leadership and management style. A patient-centric, value-focused system with aligned incentives is at the heart of ASC market dominance.
• Hospitals that pursue ASC expansion will need to master several new competencies.
Follow these steps for a strong start when expanding into the ASC market.
1. Do careful market research to determine whether the local market can support ASC expansion or HOPD transition.
2. Choose a strong specialty focus. The most successful ASCs perform procedures in a few high-margin specialties, such as orthopedics, spine surgery, ENT, pain, etc.
3. Select partners carefully. When purchasing an existing ASC, a re-syndication of surgeon shares may be needed to make sure the right specialties and surgeons are being selected.
4. Commit to gainsharing. Profit sharing with surgeons helps to ensure adequate volume and active surgeon participation in facility management. The best way to develop experience in this area is to pilot gainsharing arrangements with hospital-employed surgeons and proceduralists.
5. Do not insist on the lion's share. Hospitals should not expect more than a 51% ownership stake in an ASC. In fact, most hospitals are minority shareholders with less than 50% ownership.
6. Focus relentlessly on process. Any ASC expansion strategy will require hospitals to adapt to a new environment. Leadership teams will need to set aside many familiar concepts and collaborate with surgeons to create a fast-paced organization that delivers high-value procedural care. ✥
Thomas A. Blasco, MD, MS, is Senior Physician Managing Director at Surgical Directions in Chicago.
References
Centers for Medicare & Medicaid Services. CMS Finalizes Medicare Hospital Outpatient Prospective Payment System and Ambulatory Surgical Center Payment System Changes for 2019 (CMS-1695-FC). November 2, 2018. https://www.cms.gov/newsroom/fact-sheets/cms-finalizes-medicare-hospital-outpatient-prospective-payment-system-and-ambulatory-surgical-center.
Frack B, Williamson J, Grabenstatter K. Ambulatory surgery centers: Becoming big business. L.E.K. Consulting Executive Insights. 2017;XIX(25). https://www.lek.com/sites/default/files/insights/pdf-attachments/1925_Ambulatory_Surgery_Centers_Executive_Insights_v2.pdf.
Future Market Insights. Ambulatory Surgical Centers Market: Global Industry Analysis 2012-2016 and Opportunity Assessment 2017-2027. September 27, 2017. https://www.futuremarketinsights.com/reports/ambulatory-surgical-centre-market-092017.
Hall M J, Schwartzman A, Zhang J, et al. Ambulatory surgery data from hospitals and ambulatory surgery centers: United States, 2010. National Health Statistics Reports. February 28, 2017. https://www.cdc.gov/nchs/data/nhsr/nhsr102.pdf.
https://www.ascassociation.org/advancingsurgicalcare/aboutascs/industryoverview/apositivetrendinhealthcare.
Key trends in ambulatory strategy: When an HOPD to ASC conversion makes sense. Panel discussion. Becker's Hospital Review 9th Annual Meeting, Chicago. April 11, 2018.
MedPAC. Report to the Congress: Medicare Payment Policy. Chapter 5: Ambulatory Surgical Center Services. March 2018. http://www.medpac.gov/docs/default-source/reports/mar18_medpac_entirereport_sec.pdf.
Research and Markets. 2018 Ambulatory surgery center (ASC) market: Projected to increase from $36 billion in 2018, to $40 billion by 2020. Business Wire. October 11, 2018. https://www.marketwatch.com/press-release/2018-ambulatory-surgery-center-asc-market-projected-to-increase-from-36-billion-in-2018-to-40-billion-by-2020—researchandmarketscom-2018-10-11.
Richards R. Top outpatient surgery center trends in health care. Optum Health Care Conversation. Published online February 5, 2019. https://healthcare-conversation.com/2019/02/05/top-outpatient-surgery-center-trends-in-health-care/.
Shapiro F E, Punwani N, Rosenberg N M, et al. Office-based anesthesia: Safety and outcomes. Anesth Analg. 2014;119(2):276-285.
The Advisory Board. The new rules of ambulatory surgery center competition: Three steps to build a winning ASC strategy. January 17, 2019. https://www.advisory.com/research/health-care-advisory-board/research-reports/2019/the-new-rules-of-ambulatory-competition?WT.ac=Inline_HCAB_ResRep_x_x_x_TGC_2019Jul25_Eloqua-RMKTG+Blog.
The Leapfrog Group. The Leapfrog Group expands ratings to outpatient and ambulatory surgery settings. October 16, 2018. https://www.prnewswire.com/news-releases/the-leapfrog-group-expands-ratings-to-outpatient-and-ambulatory-surgery-settings-300731563.html.
VMG Health. 2017 Intellimarker Multi-Specialty ASC Benchmarking Study. January 11, 2018. https://vmghealth.com/wp-content/uploads/2018/01/VMG-Health-Intellimarker-Multi-Specialty-ASC-Study-2017.pdf.