Each December, the international medical community marks Sharps Safety Awareness Month, which serves as a powerful reminder of the significant risks from injuries caused by needlesticks and surgical sharps faced by surgeons, nurses, and other clinicians in their daily lives.
Every needlestick injury incurred in the OR comes with a substantial risk of exposure to bloodborne pathogens and infection of potentially deadly infectious diseases, such as HIV/AIDS and hepatitis B and C. It's imperative that we do all we can to reduce the risk.
In December 2019, Mölnlycke commissioned a survey through SERMO, a virtual network of more than 800,000 credentialed physicians, that found 92% of surgeons in the US had either personally experienced a needlestick injury or seen a colleague experience one. Only 3% of surgeons had no first- or second-hand experience of a needlestick at all.
Double-gloving recommended
How can healthcare workers be better protected? One way we can do this is by ensuring that best practice surgical safety techniques, such as double-gloving, are mandated within surgical settings. Perforation from needlesticks decreases significantly when it is adopted, with studies suggesting that healthcare workers have a four times lower risk of perforation with double gloves compared to single gloves. Double-gloving can also reduce the surgeon's exposure to the patient's blood by as much as 87% when an outer glove is punctured.
Both AORN and the American College of Surgeons recommend double-gloving as a best practice. Furthermore, a revised compliance directive from the Occupational Safety and Health Administration mandates employees to "institute engineering and work practice controls as the primary means of eliminating or minimizing exposure to bloodborne pathogens." As one of the central protective barriers for surgeons and staff against exposure to pathogens, there is a clear case for double-gloving to be included as a standard protocol for surgeons, and indeed their wider team.
But why is the practice not more widely adopted? Surgeons, who have the lowest rates of compliance, have voiced concerns over the loss of manual dexterity and tactile sensation; however, these concerns are not reflected in the data. A 2010 study concluded that double-gloving in fact does not have a substantial impact on dexterity nor tactile sensitivity when compared to single gloves. Furthermore, the quality of the surgical glove can affect tactile sensitivity and safety.
Studies have shown that wearing a colored indicator glove as the innermost glove can improve the protective benefits of double gloves by increasing the accuracy and speed at which perforation is recognized. Of course, not all surgical gloves are made the same way or perform to the same quality standards, which is why it is vital for purchasing departments to prioritize total value, including clinician safety over line item price.
It has been promising to see double-gloving introduced more widely to protect healthcare workers faced with the threat of COVID-19. But more must be done to consistently protect surgeons and their teams from the risk of other bloodborne infections, such as establishing double-gloving as standard practice. This challenge can be overcome with a commitment to education on the risks and shared accountability.
As one example of successful implementation of this standard, the OR at Bassett Medical Center, Cooperstown, New York, used a just culture model, staff shared control, and accountability to choose Biogel surgical gloves to be used for double-gloving. They reduced needlestick injuries by more than 31% after the first year by achieving 100% compliance with double-gloving, with the exception of the cardiac surgical team. By introducing periods of adjustment, shown to be beneficial when adopting a double-gloving technique, surgeons and their teams can ensure their own safety, while continuing to deliver the very best outcomes for patients. ✥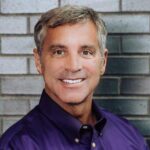 Eric Davis, MS, BSN, RN, CNOR, is Executive Clinical Specialist—Surgical, Mölnlycke Health Care, maker of Biogel® surgical gloves.
References
Fry D E, Harris W E, Kohnke E N, et al. Influence of double-gloving on manual dexterity and tactile sensation of surgeons. J Am Coll Surg. 2010;210(3):325-330.
McNeilly L. Double gloving: Myth versus fact. Infect Control Today. 2011;1-4.
Nolan R. Surgical glove best practice using a just culture model. Poster. AORN, 2020.
Tanner J, Parkinson H. Double gloving to reduce surgical cross-infection. Cochrane Database Syst Rev. 2006(3);CD003087.
Tarantola A, Abiteboul D, Rachline A. Infection risks following accidental exposure to blood or body fluids in healthcare workers: A review of pathogens transmitted in published cases. Am J Infect Control. 2006;34(6):367-375.
Thomas-Copeland J. Do surgical personnel really need to double-glove? AORN J. 2009;89(2):322-328; quiz 329-332.
Welc C M, Nassiry A, Elam K, et al. Continued non-compliance with the American College of Surgeons recommendations to decrease infectious exposure in the operating room: Why? Surg Infect (Larchmt). 2013;14(3):288-292.