In 2018, Sam Weprin, MD, started his first year of residency in Urology. During one of his first prostatectomy cases, he witnessed an impeccable surgery performed by the attending surgeon. Unfortunately, a surgical needle went missing inside the patient. The surgeon and her team spent an hour searching for it, but even with the use of X-ray, they did not find the needle. They closed the patient and disclosed the incident to the patient's family.
Such adverse events create stress for the operating team. This event prompted Dr Weprin to explore how often this happens and what can be done to prevent it. After much research and conversations with OR nurses, Dr Weprin discovered the following:
• Conversations with Deanna Wooten, RN, and OR staff suggest that such adverse events happen "often enough," but there are no clear published data to give a benchmark.
• Surgeons will look for "near-miss" (or lost) sharps as long as they can to prevent retained surgical items, leading to surgeries being extended by several minutes, if not hours.
These anecdotes drove Dr Weprin to initiate a nation-wide survey, partnering with surgeons from three different hospitals to conduct it. The data and peer review results were published in an April 2021 article in Patient Safety in Surgery, with input from some 200 OR nurses and surgical technicians.
Survey method
The survey started off with the hypothesis that a large number of retained surgical sharps (RSS) and "near-miss" sharps (NMS) were not well-documented. It was also important to separate retained surgical sharps from the overall retained surgical items, as almost all past research has been done on lost sponges.
An electronic survey was distributed to OR staff between December 2019 and April 2020. Participants were originally surgeons, OR nurses, and surgical technicians attending medical conferences or working at the research team's institutions. At the suggestion of an anesthesiologist, Justin Bremer, MD, the research team decided to expand the scope of the respondents to include the anesthesiologist group, as they are the true bystanders in the OR when it comes to lost sharp events. "The additional anesthesia required with each lost needle can place the patient in significant, but potentially avoidable risk," Dr Bremer added.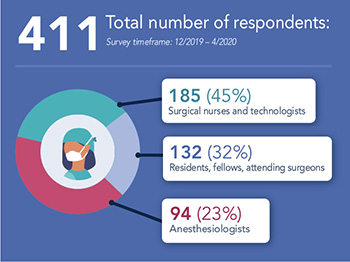 A total of 447 survey responses were collected, of which 411 were used for further analysis; 36 responses were discarded due to incomplete data. The 411 respondents were categorized into three groups: 94 (22.9%) anesthesiologists, 132 (32.1%) surgeons (including residents, fellows, and attendings), and 185 (45%) OR nurses and surgical technologists.
The survey was conducted anonymously. Three demographic questions were asked with no identifiable information, making the respondent or institution untraceable. The questions were:
Demographics
• What is your role in the OR?
• In a week, how many surgeries do you support?
• How long have you been working in the OR setting?
The remaining eight questions were related to their personal perception of NMS and RSS, and to the effectiveness of X-rays. Three questions were designed to understand the incidence of various sharps events (lost, retained, or miscounted) while two questions studied the time spent on managing sharps. Because X-Ray is recommended in events where the lost sharps are of a certain size, two questions were dedicated to understanding the use and effectiveness of X-Ray.
Perception of NMS/RSS
• In the last year, how often have you witnessed a lost surgical sharp event?
• In the last year, how often have you witnessed a miscount for a surgical sharp?
• In the last year, what percentage of your witnessed lost sharps were not found prior to surgery completion?
• Over the course of your career, how much time has been spent searching for a lost sharp (on average per event)?
• Over the course of your career, what percentage of your witnessed lost sharps were not found prior to surgery completion?
Perception of X-ray
• Over the course of your career, how often has portable X-ray been used to aid in recovery of lost sharps?
• In events where an X-ray was used, how effective was it in locating the lost sharp (on average)?
• In events where an X-ray was used (even if sharp was not found), how much time was added to the procedure as a result (on average)?
The survey results showed that while the three groups agreed on certain statistics, they disagreed on others. The discordances were further analyzed to understand what could cause the different perspectives on the same situation.
Background on sentinel events
The Joint Commission posts an annual list of the "Top 10" most commonly reviewed sentinel events. A sentinel event is a patient safety event that results in death, permanent harm, or severe temporary harm. Unfortunately, reporting of sentinel events by accredited organizations is voluntary; it is estimated that less than 2% of all sentinel events that occur in a healthcare facility are reported to The Joint Commission.
Why is reporting a challenge? The challenges associated with reporting NMS and RSS may be attributed to the concern for negative repercussions on the provider or surgical team. The other aspect of underreporting could come from the complexity of administrative work involved with documentation. This is especially true for NMS situations where the frequency, severity, and time spent searching for the lost sharps are typically not documented.
Historic ranking of unintentionally retained items. In the last decade, retained surgical items ranked in The Joint Commission's top three sentinel events. Retained surgical items can be divided into two categories: soft and hard. Soft items include sponges and packing; hard items include instrument, catheter/drain, needle/blade, guidewire, and fragment. According to the Journal of Patient Safety, there is a shift in reported items moving from soft to metallic foreign bodies. Adjunct technology, such as the sponge detection system using barcode or RFID identification, has helped lower the incidence of retained surgical sponges. Yet, the overall number and ranking on the sentinel event list have not dropped, other than in 2020 when many elective surgeries were postponed.
Survey results
For this article, the focus is on the three areas where all respondent groups agree to identify key benchmark statistics. OR Manager will publish future articles that will dive deeper into the discordance between groups, potential reasoning, and how leaders can help bring clarity.
Frequency: 4.4 events per 1,000 surgeries. The majority of each respondent group reported between 1 and 5 lost sharp events witnessed over the last year (91.7% surgeons, 75.5% anesthesiologists, and 80.5% nurses/technologists). This is an average incidence rate of 4.4 lost sharp events per every 1,000 surgeries.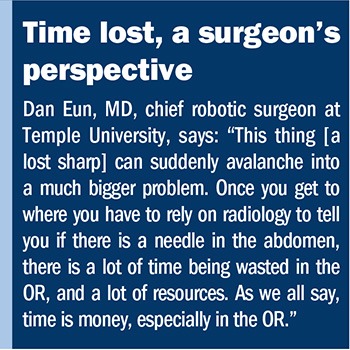 Time: 70 min of added OR time. All three groups agreed that the manual searching for a lost sharp adds an average of 21 to 30 minutes to OR time. Obtaining an X-ray adds another 31 to 40 minutes, resulting in approximately 70 minutes of delay (sidebar, "Time lost, a surgeon's perspective").
X-ray effectiveness: 26–50% effective.The survey also highlighted the need for improved technology to assist with a manual search. All three groups reported that the current protocol of using X-ray offers poor effectiveness, at between 26% and 50%, with 38% of each group indicating it was never effective or effective only 1–10% of the time. Prior studies also show that X-ray machines have difficulty identifying needles smaller than 17 mm.
As we, hopefully, bid farewell to the COVID-19 crisis, we look ahead to narrow the gap in delayed surgeries, fill the revenue gap and staff shortage, and improve operational efficiency.
There is danger in silence. OR managers should conduct a survey that is anonymous at their facilities so respondents feel comfortable being candid with their answers. This will help raise awareness of patient safety around retained surgical items.
Wooten concludes: "When you work in one hospital day-in and day-out, your perspective is skewed. We should step back to listen to the statistics and learn best practices from other hospitals. A survey like this helped me see where we stand; it gives us a common language to discuss ways to improve."✥
–Ivy Montgomery is a Go-To-Market executive passionate about improving patient outcomes with innovative technologies, especially in the areas of diagnosis, treatment, and prevention of diseases.
References
The Joint Commission. Sentinel event statistics for 2020. March 24, 2021. https://www.jointcommission.org/resources/news-and-multimedia/newsletters/newsletters/joint-commission-online/march-24-2021/sentinel-event-statistics-released-for-2020/.
Weprin S, Moore R, Meyer D, et al. Retained Surgical Items: A Changing Landscape. Journal of Patient Safety. January 2021. Vol. 17:01. https://journals.lww.com/journalpatientsafety/Citation/2021/01000/Retained_Surgical_Items__A_Changing_Landscape.20.aspx.
Weprin S, Meyer D, Li R, et al. Incidence and OR team awareness of "near-miss" and retained surgical sharps: a national survey on US operating rooms. Patient Safety in Surgery 15, 14 (2021). April 3, 2021. https://pssjournal.biomedcentral.com/articles/10.1186/s13037-021-00287-5.
Weprin S, Crocerossa F, Meyer D, et al. Risk factors and preventive strategies for unintentionally retained surgical sharps: a systematic review. Patient Safety in Surgery. 15:24 (2021). July 12, 2021. https://pssjournal.biomedcentral.com/articles/10.1186/s13037-021-00297-3.