"What we have right now, quite frankly, in healthcare are islands—visible islands of excellence in a sea of invisible failures, with risk lurking just below the waterline. We need to widen those islands of excellence. We need to connect these islands with more dry land. We need to address these areas of risk. That is going to require transparency, it's going to require data, it's going to require personal story telling, and it's going to require effective use of health IT."
These words were written not by a healthcare strategist or information technology (IT) expert but by retired airline pilot Chesley Burnett "Sully" Sullenberger, who, on January 15, 2009, landed US Airways Flight 1549 in the Hudson River after a bird strike disabled both engines. All 155 people on the plane survived.
Sullenberger is now a lecturer on the importance of aviation and patient safety.
---
Sponsored Message
---
Safety in aviation has often been compared with safety in healthcare, but nowhere are there more similarities between the airlines and healthcare than in the OR. And nowhere are there more islands of data, processes, and personnel that need to be connected, stored, and aggregated in order for OR managers to have useful reports that help drive evidence-based discussions and decisions.
At the 2019 AORN Leadership Summit, Jonathan Puncochar, MBA, and Kimberly F. Lusk, MSN, BSN, RN, spoke about the similarities between running an airline and an OR. They explained how to understand the "lingo" and working culture of the hospital's IT experts and use their knowledge to build the metrics needed to run a successful OR. Puncochar is surgical services project director, HCA Healthcare, Nashville, Tennessee, and Lusk is HCA's director of surgical informatics for the clinical services group.
Similarities
Airlines and ORs share many similarities, and both are "here" to get people "there," says Lusk.
Airlines and ORs follow a flow. The flow an airline passenger follows includes: booking a flight, checking in, going to the gate, boarding the plane, taking off, flying time, landing, disembarking, retrieving baggage, and leaving the terminal.
The flow a surgery patient follows includes: booking a surgical procedure, checking in, going to the preoperative area, going into the OR, surgeon arriving, under anesthesia, leaving the OR, arriving in the postanesthesia care area, and leaving the hospital.
"Interestingly," says Puncochar, "both the OR and airlines use wheels to measure how well they remain on schedule." ORs use wheels-in to denote the beginning time of a case. Airlines use release of the plane's parking brakes for the beginning time of a flight.
Airline passengers and surgery patients have various levels of anxiety. Passengers worry that they may miss their flights, lose their luggage, or die.
Patients worry that their surgical procedures may hurt rather than help them, something will go wrong during the procedure, or they will die.
"There is fear involved in both flying and having surgery, and it is important as healthcare professionals that we anticipate and accommodate the needs of patients to decrease those fears to the best of our abilities," says Lusk.
Airlines and ORs have multispecialty people who need to work together. Airlines have pilots, flight attendants, air traffic controllers, baggage handlers, fuel technicians, security guards, and desk agents.
ORs have registration staff, preanesthesia testing nurses, surgeons, anesthesia personnel, board runners, schedulers, circulators, surgical technologists, environmental services staff, and clinical analysts.
Airlines and ORs both have someone coordinating the day. Airlines have air traffic controllers and ORs have board runners. "Clear communication is at the heart of both of these," says Lusk. "Imagine what would happen if they didn't collaborate."
OR more complex
For all of their similarities, however, ORs are more complex than airlines, says Puncochar. Pilots typically fly the same type of plane with the same crew, and their routes are essentially the same. In the OR, a surgeon can perform many different procedures, patients may have complications that affect the length of procedure time, and surgeon preferences vary.
The airlines need to plan for weather impacts, demand for seats, standby and last-minute passengers, fuel, and supplies.
The OR needs to right size block time, ensure first case on-time starts, predict add-on cases, and accurately schedule time, procedure, and needed supplies and equipment.
"OR managers have to be able to handle these variations and a multitude of disruptions that can affect the OR schedule, and building metrics will help put perspective in place and highlight context," says Puncochar.
On the radar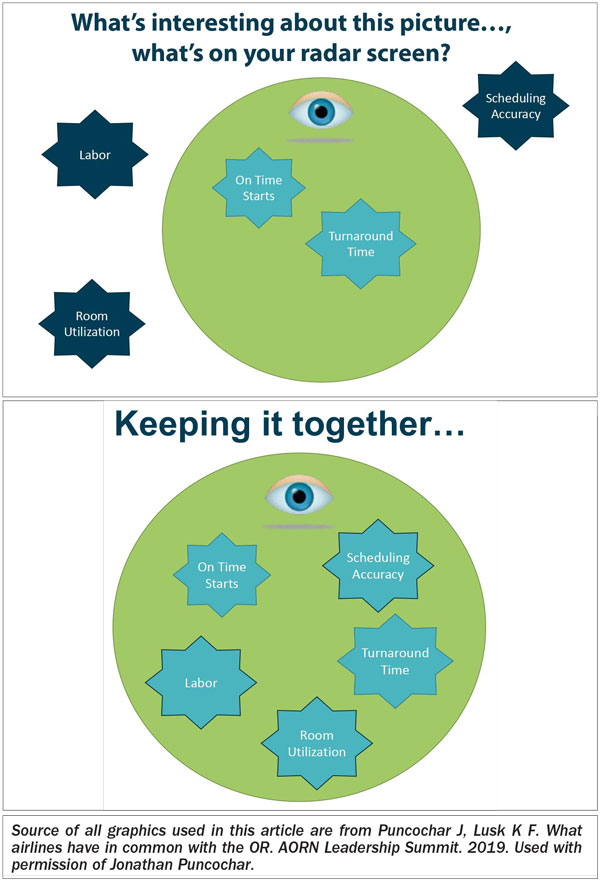 Using metrics to help manage the OR, track performance, and communicate with surgeons and staff is similar to airlines using radar to manage routes and communicate with pilots (sidebar at right, top).
Instead of airplanes and routes on a radar screen, ORs have on-time starts, turnaround time, scheduling accuracy, labor, and room utilization.
If an airplane disappears from the radar screen, it can go down. If OR managers only have their focus on a couple of metrics, the others can go down.
"If it's not on your radar, it's probably not getting managed and it's not getting done," says Puncochar.
When OR managers move scheduling accuracy, labor, and room utilization back to the center of the radar with on-time starts and turnaround time, they will have connected the dots and have a balanced scorecard (sidebar at right, bottom).
Puncochar gave the following analogy for why OR managers need to keep important metrics together and under their control in the center of the radar: "Think of your metrics as a balloon animal with four legs. When you work on one metric or squeeze one leg, all of a sudden, the balloon animal grows a second tail. So, if you don't have your arms around the system, holding all parts together, then you can't compress it all together without something popping out from the side."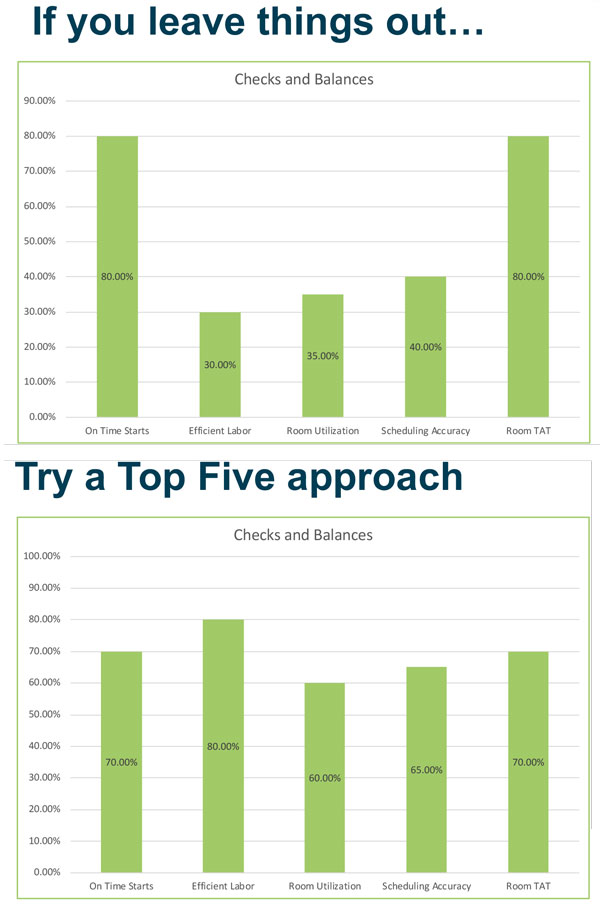 OR managers should decide which metrics are the most important, which are related, and which need to be kept together in the center of the radar. Puncochar gave the example of what happens if some metrics are off the radar (sidebar at right, top).
If managers have on-time starts and turnover time on their radar, but efficient labor, room utilization, and scheduling accuracy are off, the latter three will suffer because they aren't being managed. Pulling all five of these metrics back into focus where they are all being managed will provide the oversight needed to bring all of the numbers up (sidebar at right, bottom).
There are probably 10 important metrics to manage, says Puncochar, but he advises starting with five, and he recommends that OR managers ask their staff members to help pick the five.
"It's important for managers and staff to start measuring, managing, and encouraging together," he says, "and a solution will take special help from IT."
Working with IT
Just as a med-surg nurse isn't the same as an OR nurse, and an airline captain isn't the same as a flight engineer, not all IT personnel are the same.
For example:
• a database administrator creates the database
• an extract, transform, load (ETL) developer creates the program to move the data in a way that it can talk to other data
• a business intelligence (BI) report developer creates dashboards and reports.
A typical IT project may require many IT specialists, just as patients may require many specialists to help with their different illnesses, such as kidney stones, acid reflux, herniated disc, and dementia.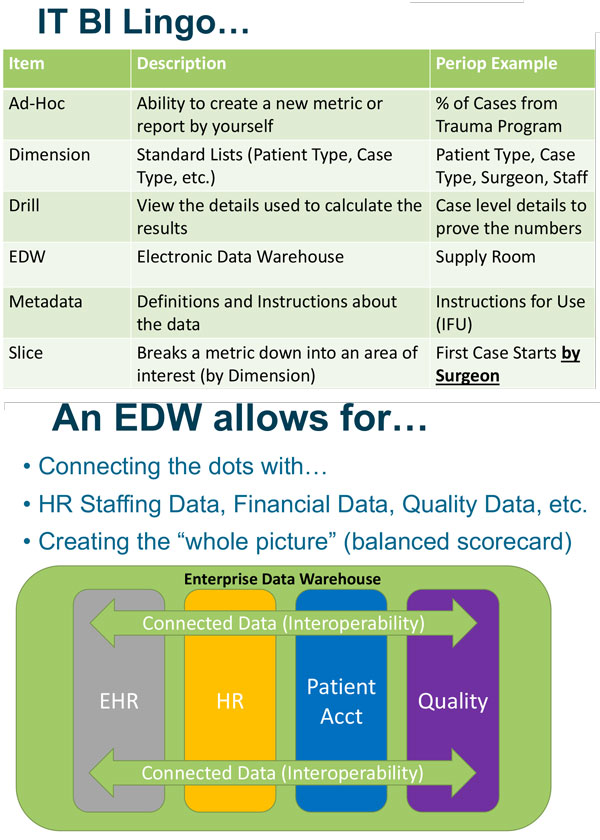 "Information technology specialists are very creative, and they care about what they create. They also have their own lingo that's not clinical at all, and each has a favorite tool or method for creating reports or dashboards," says Puncochar (sidebar at right, top).
Many OR managers are not able to get the reports they need out of their electronic medical record (EMR) systems, and they have had to rely on IT specialists to extract the data, move it to a data bank, and then create and build their own calculations.
This begins with ETL, which combines three database functions—extract, transform, load—into one tool to pull data out of one database and place it into another.
"ETL is very important and takes the longest amount of time to create," says Puncochar. "IT specialists are pulling the data out, making sure it is formatted correctly, and then moving it into an enterprise data warehouse [EDW]." This component takes 60% to 80% of the work in IT. "Think of this as similar to the transplant surgery steps of recover/harvest, transport, and graft," he says.
The EDW is a central repository optimized for analytics that connects the dots with human resources staffing data, financial data, and quality data (sidebar at right, bottom). Instead of accessing five different reports to pull something together, the EDW has everything in one spot.
"It's like having a shopping cart and saying, 'I need this metric, and this metric, and this metric.' It helps you to know what's on your radar," he says.
Puncochar likes to start out with the concept of: "We need to put all the information we may need into the EDW so we can run any report we want."
Reports include:
• new or ad hoc reports or metrics on surgeons and nurses by specialty, for example, what percentage of cases are trauma cases, or how many trauma cases are performed each year
• dimension report or standard lists of patient type, case type, surgeon, staff
• drill report that drills down to the case level details used to calculate and prove the numbers or results
• metadata report that includes definitions and instructions about the data or instructions for use
• a slice report that breaks down a metric into an area of interest by dimension, such as first case starts by surgeon.
'Help me help you'
"Just like the line in the movie Jerry Maguire, 'Help me help you,' we need to help IT help us and vice versa," says Puncochar. To help IT specialists build the reports and dashboards they want, he suggests OR managers do the following:
• include examples of patient type (inpatient, outpatient) and case type (urgent, emergent, planned)
• include screenshots of EMR screens
• provide examples of custom reports and graphs created in Excel or other tools
• start with an Excel file of real data and work with a business or data analyst to create sample calculations
• provide guidance on how often and quickly you need the data (real time is expensive, daily may be good enough, and monthly is least expensive).
Puncochar also recommends that OR managers ask IT specialists to make rounds with them. "You can start educating them on patient flow from admission to the preoperative area, into the OR, and then to the postanesthesia care area," he says.
"Once IT knows our world in the OR and as long as the data is available, they can tap, drag, drop, and slice any information we want, give it to us quickly, and keep it in the middle of our radar screens." ✥
References
Puncochar J, Lusk K F. What airlines have in common with the OR. AORN Leadership Summit. 2019.
Sullenberger C, Chesley B. 'Sully' Sullenberger: making safety a core business function. Healthc Financ Manage. 2013;67:50–54.