Total joint replacements contribute hefty profits to hospitals and healthcare systems. Once the Centers for Medicare & Medicaid Services (CMS) starts reimbursing surgery centers—as is done for hospital outpatient surgery departments (HOPDs)—the competition between hospitals, HOPDs, and ambulatory surgery centers (ASCs) will intensify.
"Total joints are the hot ticket in the outpatient environment now," says Thomas K. Miller, MD, the section chief of sports medicine for Carilion Clinic in Roanoke, Virginia. "There are subsets of patient profiles and procedures that really are applicable to an ambulatory site if you do your homework and pick the right patients."
But orthopedic experts advise ASC leaders to tread slowly and carefully plan how total joints would unfold in their facilities. Total knee replacements (TKRs) are only being done in places with the necessary infrastructure and resources, says James I. Huddleston, MD, associate professor of orthopedic surgery at Stanford University and head of the Adult Reconstruction Service at Stanford Health Care in Stanford, California.
Dr Huddleston is also the advocacy council chair for the American Association of Hip and Knee Surgeons (AAHKS), which recently released a position statement on outpatient total joint replacements (OTJR). The statement cautions that although select institutions, with highly selected patient populations, have successfully performed same-day discharge of outpatient hip and knee arthroplasty, "it remains uncertain whether this experience can be generalized to a broader population of patients and providers. The institutions that currently perform outpatient hip and knee replacement have invested in intensive preoperative optimization programs and novel care pathways, additional personnel on the operations side, and they use specific criteria to select patients for surgery in the outpatient setting."
The position statement was "intended to clearly state our priority of preserving patient safety and to outline specific recommendations for surgeons and institutions considering discharge of hip and knee replacement patients on a same-day outpatient basis."
Reasons to go slow
The time and money involved in implementing a total joint surgery service line should serve as a safety brake for ASCs that want to do TKR but are not really prepared.
"If you move any inpatient or hospital-based outpatient procedure to an ASC environment, you are putting the entire industry under a microscope," says Dr Miller. "When you take the next big jump, one that has a big fiscal impact at many levels, your quality had better exceed that of your local hospitals."
Freestanding centers cannot afford to be perceived as hungry for profit at the expense of quality care and patient safety, say experts. Many ASCs are owned by surgeons and anesthesiologists, and national newspapers have recently published articles that are critical of the ASC industry.
The AAHKS position statement recommends that "any financial conflicts related to outpatient discharge, such as ownership in an ambulatory surgery center, physician-owned distributorship, or outpatient services, be transparently disclosed to the patient."
Performing TKR is complicated. To do so in an ASC requires a careful and practiced transition from a hospital-based to freestanding environment; comprehensive facility and perioperative patient care plans; attention to detail; anesthesiologists experienced in total joint care; and dedicated, consistent OR staff.
"Matching and appropriately allocating the limited resources of time and OR access, overhead, and procedure-specific materials—and staffing to the patient and procedure—needs to be approached from outside the long-standing models of care," Dr Miller says.
Provider competencies

The Accreditation Association of Ambulatory Health Care offers a 3-year advanced certification program to help demonstrate competencies in performing total joints in ASCs (sidebar at right).
Dr Miller advises a checklist of "minimum requirements" for transition to OTJR that includes the core components necessary for successful outcomes: provider proficiency, patient selection, patient optimization, and facility preparedness.
For example, surgeons' readmission rates and complication rates (including deep vein thromboses and infections) must be reviewed to ensure they do not exceed the local, regional, and national averages. Surgeons must have performed a minimum number of hospital-based OTJRs before transitioning cases to a freestanding facility, and they must have consistent patient selection and optimization protocols acceptable to the outpatient site.
"Just because a surgeon thinks he can do a total knee replacement in an ASC, that is not the same as having done so," Dr Miller says. Neither can it be assumed that the surgeon understands the needs associated with best outcomes in the freestanding outpatient environment, he adds.
Finding anesthesiologists who are experienced specifically with orthopedic procedures and the latest blocks and multimodal pain control methods is more difficult than one would anticipate, according to Dr Miller. "We have a list of what we feel is necessary [to perform outpatient total joints], but it is not enough for the surgeons to know what they want," Dr Miller says.
Protocols acceptable in a hospital inpatient or even outpatient setting do not directly translate to cases done as outpatient in a freestanding facility. "The core group of anesthesiologists needs to be on board with the pain management protocols you want to use so it is no surprise to anybody as you transition from hospital to HOPD to freestanding," he explains.
Finally, there must be an adequate number of staff with the right capabilities to cover an extended recovery. Extended lengths of stay can stress a facility more accustomed to short recovery and rapid turnaround. The facility must be able to accommodate larger postoperative volumes. Staff must be skilled in providing extended perioperative care and meeting patient needs that are greater than those of the traditional outpatient case mix, including more extensive medication and ambulation requirements for safe and timely discharge.
Patient expectations and education
One of healthcare's biggest failures is variance in communication and coordination of a patient's episode of care. Surgeons say ASCs need to lock down the continuum of care using practiced protocols that are flexible enough to change if something more effective comes along. Also necessary is a champion—a case manager or patient navigator—to ensure all the benchmarks are being met.
At Heartland Surgery Center in Kearney, Nebraska, every patient undergoing TKR is assigned a nurse to ensure that nothing along this continuum is missed, says Tracy Hoeft-Hoffman, MSN, MBA, RN, Heartland's administrator. A clinical director oversees those nurses.
Heartland began doing total knees and total hips in November 2016 after more than 6 months of planning for the procedures, Hoeft-Hoffman says. The center had anesthesia and surgeon champions as well as a manager committed to implementing OTJRs. Heartland is currently doing one total joint per month, but Hoeft-Hoffman expects volume will increase to three per month.
Early in his practice, Dr Miller says, he was surprised by how difficult it was to schedule something as straightforward as postoperative outpatient physical therapy or occupational therapy in a timely manner. Assuming services would be available and then having a patient wait 2 weeks before starting rehabilitation (whether home based or at a dedicated facility) is not acceptable in most postoperative settings and especially in the case of OTJR, he says.
In an article for the Current Review of Musculoskeletal Medicine, Jack M. Bert, MD, wrote that "disorganized postoperative treatment can derail OTJA [outpatient total joint arthroplasty] for even the most medically and psychologically optimized patient."
Pre- and postoperative education of the patient and designated caregiver are just as important as medically screening patients to ensure they are appropriate for outpatient surgery.
"Establishing a successful OTJA program involves meticulous attention to detail and anticipation of potential complications," Dr Bert wrote in his study.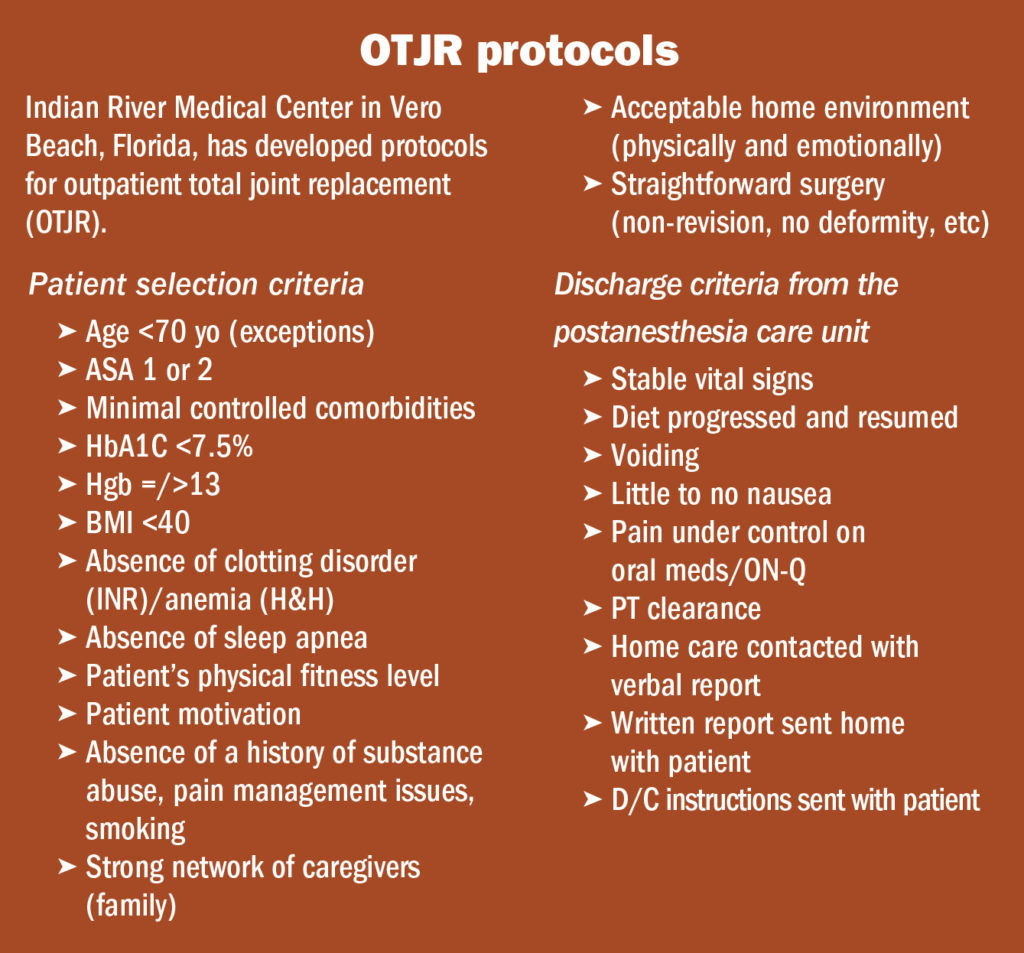 Sarah K. Mondano, BSN, RN, director of musculoskeletal services at Indian River Medical Center in Vero Beach, Florida, also finds that pre- and postoperative education of the patient and family is as important as the surgery itself.
As part of a new initiative developed by Mondano and a multidisciplinary team to improve the OTJR patient experience and medical outcomes, education is mandatory. This initiative is now used for the same-day total joint reconstruction the hospital started doing in April 2018, she says.
Indian River Medical Center has developed protocols for OTJR (sidebar at right).
Dr Bert believes it is important to evaluate anxiety and social support for patients as part of the risk assessment, even though that is not traditionally done (in the hospital-based setting). "Patients being considered for OTJA, who are required to manage their own pain control, physical therapy, and self-care, are even more likely to benefit from a strong psychological support," he wrote in his study.
Future OTJR landscape

When asked how many total joints could be done on an outpatient basis in the future, Dr Huddleston says: "Our estimates are that 15% to 20% of the patients of the average, high-volume joint placement surgeon's practice may be eligible. Data on this subject are forthcoming." Demographics of total joint patients were presented at the 2018 annual meeting of the American Academy of Orthopaedic Surgeons (sidebar at right).
Implementation of total joint repairs in ASCs may not grow as quickly as some expect, according to the Advisory Board, a consulting company headquartered in Washington, DC.
"There is just a lot of variation by market," says Haley Wiesman, a senior researcher with the Advisory Board. How quickly TKR grows in ASCs depends on different forces within a geographic market, such as organization readiness, payer pressures, physician buy-in, and engagement, she says.
Sebastian Beckmann, another Advisory Board consultant, cites as an example unicompartmental knee arthroplasty (UKA), which CMS approved for outpatient reimbursement in 2002.
"Today we see that a majority of UKAs are done in an outpatient setting, but that transition took a long time," he says.
Dr Miller is not against more orthopedic procedures migrating to ASCs. Indeed, it is an opportunity to show the public what ASCs can do best—surgery with equally good, if not better, outcomes, greater patient satisfaction, and lower cost, he says.
He believes the paradigm should change so that instead of assuming a total joint surgery will be done in an inpatient environment, the decision will be made by first assessing patients' overall health, physical needs, expectations, and required support, and then deciding what surgical setting is best. This approach, similar to what is already needed to do TKR on an outpatient and ASC setting, includes:
• rigorous preoperative screening of comorbidities and assignment to a site of care based on anticipated perioperative needs, not just the procedure to be performed
• assessment and optimization of postoperative support services
• patient and family education and training
• supply of durable goods to enhance recovery.
Dr Miller also believes ASCs will become far more specialized, similar to specialized orthopedic hospitals, to improve efficiencies and quality of care. Surgeons, anesthetists, nurses, and other staff become more proficient when they do the same procedure over and over again. This leads to cost savings and consistent quality outcomes, Dr Miller says.
Although it is possible to do small volumes of total joint replacements, in the long run "you don't want to be the place doing a total joint just now and then," he says.
Of course, not every patient may want to go home immediately after surgery. The irony is that if a patient wants to stay overnight after surgery, his or her physician in the future may need to justify why the patient needs to be in a hospital instead of going home. ✥
Janet M. Boivin, BSN, RN, is a freelance healthcare writer in the Boston area.
References
Bert J M, Hooper J, Moen S. Curr Rev Musculoskelet Med. 2017;10(4):567-574.
https://www.aaos.org/uploadedFiles/PreProduction/Advocacy/Federal/medicare/draft-aahks-outpatient-position-statement-080118.pdf.