Much emphasis has been placed on high-level disinfection over the past several years; however, low- and intermediate-level disinfection are also performed in healthcare facilities and are an important part of an infection prevention program.
Noncritical items, defined by the Spaulding Classification as those that may contact intact skin, are cleaned and disinfected each day. Although noncritical items have the lowest classification within the Spaulding Classification, they are still an important part of patient care. This means the selection and use of low- to intermediate-level disinfectants must be given serious consideration.
Research has shown that noncritical surfaces play a role in pathogen transmission. Pathogens such as methicillin-resistant Staphylococcus aureus, vancomycin-resistant enterococcus, and Clostridium difficile have been found on noncritical surfaces in healthcare facilities and can be transmitted to patients, resulting in a healthcare-acquired infection.
---
Sponsored Message
---
Examples of noncritical items are patient beds, blood pressure cuffs, stethoscopes, and skin electrodes. In addition, some environmental surfaces (eg, patient care equipment, patient beds, keyboards, and light cords) can become contaminated during patient care with microorganisms and organic soil, such as body fluids, even though they may not be visibly contaminated. Environmental surfaces in a healthcare facility also require proper disinfection.
Selecting a disinfectant
Low- and intermediate-level chemical disinfectants are used to disinfect these surfaces. An intermediate-level disinfectant has a lethal process whereby an agent kills viruses, mycobacteria, fungi, and vegetative bacteria (but not all bacterial spores). Low-level disinfectants also have a lethal process whereby an agent kills vegetative forms of bacteria, some fungi, and lipid viruses.
Low-level disinfectants are classified as biocidal solutions and are designed to be applied to inanimate objects such as medical devices and environmental surfaces. They are available as liquids, impregnated wipes, sprays, concentrated powders, and gases or vapors.
When selecting the correct disinfectant for a task, consider the degree of microbicidal activity required, along with the characteristics of the item to be disinfected, the device manufacturer's written instructions for use (IFU), the disinfectant manufacturer's written IFU, and ease of use of the available products.
Chemical disinfectants are affected by variables such as the presence of organic soil, device design, disinfectant dilution, contact time and temperature, mode of action, and microbial load in reusable solution. Therefore, it's critical to know how to use a disinfectant to ensure the safety of an item for patient care. The healthcare facility should have policies and procedures in place, and staff should receive proper training.
Applying a disinfectant
Thorough cleaning is always the first step in disinfection because without it, a medical device may not function properly. Organic material can prevent the disinfectant from reaching all surfaces of the device.
Similarly, residual organic matter and large numbers of microorganisms on environmental surfaces can significantly reduce the effectiveness of the disinfection process.
Some products have a label claim that states they may be used for both cleaning and disinfecting. Before using these products, it is important to fully understand the IFU and to always use the products in strict accordance with the IFU.
The next step is to rinse the item, using the appropriate water quality. The item should be thoroughly rinsed to remove the detergent and any remaining soil residues. To prevent diluting the disinfectant, dry the item with a clean, lint-free cloth, and then inspect it for cleanliness and functionality.
The next step is to apply the appropriate disinfectant. Several types of low-level disinfectants are available, and the proper choice depends on how the medical device will be used, in conjunction with the medical device IFU.
Fine-tuning the process
Once the level of appropriate disinfection is determined, there are other factors to consider, including contact time. The amount of time for the disinfectant to be effective is important, especially if turnover time is a concern.
Contact time varies, depending on the type of disinfectant selected. The disinfecting time or "wet contact" time is stated in the IFU. To ensure the correct amount of time, the use of a timer is recommended. Make sure the disinfectant does not evaporate or dry before the contact time is met; if that does occur, the disinfectant must be reapplied, and the exposure time must begin again.
Label requirements for low- to intermediate-level disinfectants are regulated by the Environmental Protection Agency (EPA). Labels are required to carry the statement: "It is a violation of Federal law to use this product in a manner inconsistent with its labeling."
Because this is a regulatory requirement, these types of product labels are legally enforceable; therefore, users must be able to read and understand the labels. Information required to be listed on every low- and intermediate-level disinfectant includes:
• disinfectant/product name and reorder or catalog number
• brand or trademark under which the product is sold
• name and address of the producer (or registrant) and producing establishment number
• ingredient statement
• written IFU
• net contents
• product EPA registration number
• hazard and precautionary statements
• storage instructions.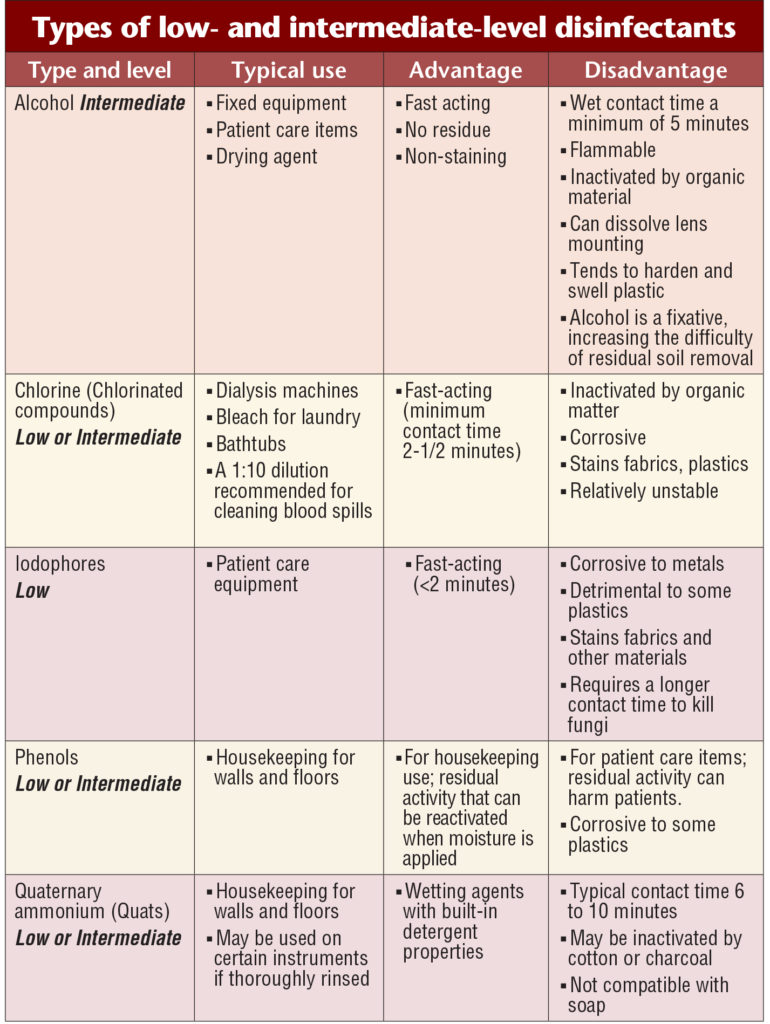 Disinfecting equipment should be clean and in good working order. Assess equipment each time before it is used, and replace or repair any equipment that is damaged or compromised.
Using the correct dilution impacts the effectiveness of the disinfectant. To help prevent errors in dilution, use precise measuring devices for the disinfectant and water.
Some disinfectants have a residual activity that can be advantageous if they are used on environmental surfaces such as floors or walls; however, they could cause patient harm if used on patient care equipment that contacts skin.
The disinfectant should be included in the medical device IFU to ensure it is compatible with the materials. A variety of low- to intermediate-level disinfectants are used for different types of equipment (sidebar at right).
Not all medical devices can be processed through an automated washer-disinfector, which provides for thermal disinfection. The disinfection step for items that are manually cleaned and not processed in a washer-disinfector should be described by the device or equipment manufacturer's IFU.
Regulations
Both the EPA and US Food and Drug Administration (FDA) regulate intermediate- and low-level disinfectants. The FDA regulates chemical disinfectants that are used for liquid chemical sterilization; high-level disinfection; and sterilization of reusable medical devices, the sterilant or disinfectant chemistry, and the related systems. Intermediate- and low-level disinfectants are classified as Class I medical devices that are exempt from premarket review and clearance by the FDA; however, they are required to be registered and listed with the FDA.
The EPA regulates low- and intermediate-level disinfectants as antimicrobial pesticides under the Federal Insecticide, Fungicide, and Rodenticide Act. The review process for these disinfectants includes efficacy and safety data, and they must meet the FDA's section 510(k) requirement.
In describing the classifications of these disinfectants, these agencies use different terminology. The FDA uses the terms "intermediate-level disinfectant" and "low-level disinfectant" whereas the EPA refers to them as "hospital disinfectant with a tuberculocidal claim" and "hospital disinfectant without a tuberculocidal claim."
Ensuring a safe environment for staff and patients
Cleaning and disinfection should be done in an environment that is safe for staff and patients. When working with chemical disinfectants, employees must understand there is a risk of exposure to skin, face, or eyes because of the potential for splashing. Some chemicals can also present a respiratory exposure if fumes are inhaled during cleaning.
To help ensure a safe environment, it is recommended that an interdisciplinary team conduct and document a hazard assessment. This should include the potential for chemical exposures to determine which specific hazards require the use of personal protective equipment (PPE).
The Occupational Safety and Health Administration (Code of Federal Regulations OSHA, 29 CFR 1910.38) requires healthcare facilities to have a spill kit available and an emergency action plan in place in the event of a chemical spill. The spill plan should address a worst-case scenario and provide instructions on how to handle a spill.
Employees should be trained to respond appropriately in the event of an emergency. The reaction to a chemical spill depends on the composition and volume of chemical spilled, where the spill occurred, the resources available, and the level of trained personnel.
Because there is always a risk when using chemicals, a risk assessment should be performed to determine potential risks to both patients and staff. As part of this, an interdisciplinary team should develop policies and procedures and identify the risk of inadequate or improper use of disinfectants that could cause a disinfection failure or other weakness in the processing practice.
Disposing of chemical disinfectants is yet another essential consideration. To determine the most appropriate method, employees should consult the disinfectant's safety data sheet (SDS) and manufacturer's written IFU for disposal and spill containment.
Some types of disinfectants can be hazardous to the environment if disposed of in the sanitary sewer systems; therefore, local and state regulations for disposal should be consulted.
As with all other disinfection and sterilization methods, all staff who perform these functions must be trained in how to use these chemicals.
Critical topics to consider include:
• proper use of PPE
• health and hygiene (which addresses vaccinations and appropriate steps to take in case of an exposure)
• the role of effective disinfection in an infection prevention program
• compliance requirements
• applicable state and federal regulations and facility policy
• best practice standards and guidelines
• OSHA bloodborne pathogens
• EPA and FDA requirements
• the importance of (and methods to understand and follow) IFU
• the importance of using the correct contact time and dilution
• ventilation requirements for chemical disinfectants
• procedures for spills and exposures, per the SDS.
In addition, staff competency with handling disinfectants should also be documented.
Preventing harm
Removing pathogenic microbes from environmental surfaces and noncritical medical devices prevents these microbes from causing an infection. Although cleaning and disinfecting these items may appear to be insignificant, failure to properly perform these vital tasks can lead to infections, use of faulty equipment, or even chemical burns.
As healthcare professionals whose products are directly used in patient care, our first mission must be to do no harm and to provide quality care and customer service. Properly and consistently disinfecting noncritical items and environmental surfaces is an essential part of this care. ✥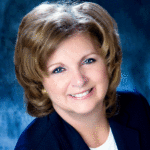 Susan Klacik, BS, CRCST, CHL, CIS, ACE, FCS, is clinical educator for IAHCSMM (International Association of Healthcare Central Service Materiel Management) and a representative to AAMI. She also serves on AORN's Guidelines Advisory Board.
Resources
Association for the Advancement of Medical Instrumentation. AAMI TIR 68:2018 Low and intermediate-level disinfection in healthcare settings for medical devices and patient care equipment and sterile processing environmental surfaces. http://my.aami.org/aamiresources/previewfiles/TIR682018Pre.pdf.
International Association of Healthcare Central Service Materiel Management. Central Service Technical Manual, Eighth Ed. 2016. https://www.iahcsmm.org/publications/central-service-technical-training-8.html.