Northwestern Medicine Lake Forest Hospital, located in Lake Forest, Illinois, has taken a giant leap in curtailing late starts in the OR. In December 2016, the facility's on-time start percentage was only 37%. Perioperative team members dug in their heels and, by August 2017, increased their on-time starts to 77%. They also maintained an average of 72% for 8 months.
"The state of healthcare today makes on-time starts even more important," says Kimberly Moyers, BSN, RN, CNOR, CSSM, nursing manager of surgery. "Late starts impact everything, including relationships, reliability, and efficiency, which can affect patient satisfaction and the bottom line."
What was the secret that inspired success at this 114-bed community hospital? The perioperative team took one space-age tool, blended it with a bold, never-say-die attitude, and incorporated both into standard process improvement tactics.
Obstacles to on-time starts
The first step was to discover the preoperative bottlenecks and roadblocks to on-time starts. At the onset of Lake Forest's process improvement project, there had been little tracking and follow-up of the reasons for delays, says Gerald Biala, MSN, RN, CNOR, CSSM, project consultant and senior vice president of Sullivan Healthcare, a consulting firm in Ann Arbor, Michigan.
Biala observed patients and interactions among staff as they proceeded though the preoperative process. He also interviewed staff and physicians about what they thought was important for achieving safe and efficient on-time starts. He then combined his observations and interviews with a retrospective review of the major time stamps and key steps patients take from the time they arrive at the facility until they are taken to the OR.
A working group was formed to evaluate Biala's findings. The group included preoperative staff, OR staff, anesthesia providers, Biala, Moyers, and a surgeon representative. "We found there was room for improvement in the awareness of what each team member needed to accomplish and in coordinating everyone's necessary activities," says Biala. "One of the issues we heard clearly from the preoperative staff was that they needed dedicated, uninterrupted time with their patients to complete the admission process. When surgeons or anesthesiologists tried to see patients during admission, it disrupted the process."
The challenge was to coordinate everyone's activities into a consistent, seamless process. This included assessing each team member's responsibilities and brainstorming ideas to reduce redundancies. At the same time, the new process would need to allow uninterrupted time for each team member to complete necessary tasks and assessments. With input from the group, the key preoperative activities were identified along with the ideal times in which each activity would be completed.
NASA-inspired time management
Once the working group understood the roles and activities of every team member, they developed an organizational tool inspired by the National Aeronautics and Space Administration (NASA). Dubbed the T-Minus Table, the tool uses a "countdown" method to pace patient throughput at specific intervals prior to the scheduled start of surgery.
"We started with the scheduled case time and counted backward on a T-minus basis, similar to the process used by the NASA program," says Biala.
Staff from registration, nursing, and anesthesia, as well as surgeons, are allotted a time slot in the countdown to complete necessary preoperative activities. The countdown intervals are at 120, 90, 35, 30, 15, 10, and 5 minutes before surgery (sidebar below).
Patients were also divided into two groups, including those who were receiving a preoperative nerve block (PNB) and those who weren't. Timing adjustments were made for patients requiring a PNB to ensure additional tasks required for them were assimilated efficiently into the process. The team tested the process on PNB patients first while evaluating the process and making timing adjustments to the table.
"The T-Minus Table focuses everyone. It gives them clarity and organizes them around key activities that need to happen," says Biala. "What is represented in our table may not be the best for every organization, but it is flexible. You can move and change times and activities to make it work best for your organization."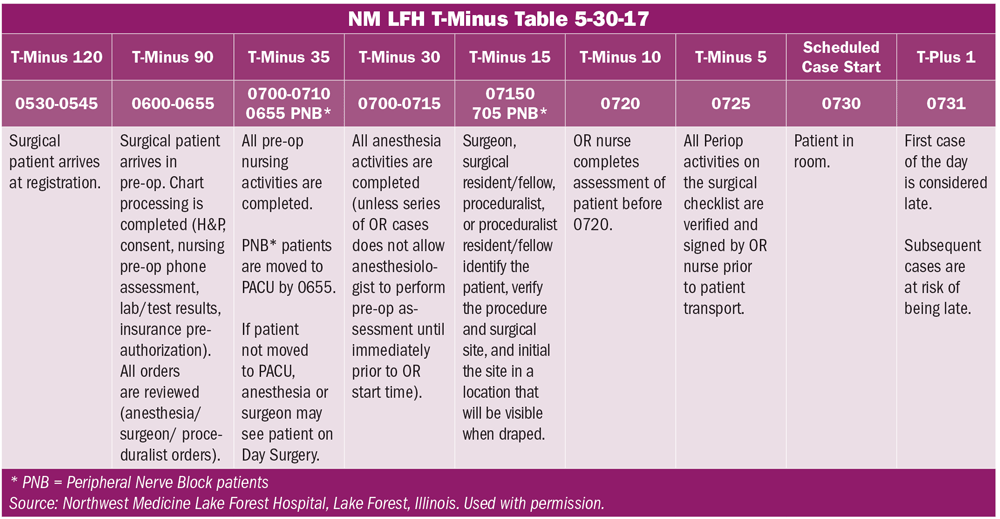 Breaking the late-start cycle
To conform to the T-minus countdown, staff and physicians found they often had to readjust their practices. They had to see their patients at a designated time before surgery—not just when it was convenient for them.
"Some surgeons were arriving 5 minutes before a scheduled case start time, and that was too late in the process," says Biala.
To help negate the issue, the working group partnered with the surgery advisory group (SAG), which consists of surgeons who are champions for department change. SAG members supported the process by stressing to their peers the need to be on time.
"You can get into a routine of running late, so then the physicians think that you're always behind, so they don't arrive on time. The cycle will continue until it's broken," says Moyers, who is also the project's sponsor and coordinator.
To break the cycle, the working group analyzed a wide variety of potential stumbling blocks, from equipment issues to patient-caused delays to delays related to physician and staff activities. They found that some factors that caused delays were beyond staff control, such as when patients arrived late or asked a lot of questions before surgery. The working group decided to prioritize the biggest issues staff could control.
Analysis revealed that late arrival of physicians was the main reason for delays, occurring more than three times more often than other issues. The next most frequent reason for delays was incomplete consents and history and physicals (H&Ps), which were often not finalized until the morning of surgery. The precedent was set to have signed surgical consents and H&Ps completed by 1 pm the day before surgery.
Streamlining setup
Inconsistencies in setting up Lake Forest Hospitals' eight OR suites before surgery were also disrupting the preoperative process.
"Some OR nurses would assess patients before they opened the room. Others would see patients during the opening of the room, and others would not assess them until after the room was completely set up," says Biala.
The working group determined that the optimal time for the OR RN to assess preoperative patients and verify the surgical checklist was 10 minutes before surgery. This would occur after supplies were assembled and the OR suite was set up. Float staff were added to assist surgical technologists in setting up the OR efficiently, which allowed OR RNs to see patients at the designated time.
Analysis also revealed delays in the registration process. "We had the stats and numbers. We could show administration the need for an additional registrar in the morning to open the bottleneck in preop registration," says Moyers.
Another key to success was developing a daily on-time team huddle in addition to the existing safety huddle. An interdisciplinary team, including charge nurses and anesthesia providers, evaluates and documents the day's performance, including which cases started exactly on time and which ones didn't.
"We made a commitment to on-time starts without a buffer," says Moyers. "One minute late is late."
The on-time huddle team documents the reasons for delays, makes recommendations to address them, previews the next day's OR schedule, and plans for additional support as needed. For example, they might arrange for extra resources needed to handle isolation cases or schedule translators to address language barriers. Huddle members also check to see if the next day's consents and H&Ps are complete.
Capitalizing on friendly competition
Staff who have had on-time case starts are praised verbally during the on-time huddles. Initially, the names of physicians who arrived late were posted publicly. "Posting names only happened twice, but it changed the dynamics, and a friendly competition developed over who was and was not getting the job done," says Moyers. "Once we showed the surgeons that we had fixed our house and were ready with on-time consistency, we got buy-in from them. Now they hold us accountable to start on time."
The friendly competition won the perioperative team accolades. In 2017, the staff were excited to hear that they were the recipients of that year's Northwestern Medicine Improvement Day Winner Award.
"It's one thing to tell your staff what they need to do to improve, but if you never follow up and communicate their successes, you cut them out," says Moyers. "This was a great external recognition for the staff as the project success depended on the entire team effort and diligence to changing practice patterns."
Persistence is key
To maintain their remarkable improvement in on-time starts, the perioperative team has had to overcome some difficult challenges. "We did really well right out of the gate in January, but a couple months later, we started to backslide," says Moyers. "A project can start with great wheels and then fizzle. Persistence is the key. It can't just be all about the excitement of the moment. It's a marathon, not a sprint."
In addition, Lake Forest Hospital moved the entire facility to a new location In March 2018. This included incorporating a new layout and processes into their on-time start program. In addition to the move, the hospital also implemented a new electronic medical record at the same time. With a temporary change in focus, the team wasn't able to monitor the program from March through May 2018.
"We fell off the track a little, but then we jumped back on the program, utilizing the same process, and we have moved ahead and made improvements since then," says Moyers. On-time starts from September 2018 through December 2018 averaged 76.4%.
Moyers also notes that the process can be stressful for nurses and staff who are concerned about compromising patient safety in order to improve on-time starts.
"Patient safety still has to come first," she says. "It's important to stress that if there is a legitimate reason for a delay due to patient safety concerns, it's not a reflection on the staff."
Overall, the change has been influential and continues to impact process improvement, says Moyers. "This was a seminal event for this organization because the staff and physicians felt they had tried to change in the past, and nothing ever changed," she says. "The biggest challenge was making people believe that we could do it. Are we successful 100% of the time? No. But the process has given us a new protocol that everybody's on board with and helps us provide the best care at the lowest cost. When you make your OR more efficient, you can do all that." ✥
 Catherine Spader, RN, is a medical writer, editor, and award-winning fiction author based in Littleton, Colorado. 
Reference
Moyers K, Biala G. Perioperative on time starts. Poster Session. OR Manager Conference 2018.