The rapid growth in outpatient procedures presents exciting opportunities for leaders at ambulatory surgery centers (ASCs), but also the challenge of accommodating a higher volume and more specialties without sacrificing efficiency and patient safety. That's why it's important not to lose sight of the fundamentals in managing an ASC, whether you're a new leader or a long-time administrator.
Beverly Kirchner, BSN, RN, CNOR, CASC, chief operating officer and chief nursing officer for SurgeryDirect, was first involved in building an ASC in 1985. Since then, she has seen the number of rules and regulations balloon from 36 to more than 1,200. In this article, her expert advice focuses on three key areas: finance, governance, and credentialing.
Dollars and sense
Factors such as unpaid receivables, denial of claims, insurance verification, coding, and over-ordering of supplies and medications influence the financial picture.
"You need to submit claims within 24 hours and have someone who is on top of any denials," Kirchner says. The ability to do so depends on surgeons dictating their reports promptly, and that means having buy-in from the ASC's medical executive committee and board to help ensure compliance.
Getting paid requires upfront legwork, including verifying insurance coverage before surgery and collecting copays and deductibles on the day of service. Kirchner notes that an advisory opinion from the Office of Inspector General (OIG) indicates prompt pay discounts are acceptable as long as they are consistent: "Your policy should state the percent discount on any coinsurance or deductible amounts."
Kirchner also recommends having a certified coder and a billing software system that provides timely reports. Other recommendations are listed below.
"If you aren't currently using a group purchasing organization [GPO], you probably want to look into it," Kirchner says. "It costs you nothing to be a member, and it will save you tremendous amounts of money."
She adds that centralizing purchasing and ensuring strict adherence to processes will pay off in savings.
Pay on time to avoid interest penalties, audit regularly (quarterly for accounts payable and monthly for accounts receivable), and control costs.
"The number one cost in an ASC is staff salary and benefits," Kirchner says. Supplies, medications, and implants round out the top four.
The average cost to cut a purchase order is $125, Kirchner says. She recommends limiting the number of purchase orders and doing a cost breakdown of supplies and medications used by anesthesia personnel.
Carefully manage fixed assets (assets purchased with an expected useful life of greater than 3 years for technology and greater than 3 years for medical equipment) by making sure all invoices sent for payment are properly labeled as capital equipment or capital purchase (eg, a computer). The ASC's accountant will know how to prepare the fixed asset list and how to determine depreciation.
When equipment is damaged and must be replaced before its established life span, the purchaser and the leader should notify the accountant of the equipment to be removed from the list and the new equipment to be placed on the list.
An annual capital equipment budget is essential to effectively manage fixed assets. "Include a return on investment document so the board knows why you are requesting the equipment and how long it will take to pay for it," she says. "That will help them prioritize capital purchases."
Keeping a repair and maintenance binder helps identify which equipment is at or near the end of its life. "If repairs and maintenance costs are more than the value of the equipment, it's time to replace," Kirchner says. Looking at the cost of repairs is useful in creating the capital budget.
Report key financial information
Kirchner recommends reporting the following to the medical executive committee and the ASC board:
• financial variances of greater than 10%
• profit and loss
• cash flow
• capital budget update
• balance sheet
• accounts receivable
• revenue reports.
She points out that the reason for variance isn't always negative. For example, extra implants may have been ordered, but resulted in increased revenue for the additional cases done.
"Know your cash flow seasons," Kirchner says. "They affect your ability to pay for capital." It's also wise to have funds in reserve, and the amount should be approved by the board. Kirchner says the ASCs she works with typically have enough money in the bank to cover 3 months of operation costs without any revenue.
Compare how the ASC is doing against budget and against other ASCs that are similar in size and specialty. Data can be obtained from consulting companies and benchmarking surveys from the Ambulatory Surgery Center Association.
Conduct audits
Audits should be performed at least annually.
Recommended financial metrics include:
• person-hours worked per case (should be 12 or fewer)
• days inventory is in the center (should be 30 or fewer)
• supply cost per case
• business office supply cost per case
• net revenue per case based on history and case type.
Develop a growth plan
Know what's being offered in the community to determine which services not currently performed at the ASC could be added, what equipment would be needed, and which surgeons could be recruited to perform those services, Kirchner says. She finds daily emails such as OR a.m. to be particularly valuable sources of information.
"ASCs will see a lot more spines," Kirchner predicts. Total joints will increase as baby boomers enter Medicare, but she noted that the number of pre-Medicare total joints is increasing as well.
It's also important to keep a copy of rules and regulations close at hand when deciding which procedures can be performed. "You need to know the rules and regulations better than the surveyors," Kirchner says.
Effective governance
"Our boards must be engaged and part of the decision-making team because they are being held accountable," Kirchner says. The Centers for Medicare & Medicaid Services (CMS) and the OIG hold the governing board legally responsible for the operation of the ASC, and the board is accountable to the owners. CMS requires the board to determine, implement, and monitor policies; oversee outside resources; and delegate responsibilities to administrative, medical, or other personnel.
How can an ASC leader ensure that the board meets its requirements and is effective? "Build trust between yourself and the board," Kirchner says, adding that it's also important to build trust between the board and nonboard physicians and the staff. "Educate the board on their role," she says. "They are there to serve patients, staff, and shareholders, not their own interests."
She also advises documenting how involved the board is in day-to-day operations. For instance, ask for input before changing policies and note that you did so. Use established criteria to evaluate outside services, such as the company that supports the generator, at least annually, as required by CMS Conditions for Coverage. Make a recommendation to the board about whether any change should be made, and have the board sign off on the decision.
The board approves the ASC's goals and bylaws. "If you haven't reviewed your bylaws for the past few years, you will want to have an attorney review them," Kirchner notes.
In addition to the board, ASC leaders need to facilitate optimal performance of the other committees, including medical executive, medial advisory, credentialing, performance improvement, and pharmacy.
Kirchner offers several other suggestions for promoting optimal governance, noting that it's important to follow straight lines of communication and authority and to hold everyone accountable.
Run an effective meeting
• Send the agenda before the meeting with a list of attendees, the main topics, and time frames for those topics so that attendees can prepare.
• Start the meeting on time. The chair should control the meeting and encourage participation. If the entire agenda isn't covered, ask the attendees how to best resolve the outstanding issues, such as scheduling another meeting in person or via Skype.
• Summarize decisions and next steps at the end of the meeting, and send minutes of the meeting within 5 days. Divide the minutes into three columns: agenda item (such as quality improvement report), discussion/decision (what was reported, points discussed, and decisions made), and follow-up (who is supposed to do what by when).
Create an annual calendar
To track the required meetings and reports, create an annual calendar that includes the activity, how often it needs to occur, and the month in which it should occur. The three main sections could include:
• meetings: anesthesia (quarterly), governing board (bimonthly), medical executive (bimonthly), staff (monthly), and performance improvement (monthly)
• performance improvement reports (all quarterly): infection prevention, safety, pharmacy, patient satisfaction, clinical process, and appropriateness of care/variance
• in-service: staff (monthly), exposure/infection prevention (annually), fire safety (annually), first drill (quarterly), disaster/evacuation drill (quarterly), hazardous materials/utilities/equipment (annually), laser safety (annually), advanced cardiac life support (biannually), and cardiopulmonary resuscitation (biannually).
Use physician peer review
The goal of peer review is to enhance the quality of care for patients. It also helps protect the ASC from lawsuits, fines, loss of business, and loss of accreditation.
"Peer review offers physicians the privilege of participating in shaping the future," Kirchner says. That doesn't mean it's easy to get them involved. Factors that make peer review challenging include not wanting to criticize colleagues, lack of compensation, additional work, and fear of damaging a physician's career.
A peer review program should be fair, timely (no less than quarterly), and objective, and it should provide useful feedback to share with physicians. Reviewers should be from the same specialty as the physician being reviewed. s not available, consider using an independent review organization.
Watch for data trends and patterns of near misses, and address them promptly. Audit peer reviews at least biannually (bimonthly is better) to ensure If the original findings are in doubt, a second opinion is needed, or there is a conflict of interest, Kirchner suggests using an independent auditor.
Kirchner recommends that members serve on the peer review committee for at least 2 years to allow time for learning the process. These actions help shape a good peer review program:
• Establish clear roles and responsibilities.
• Ensure terms and expectations are clear to physicians conducting the review and those being reviewed.
• Convey that the program proactively detects problems.
• Train those conducting peer review.
• Use a standard form (see www.ormanager.com/Toolbox; search for Surgeon Peer Review Form").
• Consider compensating reviewers.
• Use the findings to educate physicians.
• Establish an appeals process for the physician being reviewed.
"An effective peer review program is essential to a culture of safety and quality," Kirchner says. That program should also be connected to the cre
Show credentials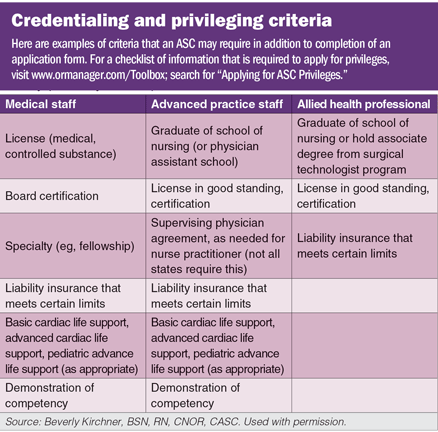 "Correctly managing credentialing and privileging takes a lot of time," Kirchner says. Kirchner recommends making one staff member responsible for credentialing (the process of verifying and assessing the qualifications of a practitioner to provide patient care in the ASC) and privileging (the process of authorizing a practitioner to provide patient care in the ASC). This person should ensure records are organized and up-to-date. Actions related to credentialing and privileging should be documented in the ASC board's minutes.
The ASC board should approve criteria for medical and allied health staff (such as nurses, first assistants, and surgical technologists) so they can be granted privileges to work in the ASC (sidebar right). A credentialing plan should describe how to ensure that the criteria are met.
Physicians and advanced practice staff seeking privileges should be asked to complete an application and submit copies of their professional license, certification, federal controlled substance license, recent professional quality photo, curriculum vitae, evidence of malpractice coverage and dates of coverage, and two professional references. Applicants should also note other ASCs or hospitals where they have privileges.
The application should ask about past and present litigation, immunizations, substance abuse, felony convictions, loss of privileges, and disciplinary action.
"Completing the application shows a willingness to come for an interview, and signing the authorization for release of information gives consent for the ASC to verify the submitted documents," Kirchner says, adding that the application releases the center, its directors, and employees of liability.
The submitted documents need to be verified for accuracy. This includes searching the National Practitioner Data Bank for actions and verifying education, training, and board certification with the American Medical Association. Verification for those who attended medical school outside of the US can be obtained through the Education Commission for Foreign Medical Graduates. (ASCs must apply for an organization number.) The National Board of Certification & Recertification for Nurse Anesthetists (https://portal.nbcrna.com/credential-verification) can be used for verification of nurse anesthetists.
What if a physician requires privileges in an emergent situation? For example, a gynecological surgeon might nick the aorta when inserting a trocar for a laparoscopic procedure, requiring a vascular surgeon to perform the repair. In this case, Kirchner says, the ASC can grant limited temporary privileges, provided it has a signed release of information form and copies of the physician's current license and certification, controlled substance licenses (federal and state), and malpractice insurance.
Full privileges are typically granted for 2 years. Reappointment should include the same steps as the initial process, although usually only one professional reference is required. Peer review and quality outcomes data from the time at the center is also reviewed.
Physician leaders need to take an active role in credentialing and privileging, but involving them can be difficult. "Physicians are becoming reluctant to serve on credentialing committees because of fear of retribution from physicians who are denied privileges," Kirchner says. But these leaders need to create a detailed process, serve on the credentialing committee, and use established criteria to make decisions about granting privileges.
Looking forward
Kirchner says ASC leaders must monitor industry trends and anticipate changes to ensure success. Some of her observations in this area include:
• The average age of a circulator in the ASC is 57, so focusing on the pipeline of staff is essential. "We're going to get to the point where we have to train our own," she says.
• Collecting money before surgery will remain crucial. "Patients are getting sticker shock when it comes to deductibles," Kirchner says. "And it's going to get worse before it gets better."
• Dual-licensed surgery centers are likely to grow. A hospital or a physician who wants to own an ASC but not build it can share space with a surgery center on specific days of the week (with each center separated by temporal time). Dual-licensed surgery centers help save money when volume isn't sufficient for a separate ASC.
• The number and types of procedures done in ASCs will continue to rise. CMS is lowering the amount of reimbursement for many procedures when performed in a hospital, but increasing reimbursement when those same procedures are performed in an ASC. Ultimately, ASC reimbursement will also decrease, but for now, leaders should take advantage of this trend.
• Reimbursement challenges will continue to require careful analysis of practice settings. In the case of deep brain stimulators, for example, the stimulator is inserted in the hospital, but the generator is placed in the ASC because reimbursement is better.
• Recovery units, where patients stay for 24 to 48 hours, will increase and mimic hotel room amenities, complete with the ability to order meals. These units will mostly be paid for by the patient.
• Keep disaster preparedness on the front burner. "You need to have a work interruption plan," Kirchner says. For instance, an ASC in Houston didn't have flooding after Hurricane Harvey, but staff (and patients) were displaced, creating operational challenges.
So how can ASC leaders manage in the current and future healthcare environment? "We have to be visionary, we have to look for innovation, and we have to get rid of 'we've always done it that way,'" Kirchner says. "We have to be transformational leaders." ✥
Reference