Ambulatory surgery centers (ASCs) are ramping up cardiovascular and peripheral vascular service lines, as Medicare offers payment for a growing number of cardiac procedures and accrediting bodies offer support for this methodology. In 2021, the Medicare Payment Advisory Commission reported that the number of ASCs billing Medicare for cardiology procedures jumped from 12 in 2014 to 88 in 2019.
Deb Yoder, MHA, BSN, RN, CNOR, recalls her reaction when ASCs began doing cardiac procedures. "My first thought was, I can't believe we're even thinking of doing this in the ASC environment." Surgical and interventional technology, procedural technique, equipment, and medication have since evolved over the last 30 years. However, providers must also be aware of each patient condition and understand the concept that "just because we can does not always mean we should," she added.
ASCs can do cardiovascular procedures at much lower rates than hospital outpatient departments. The Centers for Medicare and Medicaid Services estimates that moving 5% of coronary interventions from hospital outpatient departments (HOPDs) to ASCs could reduce Medicare payments by about $20 million, Yoder reported during the OR Manager Conference in October 2021.
Her prediction: Based on current reports from Medicare and whitepapers, ASCs will be completing 50% of all cardiovascular procedures by mid to late 2020s. In this interview with OR Manager, Yoder, vice president of clinical operations at Surgical Management Professionals in Sioux Falls, South Dakota, discusses what ASCs should do to ensure safety in the OR during a cardiac procedure. It is a multi-factorial checklist involving state regulations; the right equipment, including appropriate emergency and backup needs; as well as choosing the right patient populations, she says.
Q: How safe is it to do cardiac procedures in an ASC?
Any time you touch a patient or put a patient to sleep, it can be risky. Any intervention related to the coronary vessels is risky. The provider is working in a small space that affects blood flow to a vital organ. Regardless of service line, each patient can react in an adverse manner to the medication or procedural intervention when sedated or asleep. They may have had five other surgical procedures, and this time something abnormal happens. Sometimes in the OR, we as staff get very complacent because we do it all day long. We always have to keep in mind that what we do is really critical and remind ourselves each time that each procedure is important and could have complications.
ASCs must meet the same emergency supply standards that a hospital does. They perform drills for malignant hyperthermia, cardiac and respiratory issues, pediatric emergencies, and all other environment of care emergencies. Moving more acute care procedures into the surgery center world has broadened our attention to the given patient population and selection criteria. Before we think about adding a service line—whether it is total joint, spine procedures, or cardiac procedures—we work closely with anesthesia and surgeons. They must understand appropriate patient selection criteria.
In our cardiac centers, such patient criteria may be a little bit different than someone coming in for an orthopedic treatment. At our ASCs, when performing cardiac and peripheral vascular procedures, we have added medications to our formularies and items we may not normally have in the surgery center. Centers performing peripheral vascular and cardiac procedures will have a greater variety of anticoagulants and reversal medications. Instead of only first line cardiac medications on the crash cart, second line and other specific medications will be in place in these rooms. Detailed emergency supply conversations are initiated with providers. "Do I need a balloon pump here in the center just in the event we have an artery that dissects, or Femostop for femoral bleed," for example.
These are the conversations you have before you start any service line addition. Some procedures are very safe; others you would not want to do. It is key to understand the procedures in the populations and the comfort levels of providers.
Q: What do ASCs need to know about state regulations and cardiac procedures?
Understand your state regulations. States have finite, specific certificate of need (CON) rules that may be difficult to understand. Medicare might say you could do something, but the state may not permit it. One item may be related to thresholds on how much money you can spend, or where cardiac procedures can be done. Or, you cannot buy cardiac equipment if it is related to a cardiac catheterization lab. You must understand each state's rules. Some of them have a little bit of a loophole, others do not.
In Michigan, for example, you can do extremity vascular interventions but no other cardiac procedures. California allows cardiac rhythm therapy (CRT) but no percutaneous coronary intervention in the ASC. Georgia does not allow electrophysiology or CRT implants. In Pennsylvania, ASCs cannot do peripheral artery disease treatment.
In several states we have seen legislatures or lawmakers go back and try to change the CON and state statutes—especially as COVID-19 looms and hospitals are limited with elective procedures.
Q: What goes into creating and maintaining safety?
ASCs following Medicare guidelines will all follow emergency medical service protocols and will have emergency supplies available, with daily and monthly checks as well as required drills.
Any new service line that comes to an ASC requiring significant capital costs calls for a feasibility study. This is a very in-depth feasibility study based on the pro forma, to assess capital, supply and staff needs, and anticipated growth related to net revenue. Consider, what is the current volume of those cases, payer mix, American Society of Anesthesiologists patient classification, etc?
We will start pulling out those volumes and see what the reimbursement is for those procedures based on CPT codes and Medicare procedures that can be performed in the ASC. I also look closely at the state rules. Can these procedures be brought to the ASC? We start really whittling away the initial information with a minimum of a years' worth of data.
Your governing board should ask: is this a strategic plan for our hospital partner, for our physician group? And what is your time frame for this? There is a multi-focal approach to decide whether you are going to introduce a service line at any ASC, not just cardiac procedures, at a surgery center.
Q: How do you select patients?
We have preselection criteria for our surgery centers. This includes patient history, physical assessment, comorbidities, and allergies. Each service line will have specific needs related to patient selection. In the cardiac and vascular population, the center will need to understand antiplatelet risk assessment, anticoagulant blood test needs, EKG and other tests, medication, sedation, and anesthesia requirements to perform the procedure.
We work with anesthesia personnel and the cardiologist. We do not want patients with life-threatening issues. Are they in renal failure or have other comorbidities? Work with your team to determine that list (sidebar, Safety snapshot of cardiac procedures in ASCs).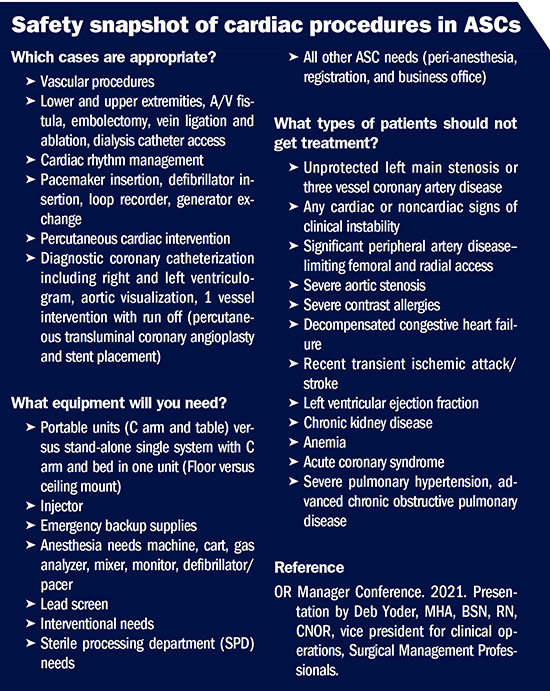 Bottom line, any service line can be implemented with consistent checks and balances in place, and we have developed that for all service lines covered in ASCs throughout the nation. Just because you can do a procedure does not mean you should do it. I do not necessarily want a patient with a BMI over 50 if I'm putting them prone. We want to make sure what we are doing is safe for everyone that walks through our doors. ORM
—Jennifer Lubell is a freelance medical and health policy writer based in Rockville, Maryland.
References
​ASA Physical Status Classification System. American Society of Anesthesiologists. Last amended December 13, 2020.
Report to the Congress: Medicare Payment Policy. Medicare Payment Advisory Commission. March 2021.