Controlling electrosurgical smoke is a major challenge in many ORs. In 1996, the National Institute for Occupational Safety and Health published a policy on controlling smoke from lasers and electrosurgical procedures, and over the years, studies have linked adverse health effects with electrosurgical smoke exposure. Yet healthcare providers have differing opinions about the need for smoke evacuation, and achieving a 100% surgical smoke-free environment may seem difficult if not impossible.
SCL Health Lutheran Medical Center in Wheat Ridge, Colorado, however, has done just that. With determination, a financial grant, and help on a global scale from the hospital system's perioperative collaborative, all eight hospitals in the Colorado and Montana sites of SCL (Sisters of Charity of Leavenworth) Health system have become smoke free.
Deborah Hedrick, MA, BSN, RN, CSSM, NEA-BC, director of perioperative services, developed and implemented the systemwide policy.
---
Sponsored Message
---
My mission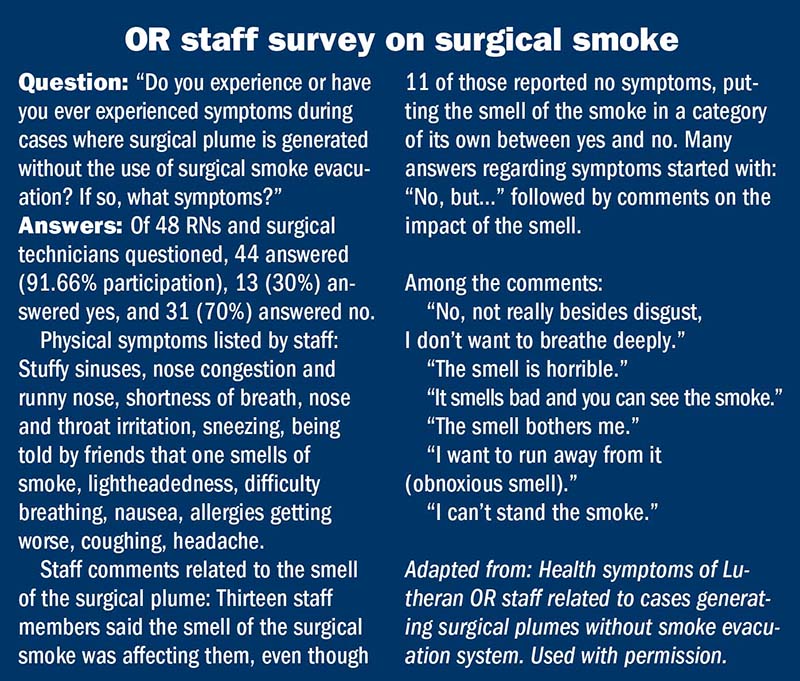 "I had been hearing more and more complaints from staff about the smoke, and then I attended a dinner where noted expert Kay Ball spoke on the dangers of surgical smoke. It was then I made it my mission to help our hospitals become smoke free," says Hedrick. (Kay Ball, PhD, RN, CNOR, FAAN, is professor of nursing, Otterbein University, Westerville, Ohio, and will be speaking about surgical smoke at the 2020 annual OR Manager Conference, September 30-October 2 in Las Vegas.)
After a literature search was conducted, and data on the hazards of surgical smoke were gathered, the OR charge nurse surveyed RNs and surgical technologists to assess if they had experienced physical symptoms during surgical smoke cases (sidebar at right).
A total of 44 RNs and surgical technologists (91% of staff) participated, and 30% answered "yes" to having symptoms.
At the same time, Hedrick applied for and was selected to receive an SCL system Safety Grant. These grants may be applied for each year for patient safety projects. The grant allowed her to contract with an industrial hygienist to perform OR air samplings during five procedures in her ORs.
The industrial hygienist collected and analyzed airborne samples for aldehyde, benzene, toluene, xylene, ethyl benzene, 1,2-dichloroethane, and styrene.
Formaldehyde was found in the OR, sterile corridor, and substerile corridor during surgical procedures when smoke evacuation techniques were not used.
Volatile organic compounds were very low or not detected. Ultrafine particles were present in the OR at higher than background levels with and without the use of smoke evacuation techniques. However, the concentrations were much higher without the use of smoke evacuation.
Hedrick took the findings from the staff survey and the air samplings to the organization's monthly system-level perioperative collaborative, which is a meeting of the OR medical and nursing directors from each hospital. They gave her the go-ahead to develop and implement a systemwide smoke-free policy and procedure.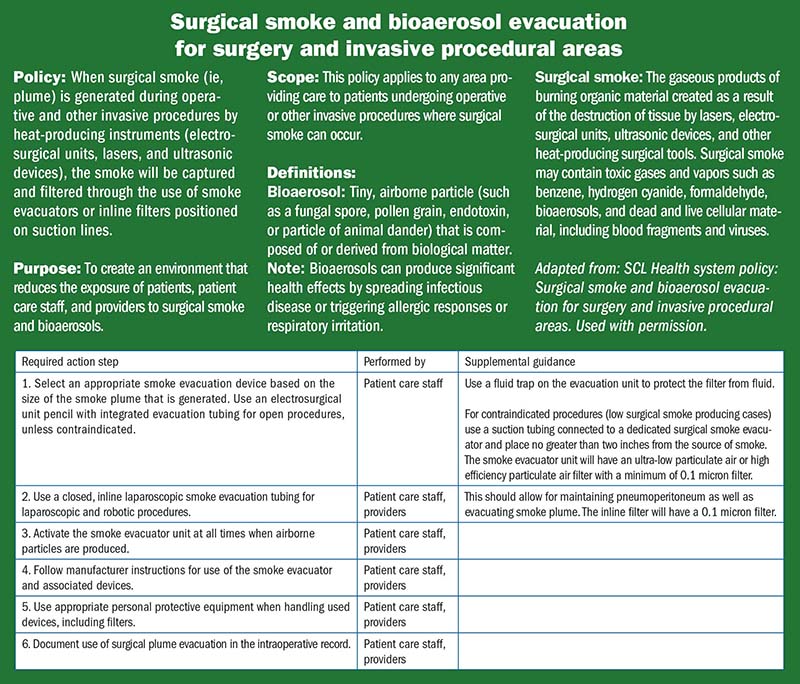 Vendor standardization
Hedrick partnered with the system's supply chain personnel to develop smoke evacuation trials at all eight hospitals and standardize smoke evacuation devices. Four vendors were selected to provide electrosurgical smoke-evacuation pencils and machines for the trials.
Staff evaluations of the pencils and machines during the trials identified potential barriers to implementing a smoke-free policy.
They included:
• cost of smoke evacuation equipment and supplies
• concern about noise generated by evacuation equipment
• inconsistent use and availability of current evacuation equipment
• concern about the time and work needed to set it up
• objections from surgeons to the feel of the electrosurgical pencil with the evacuation device attached.
After review of the evaluations and trials by each hospital's OR managers, two vendors were selected to provide smoke-evacuation devices and equipment to all eight hospitals.
Non-smoke-evacuation electrosurgical unit pencils were removed from surgical packs, and smoke-evacuation pencils were placed on case carts.
The new systemwide smoke-free policy and procedure was presented to each hospital's OR committee, and after going through several other administrative levels was approved and implemented (sidebar above).
Outside the OR
Though the policy was initially implemented in the OR, it now applies to any procedural area that may produce surgical smoke. "This includes the cath lab, L&D, and anywhere surgical smoke is produced," says Hedrick.
Colorado has passed legislation that "requires each hospital with surgical services and each ambulatory surgical center to adopt and implement on or before May 1, 2021, a policy that requires the elimination of surgical smoke via the use of a surgical smoke evacuation system during any surgical procedure that is likely to generate surgical smoke."
Hedrick testified at the Senate and House healthcare subcommittees in favor of the bill and was invited to the signing of the bill by Gov Jared Polis. Colorado is only the second state to pass legislation on surgical smoke evacuation. Rhode Island passed a similar law in June 2018. ✥
References
AORN. Guideline for surgical smoke safety. Guidelines for Perioperative Practice. Denver, CO: AORN. 2020, pp 1007-1038. Originally published December 2016 in Guidelines for Perioperative Practice online.
Ball K. Surgical smoke evacuation guidelines: Compliance among perioperative nurses. AORN Journal. 2010;92(2):1-23.
Edwards B E, Reiman R E. Results of a survey on current surgical smoke control practices. AORN Journal. 2008;87(4):739-749.
Hedrick D, Hatlestad L. A healthcare system's journey to go surgical smoke free. Poster. OR Manager Conference. 2019.
House Bill 19-1041, First Regular Session, Seventy-second General Assembly, State of Colorado. Concerning the prevention of human exposure to surgical smoke during surgery at certain licensed health care facilities. https://leg.colorado.gov/sites/default/files/documents/2019A/bills/2019a_1041_01.pdf.
National Institute for Occupational Safety and Health (NIOSH). Control of smoke from laser/electric surgical procedures. 1996. https://www.cdc.gov/niosh/docs/hazardcontrol/hc11.html.