Keeping up with Medicare's regulatory and reporting requirements for ambulatory surgery centers (ASCs) can be as difficult as ensuring physicians arrive to start their cases on time.
"Regulations can change frequently," says Gina Throneberry, MBA, RN, CASC, CNOR, director of education and clinical affairs for the Ambulatory Surgery Center Association (ASCA). Throneberry, a leading expert on quality and regulatory requirements for ASCs, shares this comprehensive update of regulatory and quality measure reporting developments.
Proposed regulatory changes related to ASCs
---
Sponsored Message
---
Proposed (May 2019): Allow hospitals to share physical space with other healthcare entities, including ASCs.
Comments: This refers only to public spaces such as waiting rooms and hallways, not private spaces such as ORs.
Proposed (May 2019): Eliminate burdens imposed by the civil rights provision in the ACA that prohibits discrimination on the basis of race, color, national origin, sex, age, or disability in certain health programs or activities.
Comments: Currently, regulated health companies such as ASCs have to distribute non-discrimination notices and translation notices in at least 15 languages in "significant communications" to patients and customers.
The US Department of Health and Human Services estimates that elimination of the requirement would save approximately $3.6 billion in the first 5 years. In addition, there is no evidence that the notices have benefited those with limited English proficiency.
Final rules
The Centers for Medicare & Medicaid Services (CMS) has finalized the following requirements.
Emergency Preparedness Updates to Appendix Z. An important update (released February 2019) that CMS made to this appendix is the addition of emerging infectious diseases to an ASC's emergency preparedness program. "You now need to identify what emerging infectious diseases could occur in your geographic area and have a plan to respond should they occur," Throneberry says.
Emergency Preparedness, Condition for Coverage: 42 CFR§ 416.54. As of November 29, 2019, CMS requires ASCs to review their emergency plan (EP) every 2 years instead of annually. ASCs are no longer required to document efforts to contact local, tribal, regional, state, and federal EP officials, although they will still need to try to coordinate with those entities.
In addition, the following changes to training were made:
• EP training is required every 2 years, or when the ASC's EP is updated significantly, instead of every year.
• ASCs need to conduct just one testing exercise per year, down from two. Every other year, ASCs must either participate in a community-based full-scale exercise (if available) or conduct an individual facility-based functional exercise. In the opposite years, ASCs may conduct a testing exercise of their choice, which may include a community-based full-scale exercise (if available), an individual facility-based functional exercise, a drill, or a tabletop exercise or workshop that includes a group discussion led by a facilitator.
• ASCs are exempt from the next required exercise after an event requiring activation of their EP plan (if the facility must deal with an emergency).
Hazardous Waste Pharmaceuticals.This final rule from the Environmental Protection Agency, published in February 2019, requires use of a special container for hazardous pharmaceutical waste. "Work with your consulting pharmacist to ensure you are meeting the requirements," Throneberry says.
Hospitalization Standard, Condition for Coverage: 42 CFR§ 416.41(b)(3). As of November 29, 2019, ASCs are no longer required to have a written transfer agreement or hospital admitting privileges for all physicians who practice in the ASC, unless required by the state in which the ASC is located or the organization that accredits the ASC. Instead, ASCs must periodically provide the local hospital with written notice of their operation and patient population served.
Patient Admission, Assessment, and Discharge, Condition for Coverage: 42 CFR§ 416.52(a). As of November 29, 2019, CMS eliminated the requirement that each patient have a medical H&P completed by a physician not more than 30 days before the scheduled surgery. Now ASCs must develop and maintain a policy that identifies patients who require a medical H&P before surgery. The facility's policy must include the timeframe for when the H&P is to be completed before surgery and address, but not be limited to, the following factors: patient age, diagnosis, the type and number of procedures scheduled to be performed on the same surgery date, known comorbidities, and the planned anesthesia level. ASC leaders need to check their state regulations and accrediting organization's standards and follow any that are stricter than what CMS requires.
Effective January 1, 2020: Add eight codes to the ASC-payable list, including total knee arthroplasty, move total hip arthroplasty (THA) from the hospital-only list so that it can be performed in the hospital outpatient setting, and continue to use the hospital market basket, which measures the inflation of medical costs such as equipment, supplies, and staffing, to update ASC payments for calendar year (CY) 2019 through CY 2023.
Comments:Procedures can be performed in hospitals, hospital outpatient departments (HOPDs), and ASCs. Typically, a procedure moves sequentially, starting with hospitals, then HOPDs, and then ASCs. Therefore, allowing THAs to be performed in the hospital outpatient setting could help to ultimately move the procedure to the ASC setting.
Effective January 1, 2020: This quality measure requires reporting all-cause, unplanned hospital visits (emergency department, observation stay, unplanned inpatient admission) within 7 days of a general procedure performed at an ASC.
Comments: CMS will pull data from the Medicare Fee for Service Administrative claims billed by the ASC, so no data submission by the ASC would be required. Data will be collected from CY 2021 to CY 2022, with payment determination for CY 2024.
Effective January 1, 2020:The Medicare Physician Fee Schedule for CY 2020 allows certified registered nurse anesthetists (CRNAs) working in ASCs to examine patients both before surgery and before discharge.
Comments: Currently, CRNAs in ASCs can only perform the predischarge evaluation; a physician has to complete the presurgery evaluation. The proposed change would align practice with hospital standards. CRNAs who practice in ASCs not in an opt-out state still must have physician supervision for anesthesia administration.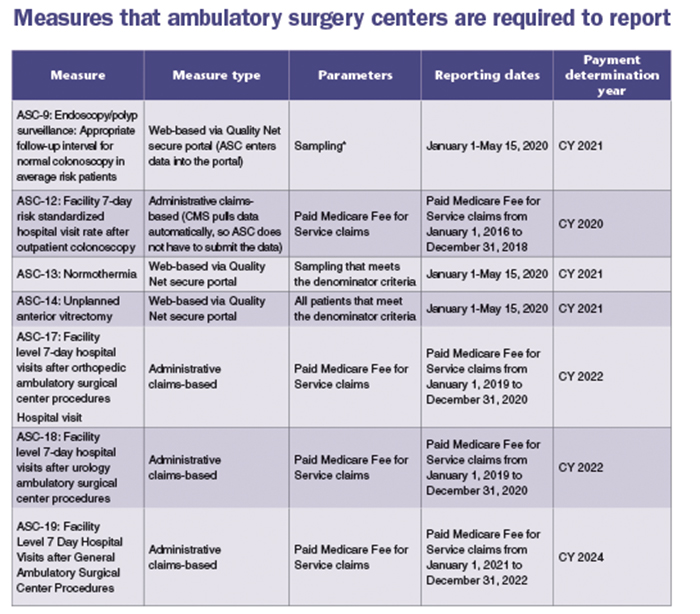 ASC quality reporting program measures
Reporting is suspended for the following measures, which means facilities do not need to report, but may need to do so in the future:
• ASC-1: Patient burn
• ASC-2: Patient fall
• ASC-3: Wrong site, wrong side, wrong patient, wrong procedure, wrong implant
• ASC-4: All-cause hospital transfer/admission.
Reporting has been stopped for these measures:
ASC-5: Prophylactic intravenous antibiotic timing
• ASC-6: Safe surgery checklist use
• ASC-7: ASC facility volume data on selected ASC surgical procedures
• ASC-8: Influenza vaccination coverage among healthcare personnel. Although this is no longer required, Throneberry recommends ASC leaders keep their National Healthcare Safety Network account active by logging in periodically.
• ASC-10: Endoscopy/polyp surveillance: Colonoscopy interval for patients with a history of adenomatous polyps–avoidance of inappropriate use
Reporting is still voluntary for ASC-11: Improvement in patient's visual function within 90 days following cataract surgery.
A summary of the measures that ASCs need to report appears in the sidebar on p 29. The reporting dates refer to data collected in CY 2019.
ASC-15: Outpatient/Ambulatory Surgery Consumer Assessment of Healthcare Providers and Systems (OAS CAHPS) has received much attention. This measure includes five survey-based measures: about facilities and staff communication about the procedure, preparation for discharge, and recovery, overall rating of facility, and recommendation of facility. Surveys must be conducted by a CMS-approved vendor instead of by the ASC.
Implementation of OAS CAHPS has been delayed because of the length of the questionnaire and logistical issues, but Throneberry advises: "Start your homework now with one of the CMS-approved vendors." The current instrument is being pilot tested and is available for voluntary use at https://oascahps.org/Survey-Materials.
Tips for success
Throneberry provides several strategies to ensure ASCs meet reporting and regulatory requirements.
• Always enter the data when required to do so (ASC-9, ASC-13, ASC-14), even if the ASC doesn't perform the procedure/specialty. "Log into the QualityNet portal and enter zero for the numerator and denominator," Throneberry says.
• Review reports. For ASC-12, ASC-17, ASC-18, and ASC-19, CMS periodically uploads facility-specific reports to the QualityNet secure portal, yet Throneberry says that too often ASC leaders fail to review these reports for trends.
• Be aware that CMS reports ASC data on facility, state, and national levels on Hospital Compare (https://www.medicare.gov/hospitalcompare/asc-ambulatory-surgical-measures.html) as part of its Ambulatory Surgical Center Quality Reporting Program.
Throneberry recommends that ASC leaders ensure they have the current versions of key documents:
• CMS State Operations Manual, Appendix L-Guidance for Surveys: Ambulatory Surgical Centers (Rev. 137, 4/1/15): https://www.cms.gov/Regulations-and-Guidance/Guidance/Manuals/downloads/som107ap_l_ambulatory.pdf
• Update to the Infection Control Surveyor Worksheet, Exhibit 351 of the State Operations Manual (SOM) for assessing compliance with the Medicare ASC Infection Control Condition for Coverage (CfC) (https://www.cms.gov/Medicare/Provider-Enrollment-and-Certification/SurveyCertificationGenInfo/Downloads/Survey-and-Cert-Letter-15-43.pdf).
To keep up with the status of proposed changes to the quality reporting program, Throneberry says each facility should have at least two people signed up for the QualityNet email notifications. To sign up, go to www.qualitynet.org, click on the Ambulatory Surgical Centers link, and then click on "Join the ListServe to receive email notifications about QualityNet programs." Select the ambulatory surgical centers notification option and complete the registration process.
Other resources include the ASCA website (http://www.ascassociation.org), the Quality Reporting Center (https://www.qualityreportingcenter.com/), and the ASC Quality Collaborative, which has a summary of the quality measures (http://ascquality.org/qualitymeasures.cfm). ASC leaders who have questions about Medicare's ASC Quality Reporting Program should contact the Health Services Advisory Group at https://cms-ocsq.custhelp.com/ or by phone (866-800-8756).
ASCs that fail to comply with Medicare's quality reporting requirements forfeit a percentage of their payment updates in future years, and those that fail to meet the program's regulatory requirements can lose their Medicare certification entirely, which means losing their ability to provide services to Medicare beneficiaries.
ASC leaders can join ASCA to be sure they receive regular updates on Medicare's regulatory and quality reporting changes, and to help support the association's national advocacy efforts on behalf of ASCs, Throneberry says. ✥
Reference
Throneberry G. 2019 Regulatory and Quality Measure Reporting Update for ASCs. OR Manager Conference. 2019.