[FREE WHITEPAPER] Insights and Advice From a Large Healthcare Network
Standardizing the utilization of medical supplies and equipment can have multifaceted benefits, impacting both cost savings and clinical workflow.1 Standardization efforts may prove to be especially beneficial when implemented in capacities with wide product variability, such as hemostats.
Hemostatic agents play a crucial role in surgeries. By allowing surgeons to achieve hemostasis, there are many beneficial outcomes that can be achieved.
Clinical and operational advantages include a decreased need for transfusions, decreased wound exposure, shorter duration of operating time, and improvement in the recovery time needed for the patient.2 Due to the wide variety of hemostats that are accessible today, it can be difficult to navigate the selection of an appropriate product.
This case study sought to characterize the experience and share learnings from standardizing hemostat utilization within a large healthcare system covering the topics of:
Process
Benefits
Challenges
Future Considerations
References
Delatore P., Bourque M., Taylor J., Ferko N. The value of SKU reduction and standardization initiatives within a hospital system. Value in Health. 2016 19(3): A293.
Vyas KS, Saha SP. Comparison of hemostatic agents used in vascular surgery. Expert Opin Biol Ther. 2013 Dec; 13(12): 1663–1672.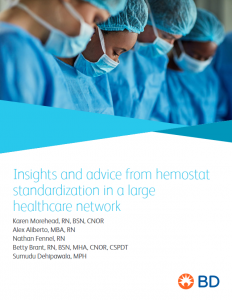 BD-36918